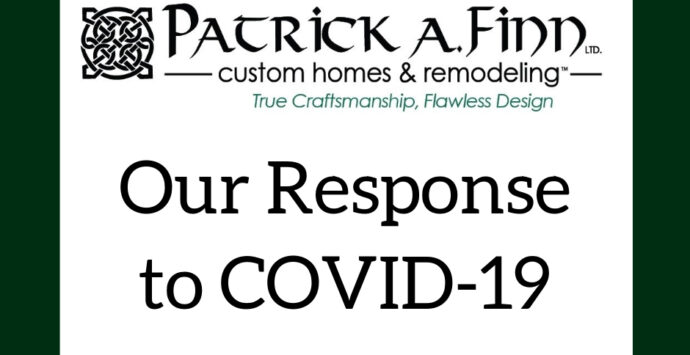 Our COVID-19 Response
3-18-2020
To our amazing clients, supporters, employees and trade partners:
With the impact of the Coronavirus spreading, we want to let everyone know that we are taking every care and precaution we can at this time. Being a service that heavily revolves around meeting with clients and being in and around your homes, looking out for you is our top priority.
As health concerns grow, we are also doing everything we can to keep our employees safe. We have asked our entire production team to limit their time in the office to essential job functions only.
To our current clients and trade partners: We have no current plans to stop work in the office or on job sites. If the need should arise, we will take immediate action to temporarily suspend work. We understand the importance of staying on schedule for our projects but feel that the health and safety of our clients and employees must come first. The same goes for any trade partners working on Patrick A. Finn, LTD. job sites. Please do not come to work if you are exhibiting any symptoms or feeling unwell. For the safety of everyone, we must practice extreme caution at this time.
To our prospective clients: Presently, prospective client site meetings will carry on as planned. If you are feeling unwell in any sense, please show the courtesy of contacting the office to reschedule your appointment. We, of course, will contact you to reschedule if our scheduled team member feels under the weather or has any concerns about their possible exposure to the virus from recent interactions with others.
There are plenty of valid sources for information out there. Please educate yourself on protective hygiene and social distancing and follow these practices until we get through this. Wash your hands and do what you can to protect yourself and those around you. But remember, fear and panic spread just as fast as this virus, so keep yourself informed with credible sources.
As things progress, our policies may continue to become more restrictive. We will keep you updated on any changes to Patrick A. Finn, LTD.'s response to Covid-19.
For any questions or concerns, please contact our office at 847-358-4133.
Thank you,
The Patrick A. Finn, LTD. Team
Written By Katie Finn