Humble Beginnings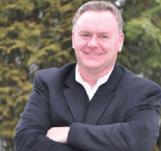 Patrick Finn was born in England and raised in Ireland. He began working as a carpenter in England at the age of 18. Soon after, he achieved Master Craftsman status and became recognized for his integrity, attention to detail, devotion to old-world craftsmanship, and his genuine personality.
Crossing the Pond
Patrick's ambition and love for his work led him to America in 1987. He settled in Chicago, and thanks to his experience, dedication, and determination, his work drew the attention of prominent architects and designers.
He soon took a leap of faith and founded his own construction company, Patrick A. Finn, Ltd. Custom Homes and Remodeling. It took hard work, and the luck of the Irish, but his business thrived.
His clients quickly realized that Patrick's reputation for fairness, value, and high-quality work was well deserved.
Patrick's Team-First Philosophy
Patrick attributes his success to his team of talented employees. The craftsmen, laborers, and designers he hired to share his vision. Together they work to complete projects on time and on budget and with results that exceed their client's expectations.


Continued Success
Since 1991, Patrick A. Finn, Ltd. has grown from a few remodeling projects to an impressive list of hundreds of award-winning remodeled and custom homes throughout Hyde Park, the North Shore, and the Northwest suburbs, primarily Arlington Heights and Barrington.
Patrick's involvement with his clients and personal attention to each project assure that the quality craftsmanship he learned in England remains a hallmark of every home he works on.