South Barrington, IL Design-Build Remodel and Custom Home Build
About South Barrington
South Barrington is a suburb of Chicago, approximately 30 miles or a 45-minute drive from the city. Being one of the best locations to live in Illinois, this offers a rural feel with some absolutely gorgeous homes. South Barrington has also created entertainment for everyone to enjoy at The Arboretum.
The Arboretum
One of the newest attractions in South Barrington to shop, dine, and play, The Arboretum offers a great mix of upscale shops, restaurants, and entertainment options. The name of the open-air center comes from the beautiful trees and gardens that were once part of the large tree farm located on the site.
Shopping options include Bath & Body Works, DSW, Sephora, and many others.
Restaurants include Georgio's Chicago Pizzeria & Pub, Mago Grill & Cantina, and Ruth's Chris Steak House, among many others.
Several entertainment options range from Pinstripes, iPic, BullsEye Axe Lounge, and others.
Why Remodel In South Barrington?
With the increasing acceptance of remote work, individuals are finding less need to reside in bustling cities. As a result, the population living in downtown areas is gradually decreasing, with more people opting to relocate to suburban or rural areas.
The demand for housing may increase, so wanting to increase the value of your home may be on your mind. Another possibility, with the beautiful surrounding area of South Barrington, the exterior and interior of your home deserves to match the picturesque environment.
Wanting to improve your current living scenario does not need to be a struggle, and with years of experience in the area, Patrick A. Finn will help you achieve the look you are seeking!
Why Choose Patrick A. Finn To Remodel In South Barrington, IL?
The satisfaction of seeing the final product and our client's reactions when we are able to bring their vision to life - this is why we do what we do. When you choose Patrick A. Finn, we put you first. We listen to you and what you want.
Having gained extensive project experience in South Barrington and the nearby areas over the course of many years, we have successfully established a strong sense of trust and recognition. Furthermore, our extensive knowledge of the unique homes and architecture in your neighborhoods distinguishes us from our competitors. Let us make your dreams a reality!
Let us make your dreams a reality! Schedule your home renovation discovery session today!
South Barrington Serene Master Bathroom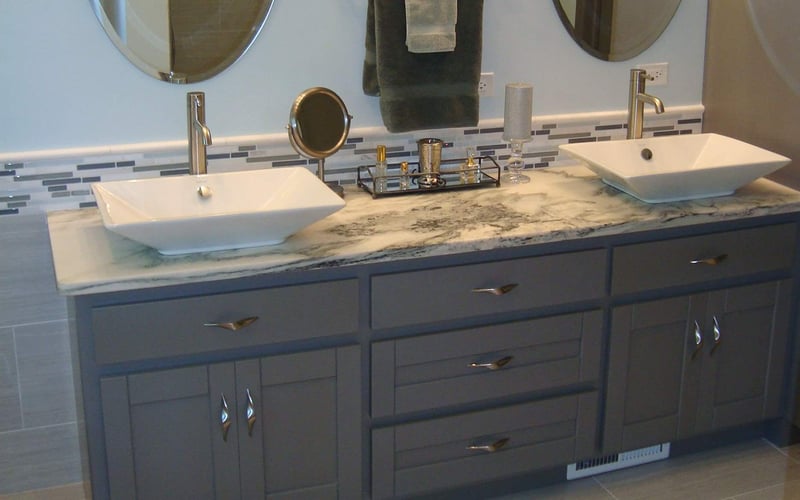 We worked with the owners of this South Barrington home to update their outdated pink bathroom. Their dream was a modern design with more storage, and our team delivered amazing results!
We installed his and hers sinks and used calming ocean colors throughout the space. We also added two niches to the shower, as well as multiple cabinets from our favorite custom cabinet maker.
Barrington Country Inspired Kitchen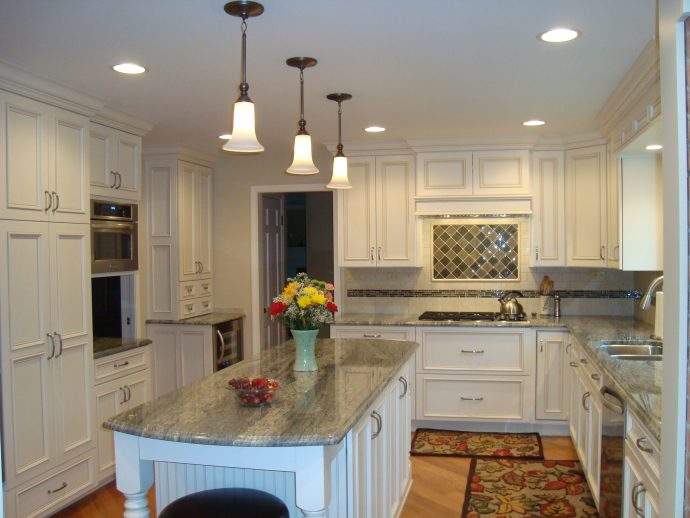 This Barrington home was built in the 1960s and still had its original kitchen! The homeowners chose us to help them upgrade appliances, add storage, and modernize their kitchen– all while maintaining a feeling of classic country charm.
Our interior designer helped the homeowners to choose cabinets, countertops, and backsplash tiles. The results speak for themselves!