5-Star Design and Remodeling in the Chicago Area


"Patrick Finn is a premier builder in our area and is known for excellent work, professionalism, and integrity. I have referred him to many people knowing that he'll do the job on time and with the highest standards. Anyone who is contemplating a remodel, an addition, or a brand new home will get the best service from Patrick A. Finn." — Kathy B.
---
Ready to build the home of your dreams? At Patrick A. Finn, we want to turn your vision into reality. Our seasoned, professional team has decades of construction experience renovating homes in the Chicagoland area.
We'll manage the process from start to finish, working with the best designers, architects, and experienced construction professionals in the Chicago area. Using our years of experience, we'll solve problems before they materialize, ensuring your Chicago-area home remodel will be efficient and successful.
Our design-build process produces results that are simply unbeatable.
How We Help Our Clients
Home Remodeling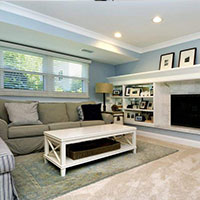 "This is our second project with Patrick A. Finn Ltd. and on both occasions they provided excellent service! They are professional, respectful, and very attentive to any concerns we had. Without hesitation, we will continue to recommend Patrick A. Finn for any remodeling needs!" – Soha
Home Additions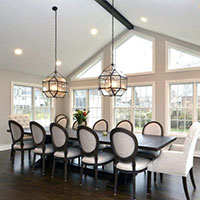 "I hired Patrick Finn to build a high end kitchen, which included an addition on the existing kitchen. I chose Patrick A. Finn after seeing the excellent work they'd completed on other homes in the area. Patrick A. Finn and his team exceeded my expectations in delivering a beautiful, functional kitchen. Everyone working on the project was highly skilled and professional. Throughout the project, their attention to detail was impeccable. They were patient and always willing to make changes as things moved along. We met every week to review the schedule and finalize selections. Excellent design support was provided throughout all aspects of the project. The kitchen was completed on schedule and within budget. I would highly recommend Patrick A. Finn as a contractor and I would hire him again for another project." – Mary C
Kitchen Remodeling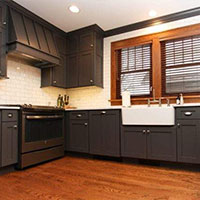 "My wife and I wanted an entire kitchen renovation which included eliminating a formal dining room and incorporating it into the large open kitchen. We did our homework and got estimates from about a dozen contractors and builders. We also did research on different quality constructed cabinetry. We wanted quality materials and workmanship. Not only did we get both from Patrick A. Finn, we also received a clean job site, courteous workmen, and attention to detail along with staying within budget. I would recommend this company to anyone who expects quality, professional work for a fair price." – Anthony S
Why Do Our Clients Love Us?


Our Design-Build Process
"From the moment we met Patrick, through the actual design process, we knew he would create and deliver a very unique space for us. Everyone we came into contact with was professional, very skilled, and very detail-oriented. The processes they follow make it very easy for the consumer. We will definitely hire Patrick again and highly recommend his company to anyone who wants to either completely transform or just update their existing space. We love our new kitchen!" – Susan S
"Patrick Finn designed and renovated my kitchen in June 2015. My process involved telling him what my "concept" was and his design and presentation of options and budgets to me. Each option was well presented and thought out with my goals in mind. The design was chosen from his plans. Construction was completed on time and within budget. His carpenters were excellent and where subcontractors were needed they were professional and cost effective. The interior design was beautiful and I am extremely pleased with the end result. I don't hesitate to recommend Patrick." – Patti H


Our Workmanship
"We recently had Patrick A. Finn, Ltd remodel our hall bathroom. It was wonderful to work with Patrick and his architect on the planning of the space. Working with his designer for selecting beautiful cabinets, tile and countertops made the process so easy. The crew did a wonderful job and their workmanship is outstanding! Our remodeled bathroom looks great!" – Mary J
"Patrick Finn and his team are all extremely professional and hard-working. We were most impressed with Greg and Carlos on their high quality workmanship and neatness. Jeff, the project manager, was also very responsive and kept the job on track. Overall, we were very pleased with the end result!" – Marcia P
Our Professional Team
"Patrick Finn and his team of professionals were a pleasure to work with on our basement remodel. We are very, very happy with the result. Jeff, the Project Manager. was great and paid attention to every detail throughout the project. He was very good at communicating to us as the project progressed. Patrick's whole team works well with the customer. They addressed any concerns and often made suggestions we hadn't considered. From Ed, a true craftsman, to Leo, an extremely hard worker, all were great to work with. Amidst the dust and debris that comes with any project, the team always respected our home and cleaned up at the end of every day. Our project actually was completed a little ahead of schedule! We would absolutely use Patrick and his team for any of our future projects." – Wayne T


"My wife and I highly recommend Patrick (owner), Monika (designer), JoLee (office), Greg (job foreman), Greg (G2-master carpenter), Daniel (carpenter), Brian (wood floors), Tom (countertop fabricator) Ziggy (painter) and the electrical and plumbing contractors. From the very first meeting with Patrick and Monika, we felt confident that we selected the right contractor. The entire Patrick A. Finn team were a pleasure to work with and come highly recommended for any home improvement project, large or small. Thanks again for your attention to detail and making sure we were completely satisfied during the remodel period. Without question we would hire Patrick once again for any future projects. Many thanks go out to the entire Patrick A. Finn team for making our home look brand new. Your the best!" – Ludwig D.

Our Communication
"Patrick A. Finn Ltd performed a complete remodel of my kitchen. The results were great and I love my new kitchen! All of the staff were polite, respectful of my property, responsive to my requests, and communicated frequently.
While living without a kitchen for a few months is trying the team made every effort to keep disruption to a minimum. They walked me through the process, kept me informed of not only the overall schedule but also a more detailed view of what would be happening each week, and assisted as needed in the many decisions to be made in products, placement and color selections. I would highly recommend Patrick A. Finn." – Carrol J


"Patrick Finn and his team updated our 1920's home while keeping the original character of the home intact. I had heard all the nightmares of a remodel and not one happened with this team. They communicated effectively and professionally throughout the entire project. The attention to detail is fantastic! We still have more projects to come and we will be definitely be using Patrick Finn for all our further updates!" – Betsy
---
Ready to get started on your Chicago-area remodel?
Give Patrick a call at (847) 358-4133 today. He would be honored to help make your dreams a reality!
---