Deerfield, IL - Home Remodeling Contractors & Custom Home Builders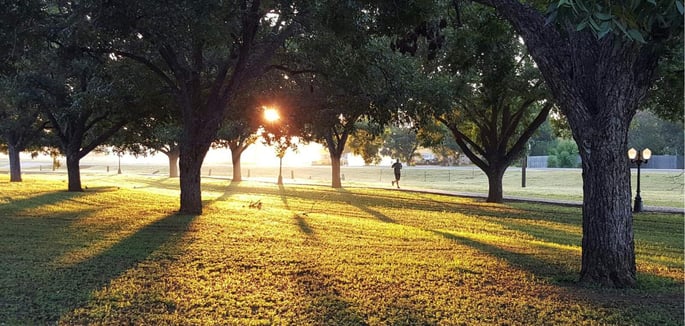 About Deerfield, IL
Living in Deerfield, Illinois offers residents a comfortable and convenient suburban lifestyle. The village is located in Lake County, just 25 miles north of Chicago, making it an ideal location for commuters who work in the city. Deerfield is known for its excellent schools, making it a popular choice for families with children. The community is also tight-knit, with various events and activities taking place throughout the year, such as the annual Art Fair and the 4th of July parade. Additionally, Deerfield has a low crime rate, making it a safe place to call home.
Deerfield also offers a plethora of recreational opportunities for residents to enjoy. The village has several parks and nature preserves, including the popular Deerfield Park District, which offers a variety of activities such as swimming, tennis, and fitness classes. The area also has a number of bike paths and walking trails, allowing residents to stay active and connected with nature. Deerfield is also known for its vibrant dining and shopping scene, with various restaurants and shops located throughout the village. Overall, living in Deerfield provides a comfortable and convenient lifestyle with ample opportunities for recreation and community involvement.
Why Remodel In Deerfield, IL?
With winding roads, trees, and rolling hills, Deerfield gives the best of country and suburban living, not to mention the fact that it is within an hour of Chicago. This is a popular location with large beautiful homes, ensuring the exterior and interior of your home reflect your gorgeous property.
With such nice scenery in the surrounding areas of Deerfield, you also deserve to be living in a newly remodeled home to match the surroundings. With historic buildings in the area and wanting to preserve their history, that does not mean you need to sacrifice your dream house look, and Patrick A. Finn will help you achieve the look you are seeking!
Why Choose Patrick A. Finn To Remodel In Deerfield, IL?
The satisfaction of seeing the final product and our client's reactions when we are able to bring their vision to life - this is why we do what we do. When you choose Patrick A. Finn, we put you first. We listen to you and what you want.
Having accumulated significant project experience in Deerfield, IL, and its surrounding areas over the years, we have successfully established trust and awareness within the community. What sets us apart from others is our extensive knowledge of the specific homes and architecture in your neighborhoods. Let us make your dreams a reality!
Let us make your dreams a reality! Schedule your home renovation discovery session today!
Deerfield Area Simply Defined White Kitchen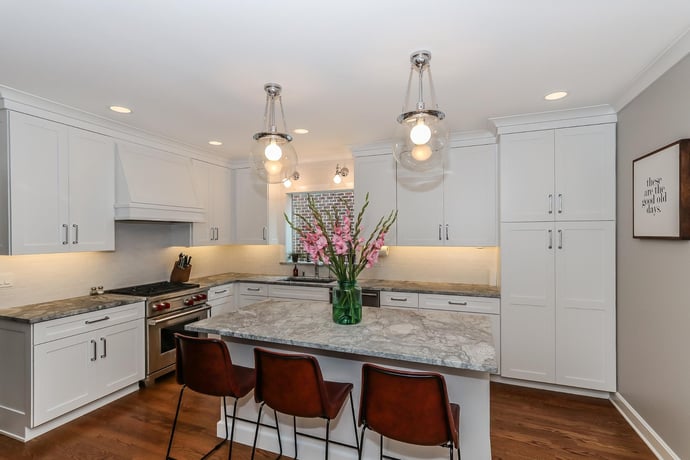 This family's original kitchen wasn't working for these young homeowner's lifestyles. There was a large open space in the middle, a tight peninsula, and a lack of functional storage.
For their remodel, they wanted a space that could fit their lifestyle from morning breakfast to an evening entertaining with friends and family. Through some creative design, we were able to fit in a kitchen island that maximizes both entertaining and storage space. Other helpful features in this kitchen include the multi-layered pantry, the roll-out pot and pan drawers, a built-in coffee machine, and the paneled beverage cooler.
Elegant Beige Master Bath In The Deerfield Area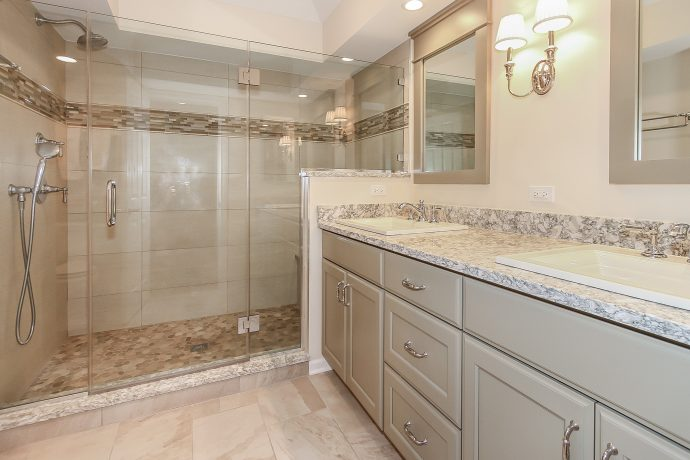 These Deerfield area homeowners wanted a space that would be relaxing and provide practical storage. This master bath is the perfect combination of elegance and serenity. Design aspects like the curvature of the shower and cabinet accessories were repeated throughout the space to give it a distinct and cohesive look and feel.