Prospect Heights, IL - Home Remodeling Contractors & Custom Home Builders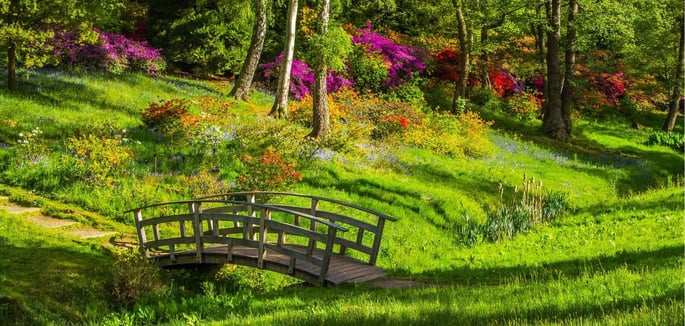 About Prospect Heights, IL
Prospect Heights is a suburb of Chicago with a population of about 16,000 people. It is located in Cook County and is one of the best places to live in Illinois. Living in Prospect Heights offers residents an urban suburban mix feel and most residents own their homes.
Prospect Heights is a safe and family-friendly community. There are many activities for families to enjoy, such as the Prospect Heights Park District and the Prospect Heights Public Library.
Here are some specific things to love about living in Prospect Heights:
The proximity to Chicago: Prospect Heights is just a short drive from Chicago, so residents have easy access to all the city has to offer, including job opportunities, cultural attractions, and sporting events.
The diversity: Prospect Heights is a diverse community, with residents from all over the world. This makes for a vibrant and interesting community.
The schools: The schools in Prospect Heights are highly rated, making it a great place to raise a family.
The parks and recreation: Prospect Heights has a number of parks and recreation facilities, making it easy to get outdoors and enjoy the great outdoors.
If you are looking for a safe, family-friendly community with easy access to Chicago, then Prospect Heights is a great option.
Why Remodel In Prospect Heights, IL
With the rise in telecommuting, more people and families are looking to move outside the city to a near-by suburb. As Prospect Heights is within minutes of downtown Chicago and being such a great suburb to live in, remodeling and improving the value of your house could prove to be beneficial. Additionally, with award winning private and public schooling, lots of parks and lakes, and historic homes in the area, Prospect Heights is a great area to live in. Investing in your Prospect Heights home will be an investment in your future.
Looking to start your new life with your family or in your career and not wanting to stay in the busy city, Prospect Heights offers a great option. With some historic buildings, that does not mean you need to sacrifice your dream house, and Patrick A. Finn will help you achieve the look you are seeking!
Why Choose Patrick A. Finn To Remodel In Prospect Heights, IL
With our experience remodeling homes located in Prospect Heights, we know the homes, the village codes and the people well. The satisfaction of seeing the final product and our client's reactions when we are able to bring their vision to life - this is why we do what we do. When you choose Patrick A. Finn, we put you first. We listen to you and what you want. With several years of project experience in the Prospect Heights area, we have been able to build trust and awareness. Additionally, having a wealth of knowledge with the specific homes and architecture in your neighborhoods, sets us apart from the rest. Let us make your dreams a reality!
Let us make your dreams a reality! Schedule your home renovation discovery session today!
Prospect Heights, IL - Area Modern Farmhouse Kitchen Remodel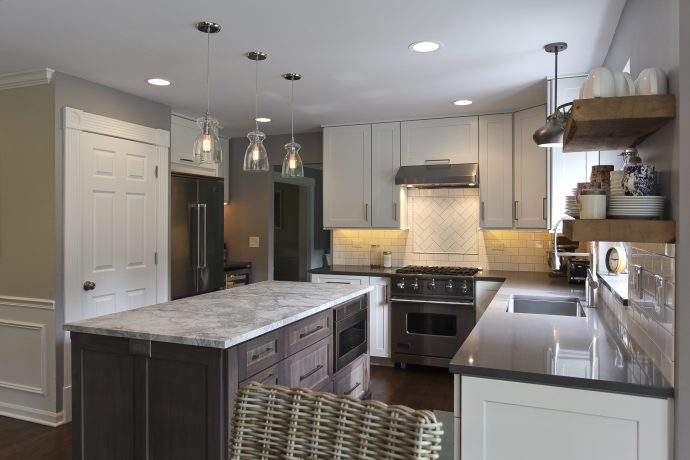 We delivered this kitchen remodel for a young couple looking to redo their outdated 1980's farmhouse. The couple wanted to retain the charming look and feel of their breathtaking farmhouse while updating the design and adding additional storage space.
The kitchen remodel features:
Open shelves made from reclaimed barnwood
A walnut island with a paint glaze
An updated breakfast area
Specially chosen cabinet hardware and light fixtures
Prospect Heights, IL - Area Country Inspired Kitchen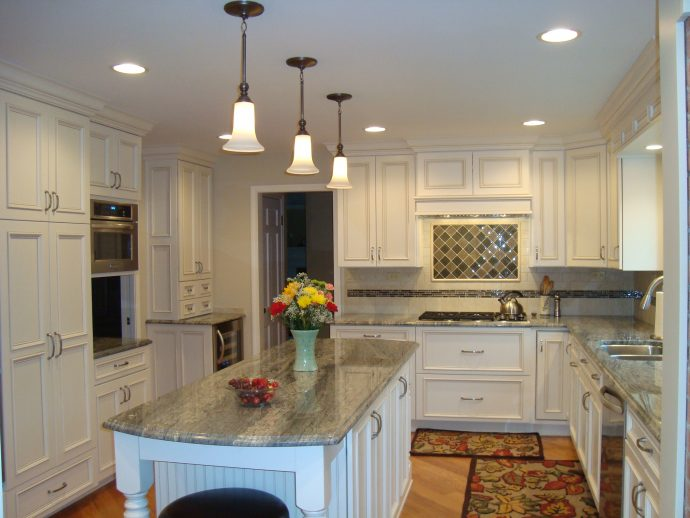 This Prospect Heights area home built in the 1960's had never had a kitchen update! The homeowners hired us to help upgrade appliances, increase storage, and modernize their kitchen in a way that retained its classic country charm. Our interior designer helped the homeowners choose cabinets, countertops, and backsplash tiles. Both the homeowners and our team couldn't be happier with the results!!