Open up your kitchen and add modern features and appliances to create a kitchen fit for your lifestyle.


Hire Us as Your NW Chicago Kitchen Remodeler- Here's Why
Your kitchen is one of the busiest rooms in your home. It's where you prepare meals, spend time with family, and entertain guests. Your family deserves a kitchen that empowers you to live the best version of your life.
At Patrick A. Finn, we help homeowners discover what a modern kitchen can be. We can complete stand-alone kitchen remodels or integrate them as a piece of a larger project. Our team has the design and construction know-how to design and build the perfect kitchen for you.
Every kitchen should be comfortable, functional, beautiful, and, most importantly, complement your lifestyle.
Our award-winning design and build kitchen remodeling team centers our efforts around these tenants and works to make sure you have the best kitchen remodeling experience possible. Our team will help plan and manage every step of the process. You still be in command of the process, but our team will be there to guide you and do all the legwork.
Let's work together to create a kitchen you'll cherish for generations! To see the results in real life, use the slider image below to see the before and after of a 3D kitchen design rendering.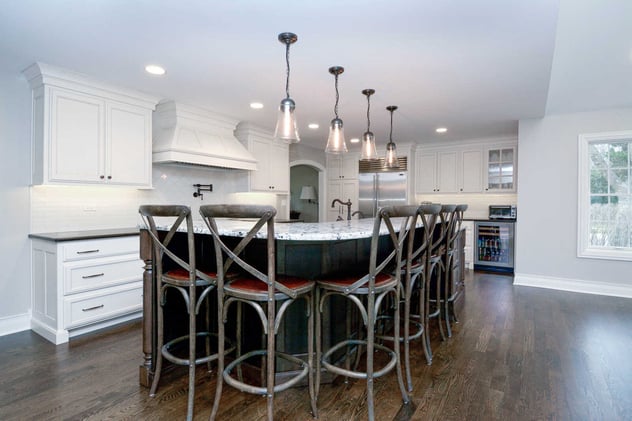 The Design-Build Kitchen Remodeling Process
How a Major Kitchen Renovation Works
At Patrick A. Finn, we take care of your entire project, starting from the initial consultation all the way to the completion of your kitchen remodel. We ensure a seamless process and closely monitor the progress of your project to ensure it is going smoothly and exceeding your expectations.
When you work with a Chicago kitchen design-build firm like Patrick A. Finn, you don't need to hire and coordinate the work of designers, architects, engineers, and contractors — we'll do it all. This process results in a more efficient project and a more beautiful, functional kitchen.
Just how does our kitchen renovation process work?
During your initial consultation, our designers will get to know you and learn about your vision, timeline, and budget. They'll work with you to create a custom kitchen design you love and a detailed plan for bringing it to life.
Next, we'll help you gather all the materials needed for your kitchen remodel, including appliances, cabinets, countertops, and more, from our preferred vendors. Our local Chicago kitchen remodel contractors will also handle necessary building permits.
Finally, we'll complete your kitchen remodel on time and on budget. Our job isn't done until you are completely happy with your new kitchen!

See Pictures of Kitchen Remodels in NW Chicago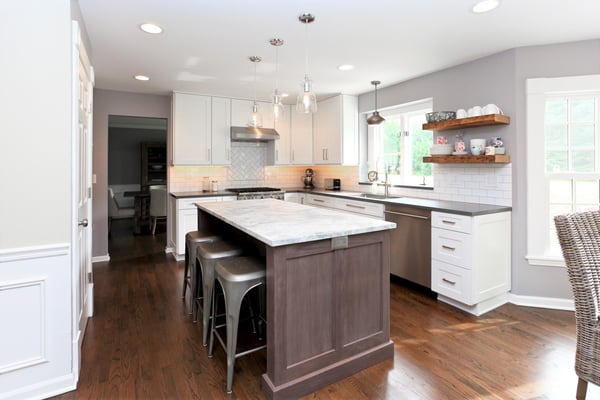 Chicago Kitchen Design Before and After
Slide left or right to see the first design rendering and then how the final kitchen remodeling results turned out after in-house design revisions and collaboration with the client to get it just right.



How to Renovate your Chicago Kitchen in 2023- Ideas and Trends
We spend so much time in our kitchens: cooking, eating, and entertaining; why not make them extra special by adding little details that make a big difference? Here are just a few kitchen remodeling ideas that can update an old kitchen or help transform a new one.
Make the most of your hardware.
Pick out handles, pulls, and hinges that create interest as well as provide function. This is a small way to add color, metallic, or innovation to the kitchen. Plus, they are interchangeable if you want a new look down the road.
Kitchen Lighting Ideas
For a kitchen, you can get some nice effects without having to do much construction work. Under-cabinet and soffit lighting can add additional light and drama to a space with little hassle. You can brighten up your workspace with under-cabinet lighting and brighten the overall room with lighting above the cabinets.
Kitchen Cabinet Ideas
Glass front cabinets offer a decorative cabinetry element as well as a display space. You can easily add color to a neutral design by placing colorful accessories behind the glass, such as decorative glasses, dishes, vases, etc. This also allows you to change your displays as often as you like.
Cabinet Color Ideas
Try changing the finish or color of the island or a stand-alone bar to accent the rest of the kitchen cabinetry and countertop. Also, think of a different countertop material as well. Keeping the same door style and cabinetry design makes a cohesive design, but the color change adds just enough variety.
New Kitchen Flooring Trends
Explore new products such as cork or bamboo flooring, wood or bamboo for an island or bar counter, or recycled glass countertops for a contemporary look that keeps up with the design market trends.
So the next time you think about a quick kitchen face-lift or a total overhaul, keep these little details in mind because they can really bring your design to life.


Our Awards for Kitchen Renovations and Home Remodeling

We've been lucky to work with so many amazing people and properties over the years. We've received numerous Key Awards from the Home Builders Association of Greater Chicago. Read more about the awards we've won.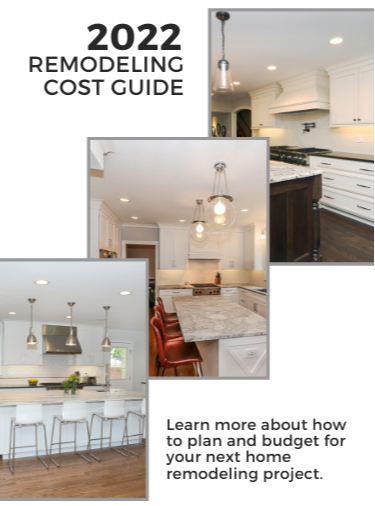 Get instant access to kitchen remodeling pricing for Northwest Chicago