Open up your kitchen and add modern features and appliances to create a kitchen fit for your lifestyle.
Kitchen Remodeling Design-Build
Your kitchen is one of the busiest rooms in your home. It's where you prepare meals, spend time with family, and entertain guests. Your family deserves a kitchen that empowers you to live the best version of your life.
At Patrick A. Finn, we help homeowners discover what a modern kitchen can be. We can complete stand alone kitchen remodels or integrate them as a piece of a larger project. Our team has the design and construction know-how to design and build the perfect kitchen for you.
Every kitchen should be comfortable, functional, beautiful, and most importantly, complement your lifestyle.
Our award-winning design-build team centers our efforts around these tenants and works to make sure you have the best kitchen remodeling experience possible. Our team will help plan and manage every step of the process. You still be in command of the process, but our team will be there to guide you and do all the legwork.
Let's work together to create a kitchen you'll cherish for generations.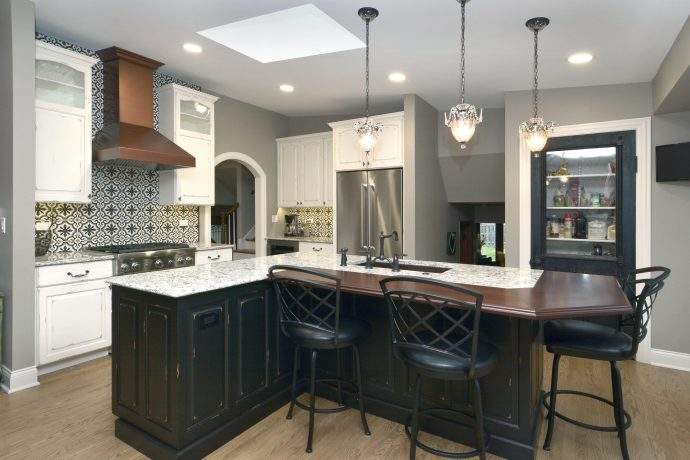 Our Design-Build Process
At Patrick A. Finn, we handle the entire project from beginning to end. From the moment your initial consultation begins through when your kitchen remodel is finished, we'll make sure everything goes smoothly and your project is coming along as best as it possibly can.
When you work with a design-build firm like Patrick A. Finn, you don't need to hire and coordinate the work of designers, architects, engineers, and contractors — we'll do it all. This process results in a more efficient project and a more beautiful, functional kitchen.
Just how does our process work?
During your initial consultation, our designers will get to know you and learn about your vision, timeline, and budget. They'll work with you to create a kitchen design you love and a detailed plan for bringing it to life.
Next, we'll help you gather all the materials needed for your kitchen remodel, including appliances, cabinets, countertops, and more from our preferred vendors. Our kitchen remodel contractors will also handle necessary building permits.
Finally, we'll complete your kitchen remodel on time and on budget. Our job isn't done until you are completely happy with your new kitchen!
See the Patrick A. Finn Kitchen Remodeling Process in Action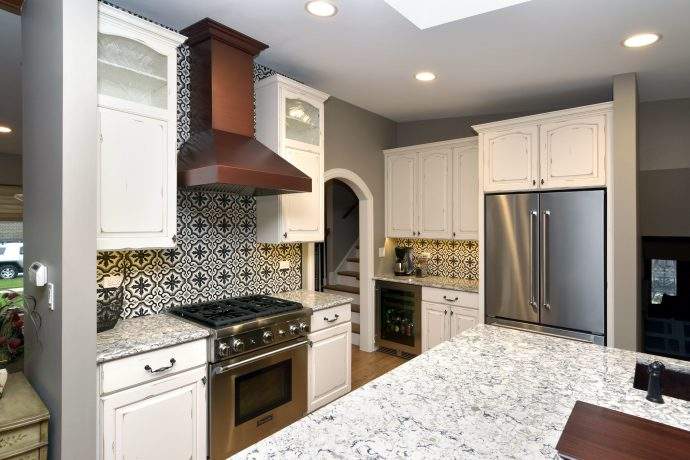 "Patrick A. Finn, Ltd is a fantastic company to work with if you are considering remodeling your home or building a new home. His team is very professional and knowledgeable and produce high quality work. They are truly expert craftsman. Patrick worked with us himself, in order to provide us with the results that we wanted. His input was incredibly valuable. His team, especially his finish carpenters who are excellent craftsmen, and the interior designer, who helped us design the two upstairs bathrooms and change the palette for our wall color, expertly guided us along the way, paid careful attention to detail, included us in important decision making as our project progressed. At the end, our entire second floor of the house was remodeled, with addition of a new master bedroom suite, in the craftsman style. We are thrilled with the outcome and work quality. We highly recommend Patrick and his team for your project."

— Pat & Kathy
Our Awards

We've been lucky to work with so many amazing people and properties over the years. We've received numerous Key Awards from the Home Builders Association of Greater Chicago. Read more about the awards we've won.
About Patrick A. Finn
Patrick A. Finn and his team of experts have worked on hundreds of award-winning home construction, design, and remodeling projects in the Chicago area.
Raised in Ireland, Patrick A. Finn began his career as a carpenter in England, eventually emigrating to the United States and building a home and business in the north suburbs of Chicago. Thanks to a commitment to hard work (and a bit of Irish luck), Patrick is living his dream.
When you work with our team at Patrick A. Finn Ltd., you'll receive our:
Commitment to true craftsmanship, flawless design, and attention to even the smallest details.
Focus on open communication, making sure you'll have the information you need and answers to all of your questions.
Dedication to a job well done. We can be counted on to complete your project on time and within your budget.
We can't wait for you to experience what it's like to work with the best.
Are you ready to discover the kitchen of your dreams?