Kitchens are a natural gathering place in a home. But when your kitchen gets congested with more than one or two people prepping or hovering–hoping for a taste of the next meal or a scrap of conversation–you know it's time to reconsider your kitchen's design and layout.
If you have a galley-style kitchen with only one way in and out or a peninsula that does the same, you are very familiar with that kind of congestion. You can't open an oven door, refrigerator, or dishwasher without bumping into someone. Cooking can become a lonely endeavor if the kitchen is walled in or has just a small passthrough opening into the adjoining room.
Several elements are needed to streamline your kitchen design into a welcoming and functional space. What will it take to bring your kitchen from an isolated outpost to your home's conversation and entertainment center? Let's find out.
How Do You Streamline a Kitchen?
The last holiday meal you hosted was great, but the kitchen felt like a hindrance rather than a help. It was wonderful to see everyone, but after a collision resulting in green bean casserole covering the kitchen floor, you realize it's time to make some changes.
How can you eliminate the congestion in the kitchen when trying to cook or entertain? What does a "streamlined" kitchen even look like? A streamlined kitchen makes cooking more efficient and creates a welcoming atmosphere for guests. It's a place you enjoy spending time in and are proud to share with your friends and family. Here are a few kitchen ideas and tips to help you design a functional space for making meals, spending time with family, and entertaining family and friends.
1. Establish an Effective Flow
Defining an efficient flow for your kitchen layout is the key to a great kitchen. Bad flow within the kitchen and to and from adjoining spaces may be because your kitchen is in the wrong place in the home or has the wrong layout.
For instance, you may have a U-shaped kitchen and adjoining breakfast area resulting in many scenarios of people bumping into each other while trying to get between those places. An ideal design would separate the "U," adding a kitchen island with seating, plus reconfiguring the perimeter to create additional cabinet storage space and countertop space.
Many modern kitchen layouts add seating to the island which creates a comfortable space for both entertaining and cooking. It can also be used as a breakfast space, homework station, your go-to work-from-home space, or a hangout spot where you catch up with friends and family at the end of the day. An island is a great way to combine living space with cooking space, making the most out of your kitchen.
Flow within the kitchen can be heavily dependent on a work triangle. If the current layout does not provide triangular movement between the cooktop, refrigerator, and sink, put that on the list of design idea upgrades for a new kitchen renovation.
Updating the kitchen flow often includes adjustments to windows, like adding large picture windows to see into the backyard. You might also add French doors or a sliding door for easier access to the outside.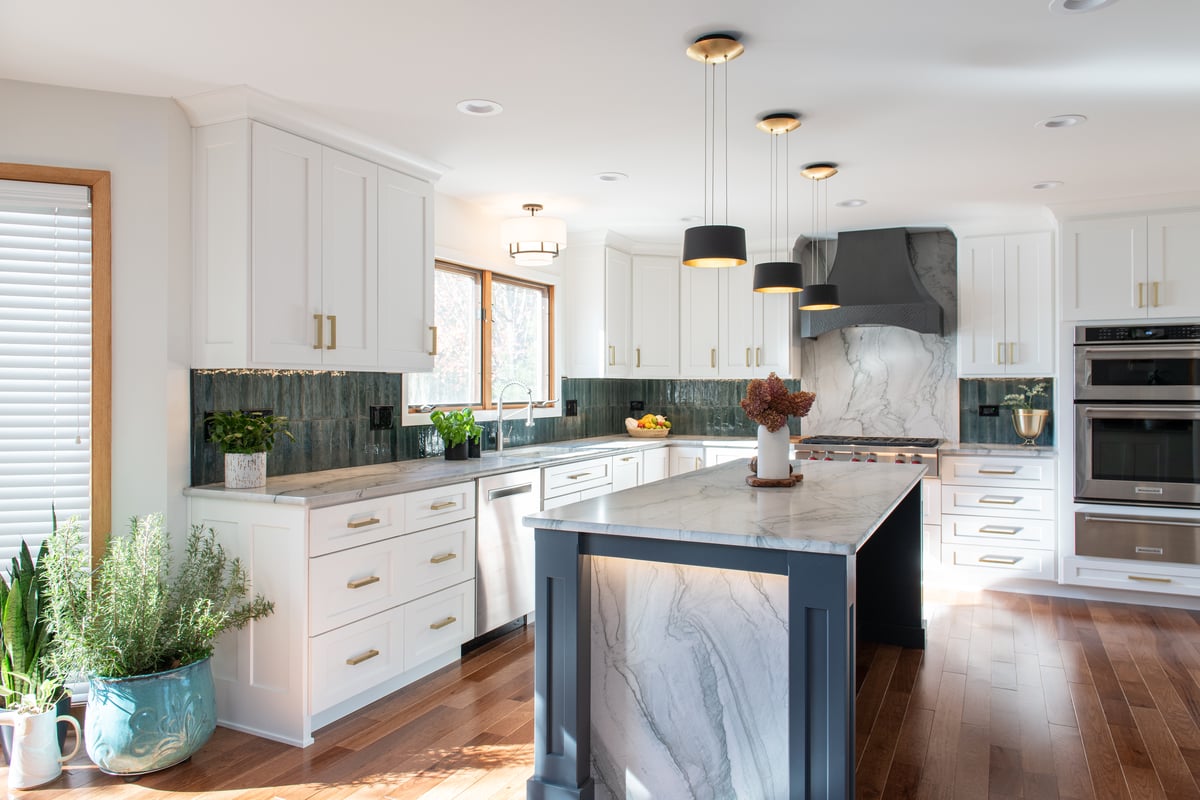 Sheridan Transitional Kitchen Remodel, Buffalo Grove, IL. See the full gallery here.
2. Open it Up
Open concept is a popular term, but how is it best achieved in your situation? First, explore the possibility of removing walls. Most people immediately think of removing the wall to the dining room, but depending on the layout of your home, removing the wall adjoining the living room might be the better option. This scenario would create a nice open-concept space between the living area and kitchen while maintaining a separate dining area. The ultimate open concept design would open up sightlines in all three areas - dining area, living room, and kitchen.
Creating an open concept might also mean something more dramatic. If you think of the kitchen as the heart of the home, but it is walled off in the front or back of the home, you might want to move the kitchen to a more central location. This would involve removing walls and rerouting plumbing to achieve a streamlined space with an open concept.
Depending on the home's layout and whether or not there's a second story, another way to create a sense of openness is to vault or raise the ceiling of a living space/kitchen space. This creates volume, which gives the feeling of more space without an addition.
Italian Inspired Addition, Arlington Heights, IL. See the full gallery here.
3. Add More Space
Perhaps streamlining the kitchen is part of a larger plan to create more overall space in your home. In that case, a home addition will be your best option.
Since available square footage–given setback lines—is typically the most generous in the back of a home, a rear addition is the most common for creating added kitchen and living space. Another option is to bump out a few feet on the side of the home, but this can be tricky with side setback requirements and may not provide enough additional space.
An addition gives you more of a blank canvas to work with. You can consider adding a buffet space for food preparation or a beverage station. The added space could afford a larger island in an ample L-shaped kitchen.
An addition can create a sense of openness and flow without becoming an open concept. With more activities happening at home in recent years, some homeowners are modifying their open-concept expectations. Why not open up the kitchen/entertaining space and leave the rest of the home more or less as is? You can also consider options like adding wide doorways with pocket doors to keep an area near the kitchen open when you want and separate it when needed. Noise transfer is a common concern for open-concept design, so incorporating pocket doors can assist in diminishing that concern.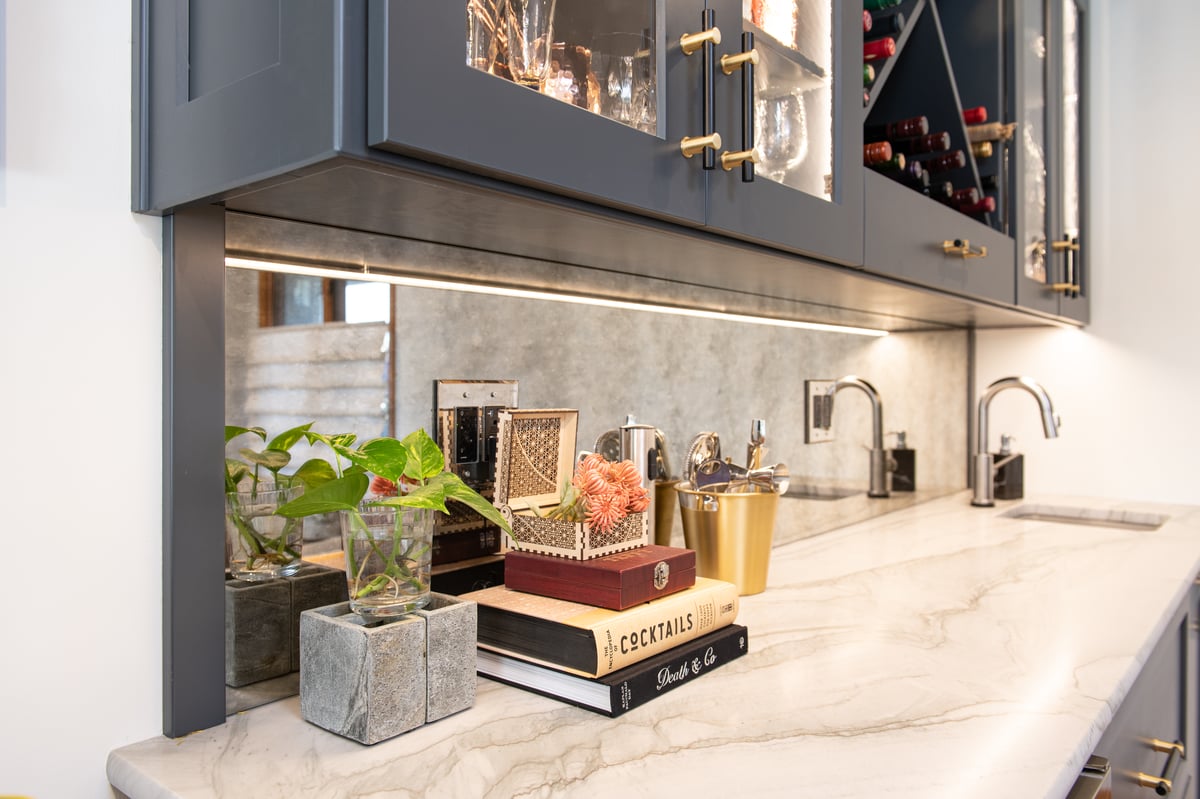 Wet bar and buffet station. Sheridan Transitional Kitchen Remodel, Buffalo Grove, IL. See the full gallery here.
Streamlining Bonus: Useful Appliances for Entertaining
In order to create the kitchen you've always desired, it's important to incorporate convenient appliances that can enhance your lifestyle while hosting gatherings. Examples include:
Combo Oven
Consider adding an oven that combines two or more of the following: convection, conventional, microwave, and warming drawer.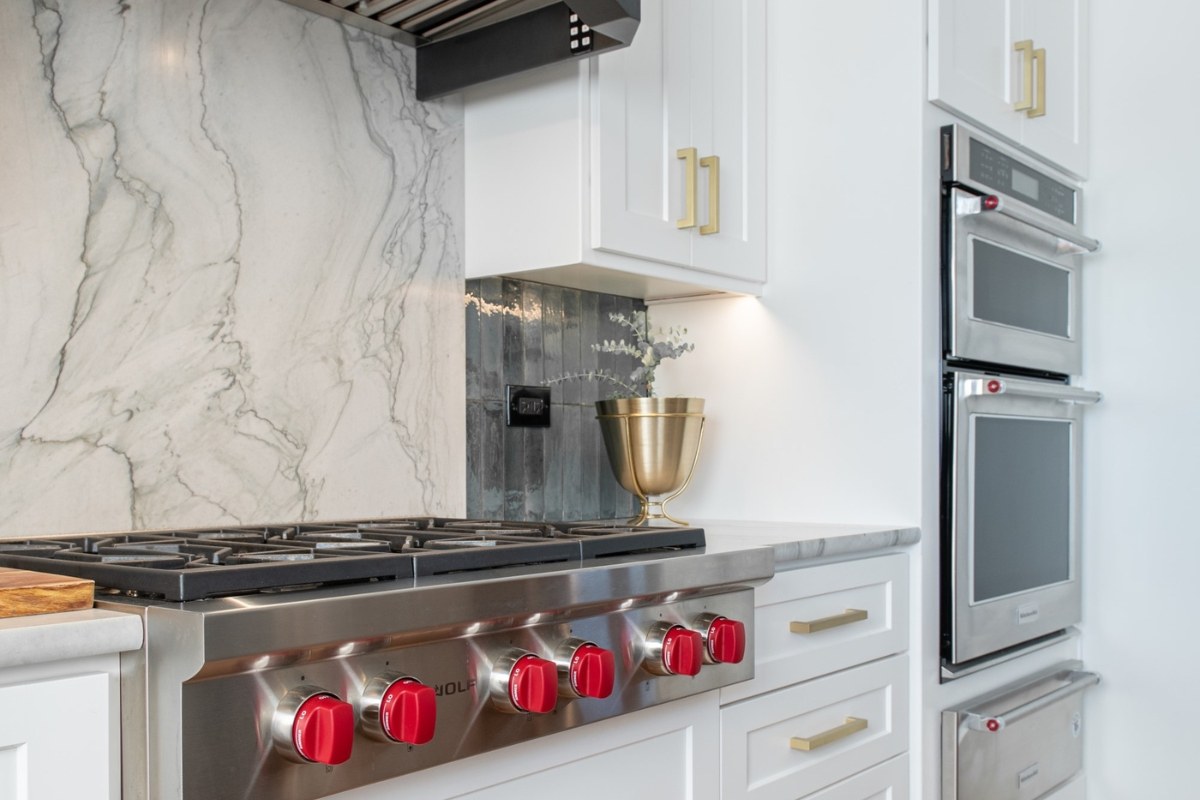 Double oven in Sheridan Transitional Kitchen Remodel, Buffalo Grove, IL.
Dedicated Ice Machine
Sure, you can buy bags of ice to put in your Yeti cooler. But if you are having a large party, a small cooler won't cut it. Having a dedicated ice machine allows for more floor space in your kitchen, a more streamlined entertaining experience, and cold beverages all night.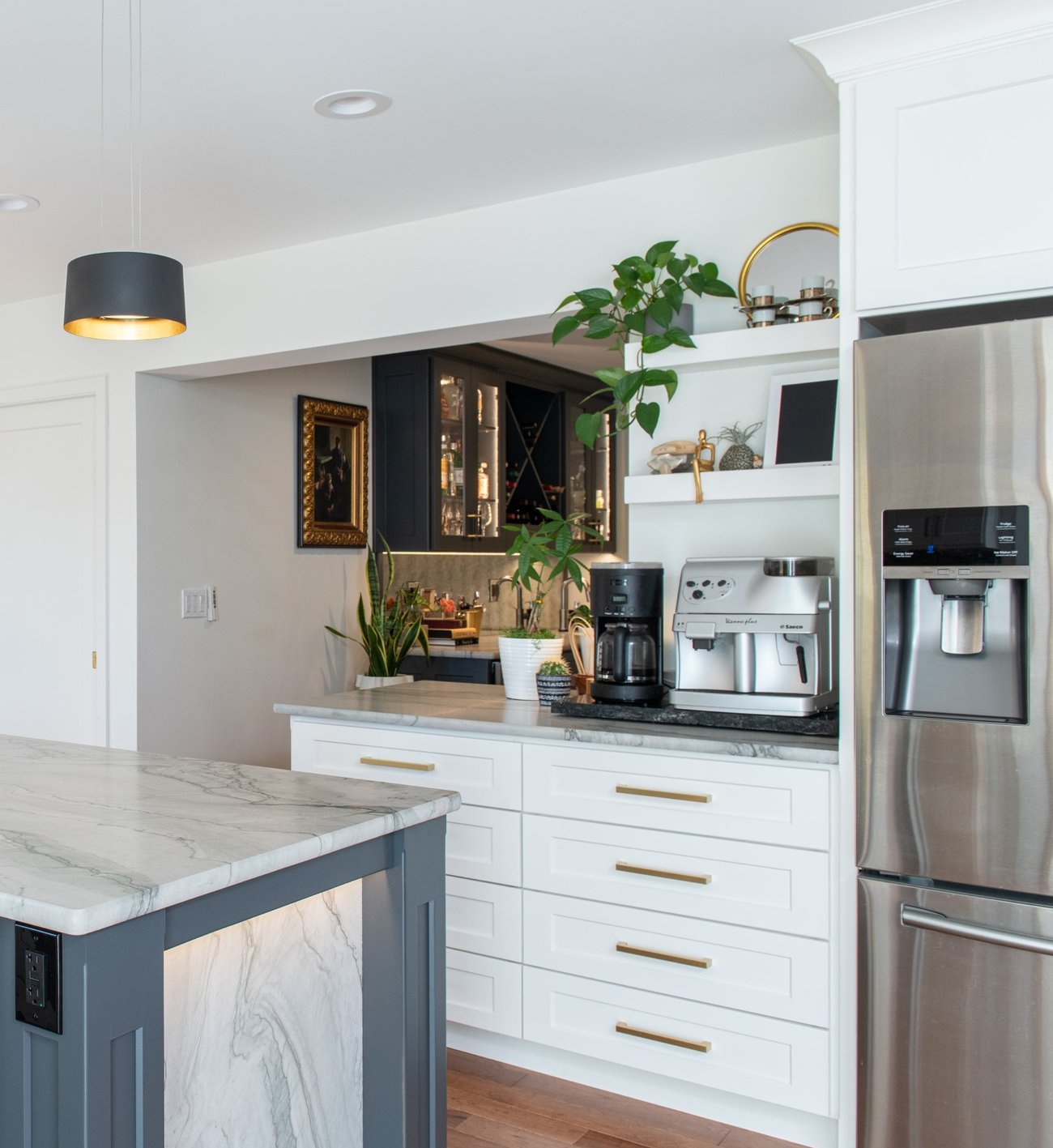 Beverage Station, Sheridan Transitional Kitchen Remodel, Buffalo Grove, IL.
Beverage Coolers
Speaking of cold beverages, dual-zone coolers are made for wine or multi-purpose coolers that work for all beverage types–beer, wine, soda, or whatever you fancy. You can also purchase panel-ready beverage coolers that blend in with a custom kitchen cabinet front to keep your design streamlined.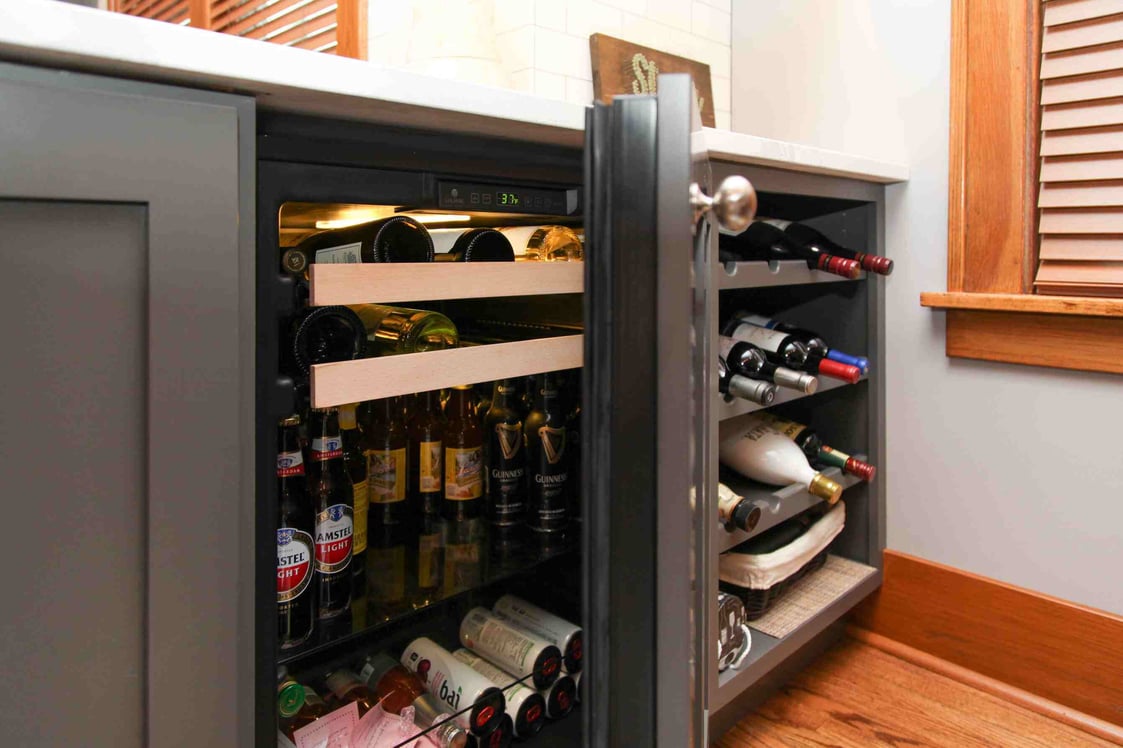 Built-in beverage cooler added to a historical urban farmhouse in Arlington Heights, IL.

Custom Built-in Coffee Station
Build this, and you are speaking someone in your household's love language. This can be done with recessed drip-style coffee machines or espresso machines with a milk frother built into the backsplash.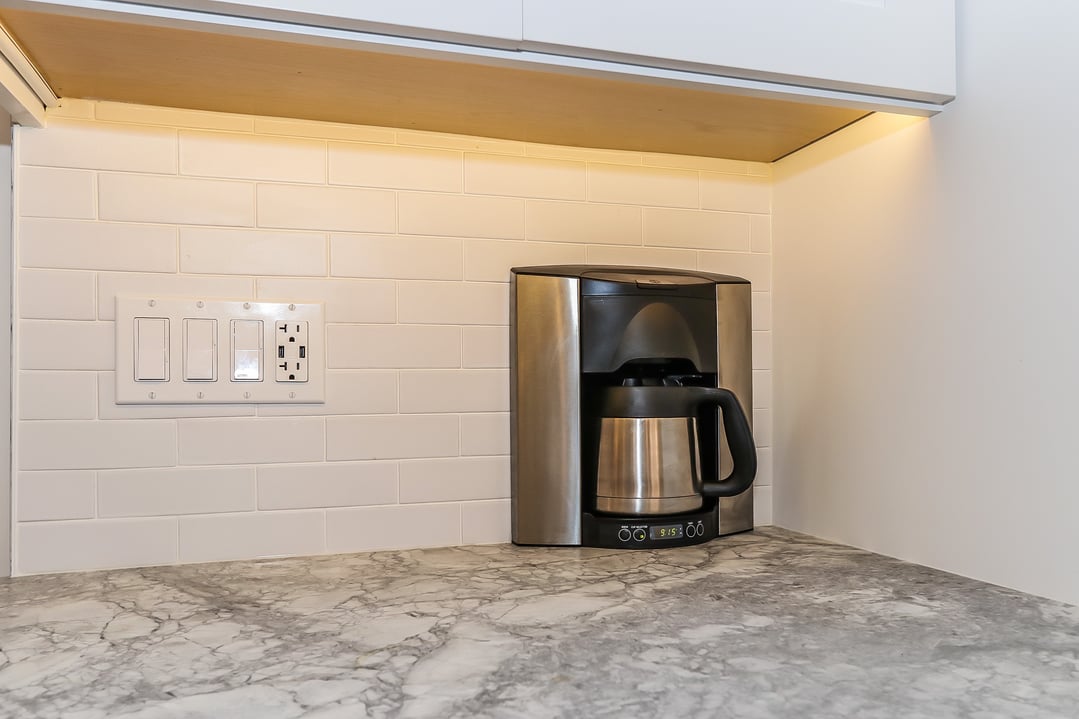 Custom Built-in coffee maker added to Simply Defined White Kitchen in Arlington Heights, IL.

Secondary Dishwasher
A custom panel can be built to blend the second dishwasher into the cabinetry.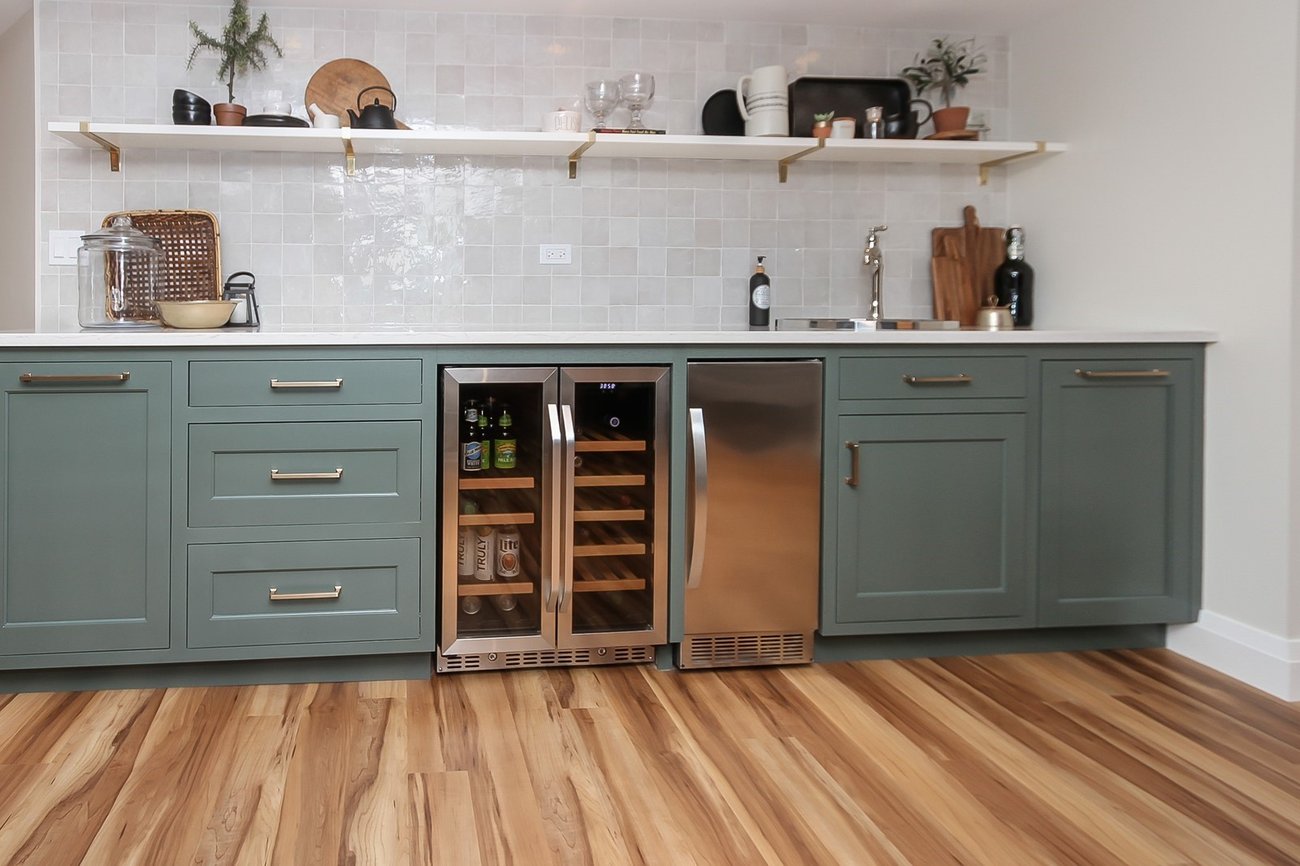 Built-in Secondary dishwasher in basement kitchenette. Mid-Century Modern Basement Remodel, Deer Park, IL.
Bringing Your Streamlined Kitchen Dreams to Reality
Finding the best ways to maximize your kitchen space starts with finding an experienced design-build contractor. Look for someone with expertise and experience in interior design and remodeling Chicago-area and Northwest Suburban homes. Look for a company with the expertise to see beyond the current layout, offer you a solid plan of action, and create an efficient kitchen that blends seamlessly into the architecture of your home and your lifestyle.
Read the eBook, "The Ultimate Step-by-Step Home Renovation Transformation Guide," to learn how you can streamline your kitchen for the ultimate cooking and entertaining experience.