You haul in the week's groceries and set them on the breakfast table because your available kitchen countertop space is cluttered with small appliances, various containers, and a dish drying rack. Then you start putting canned and dry goods away, only to discover there's little room for the mushroom soup, tortilla chips, and most everything else you purchased at the store.
A well-organized and functional kitchen can make all the difference in your daily routine. But what do you do when facing a lack of cabinet and kitchen counter space? It can be frustrating when you constantly struggle to find space for your cooking utensils, pots, pans, and groceries. Fortunately, there are solutions to help you maximize your kitchen space and create a more efficient and enjoyable cooking, daily living, and entertaining experience.
What is the Ideal Amount of Counter Space?
The short answer is, "It's up to you." You know what being short on counter space feels like, so here are some design considerations that will give you ample room to roll out that pie dough, chop some carrots, and leave room for the person who loves doing their homework at the counter while all of that is going on.
The first area to consider is around the stove. A counter space of at least 36 inches on either side of the cooktop is ideal. This leaves room to set out a cooling rack for a batch of cinnamon buns or put the cooked sausage aside while you sweat the onions and peppers for the sauce.
What about purchasing a kitchen cart or kitchen island unit? Kitchen islands definitely mean more counter space, but how do you know if you have enough room? You want a walkway of at least 42 inches between the island and the cabinets and countertops across from the island.
The ideal size of your counter space will be dependent on a number of factors, including:
How many people will be using the kitchen at once
If you bake often, you'll want more countertop space for rolling dough, letting batches of cookies cool, etc.
Ratios: the amount of countertop space is directly related to the amount of lower cabinet space & floor space you have. If your cupboards are full, you might be putting things on the countertop that you would just as soon have stored away if you had additional cabinet space.
The ideal amount of kitchen counter space is as much as you need based on how you use your kitchen. When it is clear that counter space is lacking, what are your options?
A kitchen redesign and remodel is also where your island dreams can become a reality. Ideally, you want to design for more than one task or purpose. Adding a multifunctional island will significantly increase kitchen organization, and accommodate food prep, serving, entertaining, and provide additional workspace.

Above is a recent L-shaped island we designed that combines a sink, storage, plenty of countertop prep space, and a seating area. The wooden area mimics the feel you would have at a dining table, while the quartz area allows for easy cleanup. See the full gallery of this unique French country-inspired kitchen here.
How To Maximize Kitchen Cabinet Space
If you are redesigning your kitchen, consider how custom cabinets can help you maximize space and gain efficient kitchen storage. Custom cabinetry can be built to sizes that meet your exact needs and can be built with unique storage solutions like pull-out drawers for pots and pans, spice rack drawers and cabinet doors, built-in butcher block cutting board, drawers with pegs for organization, silverware tray drawer dividers, hidden pop-up storage for mixers and custom knife blocks hidden inside drawers.
Designing your kitchen using custom cabinets enables better utilization of awkward spaces or complex angles. Working with custom cabinet makers, you can customize the size of your island to make it as large or small as you want.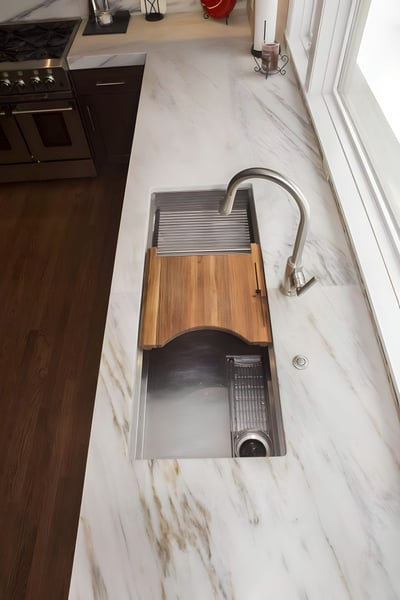 Here are a few more design ideas that create more counter space in your kitchen:
A cantilevered or bay window can be used to add countertop space in a kitchen.


Add a buffet in a transitional space or kitchen side wall to use as a serving station and as a hot beverage station.


Gain extra storage and declutter your countertop by adding a pantry. If you have the room, consider creating a butler pantry for storage, more counter space, and a staging area for entertaining.


Add appliance-specific cabinets to help remove countertop clutter (our personal favorite is the Kitchen Aid mixer pop-up cabinet).
Companies like Galley create accessories like cutting boards and workstations that cover the kitchen sink and expand the length of the overall prep area.
How Else Can I Maximize Space in My Kitchen?
There are so many creative ways to gain space in your kitchen for what matters most to you and your family.
Removing soffits above cabinets allows you to install upper cabinets to the ceiling. This gives ~ 6 - 10 " extra height, depending on your home, and could be used to move items typically found on the countertop to this extra space.
Even if you don't go with custom cabinets, pay attention to the face frame size on your cabinets. Wide face frames can block storage space for drawers and cabinets with doors.
One wall of cabinets can be made as one furniture piece rather than individual boxes assembled together at the site, saving space within the cabinet boxes.
There are so many ways to create more cabinet and countertop space in your kitchen. By evaluating the workflow needs of your family, a design-build company can help you create a kitchen that maximizes the functionality and enjoyment of the space.
Download the eBook "The Ultimate Step-by-Step Home Renovation Transformation Guide" to learn how you can renovate your home to gain the most value and functionality from your kitchen.