While the past couple of years have felt like a blur in many ways, one thing we can guarantee is that the pandemic greatly impacted home designs, especially kitchen design. The saying goes "the kitchen is the heart of the home" and design trends agree!

Trending Kitchen Remodel Ideas
Sometimes when people see trend blogs, they worry that if they choose anything "trendy" it will be out of style a year later. We always tell our clients to go with their gut instinct when it comes to their design style. If you're remodeling your forever home, you should focus on design details that you love and don't worry too much about what someone else will love in 20 years. That being said, it's ok to remain apprehensive when it comes to trends. We've been in the remodeling industry long enough to see lots of trends rise and fall. Our recommendation has always been to build a timeless kitchen that incorporates a trend or two that you love. So, where to start?
Trends in Appliances
Smart and Integrated
The first thing to pick out in your kitchen remodel is your appliances. For many, that seems counterintuitive, but there are a couple of reasons you need to start with your appliances. For starters, your appliances will dictate the size of your cabinetry. We use a custom cabinet line which allows us to avoid needing any kind of fillers in the kitchen. If we can get the exact size of all of your appliances, then your cabinetry can be made to have a perfect fit. At this time you can also decide if you're going to choose panel-ready appliances, which are a very popular 2023 kitchen trend. Panel-ready appliances don't have a typical appliance front, instead, they have room for a cabinet panel to be placed upon installation. This creates a longer, streamlined wall of cabinetry in the kitchen and hides the typical appliance face.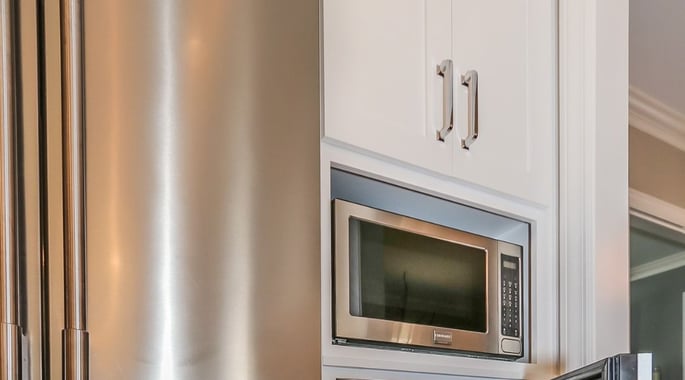 If panel-ready appliances aren't for you, another popular appliance option is smart appliances. Appliances have come a long way the past few years. They are now fitted to make your life easier. Examples include smart fridges that can be paired with apps to remind you when to change your filter, as well as fridges with internal cameras allowing you to double check your grocery list while you're at the store. With most of us feeling as though life is getting busier and busier, smart appliances for your kitchen can benefit your daily life in 2023.
Kitchen Cabinet Ideas for 2023
Popular Cabinetry Colors and Materials
Cabinetry is kind of like the "foundation" of the kitchen. It's your baseline, your most functional piece and will likely be one of the more visually weighted portions of your kitchen. You need to love your cabinetry! According to a study recently completed by Houzz, 65% of people completely replace their cabinets when remodeling, whereas 23% of people conduct a partial replacement. Remodel your kitchen with accessibility in mind if you plan to age in place in your forever home. Soft-close hinges and lower workspace areas make sense in this case.
Updating your kitchen color scheme with your remodel can create a seamless look between the new and old. Besides white, what colors are people using in their homes? The top choices continue to be blue, green and black. If you don't want white and those colors seem a bit too bold, then stained cabinetry may be the best choice for you. Stained cabinetry continues to rise in popularity in recent years as people look to bring warmth back into their homes. We're not talking about the quintessential '90s honey oak, but rather a natural walnut, white oak, burlwood, or even alder. These stained woods are softer and are a great way to bring an earthy feeling to your home.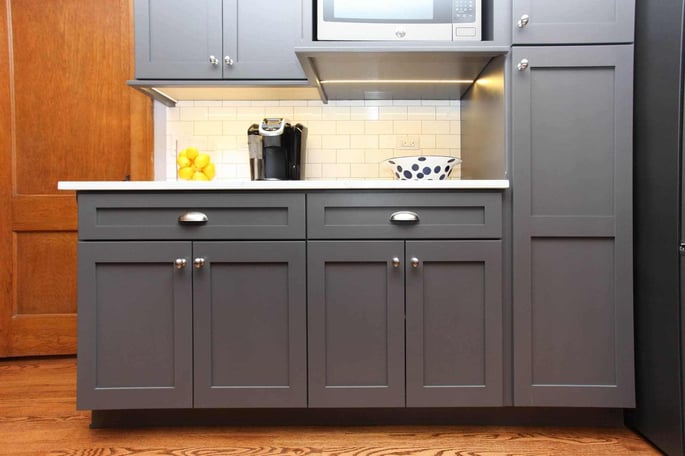 Trends and Ideas for Kitchen Countertops
Quartz, Marble and Wood
Next up, countertops. A lot of people want to jump to backsplash or hardware next, but countertops are our recommendation. Not only is it a process to find the perfect counter for your kitchen, but if you're thinking of natural stone, then supply and demand quickly come into play. You'll want to tag your slabs as soon as possible. Plus, it's easy to find a backsplash to compliment your chosen countertop, but it can be more difficult to do that the other way around. Engineered quartz still takes the cake as the most popular countertop material in 2023. We highly recommend engineered quartz to families because of the low maintenance and antimicrobial properties of quartz. A close second to quartz is marble. While marble is far from low maintenance, due to its etching properties, if you're looking for a countertop that's perfect for baking and has stunning natural veining, then marble may be for you.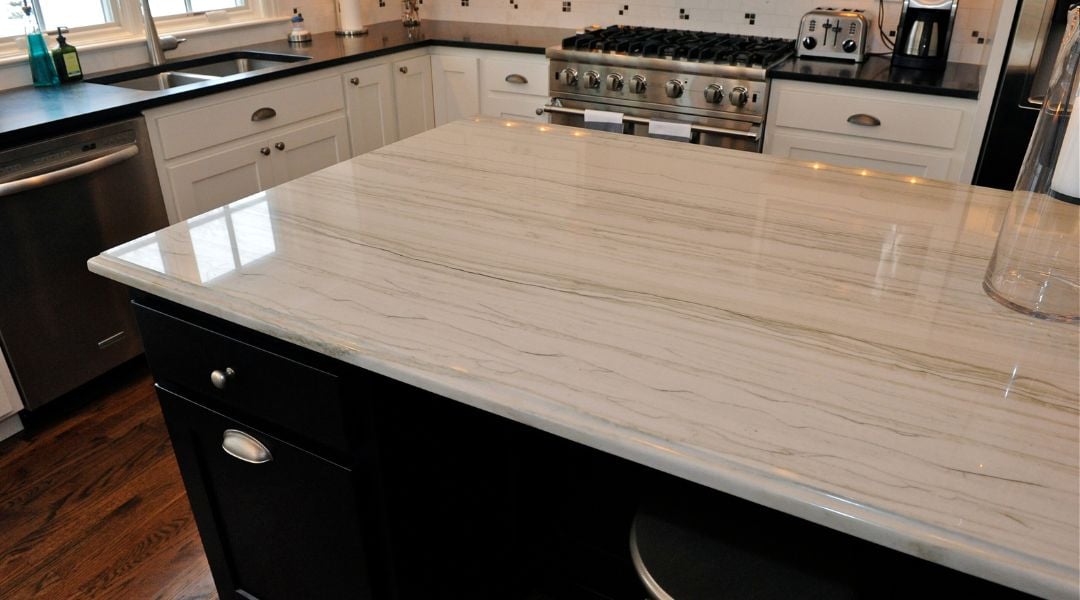 Another popular countertop trend is to use two different materials on your island to create a prep portion and a dining portion. This is often done with a stone material on the prep portion and a wooden butcher block countertop material on the dining portion. This combination is often seen on the long side of the island to create visual interest, or on the shorter end of an island, to create a "table-like feel" with the butcher block. You could extend this trend even further, and build double kitchen islands, crowning each with a different material to suit its unique purpose.
Wondering about the cost of a kitchen remodel in the Chicago Suburbs? Head here to find out more.
Trends and Ideas for Range Hoods for 2023
Mounting, Material and Color Options
2023 will see a wider variety of range hoods and smoother integration of range hoods into the design via custom cabinetry. Understanding your options can help you select the best range hood for your 2023 kitchen remodel.
Wall Mounted Range Hoods
One of the most popular styles today is the wall-mounted range hood, sometimes known as a chef-style range hood. This range hood has a sleek, chimney-like vent with a triangular hood at the base to capture heat, odors, and smoke. This type of hood works well with modern, industrial-style kitchens as well as transitional-style kitchens with shaker cabinets.
Island Range Hoods
An island range hood is essentially the same concept as a wall-mounted range hood except that its only fastening point is the ceiling. Island range hoods vary greatly in style, from pendant-like range hoods to rectangular vents with flat, broad bases to straight vents with no bases. Again, this type of range hood pairs well with modern kitchen designs.
Insert Range Hoods
As their name suggests, insert range hoods are designed to be seamlessly integrated into existing structures so that there is no visible vent or base. The bottom of the hood is flush with whichever structure is built around it, be that custom cabinetry or chimney-like enclosures featuring materials like brick, colored glass, and wood paneling. Because the range hood itself is more or less invisible, insert range hoods can be made to pair well with almost any kitchen style, from farmhouse to mid-century modern and beyond.
Colors for Range Hoods
As with any other kitchen element, color is just as influential as style when it comes to your range hood. The most commonly used colors in modern and industrial-style kitchens are stainless steel, black stainless steel, white, and black. Other popular colors for transitional, farmhouse and traditional kitchens include white, copper, and slate. Of course, homeowners who select insert range hoods have a wide variety of options that work well within almost any kitchen style, and skilled home remodelers can easily create custom solutions to match your needs.
Popular Kitchen Backsplash Ideas
Once you have solidified your cabinetry and countertop choices, it's time to pick out a backsplash. In 2023 a popular backsplash trend continues to be the slab style. Slab-style backsplashes use a countertop and bring it up the wall. This can be done just behind the range or around the whole kitchen up to the upper cabinets. Another option for a slab backsplash is a three-quarter style where it goes approximately three-quarters of the way up from the countertop to the bottom of the upper cabinets. Slab wall backsplashes look sleek and modern. They are perfect for people who are looking to avoid grout lines in their kitchen.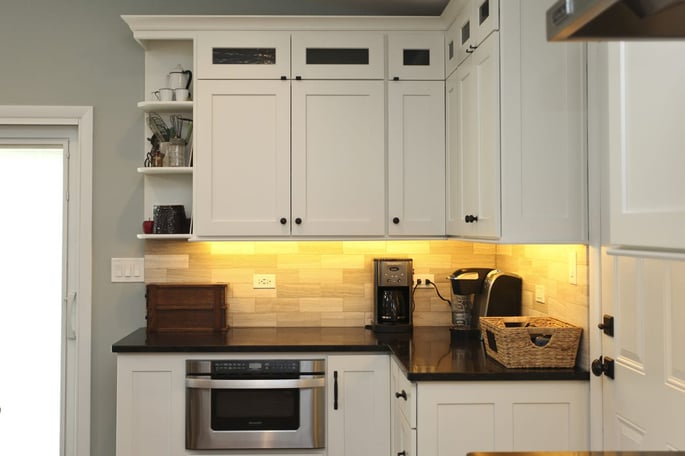 If slab-style backsplashes aren't for you, handmade tiles are another popular choice this year. People are looking to find ways to bring a unique sense of style and grounding into their homes and handmade tiles, or handmade-looking tiles, can be the perfect solution. Zelige tile is a favorite in Chicago. For those that lean toward a minimalist style, consider a simple glazed brick style tile in a neutral like cream, white or gray. To give your space a more modern feel, consider vertical tile in a stacked pattern, rather than horizontally in a brick pattern. For those that lean toward a maximalist style, an encaustic tile can be the perfect way to bring your personality into your kitchen. Encaustic tiles are waterproof porcelain and painted in a variety of colors and patterns. Some companies even let you customize your color and pattern choice.
See Patrick A Finn's portfolio for more inspiration to plan your kitchen remodel.
Best Hardware Selections for Kitchens
Another aspect of your kitchen that can completely change the look of your space is your hardware. Similar to last year, many people are looking to mix the metal finishes in their kitchen to create a dimensional design. Brushed golds, oil rubbed bronze and brushed nickel are all popular choices. If you're looking for a metal to warm up your space, consider brushed gold or oil rubbed bronze. If you're looking to add some cooler tones to your kitchen, consider brushed nickel.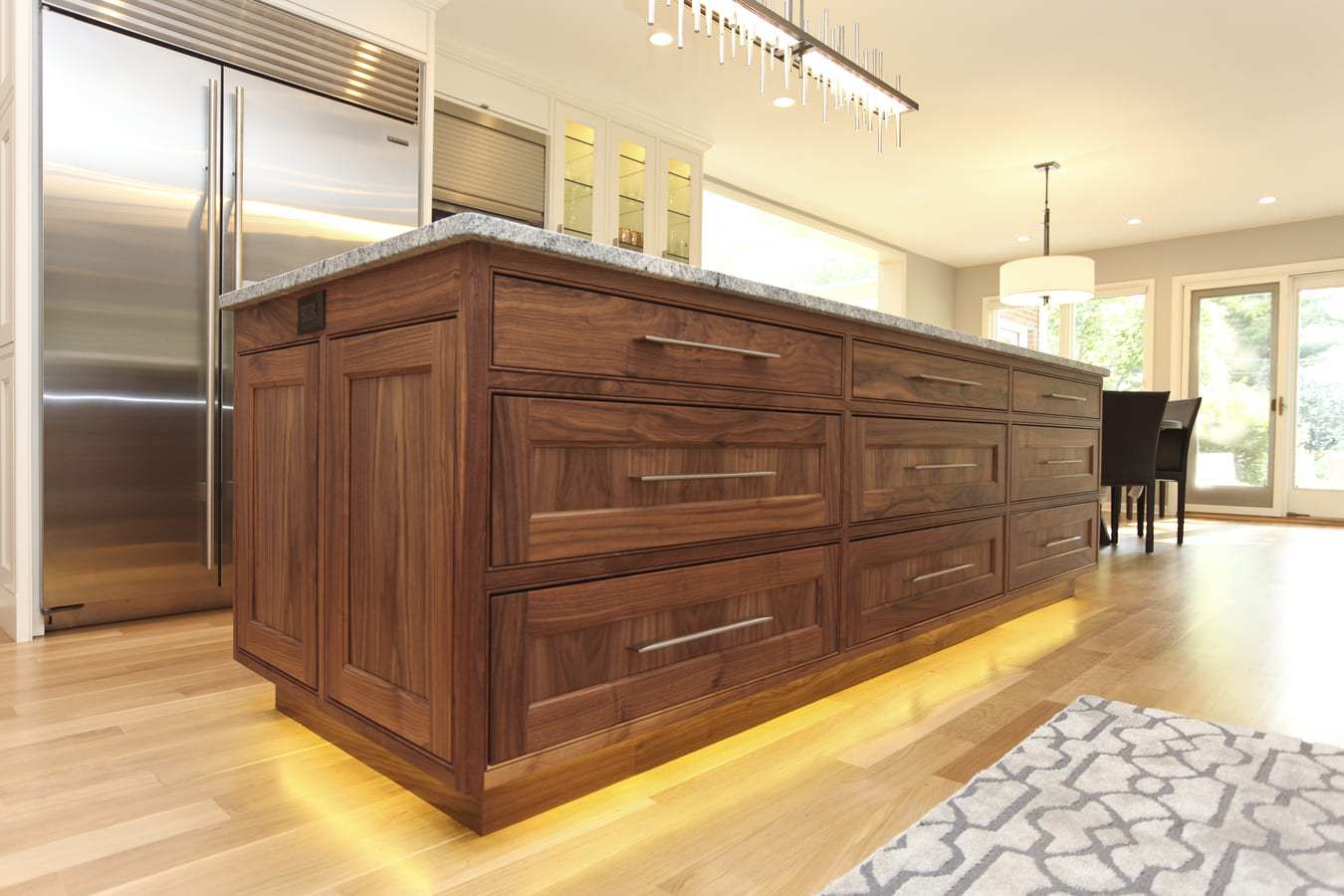 If metal hardware isn't for you, and you're more of a minimalist, hardware-free cabinetry is also continuing to rise in popularity. This is something you'll want to discuss with your design build company in the cabinetry planning stage of the process to ensure your cabinets are built to open without hardware. Some cabinets may have an extra trim piece to serve as an "applied handle" spanning across the cabinetry drawer. Others may have a cut-out acting as a "pull" centered in the top of the cabinetry drawer. If you're working with custom cabinetry, as we do, there are a myriad of options to consider!
Accessibility is another consideration for your cabinet hardware. If you plan to age in place, be sure your cabinet hardware is easy to grab and grip.
Kitchen Flooring Ideas Currently Trending in 2023
Light and Durable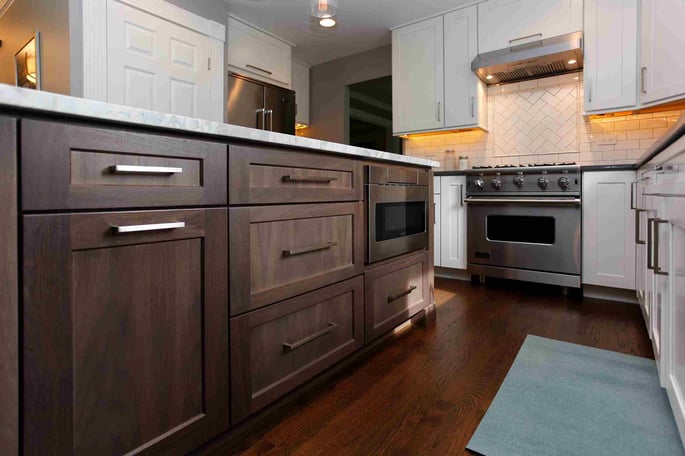 Last, but not least, flooring. Lighter, more natural-looking floors, continue to rise in popularity in 2023. People still love the durability of hardwood floors but are leaning into lighter, airy-looking colors. This has led to a rise in white oak flooring, oftentimes with simply a natural stain. Similar to red oak, white oak is durable for families with young children and pets. Be sure to ask your design build remodeler about the finishing of the floors to ensure you are maximizing durability. While lighter floors are on the rise, darker hardwood flooring maintains popularity for both traditional and transitional-style homes. Like everything else in this list, trends may ebb and flow over time, but it's important to install what you love in your home.
Remodeling Your Home in the Northwest Suburbs of Chicago
There you have it, kitchen remodel ideas and trends for 2023 and the order in which you should plan your kitchen remodel. If you're considering a kitchen makeover this year, contact us today! We'd love to help you design and build the kitchen of your dreams. Follow along with us on our Facebook to see the progress of the kitchens we are currently working on in 2023.