Smart home technology is soon to become indispensable in home remodeling and design. From the bathroom and kitchen to the basement and backyard, smart home features bring convenience, energy efficiency, safety, and comfort to your life.

When to Include Smart Technology in Your Home
Plenty of homeowners retrofit smart features into their homes, paying around $120 per hour just for labor, averaging around $20,000. This doesn't include hiring a contractor to patch holes and repaint after the installations have been made. The most sensical time to install smart home automation is during your home remodel. Your home will be in the most ideal state to include wiring and installation without having to make repairs afterward.
The best time to plan for smart technology is during the design phase of your project. Your designer can plan the proper timing for installation and work these improvements into your remodeling budget.
Smart Home Features and Home Automation During Your Remodel in the Chicago Area
While you plan for your home remodel, consider these smart features and how they will improve your daily routines, entertainment, and security. Your designer and builder should also be great resources for more smart home opportunities, offering industry knowledge and trends. We'll discuss what features could benefit your whole home and also highlight the room-specific features you should include during your remodel.
Whole Home Smart Features
Some smart features are designed to improve the function of your entire home. These features will optimize every part of your daily routine, often working in the background of your everyday life. Whether you're planning a whole home, remodel, or planning to finish or remodel your basement, be sure to ask your designer about all of these features during the design phase.

Smart Thermostat
Keep your home's temperature consistent and even with a smart thermostat. It can also monitor the quality of your indoor air, and predict your patterns over time, to reduce energy use and the tedious task of changing the temperature manually every day. Some smart thermostats use geo-fencing to know if someone is home, or on their way home, and can adjust its settings accordingly. Weather and temperature sensors on your window can even communicate with a smart thermostat to fine-tune the temperature for your comfort.
Installation prices can range depending on the system you select, it's complexity and the transition from your existing system. For example, Ecobee will adjust the temperature in your home depending on if you're there and will keep the temperature balanced across the home. It also has sensors that can be used as a backup security feature. Connect the system to your home voice assistant for convenience. An added bonus? The whole system starts at $370.
Home Automated Security Systems
Automated security systems are a staple in today's home. They offer increased peace of mind, giving you more control and awareness than ever before. Control your locks, security cameras, a doorbell camera, and lighting all from your smart device. Program your security system to your regular patterns and override the settings when you need. Get notifications when your cameras are triggered, lock your doors from bed or when you're not home, and even install a keyless system for hands-free entry.
An example of a smart security system with these features is Zigbee. It uses mesh networking to link all of your devices, including smoke detectors, carbon monoxide, a bedside panic button, and a water leak monitor. The whole home package plus monitoring starts at around $500.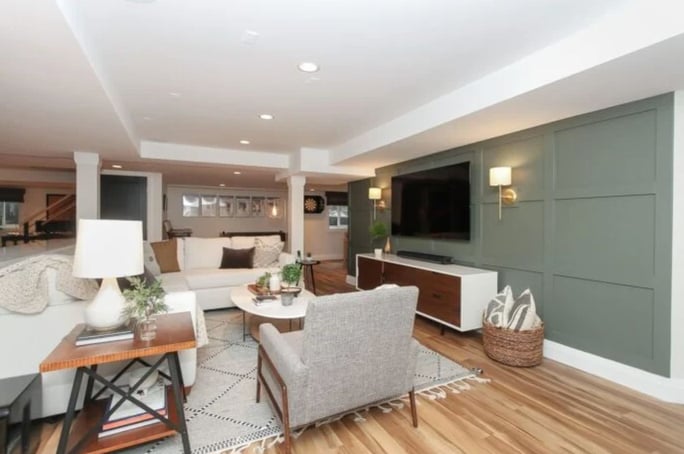 Smart Entertainment Systems for Your Home in Chicago
A smart entertainment system can be programmed to make your visual and audio experience more tailored to what you're watching, your music, or your news. You can also program your system to turn on just before you wake up to get your day started. Have the news on in the kitchen right as your automatic coffee maker has finished brewing.
You can also like your tv linked to invisible in-wall wire-free speakers in your bathroom, kitchen, and living room and control which room is playing via your smartphone or voice assistant system. Include smart electric fireplaces in the living room and bedroom that can also be controlled through your smartphone, so you don't even have to get up to enjoy the glow of a fire, with or without heat. Drywall style speakers blend seamlessly into the drywall for a true upgraded feel. Automating your home with entertainment features and other conveniences will vary significantly depending on the extent of the system that you're looking to add.

Innovative Lighting
Don't ever trouble yourself with opening and closing your shades again. Program your shades to rise with the sun and close as the sun goes down. Or, invest in a system that will self-adjust to the sun. Set a weekend mode to sleep in, and override the settings to keep them closed when you're away.
Automatic lighting uses sensors to tell if no one has been in the room for a while and turns off automatically. Or, control your lights when you're on vacation to make it look like someone's home. Lutron offers a variety of automated lighting features, like wireless automatic shades, dimmers and switches, sensors, and a bedside master switch.
Smart Tech in Your Bathroom Remodel
Technology in the bathroom has come a long way in the past few years and can deliver an incredibly satisfying spa experience. Smart features in the bathroom can also be used to conserve water and electricity. Your smart vanity mirror, lighting, shower, bathtub, and in-floor radiant heating can all be programmed to your preferences to make the most personal room in the home even more personalized. A complete bathroom gut and remodel or addition is the perfect starting point to include all of these relaxing and convenient features.
Create a steam shower with body sprayers that are set to your perfect temperatures and pressure. Include a freestanding tub with programmed jets, heated tub walls, and even accompanying music for a sound bath experience.
ThermaSol is just one company that offers a full steam shower package that considers your perfect lighting, music, and temperature.

Smart Technology in Your Kitchen Remodel and Expansion
Your full kitchen remodel and expansion should include smart features that make the hardest working room in the house do more of the heavy lifting, leaving you to enjoy your cooking and entertaining experiences without all the stress. Program your oven and keep track of progress with your smartphone and voice assistant.
Order groceries through your smart refrigerator and check the interior camera to see what you're out of while you're at the store. It can also automatically adjust its temperature depending on its contents, access recipes with a smart panel, and use UV light to disinfect the interior. The Samsung Family Hub smart fridge is a refrigerator with these features and more and is a popular choice.
Dishwashers, stoves, coffee makers, and more all come in smart models that suit your function and style needs. Programmable lighting, smart outlets, in-floor heating, and a smart speaker system can also come in handy in your smart kitchen. Installation of your kitchen's smart features could range from $9,000 to $25,000, depending on how many features you include.
Your Chicago Area Home of the Future, Today
Smart features in your home will increase energy efficiency, security, ease of entertainment, and streamline daily routines. It's why 80% of homebuyers prefer homes that already have this technology installed. Improve your quality of life with smart features across the home. Planning for smart tech is best completed in the design phase of your project, so consider working with a design build firm to help you maximize the future technology in your home.
When you're looking for the right home remodeler for your Chicago home, contact Patrick A. Finn. We prioritize creating spaces that are beautiful but also make your life easier. Your safety, enjoyment, and style are our priorities. That's why we strive to put your ideas and concerns at the center of our entire process. Reach out to the Patrick A. Finn design build team when you're ready to discuss your home remodel.