Finished basements can add many usable spaces to your home for everyone in the family. If you've been thinking about finishing your basement but aren't sure where to start, we're here to help with plenty of new ideas and examples from successful projects!
An unfinished basement is a blank canvas. Even if you think your basement ceiling is too low for a remodel, or your rooms are too narrow, the beauty of a custom renovation is that we can figure out how to add more space to your home together. There are so many different options for basement remodeling design.
You may feel overwhelmed when planning out your basement remodel. Try taking it back a step and determining which areas of your home are lacking or absent. Basement remodels are a great way to compensate for your home's shortcomings with the spaces you need.
In today's blog, we're reviewing some of the popular areas to consider when it comes time to finish your basement.
Table of Contents: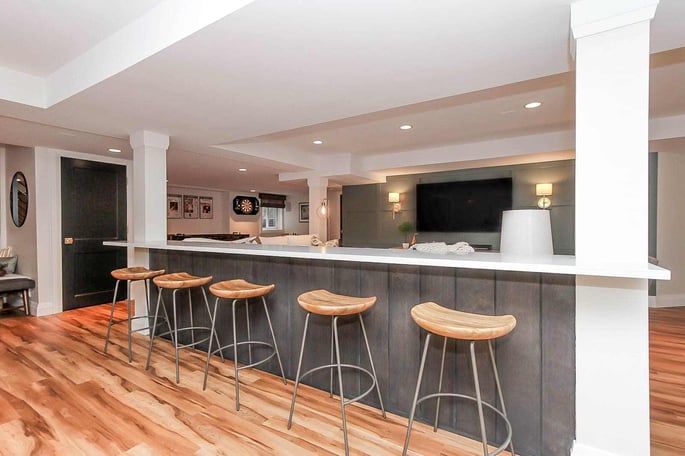 1. Finish Your Basement to Create a Home Office
More people work from home than ever before. With one or more members of a family working from home, many people are left wishing for a dedicated home office where they can close the door, stay organized, and be present while working. Homeowners create a makeshift office wherever possible if they lack a dedicated space. That may include a spare corner of their bedroom, living room, or basement. However, if that spare corner just isn't enough, it may be worth designing an area of your basement to be your dedicated home office. You can build your basement office ideas into a personalized space with more space. Create a custom desk, a place for your printer and storage for your paperwork, and a curated zoom background. Your home office can be a flexible space for anyone who needs to concentrate. It could be a home office during the day and a homework station in the evenings.
2. Add Built-ins for Basement Storage
No matter how much you have, almost everyone craves more and better storage and organization. When everything has a dedicated home, we are more likely to put things there instead of leaving them out. This is something you can factor into finishing your basement.
Storage in basements can be created in a variety of different ways. People often use the irregular space to create storage under the basement stairs and extra storage closets and built-ins. Organized basement storage is life-changing. Try under the stairs for taller items, and include shelving for seasonal items, keepsakes, pantry items, and more.
3. Build a Beverage Station or Wet Bar in Your Basement
Wet bars or kitchenettes are a great addition to any basement remodel. As a part of your finished basement, it can help take the space that was once dark and dreary to an exciting place to entertain. A basement wet bar usually includes a small sink, a beverage cooler, cabinetry, and shelving. If there's room, you may even be able to add a dishwasher.
Just like that, your basement becomes a great place to have friends and family over for holidays and parties with easy entertaining and clean-up.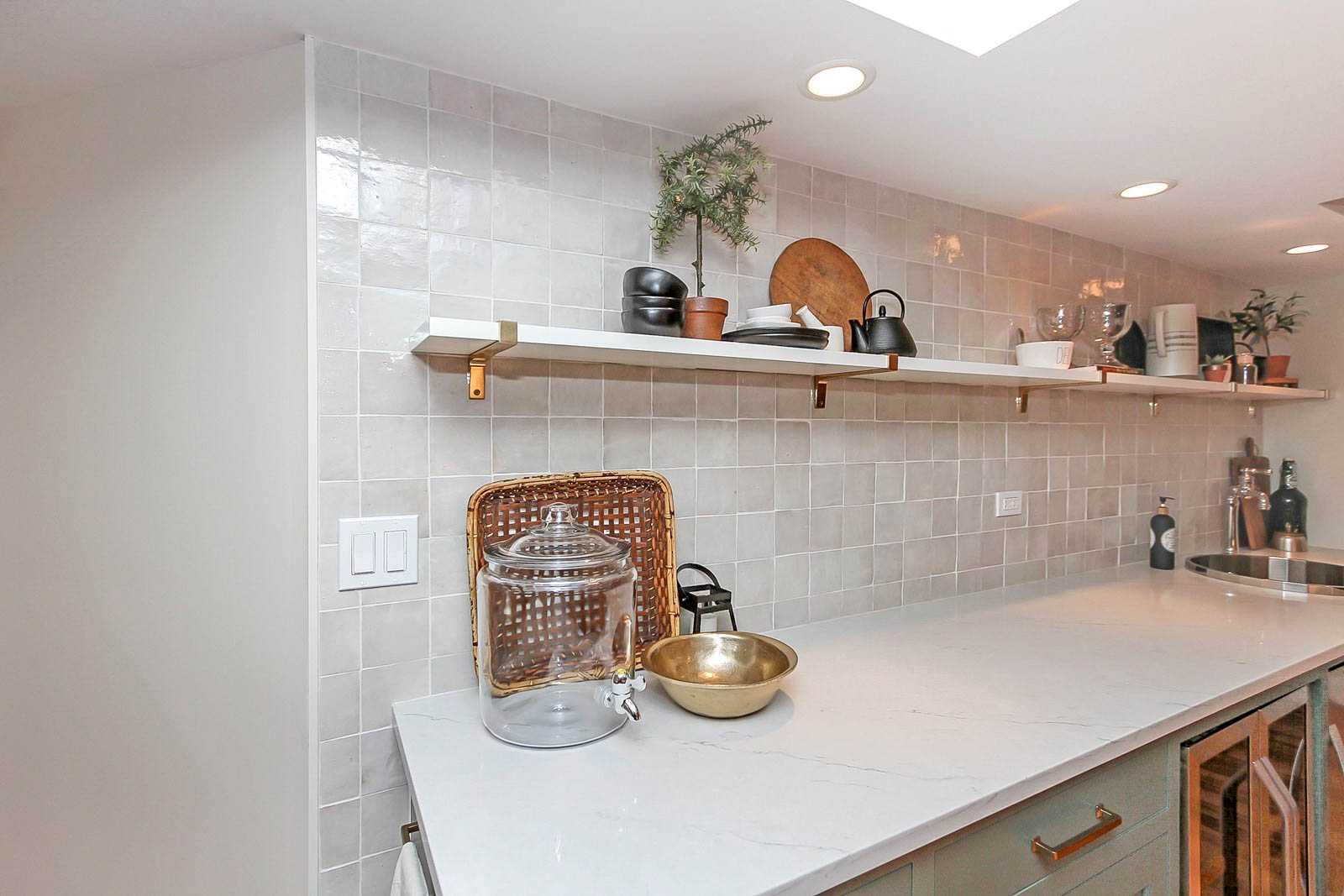 4. Finish the Space for a Kids' Playroom
We've covered many options for the adults in the house, but you may have young kids who could use a dedicated play space. Include a kids' corner or playroom specifically for them, and everyone will reap the rewards of a thoughtful and contained playroom tucked away downstairs. This area can have padded flooring for safe play. One of our favorite and most popular playroom ideas is extra storage. Add cubbies for stylish playroom storage, and include about twice as many as you think you'll need. This is an easy way to keep the space tidy, even in a busy play space. You can build dedicated areas to play with favorite toys like trains, play games, do arts and crafts, and more. If your kids are artistic, maybe add a chalkboard or dry-erase section to your playroom wall. As the children grow up, this area can easily be transitioned into a space for teens or adults by moving out the toys and creating a more neutral living space.
5. Turn your Basement into a Living Room
If you're running out of living space upstairs, talk to your basement design-build general contractor about your need for new places to hang out. How many people would you like to fit comfortably in the living area of the basement? Have you thought about what kind of furniture you will use there? How often will you use this space? Will it be for daily overflow, people from upstairs, or primarily for large gatherings? While this is a lot to consider, all of this will dictate how much of your basement should be allocated to living space.
6. Add Home Value With a Basement Bathroom
If you plan to utilize your basement as an extra entertaining space, consider adding a bathroom to the remodel so guests can stay downstairs. Many unfinished basements are already roughed in for the bathroom plumbing when they are built. The question now becomes, should that be a full bathroom or just a powder room? This is entirely dependent on your personal needs and goals. If you have friends and family that visit from out of town, consider adding a full bathroom for their comfort and privacy. Your home will likely sell for more when you increase your bedroom and bathroom count. Conversely, if this is just a place for local friends and family to utilize, you may only need a powder room.
What about basement remodeling costs? We break it down here.
7. Popular in Chicago: Basement Home Gym
A home gym can help you get in your regular workout without the commute. For some, it is a small corner or room with matted flooring, hand weights, and mats. Of course, we have more ideas for your basement home gym. Include matted flooring, machinery, benches, mirrors, and a TV. If you plan to utilize large machinery, ensure that the opening to the room is big enough to get the machines in place. Consider a double door to help with this. The walls are one of the most overlooked elements of a basement home gym. If you plan to store any weights or equipment on the wall, talk to your design-build remodeler first. It is important to reinforce that section of the basement during framing. This will ensure that the wall is strong enough to support the additional weight.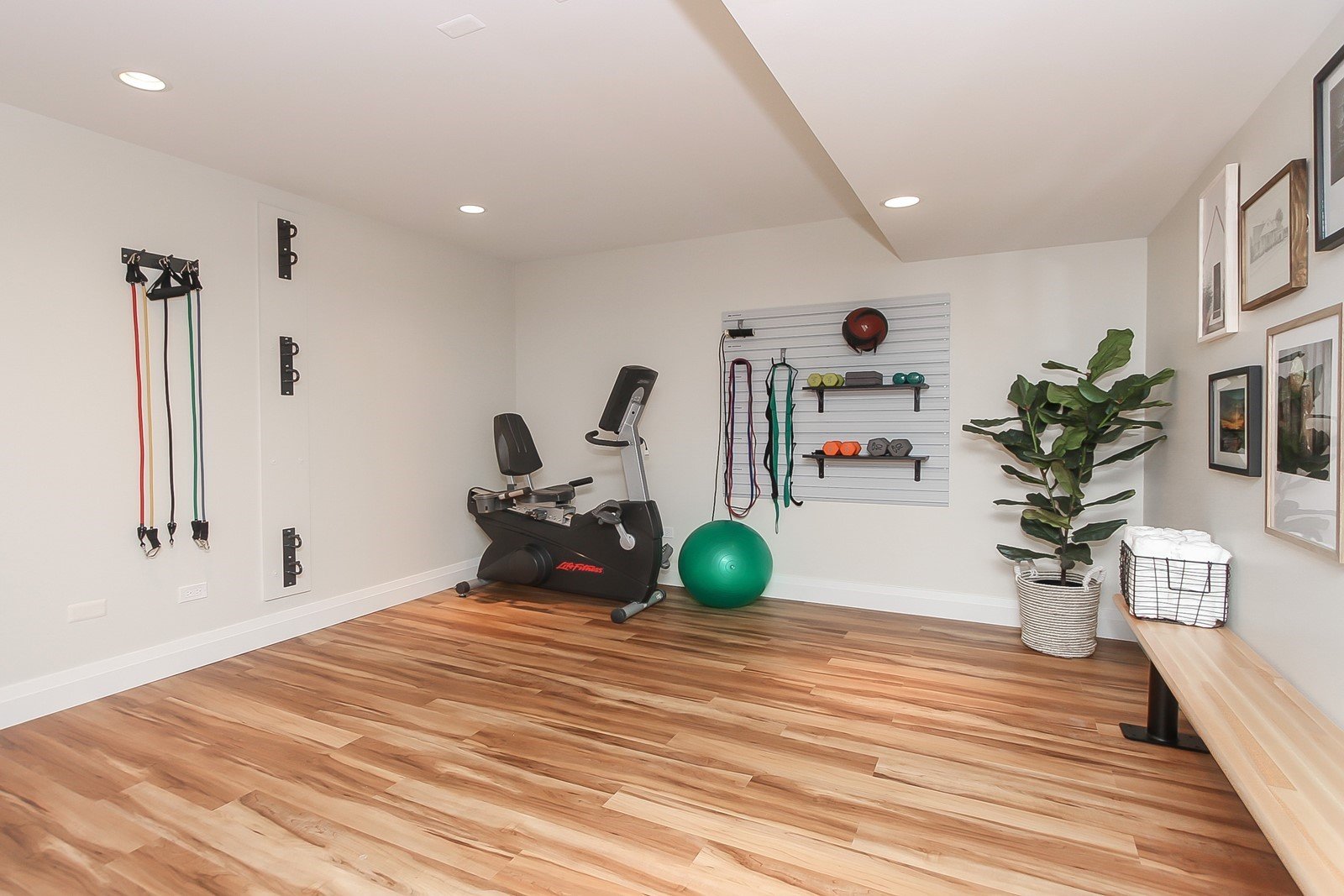 8. A Sports Basement
Basements are often cozy dens where fun is part of the recipe. Create a recreation haven with a sports room. Add a basement wet bar, built-ins for displaying memorabilia, multiple TVs for the ultimate basement sports bar experience, and a comfortable place to kick back and watch the game.
Many sports dens also include a few options for indulging the competitive spirit with your guests. Include a pool table, foosball, classic arcade games, or slot machines for an authentic vibe and plenty of options for fun.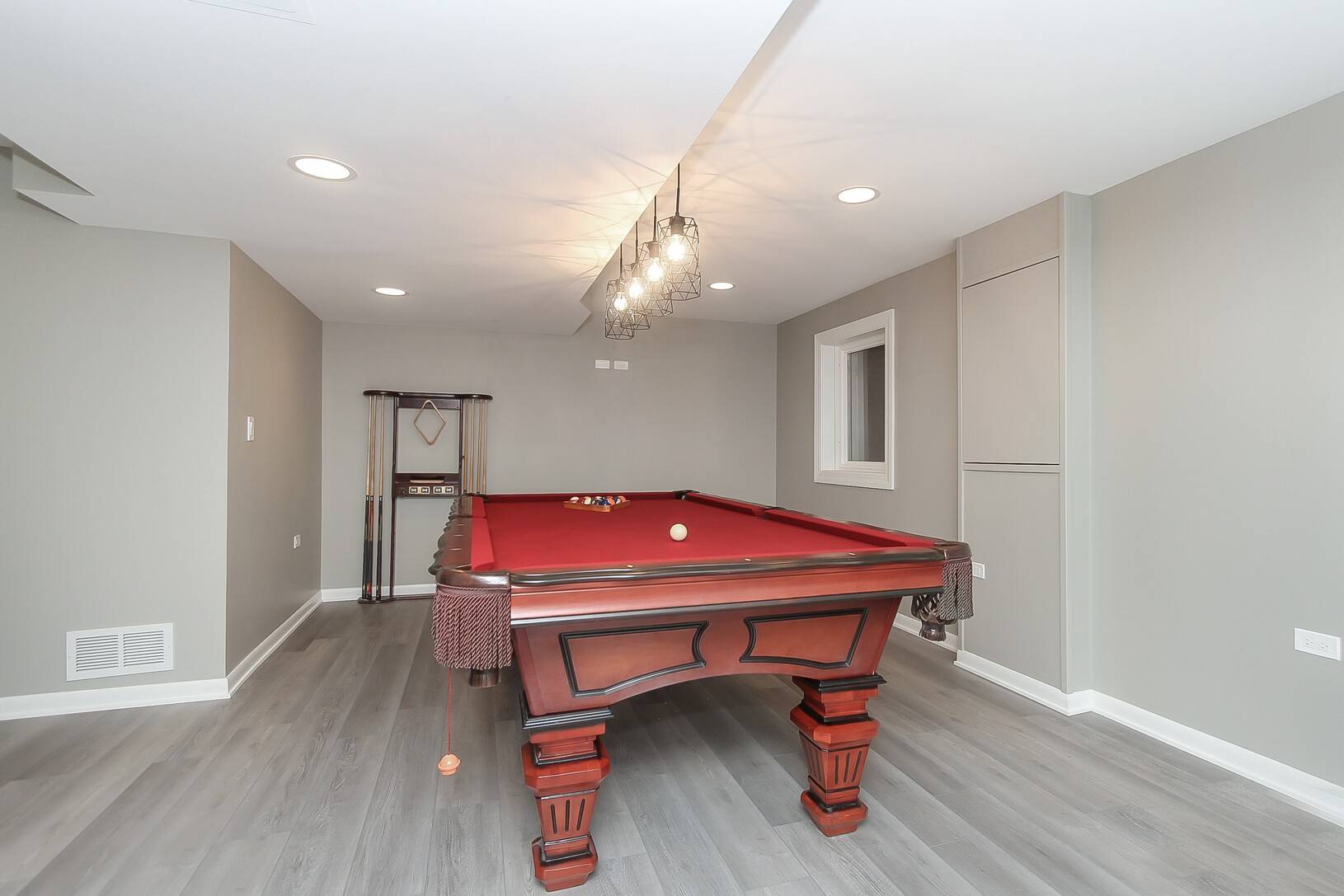 When designing your new basement, remember this is your space, and it needs to work for you! A newly renovated basement can revitalize your area for productivity and entertainment. When a basement remodel is adequately planned with your design-build remodeler, the space will flow seamlessly as you enjoy your new creation. Just like with any remodel, discuss all your needs and wants upfront with your basement remodeling contractor to ensure you get exactly what you're after.
To learn how to plan for a successful home renovation project, download the eBook, "The Ultimate Step-by-Step Home Renovation Transformation Guide."