Bookshelves Maximize Storage in a Small Area
A custom-designed bookcase can offer solutions to meet your exact storage needs. Yes, you can run out to the store and buy a bookcase, and it will store your books, but will it fit your space and utilize all available opportunities for storage? Probably not.
Built-in Bookcases can combine both open and closed storage, options to accommodate variable heights, utilize small spaces most efficiently, and all while matching or complementing your home's decor.
Custom bookcases can be designed to fit any space. They can reach the ceiling maximizing the available height, or fit into a narrow niche of space you just were not sure what to do with. A 12" by 12" space in a bathroom makes for excellent open linen storage, and the depth of an extra thick wall allows you to put bookshelves tucked into unused space. Custom storage allows you to maximize the space you currently have to create more organized and functional rooms.
Even though the possibilities are endless, there are several bookcase designs that tend to be the most popular and offer the most efficient and convenient storage solutions. The standard bookcase is one of the most versatile options. You can have bookshelves from floor to ceiling, either permanent or adjustable, you can have closed storage below and shelves above, or you could put doors on the whole assembly. Because a custom design offers such variation, the bookcase can easily be built in an office or library or in a great room, bedroom, or playroom.
Things to Consider for Your Built-in Bookshelves
When you are planning for your bookcase, determine what you want to store. If you have oversized books, make sure the structure of the design still supports them or place them near the base of the case. DVDs and CDs have different heights than most books and come standard. If you are thinking of accommodating those in your bookcase, you can create fixed shelves and maximize your entertainment-specific storage. You can even add a shelf just for your DVD or CD player. Also, consider closed storage for your design. Whether your doors are solid or glass, there are items that perhaps you want more protected from damage or dust, or you may just want them out of sight. You can also accomplish this by designing your shelves to hold baskets or storage bins for remotes, magazines, or toys.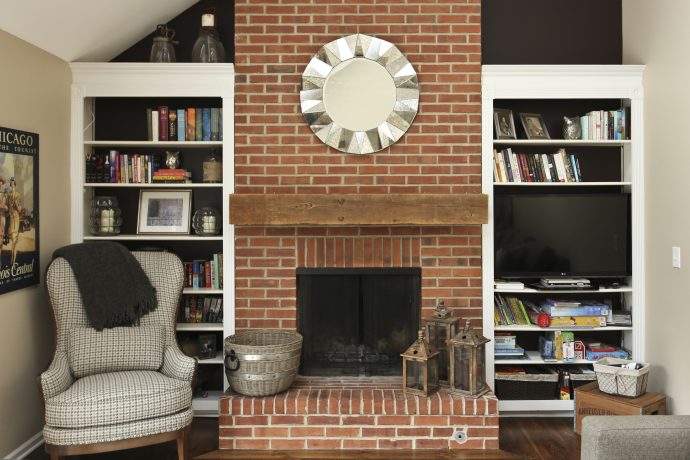 Custom Built-in Bookshelves Surrounding the Fireplace
The standard bookshelf can also be combined with a custom fireplace mantle to create a larger focal point in a room and perhaps a whole entertainment area, with accommodations for storage, decoration, and a television. While there is still a debate among homeowners, with a 50/50 split of whether the TV should go above the fireplace or not, a custom-built unit can tie all the functions together. A TV mount can be designed into a custom mantle above the fireplace or to the side on a counter ledge.
Finally, the details of your piece can add a lot to your home. You can wrap the base trim chair rail and/or crown molding around your bookcases to anchor them in the room instead of a furniture piece that blocks or interrupts the beautiful trim. You can also add little details, such as an arched trim piece to frame the opening of the bookcase or add a bead board to the back of the interior to create interest and texture when the shelf is open. The door style you choose, as well as the hardware or glass panels, can also add depth and detail to your built-in.
Whether you are looking to paint or stain your finished product, the sky is the limit on how it can look. A combination of paint and stain or different paint colors can allow you to accent different elements of your design. You can accent the shelves or counter-top by finishing them a different color. Or you can paint the inside a different color to complement the outside of the bookcase. If you choose to panel the inside back in beadboard, try staining or painting that an accent color while leaving the main bookcase white. Both the bead board and the depth of the bookcase will stand out.
No matter what your bookcase looks like or where it is located, if you custom design it to fit your needs in that space, you will benefit from the storage as well as the style. If you are thinking about adding built-ins to your home, start looking for ideas in magazines, on houzz.com, or talk to an interior designer for suggestions.