Glencoe, IL -Home Remodeling Contractors & Custom Home Builders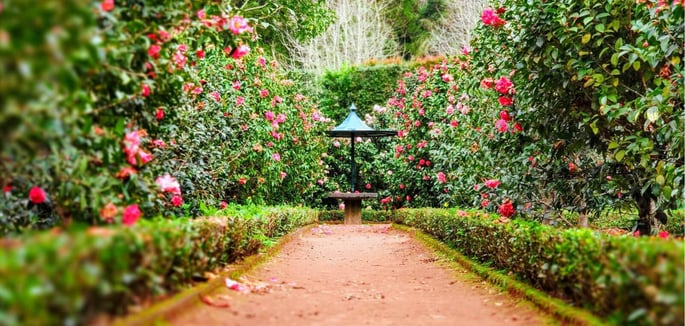 About Glencoe, IL
Living in Glencoe, Illinois provides residents with an exceptional living experience. This affluent village offers a picturesque setting with its tree-lined streets, charming homes, and stunning lakefront views. Glencoe is known for its top-rated schools, making it an ideal place for families. The village also boasts a strong sense of community, with numerous community events and activities that bring residents together. Glencoe's downtown area offers a vibrant shopping and dining scene, with a variety of boutiques, restaurants, and cafes to explore. Additionally, the village is home to several parks and recreational facilities, including the beautiful Glencoe Beach and the renowned Chicago Botanic Garden, providing ample opportunities for outdoor activities and relaxation. With its close proximity to downtown Chicago and easy access to transportation, Glencoe residents can enjoy the best of both worlds - a peaceful suburban lifestyle and the excitement of the city just a short drive away.
Furthermore, Glencoe's commitment to preserving its natural beauty and historical landmarks adds to its appeal. The village is home to several architecturally significant homes and buildings, including the iconic Glencoe Train Station and the Tudor-inspired Glencoe Woman's Library. Glencoe's rich history is showcased at the Glencoe Historical Society, where residents can explore exhibits and learn about the village's past. The village also offers a range of recreational activities, such as golfing at the Glencoe Golf Club and hiking at the scenic Skokie Lagoons. Overall, living in Glencoe provides residents with a high quality of life, combining small-town charm, natural beauty, and easy access to urban amenities.
Why Remodel In Glencoe, IL
With the rise in telecommuting, more people and families are looking to move outside the city to a near-by suburb. As Glencoe is within minutes of downtown Chicago and being such a great suburb to live in, remodeling and improving the value of your house could prove to be beneficial. Additionally, with award winning private and public schooling, lots of parks and lakes, and historic homes in the area, Glencoe, IL is a great area to live in. Investing in your Glencoe home will be an investment in your future.
Looking to start your new life with your family or in your career and not wanting to stay in the busy city, Glencoes offers a great option. With some historic buildings, that does not mean you need to sacrifice your dream house, and Patrick A. Finn will help you achieve the look you are seeking!
Why Choose Patrick A. Finn To Remodel In Glencoe, IL
With 90% of the homes we remodel being located in Glencoe, we know the homes, the village codes and the people well. The satisfaction of seeing the final product and our client's reactions when we are able to bring their vision to life - this is why we do what we do. When you choose Patrick A. Finn, we put you first. We listen to you and what you want. With several years of project experience in the Glencoe area, we have been able to build trust and awareness. Additionally, having a wealth of knowledge with the specific homes and architecture in your neighborhoods, sets us apart from the rest. Let us make your dreams a reality!
Let us make your dreams a reality! Schedule your home renovation discovery session today!
Glencoe Area Gathering Kitchen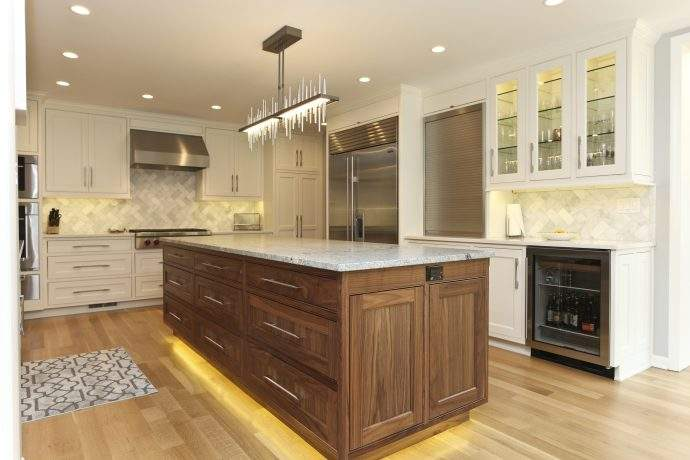 This kitchen was remodeled for a family who LOVES to entertain. Their formerly cramped kitchen now opens up into the living room, creating a natural gathering place for the entire family and their guests.
Our favorite features from this remodel include:
Stunning custom walnut island with seating for 3, toe kick lighting, and marble countertops
Icicle-like pendant lighting
Marble subway tiles laid in a herringbone pattern
A beverage refrigerator and glass upper cabinets
Glencoe Area Transitional Kitchen & First Floor Transformation
This Glencoe area home was updated to suit these homeowner's lifestyles.
To achieve this, we opened up the space and added vaulted ceilings, updating the entire first floor so each room flowed from one to the next. For the kitchen, we designed a large island and customized storage drawers to make this space one of a kind.