A Look at the Chicago Real Estate Market
Today's real estate market is decidedly a seller's market. Particularly in highly desirable areas like Chicago's Northwest suburbs, it's difficult to find single-family homes for sale at competitive prices in the right locations and with the appropriate layout and square footage to suit individual homeowner needs. Because of this, more and more Chicago-area residents are turning to interior remodels to solve their need for extra space. The top two solutions homeowners usually elect are refinishing basements and adding additions, and we're often asked which option is better. In this blog post, we'll be talking about the pros and cons of each remodeling choice.
Benefits of Remodeling an Existing Basement
One of the biggest reasons homeowners remodel their basements is that it's usually the most cost-effective way to expand your home's usable square footage since you're working within the home's existing footprint. There are, of course, exceptions to this statement: for example, if your basement's ceilings aren't high enough to satisfy the code, a basement remodel can be more expensive than an addition. In most circumstances, however, basement remodels are more affordable than additions since the foundation and walls are already in place.
Another benefit of remodeling your basement is that the construction process itself is less obtrusive than other remodeling projects. While any home remodel will inevitably disrupt your routine and cause extra noise and mess, homeowners are typically able to dwell in their homes during the remodel without too much distraction, which in turn cuts back on expenses related to temporary living arrangements.
A third benefit of remodeling your basement rather than building an addition is that design continuity is less of a challenge. When adding on to your home, you have to ensure that your addition looks very intentional and as if it was always a part of the home. This can be difficult to achieve in certain homes, such as Edwardian and Georgian-style homes, as they are highly symmetrical. Since a basement is both self-contained and hidden, you won't need to worry about how to make congruous changes to your home's exterior architectural profile.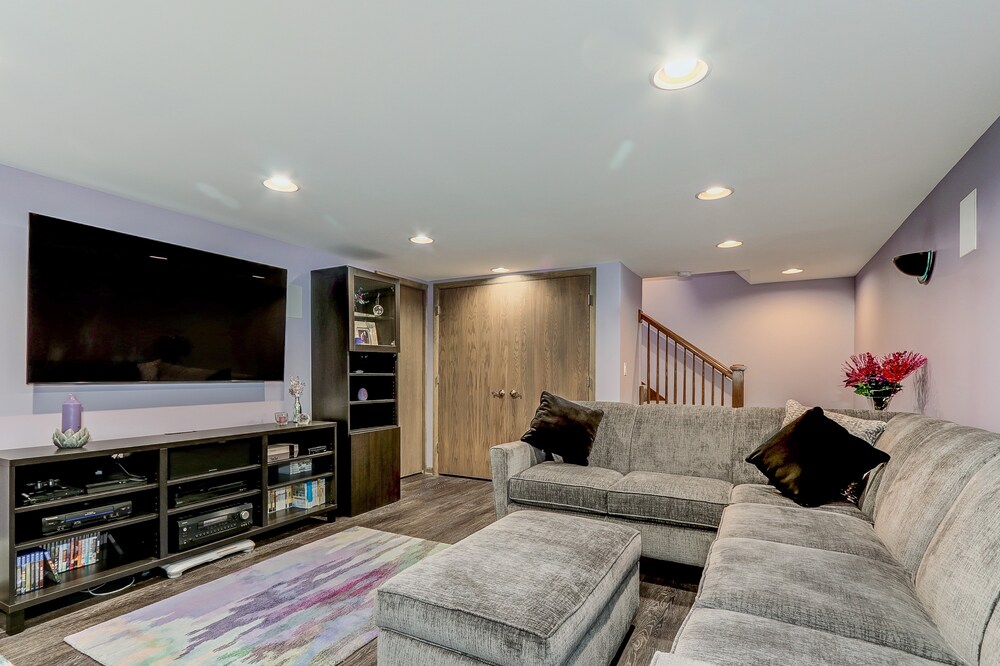 Cons of Remodeling a Basement
While remodeling a basement is generally a cost-effective solution to gaining additional living space, you'll need to consult with an expert to ensure you're appropriately addressing air quality concerns and preventing water damage. Since not all basements were built with the intention of being living spaces, not all basements will have the appropriate moisture barriers. Before you frame and finish walls, you'll need to ensure that an adequate vapor barrier has been installed.
From a purely atmospheric point of view, significant design expertise is also required to make basements feel welcoming and bright since they inevitably have less access to natural light sources. This won't be a problem if you're intending to add a home theater or a casual family recreation room, but it can become more of a challenge if your basement is intended to accommodate additional living spaces. One example of how this can be carried out effectively can be found in our recent mid-century modern basement remodel in Deer Park, IL.
Benefits of Building an Addition
Unlike basements, additions have greater access to natural light sources and are, therefore and may be a more desirable location for additional living quarters. So while the architecture can be challenging to marry to the existing home's profile, the atmosphere of the new space is easier to work with.
Another enormous benefit of building an addition is that it gives you an opportunity to design your new home footprint to meet your unique goals. You can even reimagine and rearrange the rest of your house to design the optimal layout. For example, if you're in need of extra space for additional living quarters, you don't necessarily need to make your addition into extra living quarters.
Instead, you could make your addition into a living room and repurpose your old living room into a second master suite or create any other new home layout configuration that makes sense for your particular goals. When incorporated tastefully, additions can add incredible character and functionality to your home, as in this bungalow addition in Mount Prospect, IL.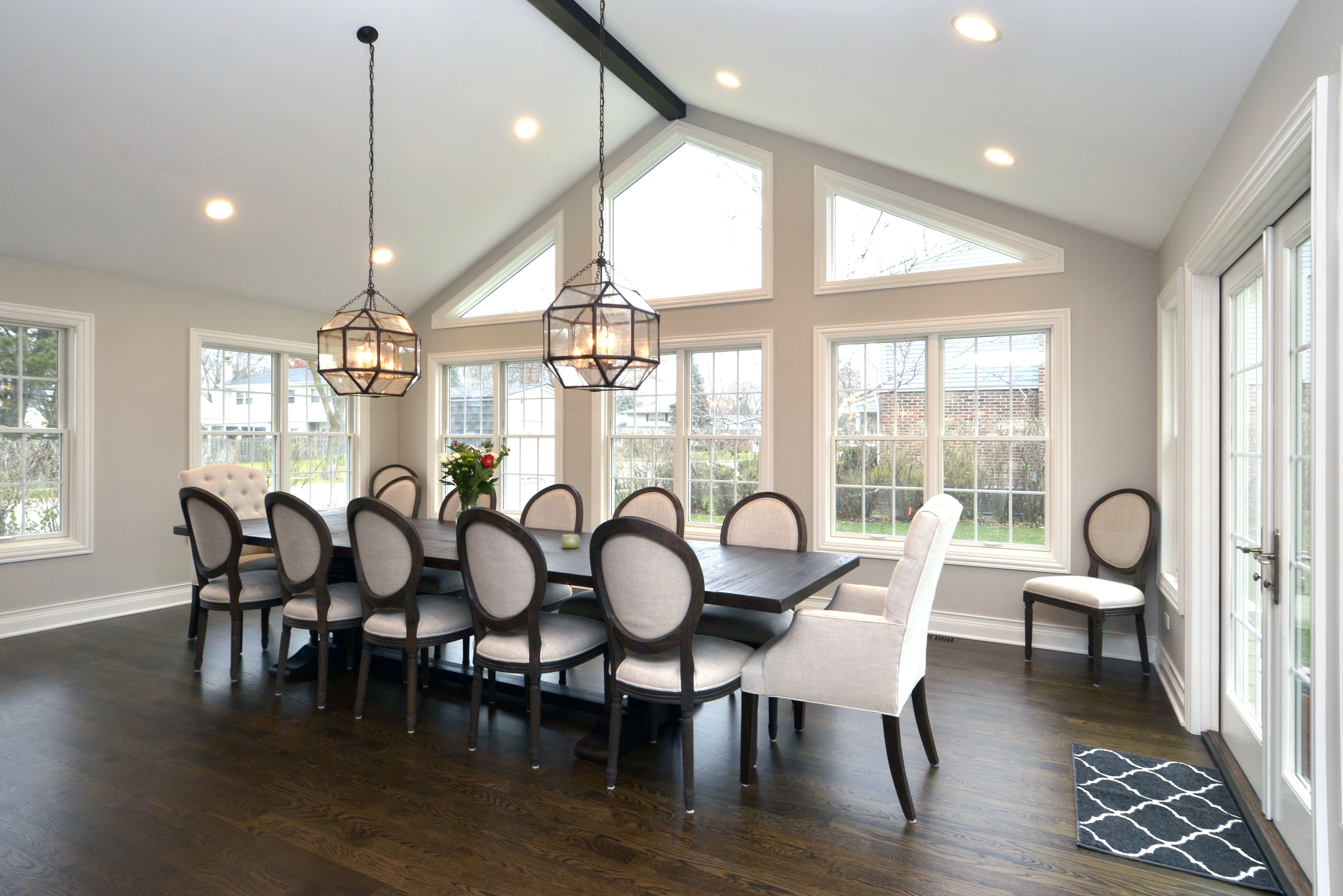 Cons of Building an Addition
One drawback of constructing an addition is that it means losing yard space should you choose to do a rear addition. As your home grows, your property shrinks in proportion. For homes located on larger lots, this won't be a problem, but if you already have a smaller outdoor space, it's more of a sacrifice to convert it into an indoor space. If yard space is a concern, you may be able to add an additional story or partial story to your home.
Another consideration is the permitting process. You'll need to obtain a building permit for any remodeling project that alters your home's usable square footage - whether it's a basement remodel or an addition - but obtaining a permit for an addition can be harder. This is because additions require you to work with setback restrictions and usable lot space, which determine how close your home can be to your property line and how much livable square footage can be on your lot. Many towns also require you to go through a design commission as a part of the permitting process.
Finally, additions are generally more expensive than basement remodels because they require extra materials for the foundation and framing; sometimes, they also require adjustments to the existing home to provide the appropriate structural support.
Setting Your Own Project Vision
Determining whether a basement remodel or addition is best depends on your individual home and property, as well as your particular goals. Schedule a consultation with your custom home remodeler to help you think through all remodeling possibilities to find your best solution. As a design-build company, we are well-equipped to help you evaluate your needs and your home to create a plan for you and your family.