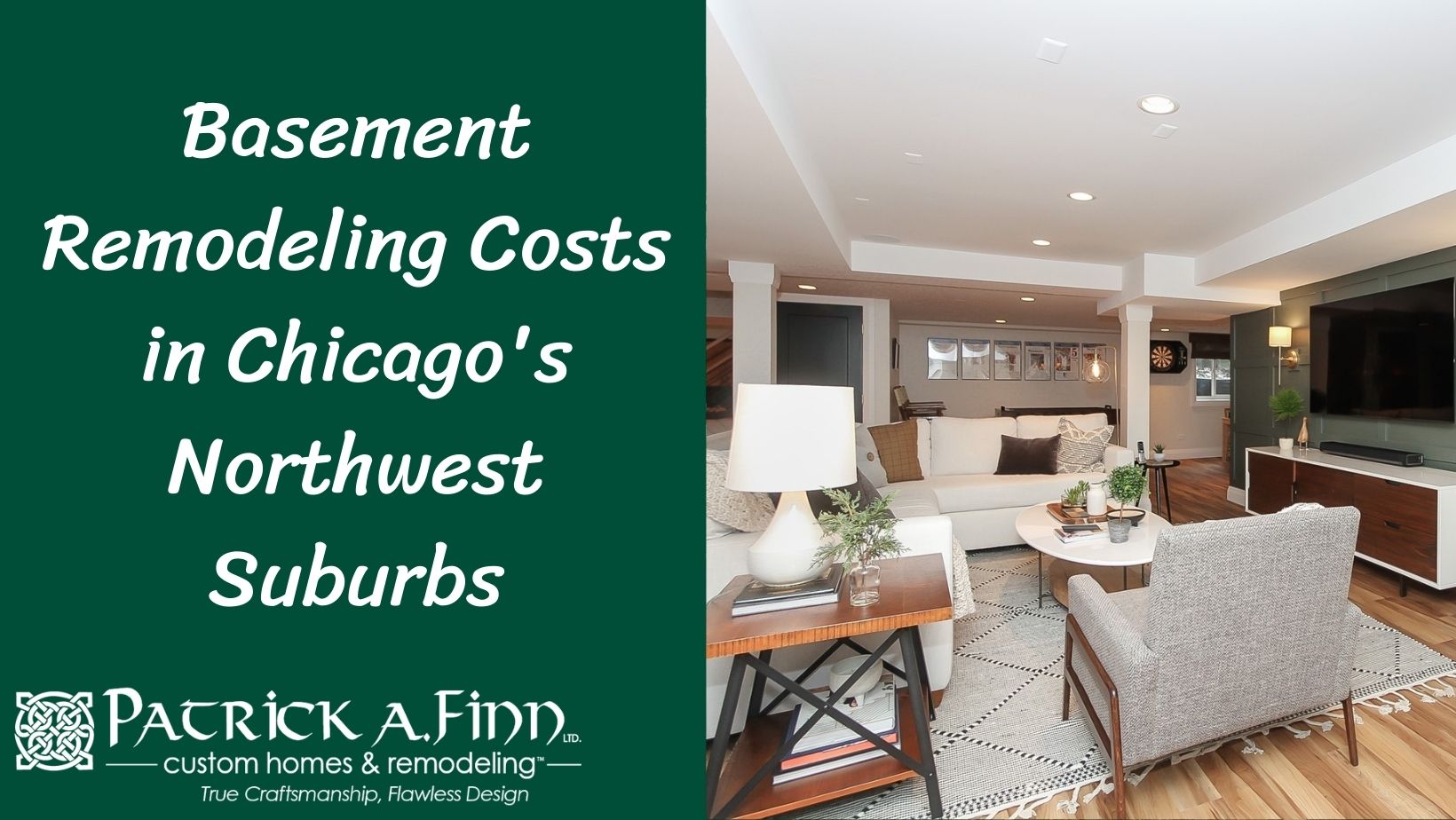 How Much Does a Basement Remodel Cost in Chicago's Northwest Suburbs? [2023]
One of the most cost-effective ways to increase your home's usable square footage is to remodel your basement. Unlike a second-story addition or a ground floor addition, a basement remodel doesn't typically require any alterations to your home's basic structure. Basements are full of potential. While they can be used purely for storage, they can also be converted into a home office space, a family room, a playroom for the children, an at-home theater, an extra bedroom and bathroom, or an additional living space complete with a bedroom, a bathroom, and a kitchen for adult children, in-laws, or renters. It's also worth noting that a basement remodel can come with a high ROI of around 70%.
What's Included in a Chicago Basement Remodel?
A basement remodel can include whatever you'd like, but for the purposes of this blog post, we'll refer to the 2022 Cost vs. Value report for the most recent basement remodeling cost estimates for the Chicago area. According to this report, an average basement renovation would include finishing the lower level of a house to create an entertaining area with a wet bar of approximately 20 by 30 feet along with a 5 by 8-foot bathroom. A 24 linear feet partition would enclose your mechanical area in the basement. Painted drywall for the walls and ceilings throughout the basement are included in this estimate.
This example basement renovation includes factory-painted hardboard doors, updated electrical wiring to code, painted trim, and insulated exterior walls. The main room of the basement has recessed lighting features and surface-mounted lighting as well. Laminate flooring appears throughout.
The basement bathroom renovation includes a standard toilet, cultured marble top vanity, vinyl floors, fiberglass shower unit, fan-light combination, vanity lighting, medicine cabinet, and towel bars, and toilet paper holders.
The bar area of the basement has a stainless steel sink with a single lever faucet, raised-panel oak cabinets with laminate counters, an under-counter refrigerator, and vinyl floor tile.
Basement Remodeling Cost Estimate for Chicago & the Northwest Suburbs
While many other sources when you search "Chicago basement remodeling cost" on Google, may show low estimates, it is important to know that these estimates normally don't include all cost factors and are meant to catch your eye. They often leave out the cost of labor and are only taking into account the low-end material costs, so you pay more the second you decide to invest in quality materials.
The 2022 Cost vs. Value report provides the most accurate estimate for remodeling your basement in the Chicago area including the northwest suburbs and towns/neighborhoods such as Arlington Heights, Barrington, Inverness, Deer Park, Mount Prospect, and more.
According to this report, the average price of a basement remodel in the Chicago area is $88,281. The cost recouped for this midrange basement remodel would be 52% at resale.
Other Remodeling Estimates for the Chicago Area
It's important to take into account more recent basement cost estimates. While the Remodeling 2022 Cost vs. Value Report (www.cost vs value.com) does not list cost estimates for a basement remodel, it does offer price comparisons for other standard home remodel projects that give an idea of the cost difference between an average project cost in the Chicago area versus an average project cost across America.
For example, a mid-range bathroom addition costs an average of $75,158 in Chicago, while a midrange kitchen remodel costs an average of $88,796 in the Chicago area. Upscale kitchen renovations and additions normally begin over $150,000. So when you plan your budget for your Chicago-area basement remodel, be sure to add in some additional funds to the numbers listed above to adjust for location.
How Much Will My Basement Remodel Cost?
While this blog gives many estimates for various sizes and scopes of basement remodels, remember that the most accurate way to prepare your own budget is always to schedule a consultation with your personal contractor. At Patrick A. Finn, we have extensive experience in remodeling basements to include family rooms, bedrooms, exercise rooms, kids' playrooms, wine cellars, home theaters, home bars, and much more. We'd love to hear about your goals for your basement remodel and discuss how we can help you achieve them.
This article uses data from the most recent Remodeling Cost vs. Value report which pulls averages from 2021. Due to unprecedented market volatility and supply chain irregularities last year, residential construction prices in Chicago have increased up to 25% for some projects. Have a discussion with an experienced builder to know the most accurate and up-to-date building cost estimates. Now it's more important than ever to hire a professional contractor with longstanding supply and labor relationships.
Written By Katie Finn