Kitchen remodels continue to be one of the most popular home improvement projects. This is not surprising when you consider the high ROI for kitchen updates. Referencing Remodeling Magazine, one HGTV article states that minor kitchen remodels can return an investment as high as 92.9%. However, that's no reason to keep it small. Zillow adds that 58% of home buyers place high importance on kitchen style when deciding whether or not to buy a home. Even for homeowners who don't intend to sell in the near future, updated kitchens make a large impact on their own quality of life and satisfaction with their homes.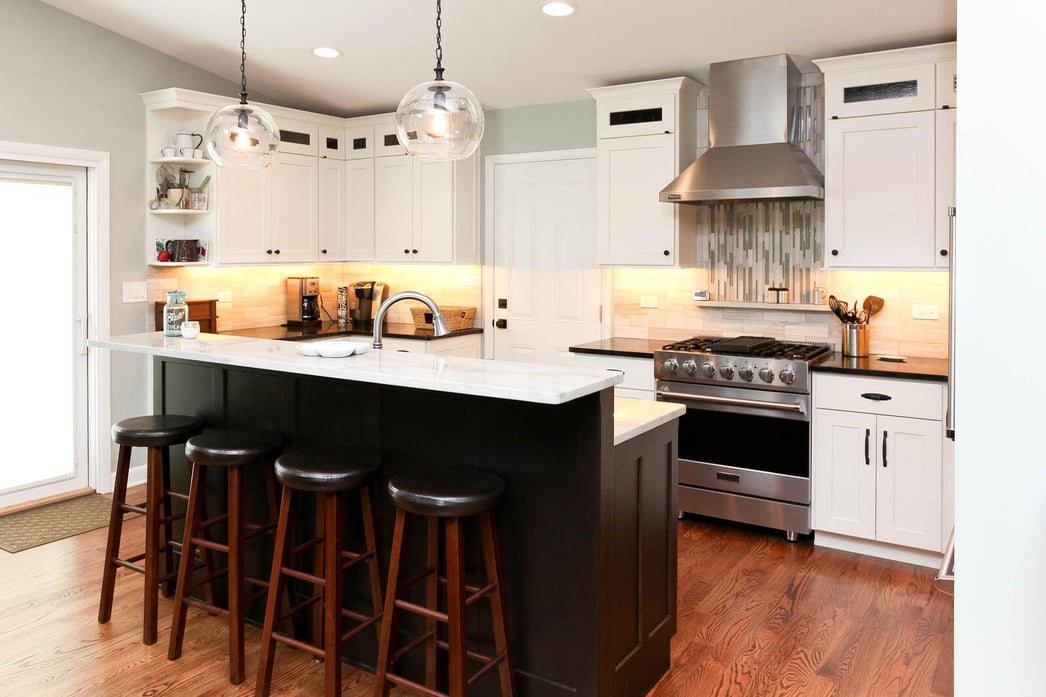 Whether you're financing your kitchen remodel or not, you'll want to know exactly how much a Chicago kitchen remodel costs. The answer depends on the home's location, as well as the size and scope of the project. To help you prepare your budget before contacting your design build remodeler, we've put together a guide for an average kitchen remodel costs in Chicago's Northwest suburbs like Arlington Heights, Mount Prospect, and Barrington. Remember that these numbers are estimates and that each remodel is unique.
(Interested in budgeting for your whole home remodel, bathroom remodel, basement remodel, or home addition? Check out our detailed guides for each home project!)
East North Central Kitchen Remodel Costs by Scale
Naturally, kitchen remodel costs and ROIs vary based on the scale of the project. All projects are calculated using an average-sized kitchen, about 200 square feet. We understand that your project might be bigger, smaller, or include different elements, but these figures are meant to help you estimate the cost of the Chicago kitchen remodel you have in mind.
According to the Remodeling 2022 Cost vs. Value Report, major upscale kitchen remodels in Chicago cost $172,484 (compared to a national average of $156,104) and give a 52.3% cost recoup. This upscale project includes 30 linear feet of custom cabinets, imported stone or glass tile backsplash, commercial-grade appliances, stone countertops, designer faucets, a water filtration system, designer and task lighting, and a new kitchen island.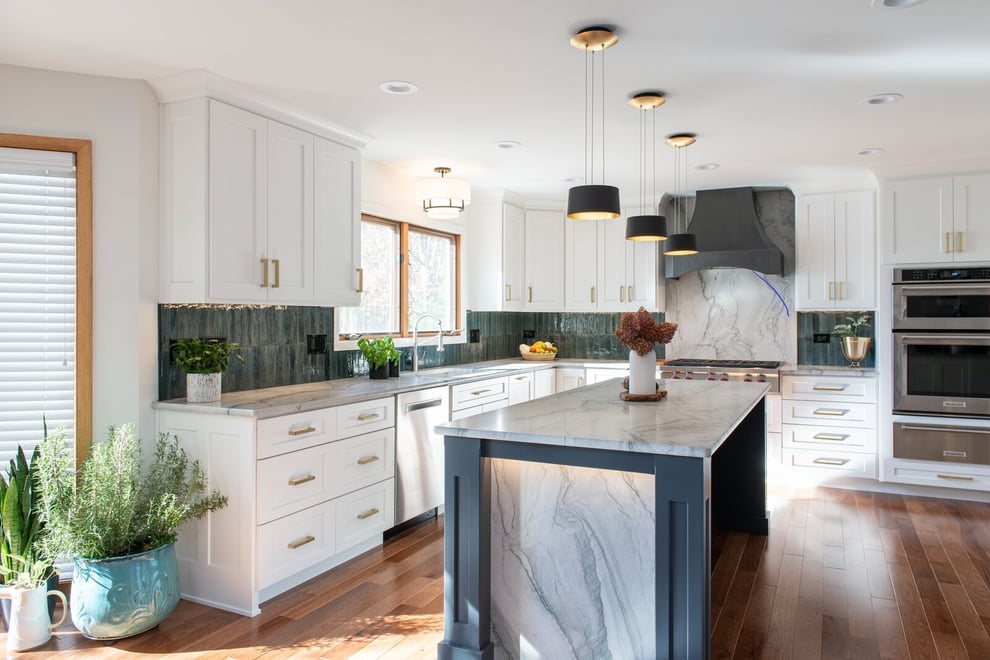 Major midrange kitchen remodels cost approximately $88,796 (compared to a national average of $80,138) and render a 56.5% cost recoup. This project includes semi-custom cabinets, a new kitchen island, laminate countertops, kitchen lighting, a new sink, fixtures, and appliances, new trim and paint, and upgraded kitchen lighting.
What Influences The Cost of Your Kitchen Remodel

As shown above, the cost of kitchen remodels is slightly different in Chicago as compared to national averages. Many people wonder about the factors that can drive your cost up or down, depending on your situation.

Labor - Labor costs are different in every market, and slightly more expensive than the national average in major metropolitan areas like Chicago. A labor-intensive installation such as intricate tile work or a heavy single slab countertop increases the price of your kitchen remodel.

Materials - High-end materials cost more. It makes perfect sense to splurge on personalized spaces like your kitchen. Luxe marble countertops, chef-grade appliances, and imported tiles are treats you can give yourself to enjoy every day in the future.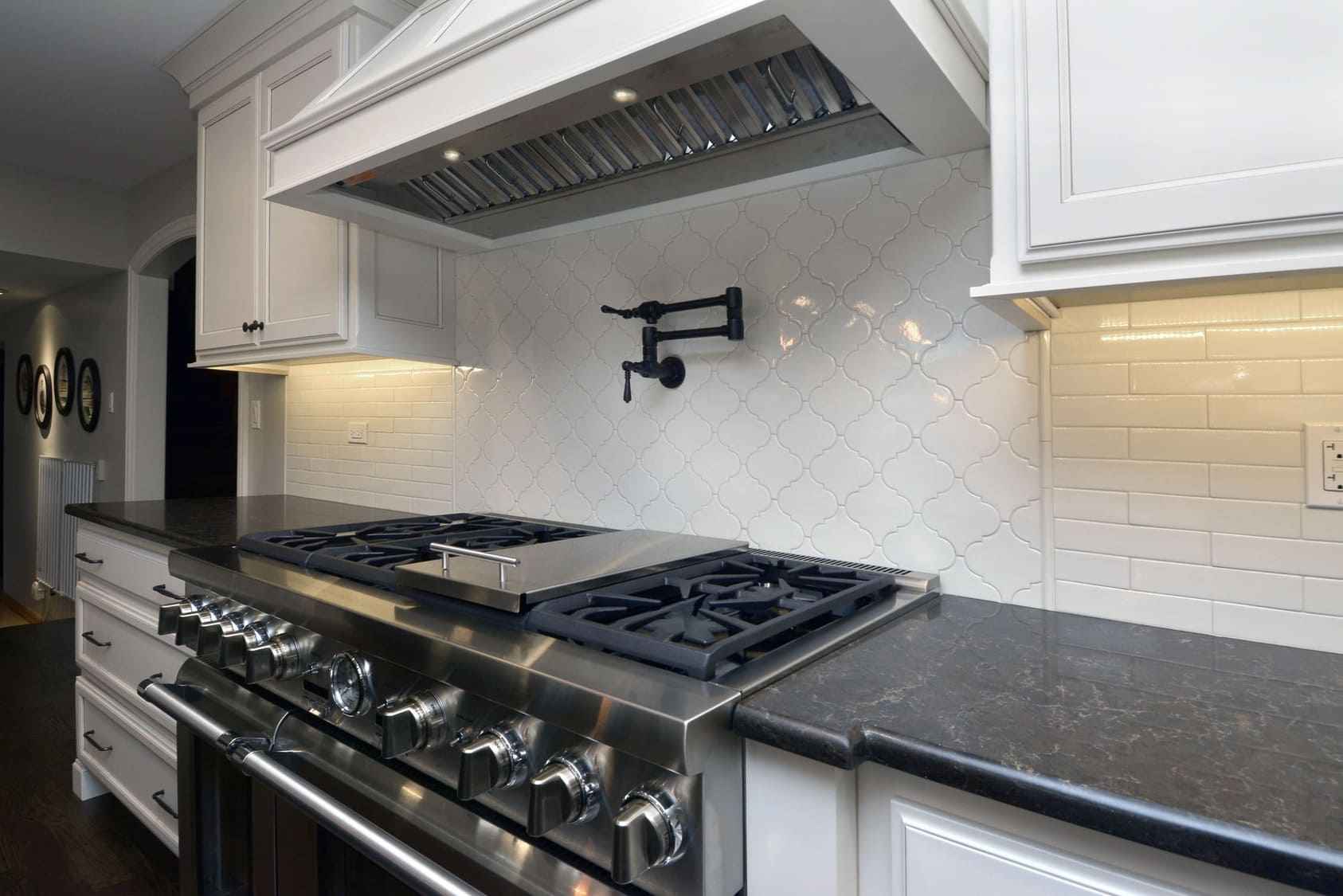 Size - Bigger kitchens cost more. They use more materials, require more labor, and often require more elements, such as a breakfast nook or a second kitchen island, to fill the space.
Moving or Expanding Elements - Your kitchen remodel is an opportunity to improve your layout. Planning to enjoy your home into your golden years? A senior-friendly kitchen looks a little different. You'll pay more if you're moving the plumbing and electrical hookups, but the improved function and flow may be worth it.
Not All Remodels are Created Equal
Keep in mind that the cost of a kitchen remodel reflects its quality. As the most highly used space in the house, a kitchen remodel should be well thought-out and carefully crafted not only to introduce modern functionality but also to reflect your personal needs and preferences. At Patrick A. Finn, we work alongside you from your project's inception to its completion to ensure that every detail is finished the way you want it.
Closely marrying the design and construction process is critical in creating a smooth remodeling experience that doesn't add costs along the way due to design changes or not carefully calculating the scope of the project. The averages listed above are comprehensive and include the full design build process to ensure that your initial investment pays off in quality in the long run.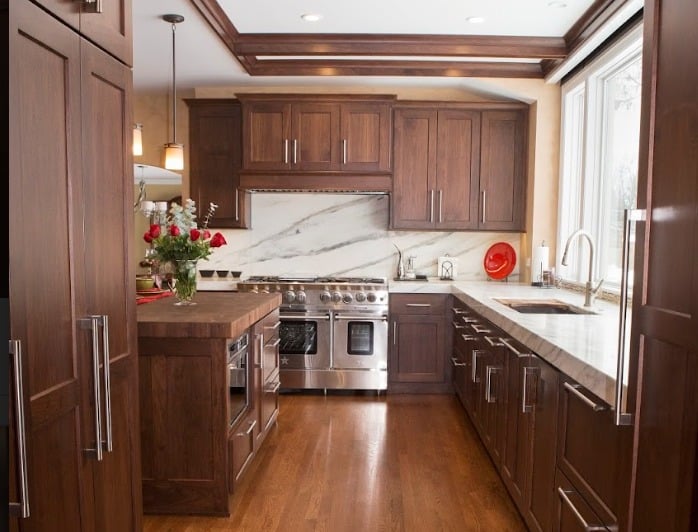 Home and Bathroom Remodeling Costs by Neighborhood [Free Guide]
If you found this post on kitchen remodeling helpful and are interested in viewing more Chicago area remodeling costs for your bathroom and the rest of your home to prepare for your remodel, we invite you to download our premium guide below.
This article uses data from the most recent Remodeling Cost vs. Value report which pulls averages from 2021. Due to unprecedented market volatility and supply chain irregularities last year, some projects' residential construction prices in Chicago have increased up to 25%. Have a discussion with an experienced builder to know the most accurate and up-to-date building cost estimates. Now it's more important than ever to hire a professional contractor with longstanding supply and labor relationships.