Many of us have heard the term "aging in place," but did you know that there are standardized renovation practices emerging to help seniors successfully navigate in-home aging? These design practices improve everything from ease of usability to safety, allowing you and your loved ones to stay independent more comfortably.
As one of the most highly trafficked areas in the home, the kitchen is particularly important to design appropriately. So whether you're planning for your own future or helping a loved one transition to the next phase of life, be sure to consider these aging-in-place kitchen features.

1. Add Extra Lighting
As with any kitchen, aging-in-place kitchens benefit from a combination of natural and artificial lighting sources. What differentiates aging-in-place kitchen lighting design is the number and location of lights, as well as the type of switches used. As always, it's smart to capture as much natural light as possible from windows both in the kitchen and in adjacent rooms and/or from skylights in the ceiling, but you'll also want to make sure that every area of the kitchen has spotlighting. This is particularly important in naturally shadowed and dim areas like under the cabinets and in the pantry.
2. Make Lights Accessible
Additionally, you'll want to ensure that light switches, both for general and spotlighting, are easily accessible. Usually, this means placing them at every entry point in the kitchen. Rocker light switches tend to be the easiest to use. You may also want to consider automated lighting that turns on every time you enter the room.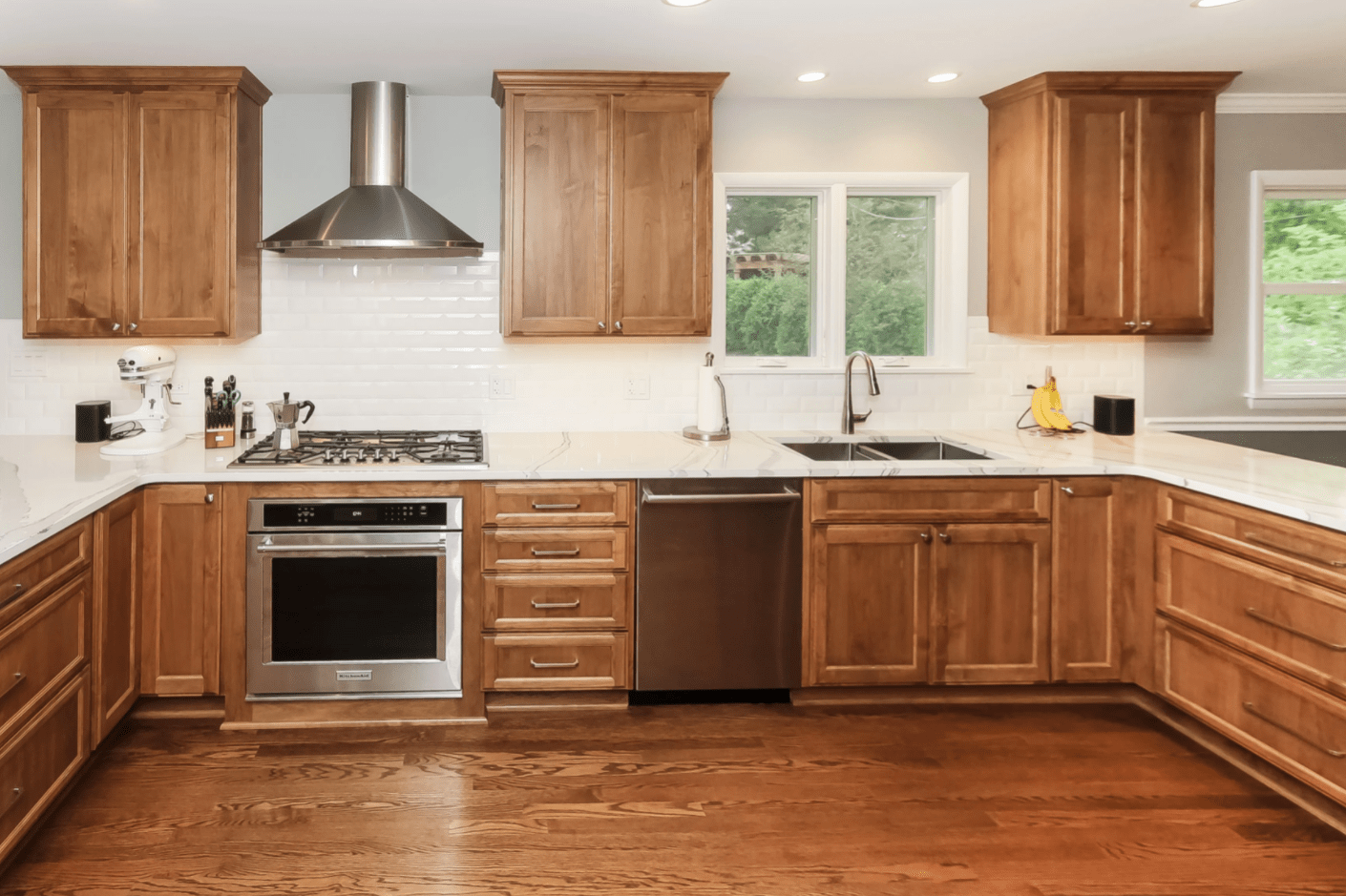 3. Omit Narrow Spaces
One of the best ways to make a kitchen friendly for every phase of life is to ensure that all spaces are easy to navigate. Standard interior doors measure anywhere from 24 to 36 inches in width, and some kitchens have similar measurements between wall cabinets and an island. For ease of navigation in a wheelchair and even walking, it's better to adjust the standard width of doorways to 36 inches and the space between cabinets to approximately 48 inches. Bonus points: opening spaces also improves your home's aesthetics!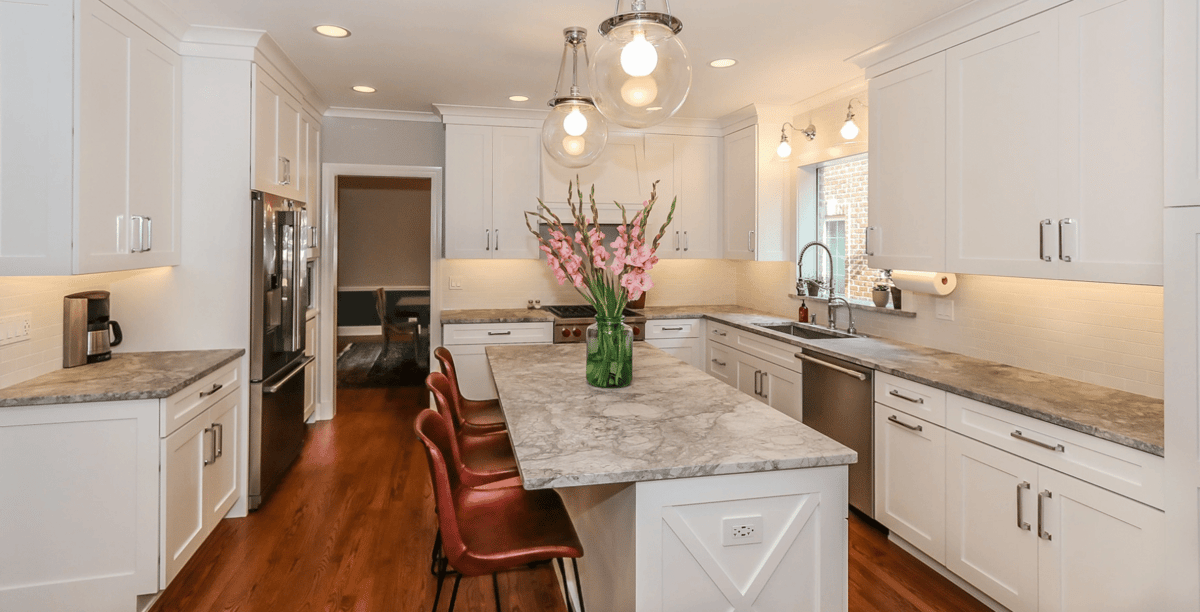 4. Install No-Slip Floors
One principle of aging-in-place design is to omit needless hazards. The floor is a prime example: kitchen floors with rugs or level changes between tiles present unnecessary trip hazards. A good kitchen floor shouldn't have any level changes either in the kitchen space itself or in thresholds between rooms. Additionally, it's smart to have a floor with a lower gloss to reduce the glare from lights. Hardwood floors tend to be good solutions, and we recommend woods that are relatively durable yet also soft enough to reduce hip, knee, and ankle pain. (See Flooring Inc.'s list of ADA-compliant flooring options.)
5. Remove Sharp Edges
One of the easiest ways to reduce kitchen hazards is to round the edges of countertops. Countertops with sharp edges can easily cause skin breaks and bruises, whereas softening the edge makes accidental bumps less of an issue.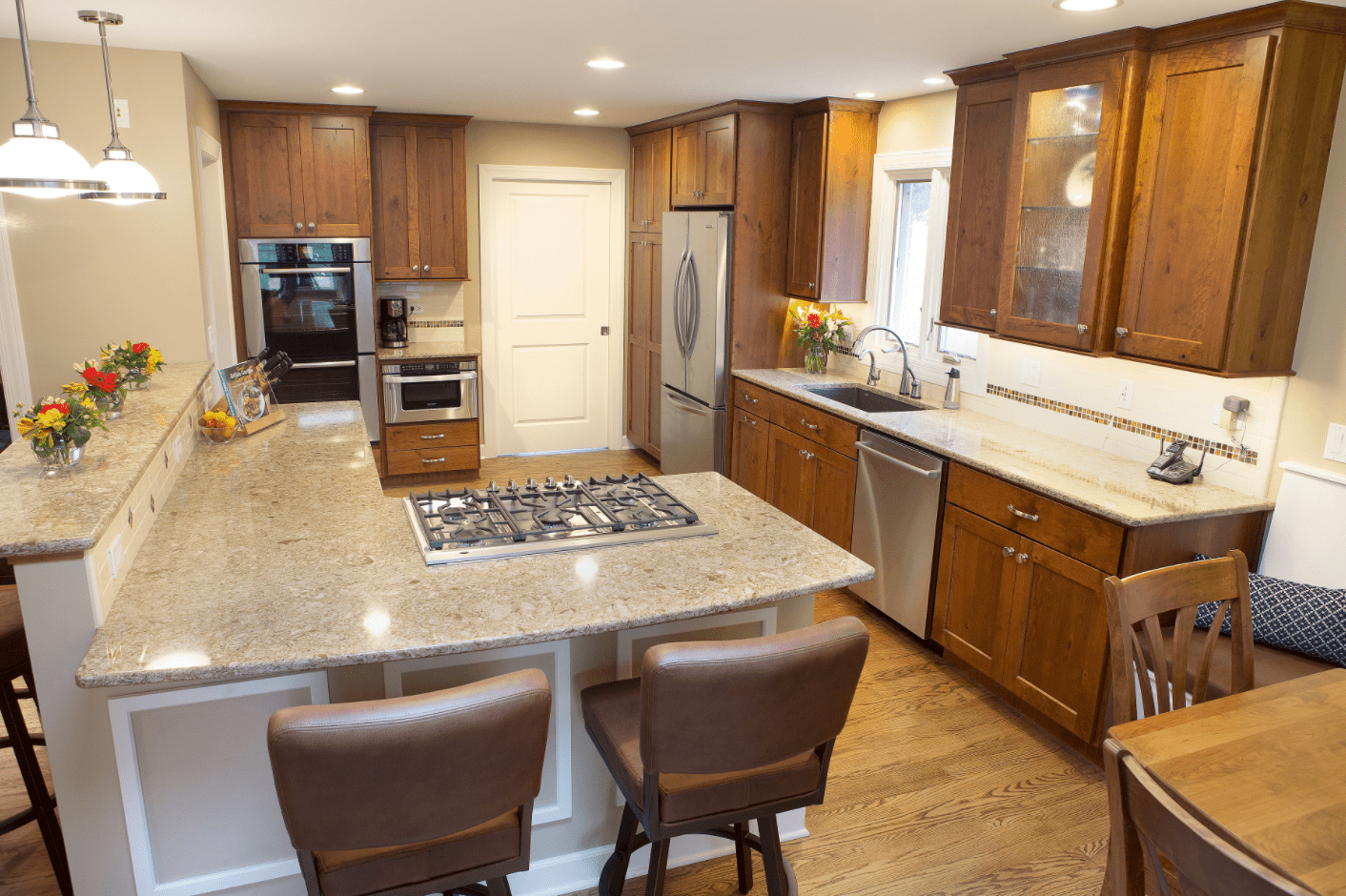 6. Lower Countertop Heights
Standard kitchen countertops are typically 36 inches high, and barstool seating in the kitchen can raise countertops to as high as 42 inches. The ADA, on the other hand, recommends that all or at least a portion of countertops should be set at 28 or 30 inches in order to make them more wheelchair accessible.
7. Get the Right Door and Drawer Pulls
Door and drawer pulls have the ability to either decrease or improve both usability and safety. In general, you should always stay away from door and drawer pulls with sharp edges. Additionally, think about opting for the easiest pulls to grasp. Experts recommend wide pulls with soft, curved edges and an ergonomic shape. Any knobs should be rounded and easy to grasp. Handles often work well for cabinets. Pro tip: selecting a refrigerator, oven, dishwasher, and other appliances with long, smooth handles also improves kitchen ease of use.

8. Plan Door and Drawer Storage
You'll also want to consider how easy items indoors and drawers are to access after opening cabinet fronts. For corner cabinets, lazy susans have long been a favorite solution. Other corner cabinet storage solutions include spin-out and pull-out shelves, angled front cabinets with pull-out drawers, corner drawers, corner pantries, and more. All lower cabinets should have pull-out shelves to enable easy access to items. For upper cabinets, consider pull-down shelves. Finally, as a general rule of thumb, consider arranging your kitchen items in such a way that frequently used items are more conveniently located.
9. Install a High-Tech Sink
Since the sink is so frequently used, consider treating yourself to a hands-free faucet with an anti-scald device. Automated soap dispensers and sinks with narrower and shallower basins are also a good idea to prevent back pain from leaning over too far.
10. Keep Appliances Safe
Last but not least, it's important to consider safety when installing kitchen appliances. We recommend opting for automatic shut-off ovens and cooktops, and we recommend electric stovetops with heat light sensors rather than gas burners when planning an aging-in-place kitchen. Peace of mind is key.
Final Tips
You can find even more tips on aging-in-place kitchen design ideas at the official Aging in Place website. If you found this blog helpful, we encourage you to visit their page for more comprehensive considerations. As experienced contractors for senior-friendly kitchen designs, we also welcome a conversation with you as soon as you're ready to begin remodeling.
If you are ready to begin transforming your home into a home that you can live in forever, download our step-by-step guide to home renovation done right, "The Ultimate Step-by-Step Home Renovation Transformation Guide."