"Where's the jasmine rice?" "Hey, I thought we just bought some sweet Thai ginger sauce from Trader Joe's!" "Didn't your dad give us a million-mode Insta pot during the holidays?"
If these cries of distress sound familiar, your family members may just need to look a little harder. But if you have trouble finding food storage containers and gadgets you are looking for in the kitchen, it might be time to update your pantry space.
Having a well-arranged pantry that accommodates all your must-have kitchen staples and the home-canned pickles, your aunt brings every time she visits can greatly enhance your quality of life in the kitchen. By finding underutilized space and working with a good designer, you can get organized and keep a well-stocked, ready-for-the-next-meal pantry.
This article explores the best kitchen pantry design ideas to guarantee that your pantry organization is top-notch and that you have ideal storage solutions that meet all of your needs.


What Should I Think About When Designing Pantry Space?
Before taking out a wall or even sketching designs on graph paper, you need to consider what you need from your pantry space. This will include answering the following questions:
1. What pantry items do you plan on storing in this space?
Canned goods, non-perishables, and dry goods
Cleaning equipment or cleaning solutions (Hint: don't store this in your pantry; consider adding a mudroom to your home.)
Baking supplies and equipment
Cookbooks
Smaller kitchen appliances like crock pots, Insta pots, etc.
Extra beverages
Pet food
2. What are your shopping habits like? Do you buy in bulk or in smaller quantities at a time?

3. What is your organizational style? Do you prefer neat rows where you can see everything at a glance, or do you prefer baskets or bins for easy access that are out of the way? Or a mix?

4. What level of organization are you looking for? Will you label categories of items or just place them where it makes sense to place them?

5. Who will use this space? Does the space need to be accessible to everyone living in the home or just the main cooks of the family?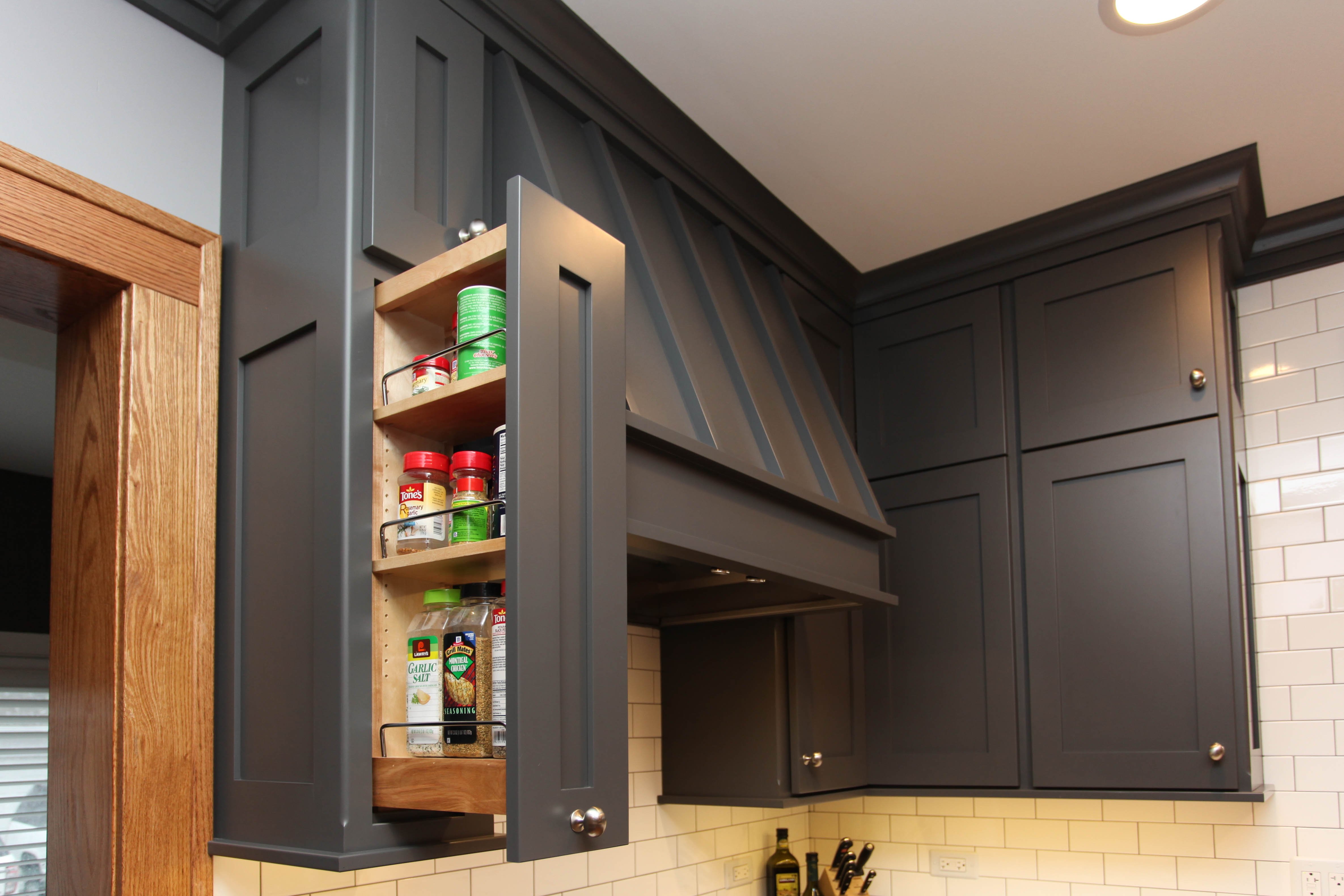 What is the Best Layout for My Pantry?
Once you have defined your needs and wishes for your perfect pantry, it is time to decide what shape it will take. A pantry is all about maximizing space and utilizing it well. From a single pantry cabinet to a vast walk-in, you may have more options than you think.
Custom Cabinetry
If you have a small kitchen, you can do a lot with the right cabinet design. A custom cabinet pantry design may be just what you need to stay clutter-free and keep things accessible. Here are a few of our favorite space-saving pantry design ideas that create pantry space seemingly out of thin air.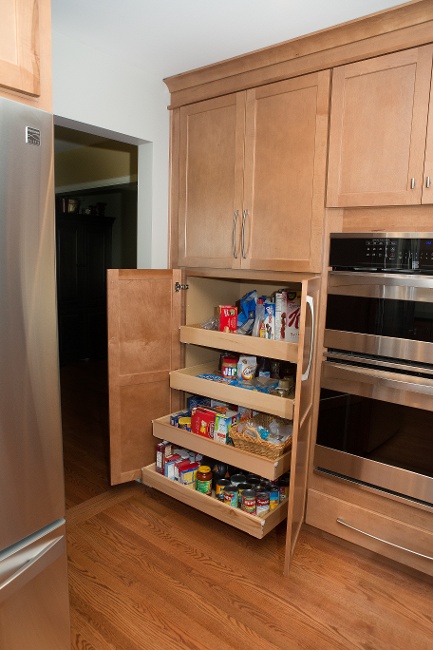 Reach-In Closet Pantry
A closet pantry is the most common design. If you have an under-utilized coat closet, that might be a good candidate for a closet pantry. Discussing your needs with your design-build team is key to ensuring this space doesn't lose efficiency.
Here is what I mean: You are not necessarily looking for "depth," as things can easily get lost behind other items in a deep pantry. You can customize your closet pantry to include a shelving system with shallow pantry shelves. Shallow pantry shelves will allow you to see all of the items you have stored easily. This pantry style requires a secondary organizational solution like baskets or bins to categorize and label your goods.

Walk-in Pantry
For many, this is the dream, having a dedicated room to store everything in one place; walk in and easily find what you are looking for in a well-lit, organized pantry. An awkward hallway or space adjacent to the kitchen can be redesigned into the perfect walk-in pantry.
A walk-in pantry is helpful if you have a lot of small appliances. Depending on the size, this could be a place where the microwave or the toaster is plugged in and used. This is a visually pleasing option for a pantry because you can easily see everything you have stored there.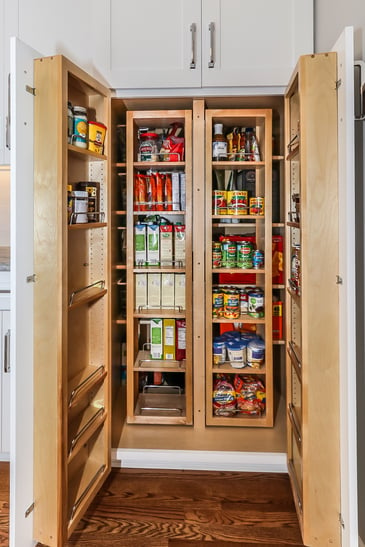 Getting into the pantry is half the fun! Here are a few of our favorite pantry door options:
Swing door:

This is a typical interior door that swings open. You need to ensure you have the space for this type of door. You could make this a focal design point in the space by using a unique antique door, custom-designed door, or custom hardware.



Sliding door:

The "barn door" style has become very popular, but ensure you have enough wall space to the side of the pantry for the door to slide over. Again, you can make this type of door a statement piece with a custom-designed door made of unique material.



Hidden door:

Where's the pantry? Built-in to that set of cabinet doors! If you are renovating your kitchen, you can have a custom cabinet maker match your existing kitchen cabinets, making your walk-in pantry hidden in plain sight.

Butler's Pantry
A butler's pantry is basically an enhanced walk-in pantry ideal for people who entertain often or homeowners needing extra storage and room. It can include additional cabinet and countertop space to use for food and service prep. A butler's pantry might have a prep sink, beverage cooler, a fun lazy Susan, open shelving to store and display your extra dishware/glassware, and small appliances.
Butler's pantries are multi-purpose spaces that offer increased kitchen space. When entertaining guests, you can store dirty dishes and prep items in this area to get them out of the main entertaining space. Add character to this space by making it a fun design element using unique materials or bold interior design ideas that you might not use throughout the rest of the kitchen.
Making Your Perfect Pantry a Reality
More pantry space in your kitchen is possible through any number of solutions. From a single cabinet to a butler's pantry, your kitchen has more pantry storage potential than you might think.
Collaborating with a design-build team that will assist you in identifying your habits, routines, needs, and desires is crucial. Together, you can create a personalized solution that fits your lifestyle.
To learn how you can renovate your kitchen to include pantry organization ideas like those stated above, download the eBook "The Ultimate Step-by-Step Home Renovation Transformation Guide."