Who doesn't want a kitchen island? It can be a great place for food prep, with cabinets for storage and a place to sit and enjoy a snack, meal, and conversation. It can house a sink, cooktop, wine fridge, and numerous other elements of your ideal kitchen. But do you have the room? Besides space, what else do you need to consider when adding an island to your kitchen remodel plans?
Whether you're looking to create more counter space, enhance storage options, or improve your kitchen's overall functionality and design, a kitchen island can be a welcomed addition. The varieties are infinite, with choices including size, shape, countertop material, cabinet style, and color. How do you get all these variables right for your kitchen renovation? Here are a few essential questions to answer.
What To Consider When Adding A Kitchen Island
Besides "as big as possible," what do you want from your kitchen island?
These questions and your answers will determine what kind of kitchen island will be ideal for your lifestyle. An experienced design-build general contractor will help you create a kitchen design that will maximize space and function to get the kitchen island that meets all your practical needs and looks great while providing all the functionality you have been craving.
Can I Add An Island To An Existing Kitchen?
The next big question: Can I fit an island into this kitchen, or will it require a larger-scale remodel? Older homes often have kitchens that maximize wall space for both lower and upper cabinets but with a fairly small footprint. Adding an island into these types of spaces can create tight quarters, making it difficult to maneuver around the kitchen. The last thing you want is to add an island that you regret.
Before you can truly think about adding an island, you need to measure your space to see if it's large enough to fit an island. The minimum space we recommend is 39 inches between the edge of the island countertop edge and the edge of the perimeter countertops. 42 inches is even better, making grabbing pots, pans, and small appliances from cabinetry easier. This also allows more than one cook to maneuver around the kitchen comfortably. If your existing kitchen can accommodate these parameters, with some shuffling around, consider adding an island without a major remodel.
Should I Remodel to Add a Kitchen Island?
In many cases—particularly if you own an older home with a small kitchen—a more extensive remodel may be required to add a kitchen island that will function well for your lifestyle.
For a kitchen remodel, you have three remodeling idea options:
Opening, or completely removing, the wall between the kitchen and dining room or living room
Building a new addition to the kitchen
Relocating the kitchen to a different space on the first floor
This is one of those "challenge presents opportunity" situations. With a remodel, you are not bound by the previous kitchen layout. Working with your design-build team, together, you can determine which of the three options above will deliver the results you are looking for.
This means you can fully redesign the layout into a brand-new kitchen, adding new functionality. Kitchen ideas could include adding a beverage station, a butler's pantry, or a walk-in pantry. While changing things up, you might also consider adding a mudroom, upgrading to new appliances, and building in a breakfast nook with extra storage and seating.
A kitchen remodeling project will be more expensive than simply adding an island to your existing kitchen, but it will also add value and will be customized to your lifestyle. It's a long-term decision that can meet all of your needs rather than trying to retrofit a short-term solution.
Are There "Rules" for Kitchen Island Design?
Here are a few non-negotiables when it comes to kitchen island design:
1. Account for Overall Size and Clearances
It's important to design your kitchen island with the appropriate space surrounding the island. For instance, what should the depth of the island surface be? A minimum of 30" should be planned for the depth of the island.
Overhang Rules: There's nothing worse than knocking your knees on the lower kitchen cabinets while seated at an island. It makes the seating arrangement uncomfortable for you and your guests. It's important to consider the depth of the island overhang to ensure maximum comfort for island seating. Providing enough space to walk behind someone sitting at the island countertop is also essential.
There's a threshold for your island's amount of overhang. If the overhang is beyond 12 inches, your builder will want to install a steel L bracket to ensure the overhang doesn't crack off. A high-quality design-build general contractor can conceal this bracket from view.
2. Use Care in Picking Kitchen Countertop Materials
Choosing your countertop material should be based on what you plan to use the island for, as some materials are more low-maintenance than others.
This is also an opportunity to create contrast between the kitchen island and the other cabinets and countertops. Similarly, a waterfall edge can add a unique focal point to your kitchen island design.
3. Understand the Work Triangle re: Kitchen Island Shapes
The work triangle refers to the spatial relationship between the main work areas in the kitchen, specifically the cooktop and range, refrigerator, and sink. Using custom cabinets, you can make a kitchen island into whatever shape best fits the space and best accommodates a good work triangle.
Here are some common kitchen island shapes and how they relate to the work triangle:
1. Rectangle
This is by far the most common configuration, with cabinets on one side with seating on the other and cabinets on both sides with no seating or seating around one half of the rectangle.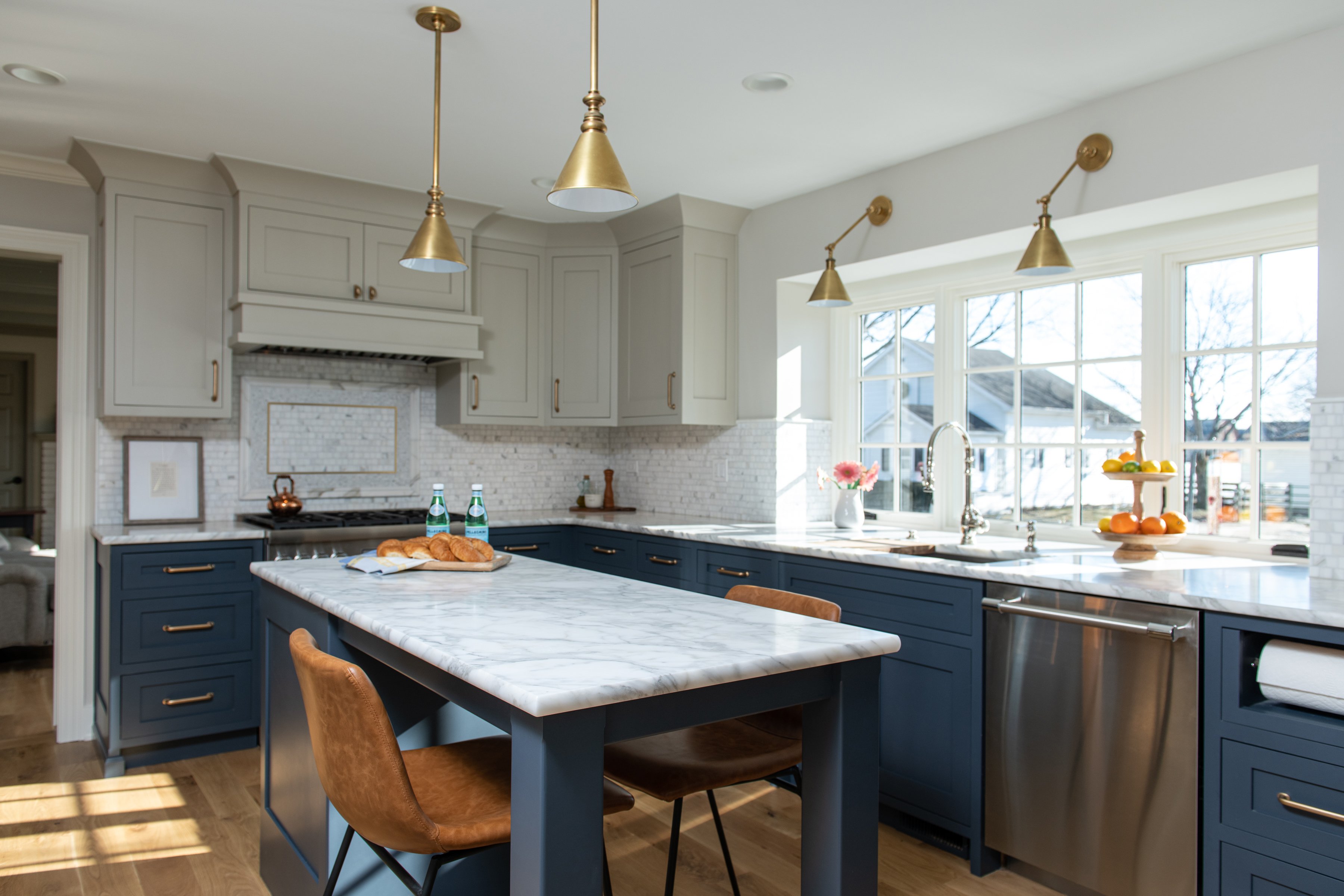 Example of a classic rectangle-shaped kitchen island added to Craneshollow kitchen remodel.
2. Two-Tier Island
This design can hide a cluttered prep area and create additional entertainment space for eating and drinking by defining these as separate zones.
3. Expanded "L shape"
The extended L-shaped kitchen island is ideal for smaller areas since it optimizes the overall space, enabling you to utilize the kitchen's length for ample countertop and storage space while maintaining easy movement throughout the rest of the kitchen. This shape typically has island seating.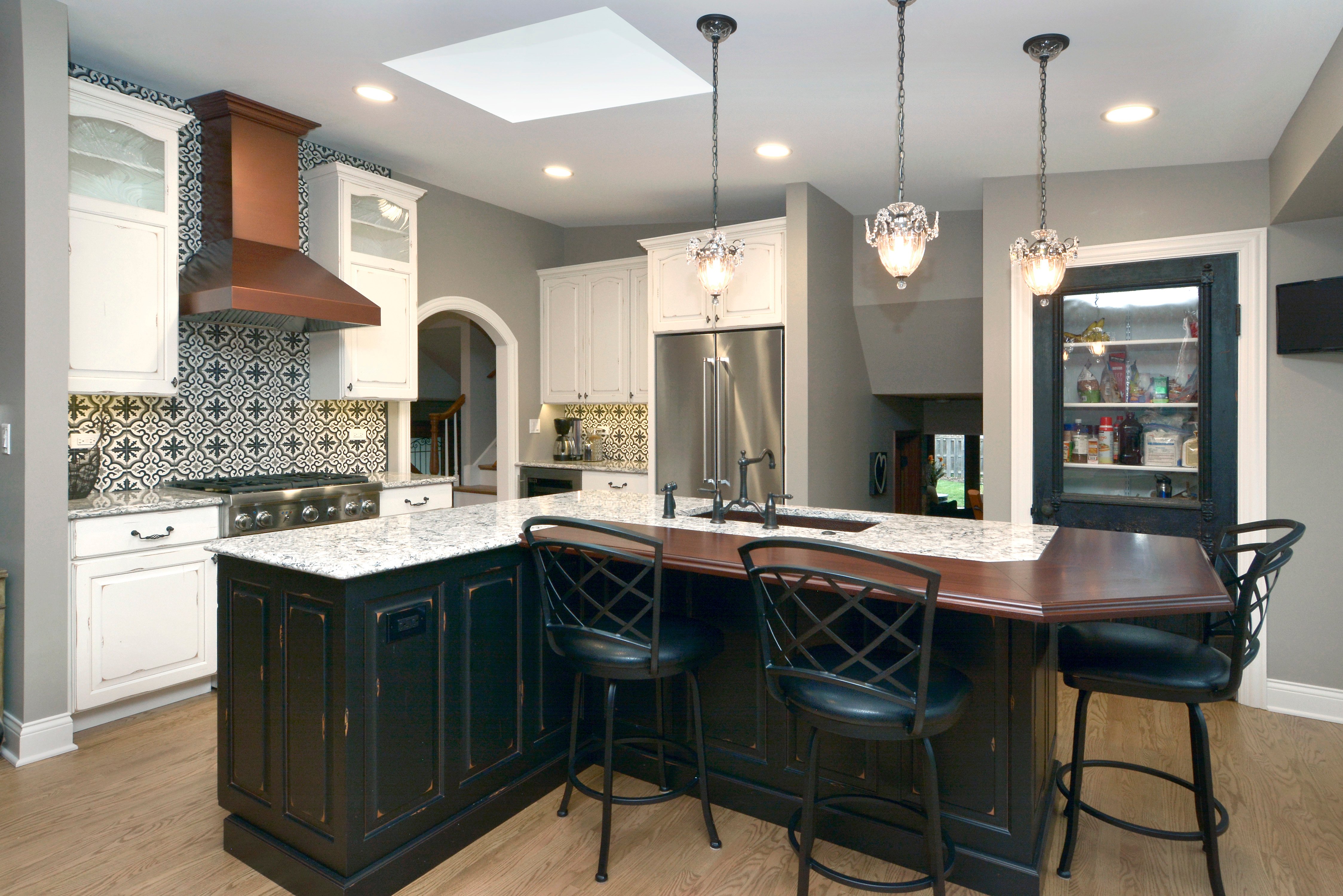 Example of an "extended L-shaped" kitchen island added to the French country-inspired kitchen remodel.


4. High-End Double Kitchen Island or T-Shape
If you have the space, this option is the Cadillac of all kitchen islands. This layout allows one island to be used only for function and the other for entertainment. Do you plan on expanding your kitchen and hosting many parties? Maybe you're an avid chef who wants to wow guests. This option is the perfect solution.
5. U-shape or V-shape
This style requires a lot of space but will allow for ample storage, prep room, and seating. This works well for large, open-concept style homes with grand living areas.
Getting the Best of (Kitchen) Island Living
When planning for a kitchen island, the initial step is establishing its purpose. Everything follows from this, determining the required shape, suitable material, and level of complexity for the renovation. A kitchen island may be an end in itself or part of a more extensive kitchen redesign. It may involve removing a wall, constructing a first-floor addition, or both.
Collaborating with the right design-build general contractor is valuable, as they have the experience and expertise to guide you through identifying your objectives, requirements, and preferences. They will then assist in creating a detailed plan to construct your dream kitchen–complete with the perfect island for your space that embodies your style and personality.
Unlock the secrets to a stunning kitchen renovation! Get your hands on the eBook 'The Ultimate Step-by-Step Home Renovation Transformation Guide' today and transform your dream kitchen into a reality!