Where do people tend to congregate when you entertain? The kitchen! That's ok, but it can create a crowded space where it's difficult to do actual kitchen-related activities, like cooking, preparing food, and cleaning up at the kitchen sink.
The good news is that there is more than one way to solve the congestion problem in your kitchen space when you entertain. By adopting modern kitchen design ideas and a functional kitchen layout, you can creatively add additional space where food can be prepared and served and where people can comfortably gather out of the path of the main kitchen work area.
4 Remodeling Elements to Optimize Entertaining Space in and Around the Kitchen


1. Built-in Buffet
Maybe your parents had a large dining room with a sideboard—a large piece of furniture where serving trays, water pitchers, wine carafes, and other items could be set. The built-in buffet takes this idea to a new level. This architectural feature answers the question: "Where will we set and serve all the food for the party or holiday dinner?"
A built-in buffet can be added in the kitchen, dining area, or transitional space between the two. It typically consists of a wall of upper cabinets or open shelving with lower cabinets and a countertop reminiscent of the sideboard of old. These elements are customized to fit whatever wall space is designated and available.
With a built-in buffet, guests can fill up plates, graze, or refresh their drink of choice away from the primary food prep areas of the kitchen.
Along with a countertop for serving and setting aside dishes that won't fit neatly on the dining table, the built-in buffet cabinetry is a great place for off-season dishware, fine china, or other dishes that aren't used regularly. This can also be an excellent spot for wine storage or a coffee maker/beverage station.
A built-in buffet is a functional addition to any kitchen, but it also can become a focal point, where you can express your style through a bold color palette, a patterned backsplash, unique countertop material, and more.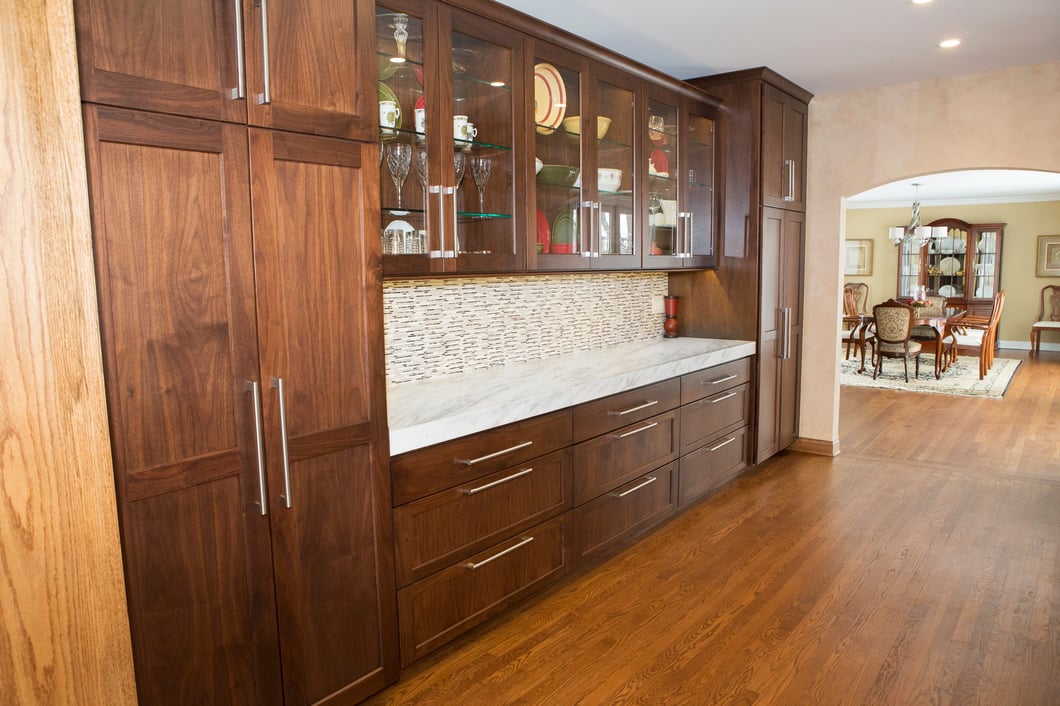 Spacious walnut cabinets with a built-in buffet. See the full gallery of the kitchen renovation here.
3. Butler's Pantry
Older Chicago-area homes of the well-to-do would often feature a butler's pantry off the kitchen. The butler may be gone, but this feature has become a major kitchen trend again in recent years.
A butler's pantry is basically your dream walk-in pantry in addition to your regular storage-only pantry. Like the buffet, a butler's pantry will have upper and lower cabinets, along with counter space. Unlike the buffet, the butler's pantry is often enclosed. More than dry goods storage, a butler's pantry is the perfect spot for food prep, staging, and adding extra workspace for complicated or multi-step cooking and serving tasks.
While guests enjoy your dinner party, walking between the kitchen and living/dining areas, the clutter of your party preparations (and aftermath) can be hidden away in the butler's pantry.
A butler's pantry can also be a storage space for small appliances like a second microwave, blenders, your multi-function pressure cooker, or cookbooks, and it might also include a small prep sink.
Ideally, the seating area for the island is a U-shape or L-shape, where seating is on one side, while prep work and cooking can still happen on the other. This layout facilitates natural conversation while keeping guests outside of the working zones.
When designing the island, you will need to ensure enough space is available when the bar stools or seats are occupied instead of tucked away. This is often overlooked during the design phase and can significantly impact how your area functions when it's full of guests. It is important to allow for enough space behind the island bar seating so guests aren't knocking chairs against cabinets and other guests can get around them.
Also, consider your countertop material. Having an easy-to-clean material on the island makes the space hassle-free when the red wine spill inevitably happens. For example, although marble countertops are undeniably beautiful, it's not the easiest material to keep clean as it stains and etches easily.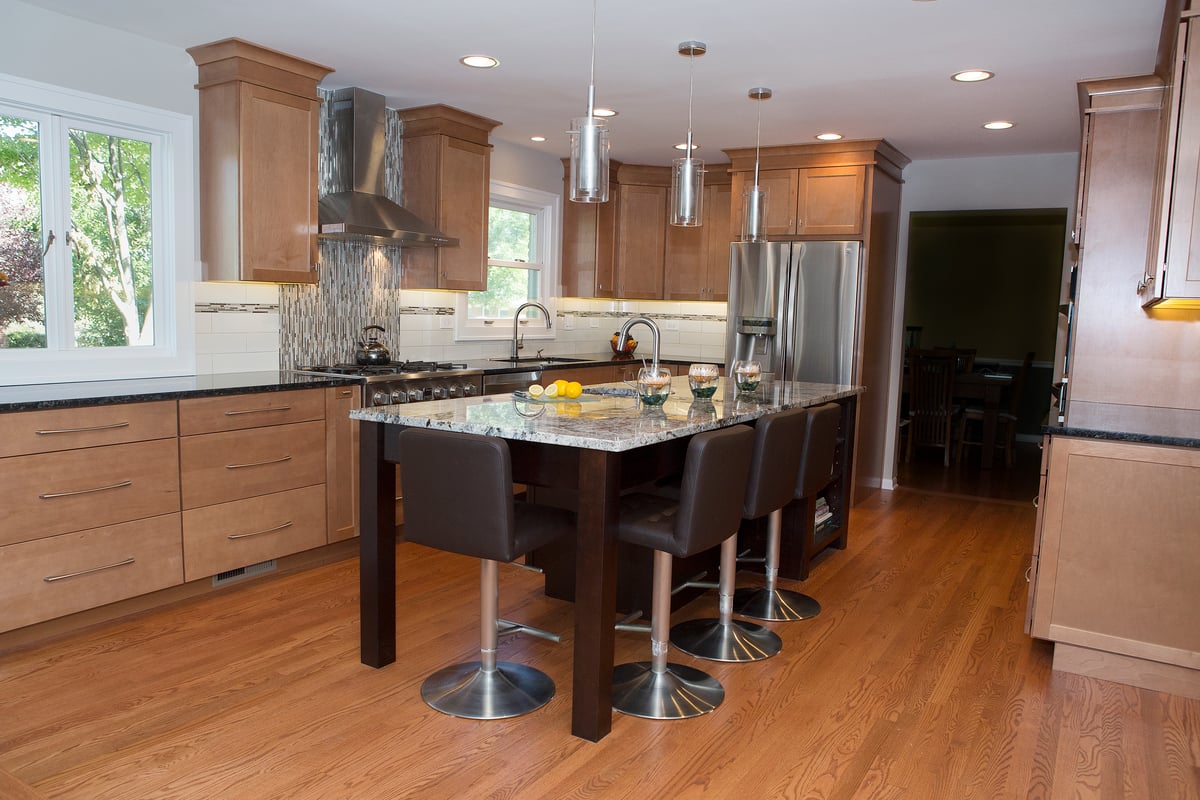 Rectangular island with seating. See the full gallery of this kitchen renovation here.
Making Your Kitchen Entertaining Dreams a Reality
There are so many ways to make your kitchen entertaining-friendly. The key is to work with a design-build contractor who will help you determine your unique needs, see beyond what currently exists in your space, and develop a plan to maximize your interior design to become your dream kitchen for entertaining.
Do you have a large extended family you host yearly for the holidays, or do you prefer smaller, more intimate dinner parties? Will the whole office be invited to a gathering or just your team? Answering these questions will help determine how large your kitchen, dining, and living room needs to be. The right combination of kitchen design ideas will deliver the results you are looking for and allow you to entertain with less stress and more in-the-moment enjoyment.
Download the eBook "The Ultimate Step-by-Step Home Renovation Transformation Guide" to learn how you can renovate your kitchen into a dream entertainment hub.