You love to entertain, and you've been down a YouTube rabbit hole, honing your mixology skills. All that is missing is a dedicated wet bar where your friends and family all gather when you invite them over.
We love helping clients find just the right spot for this crucial element of hosting a party. More and more, this is becoming an expectation not just for entertaining but for enjoying a relaxing evening at home in general. Going out to places like the Walrus Room or Common Good is fun, but the tab runs up quickly. Why not unwind in your home with a drink, act as your bartender, and skip paying $20 for a cocktail plus an Uber ride?
So, where is the best spot for your home bar, and how can you make it a design focal point?
Finding the Best Spot for Your Wet Bar
Ask yourself where you would most frequently use this space or where you have the space to add one to your home. A wet bar is often placed somewhere between the kitchen and the main living area. But the search for the best spot for your bar area doesn't have to end there.
Most homes have a lot of underutilized space. Look for unused areas adjacent to areas where family and friends naturally tend to congregate. Working with an experienced design-build general contractor will help you find space you might not otherwise have thought of.


Convert a conventional dining room into an entertaining space with a wet bar.


Incorporate it into a wall of the kitchen, living room, or a transitional area between rooms adjacent to the kitchen.


Find a "nook" like under a staircase. Utilize the shape of the nook that the bar is built into. For example, if you're building it under stairs, accentuate the angle of the stairs by adding panels or tile, creating a design element.


You might have unused closet space or an empty wall. You can enclose the space with pull-out doors, sliding pocket doors, a sliding barn-style door, or keep it open.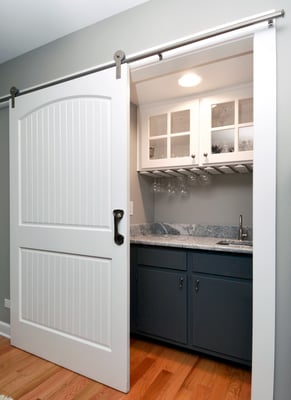 Adding to the basement is a great solution because, often, there isn't enough room on the first floor. Some people want their wet bar to feel luxurious with a bold design. This may not fit with the rest of the main floor's design aesthetic, so a basement wet bar is a great second option.
If you are having trouble finding a location that will easily accommodate water lines, a good option is to create a dry bar–a countertop, beverage fridge, open upper shelves, and or closed upper and lower cabinets. Dry bars are also great for tighter areas where space is limited because adding a sink will take up at least a foot of space.



What Should A Wet Bar Include?
The next step is to determine how you want to use this space. Along with a sink and essentials like ample room for liquor bottles and cabinets or shelves for glassware, what will your ideal bar setup include?
Here are a few home bar ideas:
Refrigerator
You've gone to the trouble of designing a wet bar - it should definitely include some type of refrigeration for easy access to wine, mixes, citrus juices, etc. Some will add a full fridge, but most will add a mini fridge, wine cooler, or a dedicated 'beverage station.'
Dishwasher
Place those wine glasses, pint cups, martini stemware, margarita glasses, and every other kind of glassware right into the dishwasher integrated into your wet bar setup.
Dedicated Ice Maker
Many cocktails and mocktails require a lot of ice. Instead of overtaxing the ice maker in your refrigerator freezer, many homeowners prefer to install one right where you will need it the most.
Items like dishwashers, sinks, ice makers, and refrigerators will require finding the closest plumbing feed and drain lines. If they're not nearby, your builder needs to find the most efficient route to connect the lines.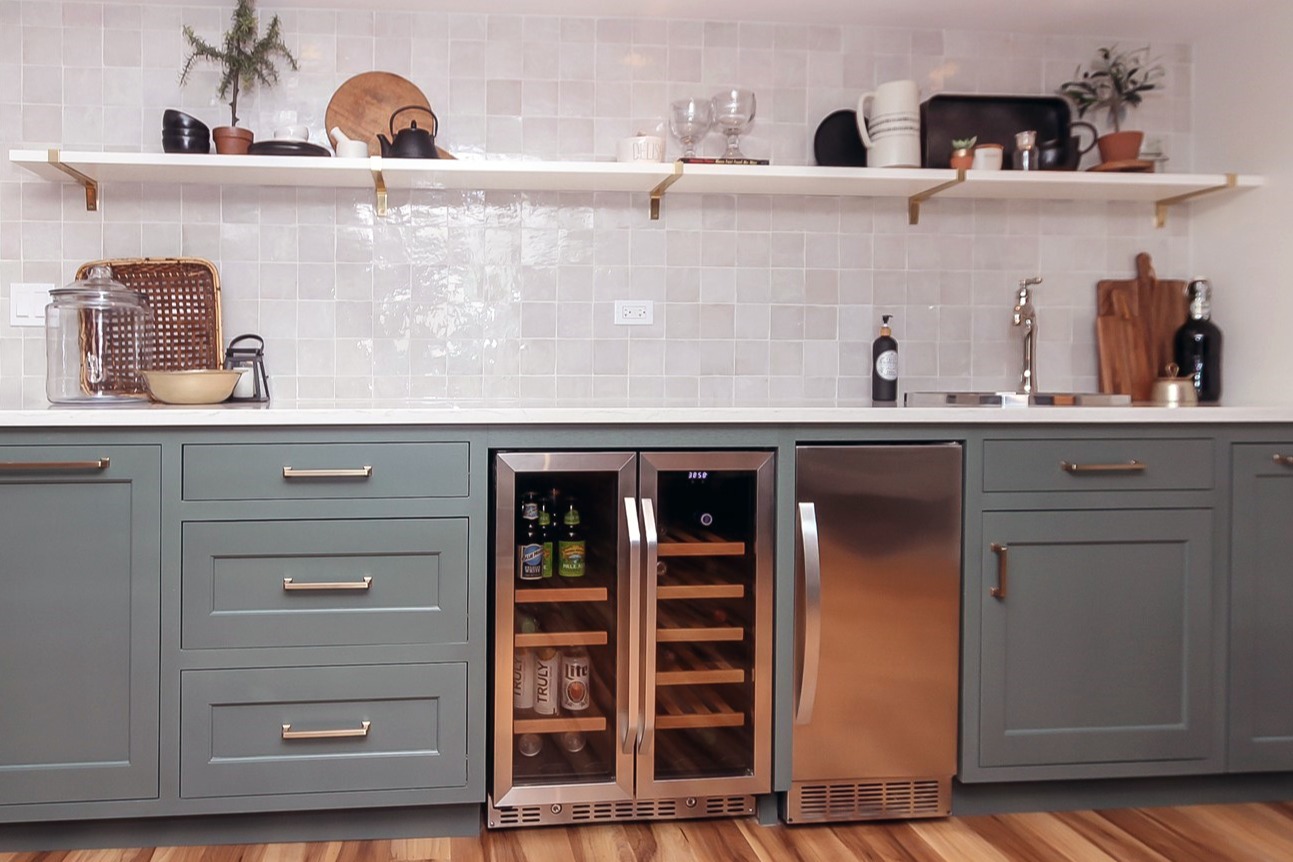 Home Wet Bar Design Ideas
Here is where the skills of an experienced interior designer will be invaluable to hone in on your best ideas, build in the most functionality, and bring them to life. Your wet bar is your chance to have fun with design and express yourself.
Choosing the Right Materials

Lean Into a Theme
Are you looking for simple sophistication or even a "speakeasy" vibe? For example, design an art-deco/art nouveau space by leaning into soft edges and organic shapes: use trim and cabinetry to create an arch over the wet bar to create visual interest, opt for a circular bar sink, choose an arched faucet and hardware with rounded edges. To really lean into this theme and make this space feel truly unique, install a "secret" entrance behind a built-in bookcase/door.
Another popular theme is mid-century modern: choose retro-style color pallets, walnut cabinetry, geometric patterned backsplash tile, angular brass hardware, or 'atomic' inspired hardware.
Next Steps in Building a Stylish Wet Bar
You have so many options to create a stylish and unique wet bar for your home. It's important for you to decide how the space will be used. Do you want it to be a design focal point for your home or a more functional space that's hidden away or blends in seamlessly with the rest of the home's design aesthetic?
These decisions are made easier by working with an experienced design-build firm who will walk you through the process of creating a wet bar that efficiently and uniquely utilizes the space available and caters to your needs and vision.
Download the eBook "The Ultimate Step-by-Step Home Renovation Transformation Guide" to learn how to renovate your home and turn it into the ultimate entertainment space using a design-build company that will bring your vision to reality.