If you're considering a home renovation project, it's essential to stay updated on the latest remodeling trends for 2023. From bathrooms and kitchens to living rooms and bedrooms, there are exciting design ideas to explore!
Explore how these trends can transform each room in your Chicago home. By keeping up with the latest remodeling trends, you can create a space that is both stylish and functional.
So, get ready to plan your home renovation project and make your Chicago home truly exceptional.
Table of Contents:
Bathroom Remodeling Trends & Ideas
The spa-worthy bathroom continues to be a popular bathroom remodeling trend. However, with every passing year, advances in technology introduce new ideas to improve your at-home spa. Finish the spa feeling with finishes and features that give your bathroom the full spa atmosphere.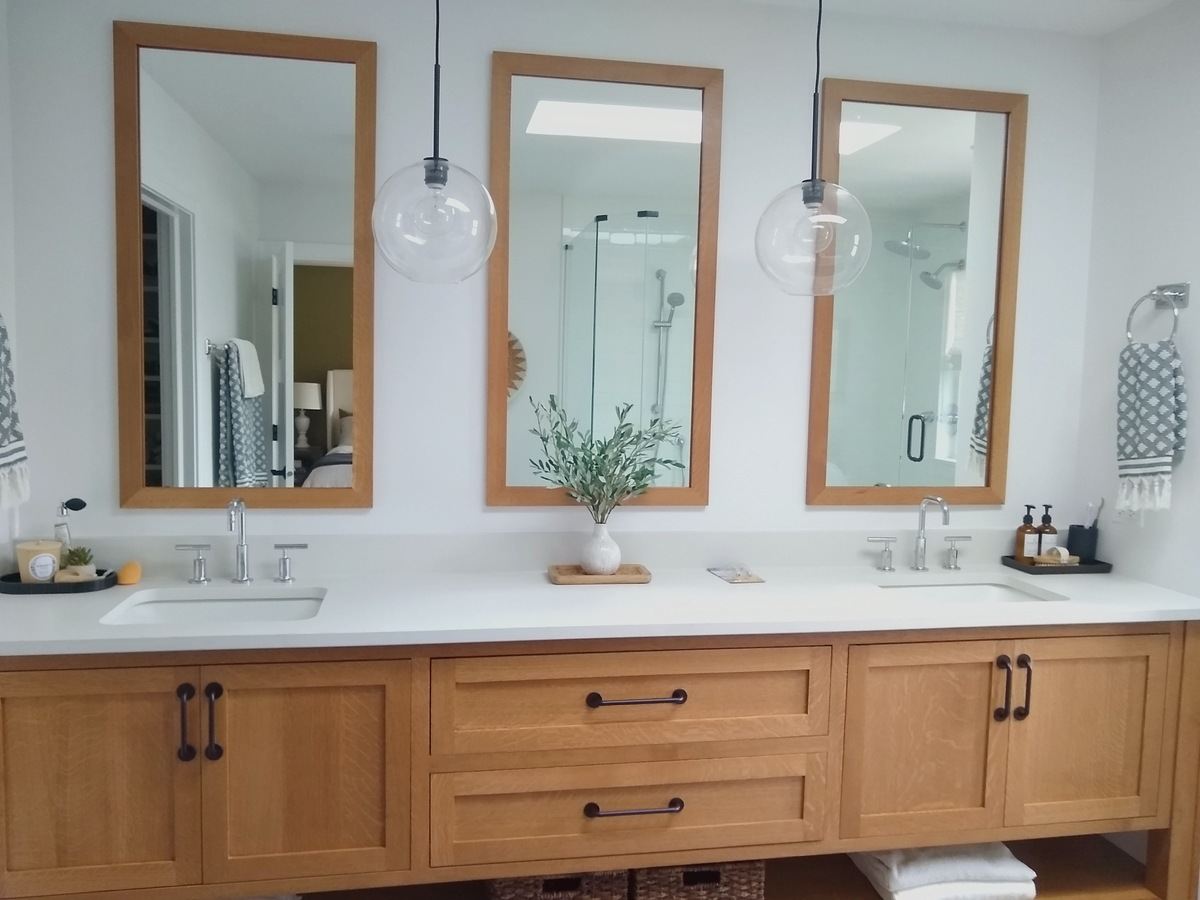 In-Floor Radiant Heating
Installing in-floor radiant heating during a remodel is the perfect way to combat those cold stone or tile floors, especially during colder months. It's also a great energy-efficient option for heating the space.
Steam Shower
Steam shower kits include everything that you'll need to enjoy rejuvenating or relaxing steam, with chromotherapy, body sprayers, and even built-in Bluetooth speakers. Talk to your design-build team about creating the right shower structure to keep steam contained in your shower to get the ultimate spa experience.
Natural Wood
Nothing says 'spa' like a white palette with touches of natural wood or a vanity with a pop of the colors of the moment (try Pantone's Viva Magenta) and a complimentary wood tone. Your custom bathroom vanity is a great place to use natural wood tones. On your bathroom floor, use durable luxury vinyl wood tile or ceramic tile that's made to look impressively like hardwood.
Terrazzo Tile
Trends in bathroom tile are branching out into unique new shapes and vintage throwbacks with visual interest. Terrazzo has been on the rise again for a few years for its unique design but also its customizability and durability. It's available in virtually any color and is great for your shower walls, countertops, or floors.
Accessibility for Aging in Place
If you plan to age in place in your forever home, build-in features to support you before you need them. Your bathroom design could easily support future accessibility needs with a few small considerations. For example, place outlets and switches in easy-to-reach locations, build a large, curbless shower with seating, and ensure a wide radius to allow for assisted maneuvering if this is ever needed.
Pops of Calming Colors
Earthy greens, soft seaside blues, or even muted pink, like the Sherwin-Williams color of 2023 Redend Point, are excellent for bathrooms. Use these hues on the walls, in the tilework, or on the bathroom vanity.
Remodeling Trends for Your Kitchen
Your kitchen remodel should include a mix of timeless and trending styles. Avoid outdated trends. What are the top 2023 trends in kitchen remodels?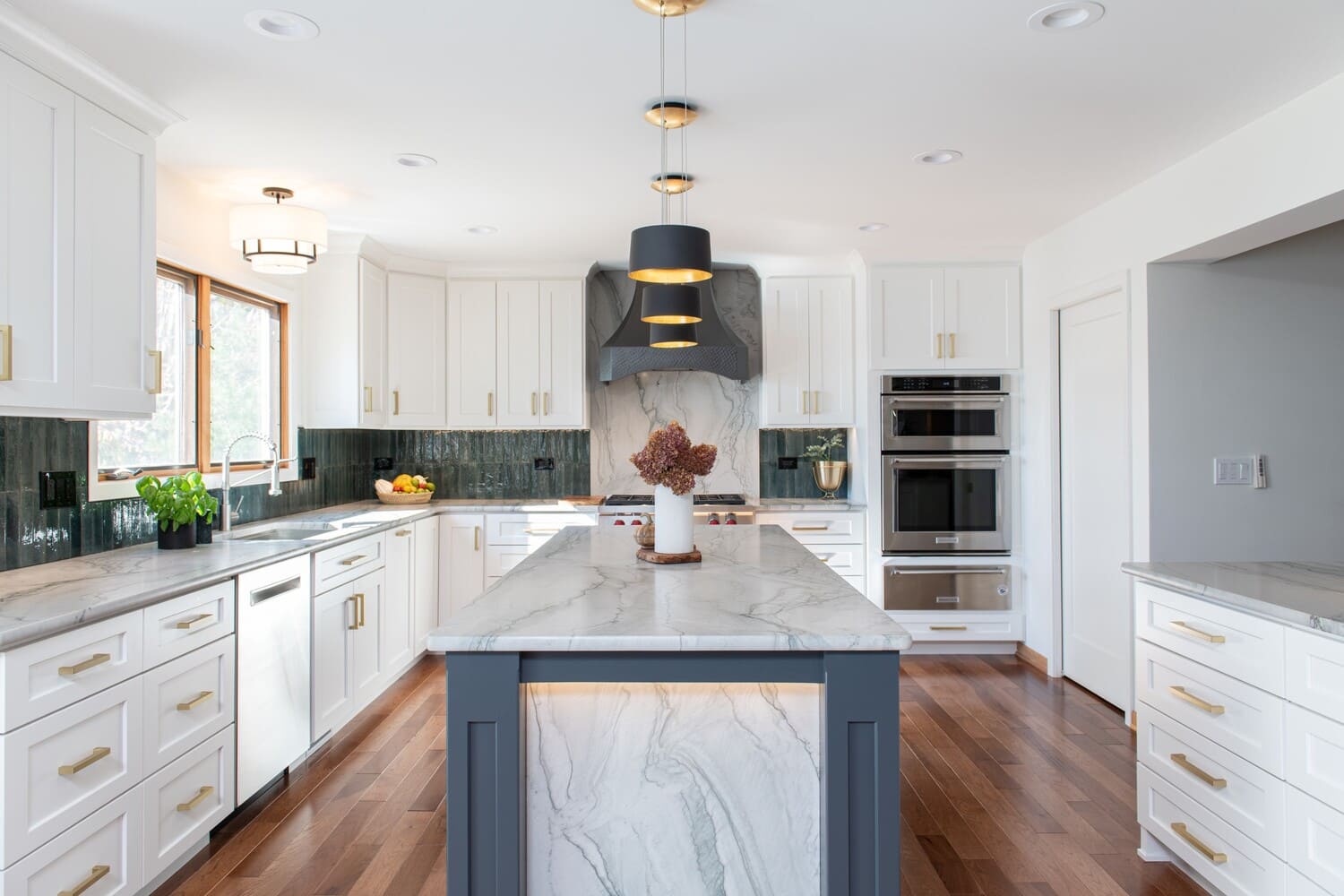 Double Kitchen Island
Two really are better than one when it comes to kitchen islands. Having an open floor plan helps to create enough space to include an extra island, and you'll be grateful for the added surface and storage it can provide. Use one island for preparing a meal, while the outer island can be used for seating guests or completing homework in the evening.
Natural Light
Natural light is always in style, but some trends help turn the light up even more. Work with your designer to open up more wall space to include more windows than this room usually allows. An extra island helps to free up the wall space that upper cabinets usually occupy, creating even more space for windows. You can also include a skylight or two. Add classic glossy white subway tile and glass front cabinets to help natural light bounce around the space even more.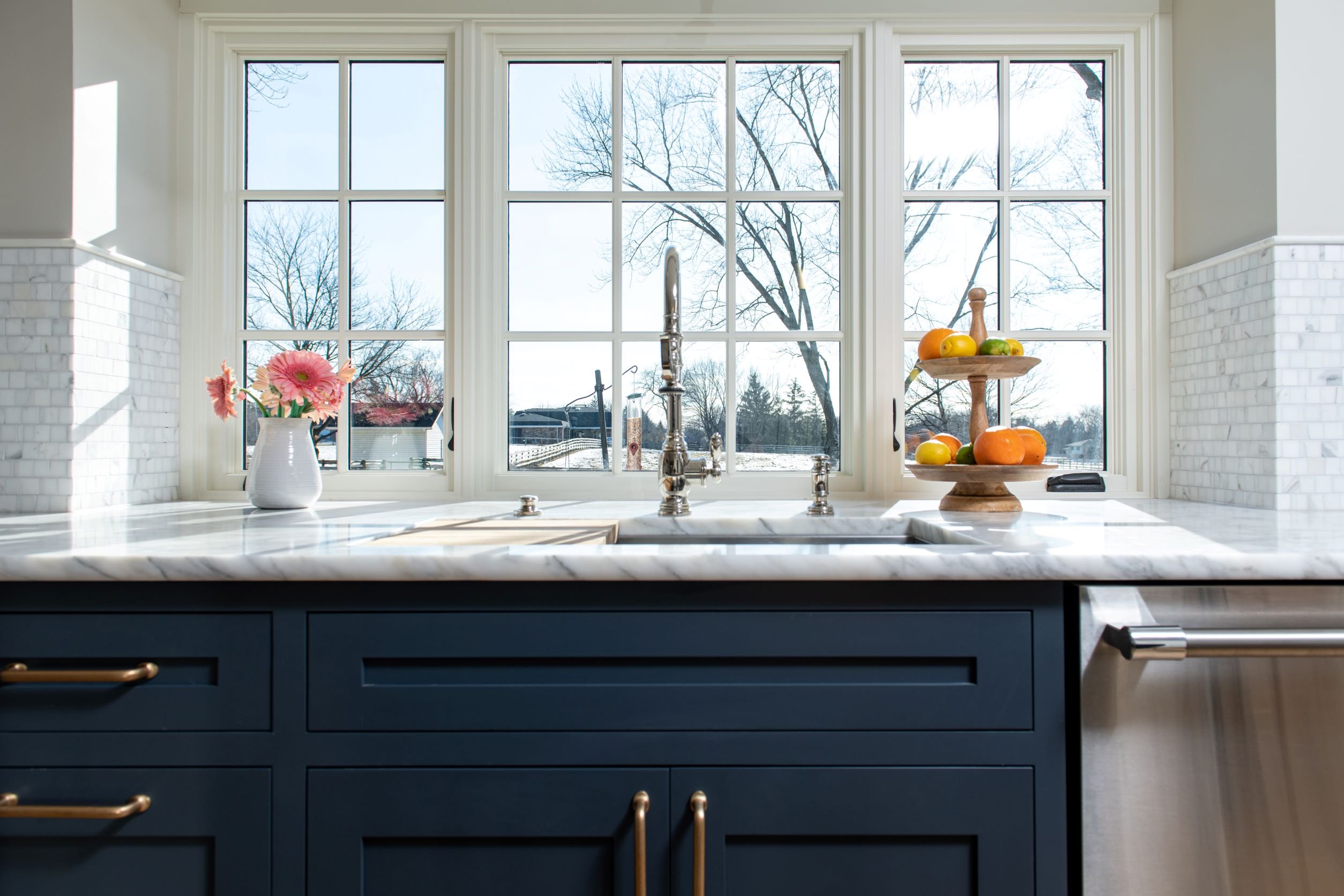 Custom Zones
Last year, trends were leaning toward more personalization, and that's continuing into 2023. A popular choice is a custom coffee station with a built-in espresso maker and storage for everything you'll need for your favorite brews. If you entertain often, a designated bar area is a crowd-pleaser. Include a wine fridge, beverage center, or open shelving to show off your fine glassware and storage to wrangle all of the tools.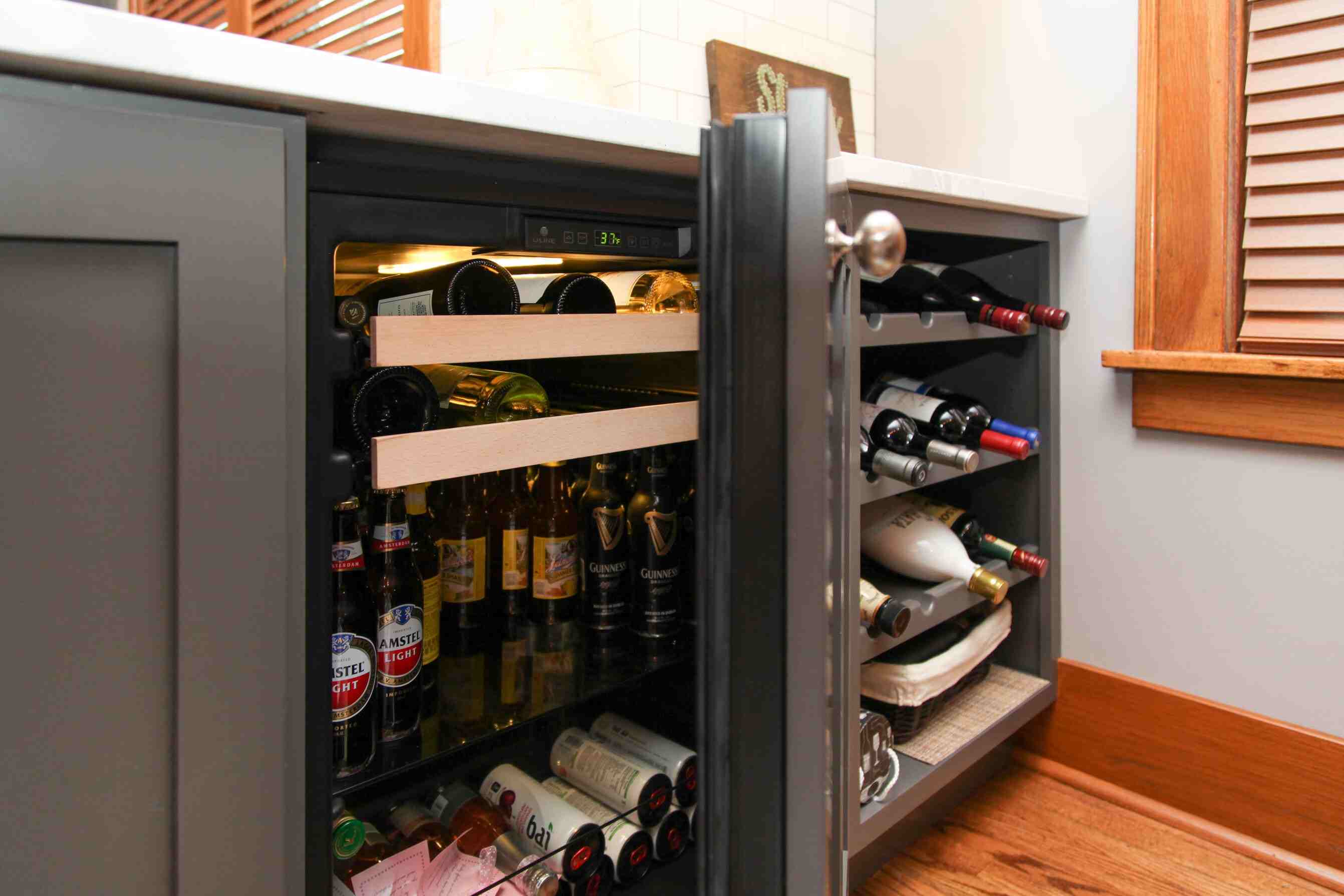 Add More Character
All-white and all-gray kitchens are officially out in 2023. Two-toned cabinets, like a muted blue on the lower and white on the uppers, are a great stylish alternative. You can also switch up the countertop materials by using a butcher block on the island and quartz on the perimeter cabinets. Natural wood open shelving to showcase your collections or keep smaller potted plants is also a great alternative to the volume upper cabinet boxes tend to fill.
Butler's Pantry
Butler's pantries are great places for prep and staging while keeping your primary kitchen clean. They're perfect for entertaining, storage, and adding extra workspace for complicated or multi-step tasks. Consider a "Costco door" that connects your garage to your pantry space for streamlined unloading.
Tile With Flair
Tiles with interesting patterns or variations in color are in for 2023. If you're worried about a pattern becoming overwhelming, use it on the backsplash just behind your range. Encaustic and zellige tiles are rising stars in kitchen backsplashes. Include your cabinet and wall colors in the tile pattern to tie the room together.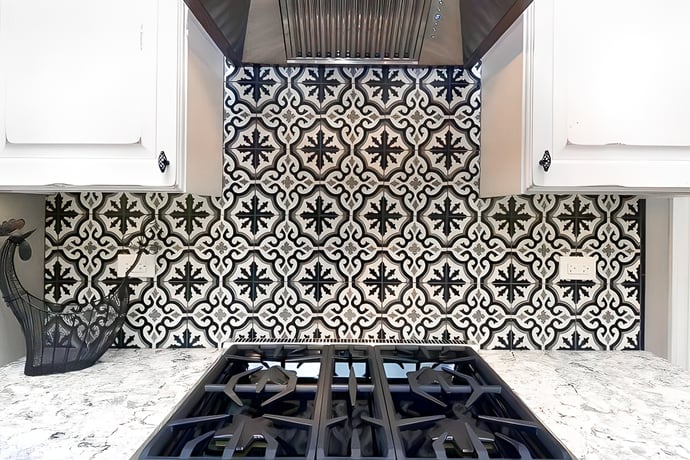 Living Room Trends You'll Love
Remodeling trends in the living room in 2023 are also focused on personalization across different features in this shared common area.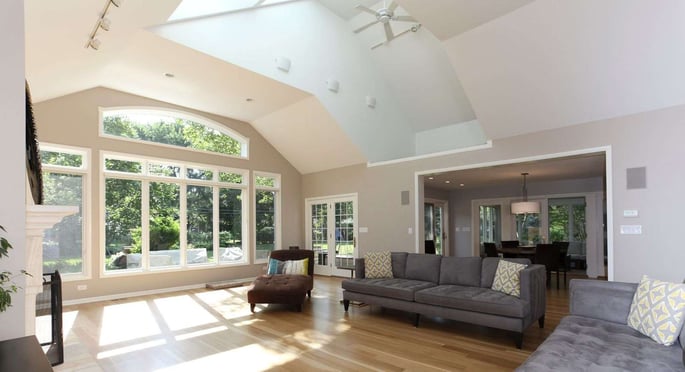 Archways
Arches in doorways and windows are also trending, so carry that trend into your recessed built-ins flanking the fireplace. An arched entry into the hallway that leads to the bedrooms is also a nice transition from the open-concept living space. Archways are the perfect way to add old-world charm to a newer home.
Extraordinary Flex Rooms
If your layout is somewhat space-limited, but you still want to upgrade a room so that it can perform multiple functions, the flex room upgrade is one of the top 2022 renovation ideas for this situation. For example, you can take a spare bedroom and turn it into an upscale guest room with hide-away beds that pull out when you need them but tuck away when you want to use that room as an office space or a playroom for the kids. Flex room uses are one of the top conversations we have with new clients.
Turn your basement into the ultimate multi-purpose flex space. Add a bar for entertaining, a home office or a home gym.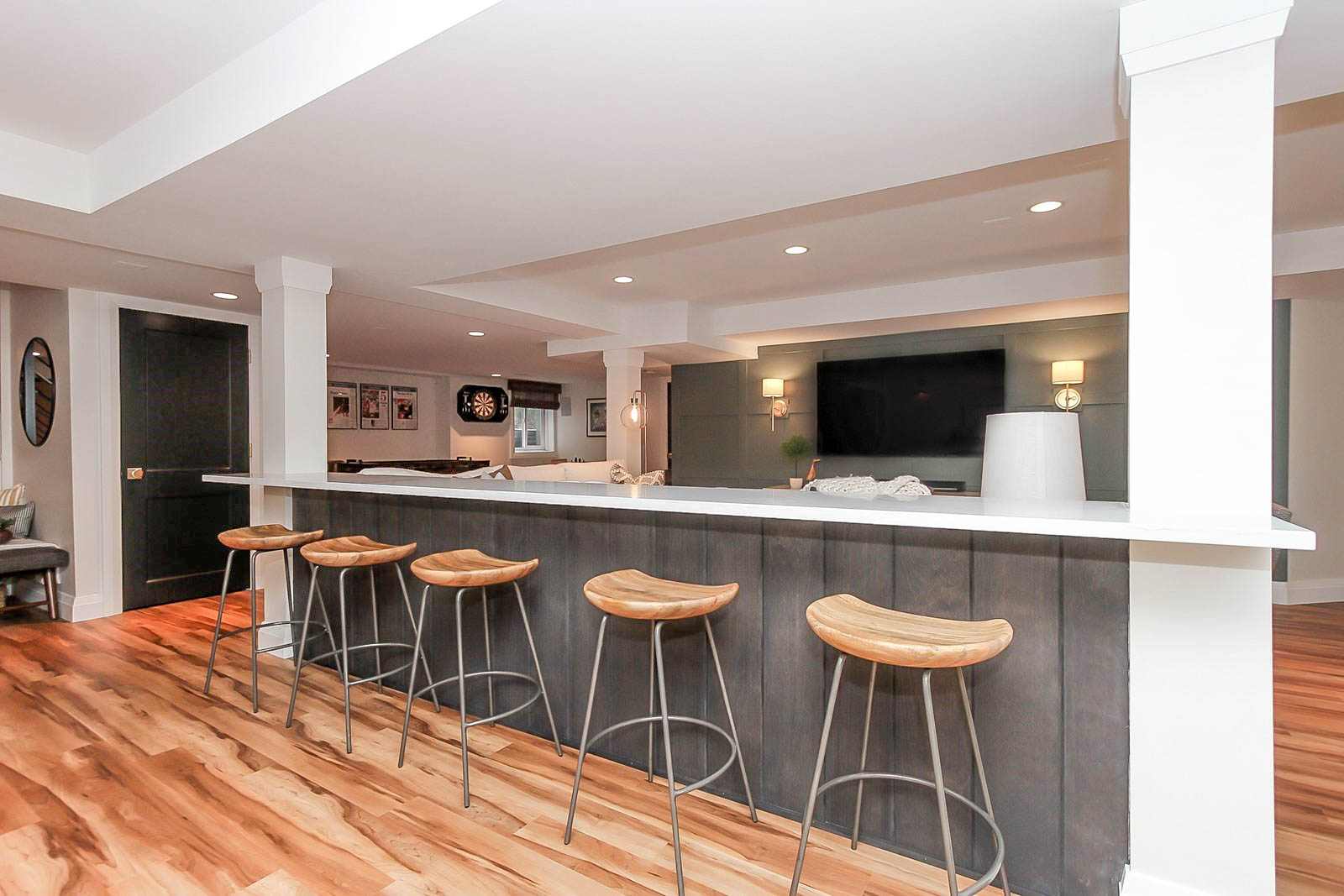 Statement Ceilings
A statement ceiling is another personalized touch that brings the living room style all the way up. Coffered ceilings are classic, vaulted ceilings add space, and exposed beams give a feeling of warmth and are welcoming. Some ceilings fit in better with certain aesthetics, so work with your designer to choose the best fit for your space.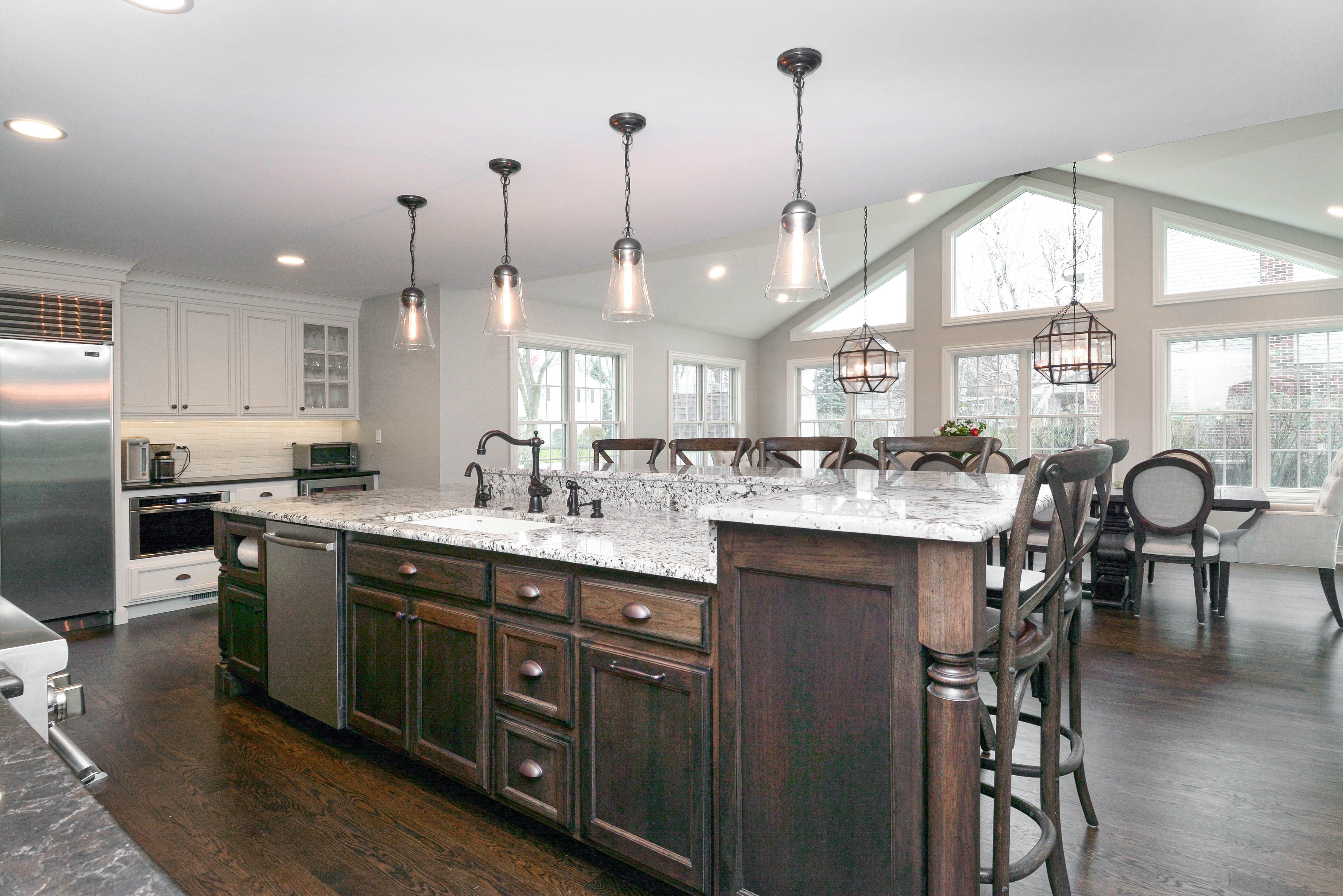 Bedroom Ideas to Include
Bedrooms aren't just for sleeping or getting ready for the day. They can offer respite from a noisy household and be a great place to flex your personal style.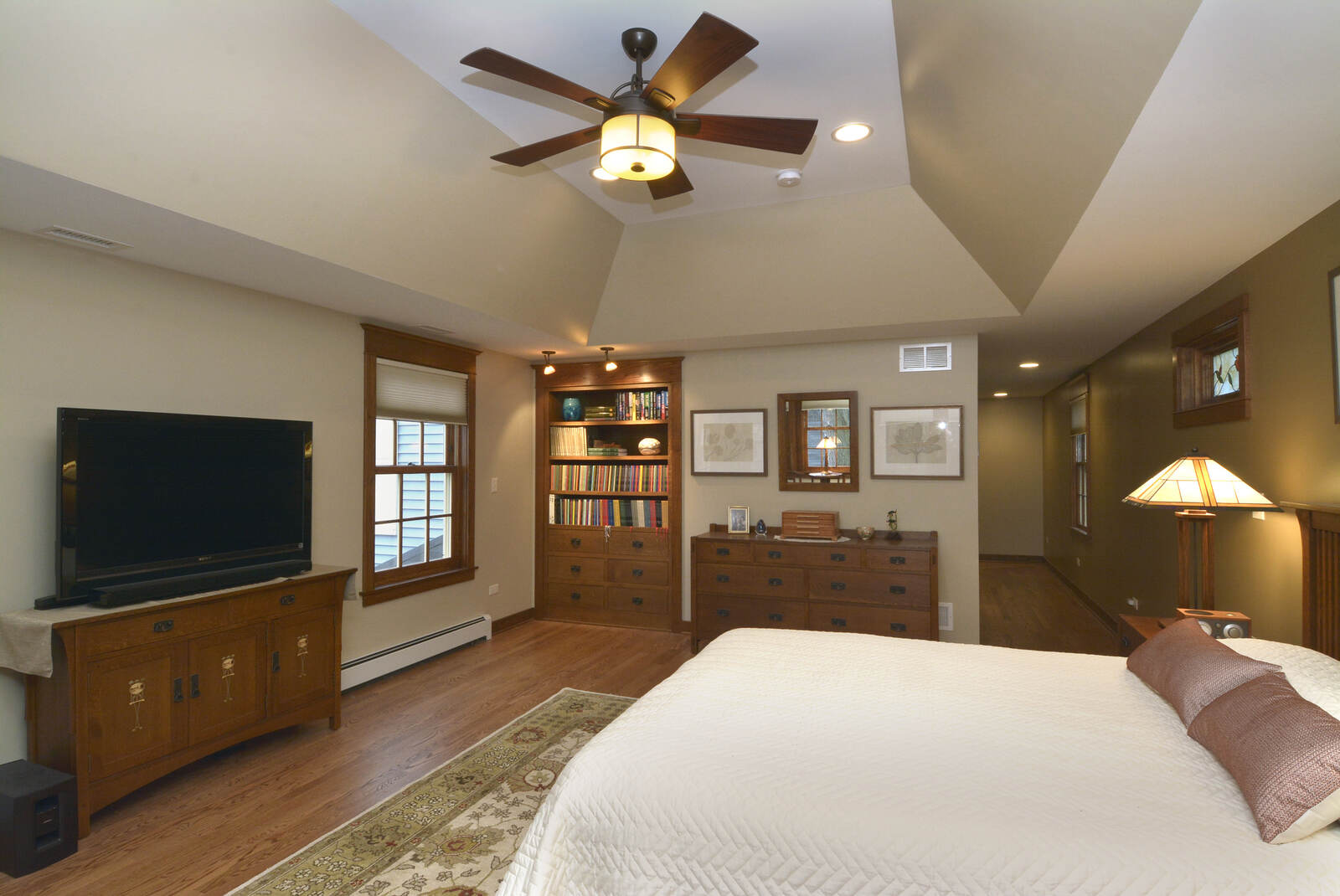 Accent Walls
Accent walls are back in 2023. A popular way to use an accent wall in the bedroom is on the wall behind your bed. Use a dramatically different color or a second neutral that's darker than the other walls. If you have a fireplace in your primary bedroom, use that wall as the anchor and choose a soothing but interesting wallpaper to tie the colors of your bedroom together. Coordinate the wallpaper with your drapes for a cohesive look. Choose a geometric pattern for a contemporary appeal or even a wallpaper that creates a scenic mural. The possibilities are nearly endless and span every style. The key to a successful accent wall is allowing the accent to help define the space.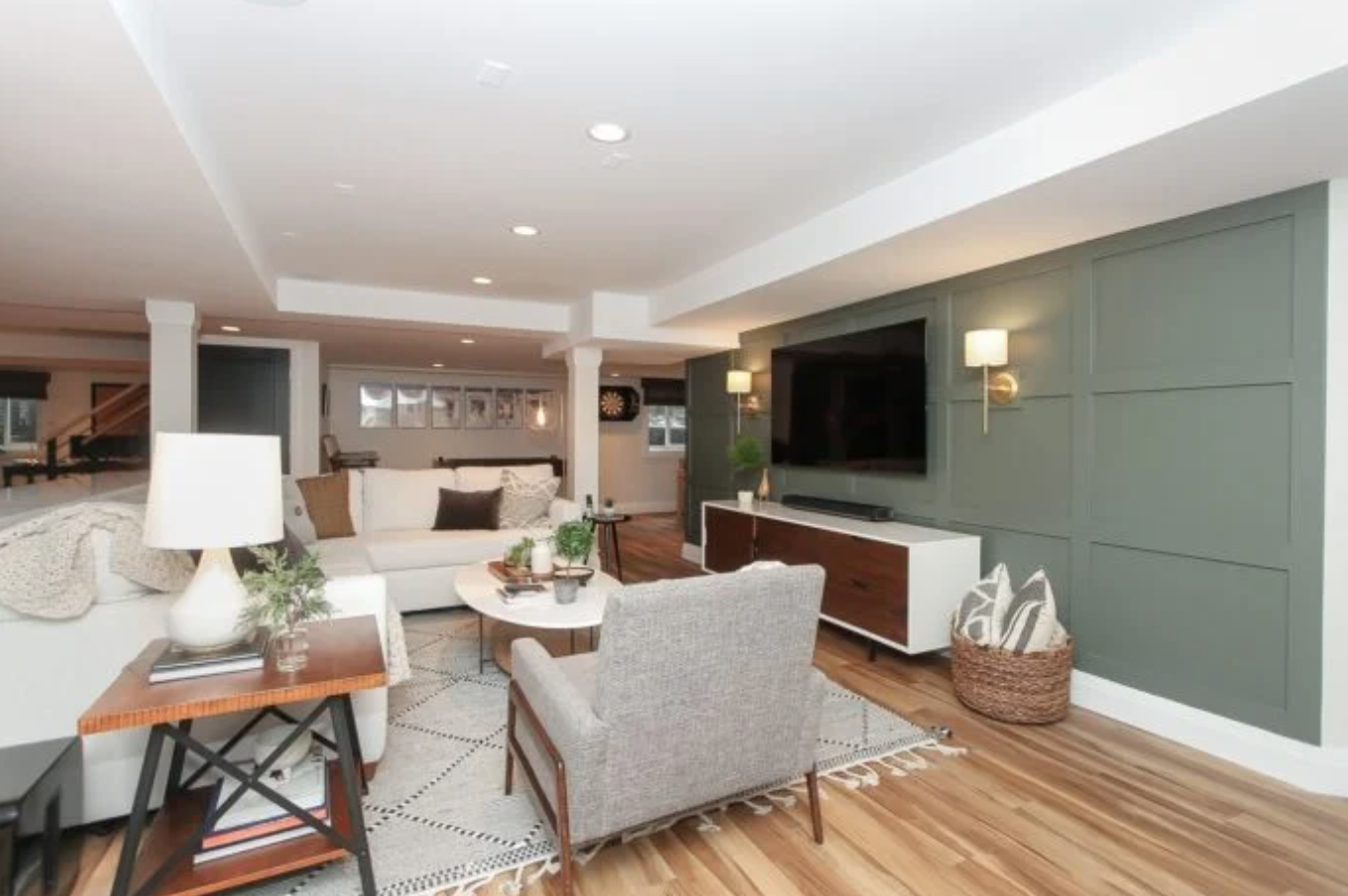 Green and Sustainable
Whether your project includes a bedroom or other spaces, all of our 2023 renovation ideas can be done with green and sustainable materials and practices. At Patrick A. Finn, we are always looking for the latest green materials and sustainable building practices so that you can feel good about your remodel, knowing that you'll save energy and go easier on the planet with your upgraded living spaces.
Private Outdoor Space
Tying the outdoors to your indoor spaces is still trending in 2023, and a private deck or patio off of your bedroom is a great and luxurious way to do just that. Your private outdoor space should truly be private to get the most out of it, so work with your designer to choose the right fencing or plant life to suit your style. Have your morning coffee, yoga session, evening wine, or quiet reading time in your outdoor space.
Choosing the Right 2023 Trends for Your Chicago Area Remodel
It's a lot of fun to indulge in current trends, especially when you're also dreaming up a remodel to improve your home. When the remodeling dust settles, however, you don't want to be left with trends that will date quickly, or worse, you don't like as much as you thought you did. This is where an experienced design-build team comes into play. With the right team, explore trends, both current and timeless, in-depth to discover which ones have sticking power and which ones can be scratched off of the list.
Gain insights on how to utilize the expertise of an experienced design-build general contractor to effectively strategize and execute a home remodeling project. Download the eBook "The Ultimate Step-by-Step Home Renovation Transformation Guide," which offers valuable information and tips to ensure the success of your renovation endeavor.