Built-ins are a great way to integrate storage and furniture into your Chicago home design. In addition to utilizing unused space, keeping your home safer, and being high-quality furniture in its own right, built-ins allow you to enjoy a fully integrated home design.
We love integrating built-in features into our Chicago area home remodeling projects at Patrick A Finn. This month's blog post will outline the benefits of built-in storage and furniture. We'll also take a look at some of our favorite home built-in features.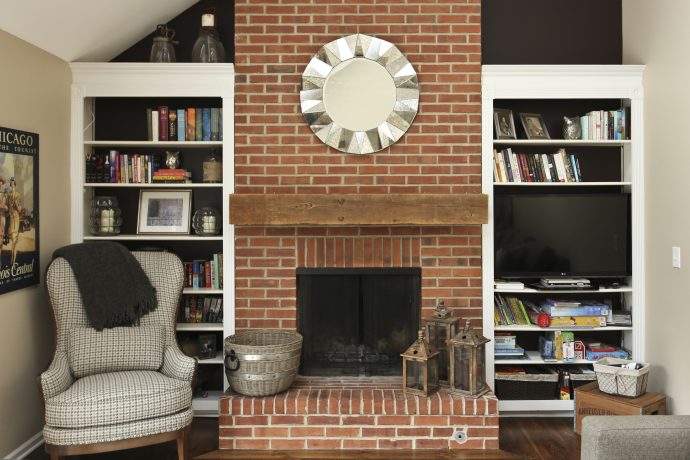 What Are Built-In Shelves?


Building Semi-Permanent Storage In Your Home
Built-ins are storage and display spaces built like furniture into your home's architectural design. Generally, this is designed as a space-saving and elegant aesthetic addition to your home.
Best Places to Add Custom Built-ins to Your Chicago Home
One of the greatest things about built-ins is their versatility. Most storage solutions can be built into a home, meaning that possibilities are endless. Some common built-ins we see include:
Built-in…
Bookshelves
Cubby storage
Benches
Kitchen table or booth
Under-stairway storage
Media or tv units
Cabinets
Closets
Window benches
Vanities
Office storage
The possibilities are endless!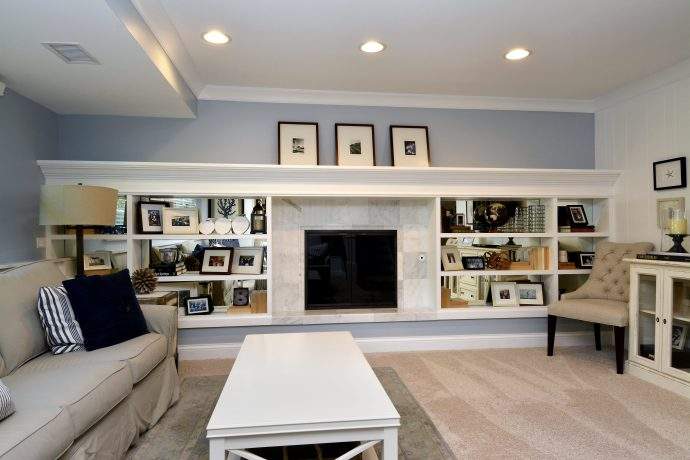 Custom Built-Ins Maximize Storage Space In Your Home
Every home has nooks and crannies that simply cannot be used due to them being too small or oddly shaped, including:
Underneath stairways
Second-story rooms where there's a downward roof slope
Next to other features built into your home, like a fireplace
Underneath beds and surrounding furniture spaces
While these spaces may not be suitable for habitation, they are perfect for storage. For instance, a bedroom could mean a perfect place for storing bed linens.
In addition to utilizing this space, which would likely go unused otherwise, it also frees up other storage areas in your home.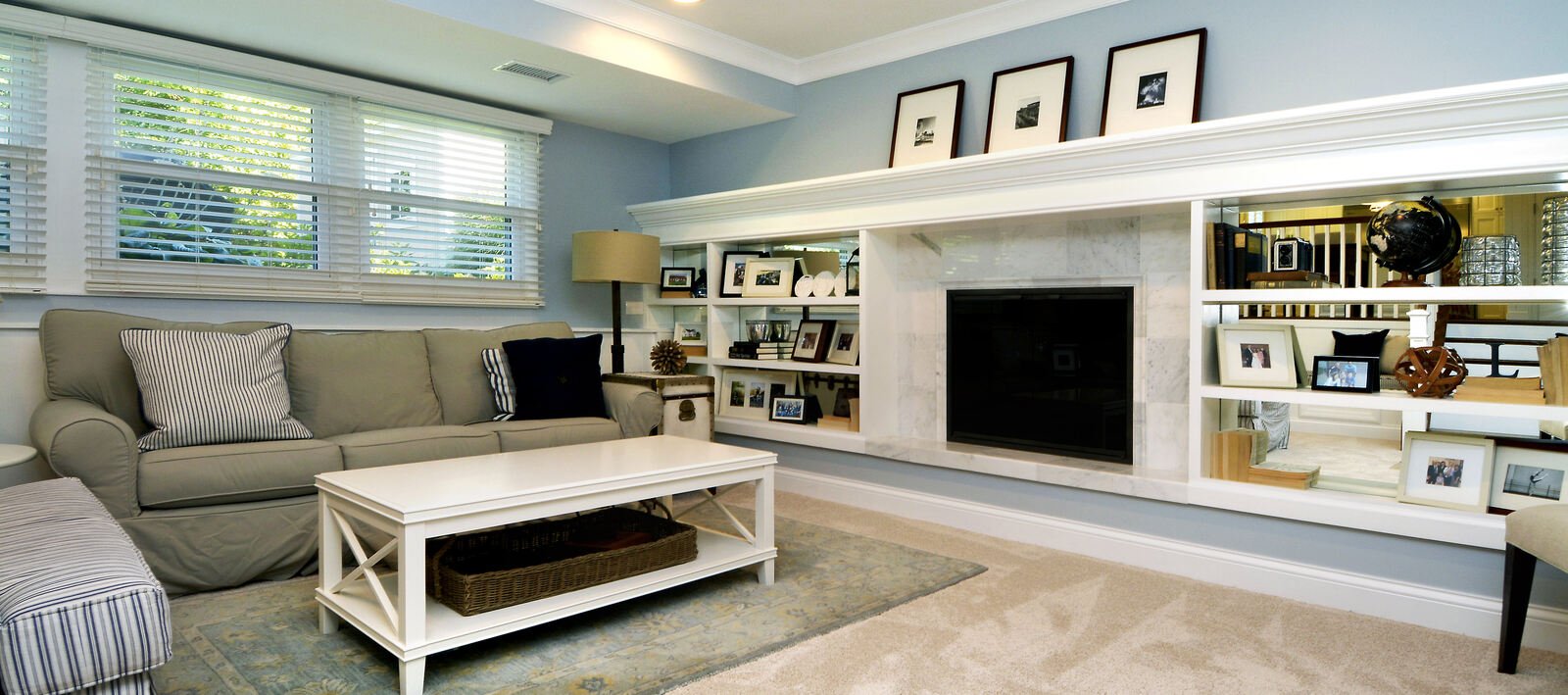 Why Custom Home Office Built-Ins in Chicago Are A Popular Remodeling Request
Since they're custom fit to the exact space, you can design storage units so they maximize storage capacity. When you buy storage pre-designed, you'll have to find a unit that's small enough to fit the most confined part of the space you're placing the unit. This will invariably leave space unused.
With a built-in storage solution, this will never be a problem! Every inch of the space will be leveraged to provide the most storage possible.
Reasons to Add Custom Built-In Bookshelves Instead of Store-Bought Bookshelves
When you buy free-standing storage furniture such as bookshelves and cubby units, they'll always be less safe than a built-in storage solution. While it may seem like it's stable, furniture like bookshelves has been known to fall over.
Dogs or even humans can inadvertently cause freestanding shelves or the items they contain to dangerously fall to the ground. Since built-ins are structurally part of your home, you can be sure they'll be stable and safe.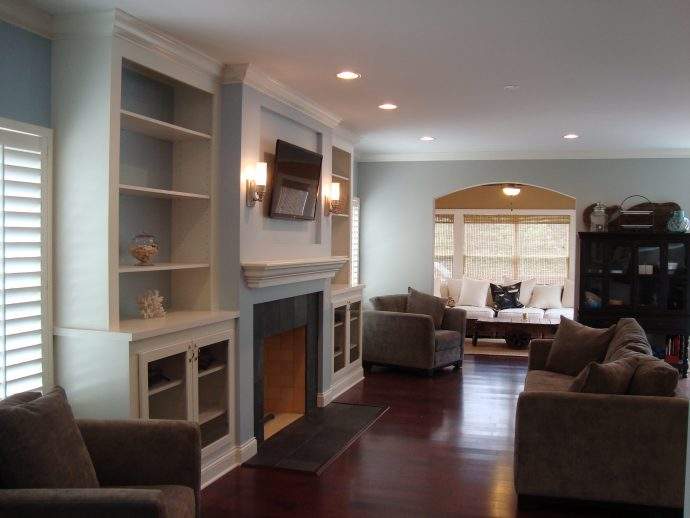 Built-Ins Can Be Integrated Seamlessly Into A Home's Design
When remodeling your home, ensuring aesthetic cohesion should be a top priority.
When you don't integrate built-in features into your home remodel, you'll have to search for storage solutions that seamlessly fit your home. While this is possible and can even lead to interesting interior designs, integrating built-ins into your space allows for a cohesive design right off the bat.
They'll also be custom-built to your exact needs — this means no searching for the bookshelf to fit your stereo or the just-right media center to fit your big-screen TV. These built-in bookshelves can be built with your signature items in mind — leading to perfect storage solutions that look great and are functional.
Built-In Features Provide Higher Quality
There is some great stand-alone high-quality furniture available at furniture stores — but there are also a lot of low-quality items out there as well.
When you design a home remodel with a seasoned remodeler, you know the storage will be built using high-quality, long-lasting materials. Plus, since they're built with the entire design of your home in mind, they'll be more visually stunning.
Don't settle with a lower-quality bookshelf when you could have one built right into the design of your home!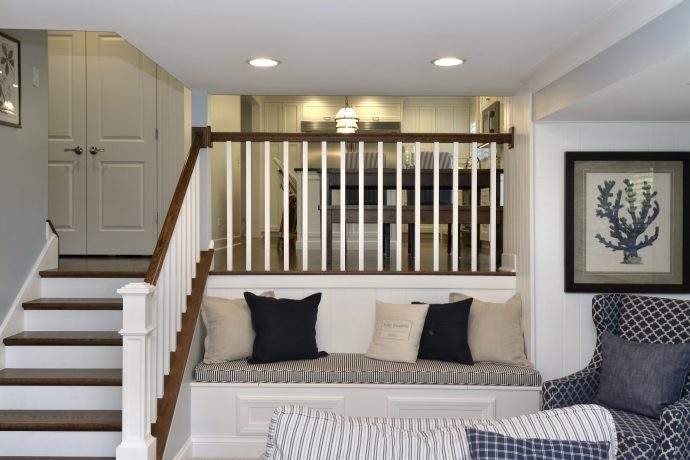 Built-Ins Help Define Any Room In Your Chicago Home
At Patrick A. Finn, we love open floor plans! We think they bring warmth and life to any home, and we find ourselves always recommending them and meeting new clients who want an open floor plan integrated into their home's design.
One challenge to designing an open layout, however, is defining the space so there are still distinct areas in your layout. Home features that outline and give definition allow the room to be open while still feeling cozy and comfortable.
One way we do this is through built-in storage. Whether through a kitchen island filled with storage space underneath or a built-in bench backed up against a railing separating rooms on two different levels, built-in storage is a great way to define larger spaces.
Built Ins Add Visual Texture to Your Home.
Similarly, adding definition and storage provides visual texture to your home's design.
A well-placed built-in bookshelf will let your book collection shine, while office cubbies will give a home office a completely new look and feel. Your home will immediately be more charming and feel more lived-in while still retaining the look and polished feel of a well-designed home.

Your Home Will Retain Order With Built-In Storage
With built-in storage, your home will be easier to keep organized. Integrated storage will look clean and as if it was designed to be there (it is custom, after all!).
Since you'll be in charge of the design and placement of the storage down to every detail, you can design it with your needs and storage concerns in mind.
This will reinforce the already helpful benefits of additional storage, keeping your newly remodeled home clean and looking exactly as you hoped it would for years to come.
Work With A Home Remodeler Who Can Help Execute Your Dreams
At Patrick A. Finn, we help homeowners build spaces that work with their lifestyles. Whether you're looking for a kitchen remodel, a couple of rooms, or your whole house, we can help!
Our years of experience remodeling homes in the Chicago area have given us a unique perspective on remodeling homes in the Chicago area. We know these houses and how to deliver the highest quality projects in the area. Contact us with any questions on custom built-ins or Chicago home remodeling!