Split-level homes tend to be less expensive than other types of homes because there is such a large inventory, and tend not to be as well understood as single- or two-story homes. This a creates an investment opportunity for the right family. Many homebuyers are put off by older split levels that are often lacking curb appeal, but with some targeted remodeling strategies, your split-level home can feel welcoming and interesting. Add plenty of personality and livability to your split-level home and add value all at once.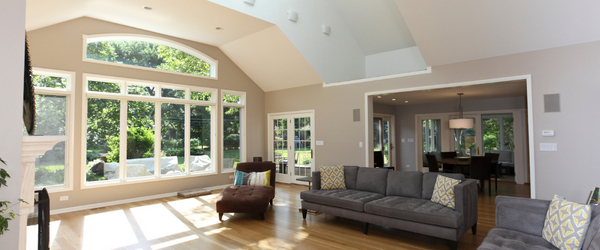 What Is a Split-Level Home?
The uniqueness of a split-level home is in its layout. It has multiple floors that are connected by half flights of stairs. They typically have low-pitched roofs and attached garages and are minimalistic in their use of materials. Depending on the style, a split-level home may have a basement that is only half below grade or fully below grade.
What drove the design of a split-level home? In many models, they offer more square footage by building part various levels with the intention of maximizing the space of their lot.
The 3 Main Split-Level Styles for Your Chicago Home
Although there are common characteristics across all split-level homes, there are three distinct types.
Short-Faced Split-Level
The short-faced split-level has a more narrow street-facing side, with the common spaces toward the back of the home and the bedrooms in the front. The roof is a pair of low-pitched gables perpendicular to one another. The upper level cantilevers over the lower, which helps to break up a large, often plain, façade. Also typical of the façade is a large garage door, very little trim, and large expanses of siding with few windows.
Long-Faced Split-Level
The long-faced split-level is longer than it is deep, with an entry that's on the plainer side and opens directly onto a small stair landing. The bedrooms will typically be on one side, positioned above the garage, and the living areas on the other side, above the basement. The roof is a single-hip, ranch-style roof. A large garage door also dominates the long-faced facade.
To create the half-grade basement, you'll typically see a faux slope, with the land built up rather than excavated to create the space. There is usually an entrance into the home from the garage that allows for little room to unload items from the day.
Traditional Split-Level
The traditional split-level home entrance is also very minimal and opens into the level with the living areas rather than between the living area level and the basement level, as with the other two. Often, you'll see a large picture or bay style window on the street-facing side, which is where the living room is located.
The roof on a traditional split-level will typically have two gable roofs that are set perpendicular to one another. Depending on the size and location, the main bedroom may also sit above the garage and the basement is completely below grade, like a typical basement.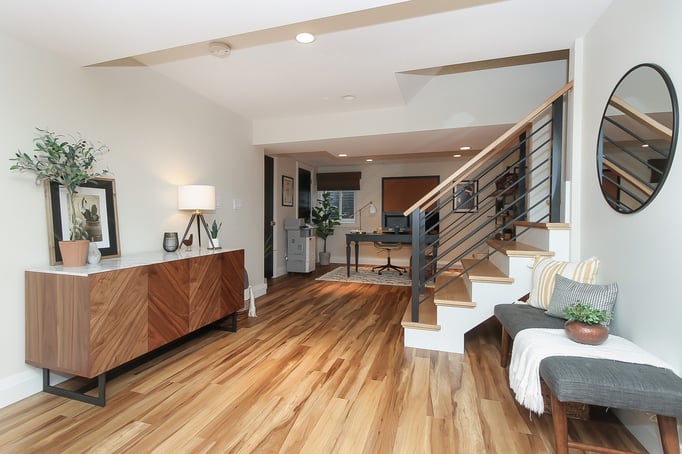 The Good and Not-So-Good About Original Split-Level Homes
What do homeowners like about split-level homes? Some prefer to have separate spaces for privacy, with the living areas on a different level than the bedrooms. Unlike two-story homes, the spaces are still closer than if they were a full flight away. The basement in most split-level homes isn't fully below grade and will have windows for natural light.
What do homeowners dislike about their split-level homes? The front entrance is usually quite small , leaving no place to set down your bags and keys or remove your shoes, and offers no focal point from the street beside the large garage door. This may leave much to be desired in terms of curb appeal.
Because of the style of construction, heating and cooling the spaces evenly can be difficult and may need a zoned style HVAC system. Also, because of the several sets of half flights, this home isn't for those who need accessibility unless you're willing to go through a major remodel.
Split-Level Home Remodeling Ideas
The saying, "nothing is permanent," definitely applies to most of the issues that homeowners and buyers have with split-level homes. There are many remodeling projects that can improve the style and function of a split-level home. Let's explore a few of the most popular ways to remodel a split-level home.
Create a Main Entry That Stands Out
This can be accomplished in a few different ways. Depending on your setback requirements, your entry may be able to be extended toward the street to create a spacious foyer inside and to become a more prominent feature outside. If space allows, consider installing a front door with sidelights to further make the entry stand out. Include an overhang by extending the roofline or by adding a cantilever front porch covering.
This also allows room for a rocking chair or two and classic topiaries to flank the new front entry. To further highlight the entry and lessen the abrupt appearance a split-level home can have, pour a concrete walkway that connects the front porch to the street.
Add Character to the Façade
Split-level homes aren't known for their character or flair. To create interest on the street-facing side of the home, replace the smaller or sparse windows with a set of windows that take up more of the blank exterior wall space. Frame them in wider trim and perhaps shutters painted in a coordinating color.
To break up the mostly flat front typical of a split-level home, have a bay sitting area added to the front bedroom. It creates a bit more space inside and draws more focus away from the large garage door.
Split-level homes were usually built using either picture box windows or single-hung storm windows, with neither offering much in terms of style. For your split-level remodel, choose muntin-pattern windows. They'll add more personality and value.
Open the Interior Space
Many split-level homes have closed floor plans that can make the interior of the home feel cramped and small. Talk to your design build team to see if you can add a steel support beam that can allow for the removal of load-bearing walls to open the space. You'll have the freedom to add a kitchen island, invite more natural light into the space, and feel more connected to others in the home.
The removal of interior walls allows more exterior wall space for windows. Not having enough natural light is a common complaint by split-level homeowners, and this will make the space feel larger. You'll also have space for more personalized touches, like a brick fireplace, built-ins, or a breakfast nook off of the kitchen.

Bring in More Natural Light
More natural light is a typical goal for split-level remodels, and there may be plenty of opportunities. Add skylights to the living area and kitchen, and increase the size of the window openings on the street side of the home. The sides of this style home are known to lack windows, so the effort to install windows along these walls, especially once the interior space is opened up, will be well worth the investment. The intentional addition of extra windows will also increase your curb appeal.
Additions
The space inside split-level homes tends to feel lacking. To increase your living space, consider adding a four season room, or a family room addition, off the rear of the home that leads down into the backyard. It creates a more natural flow from the inside to the outside spaces, further making your home feel larger. You may even be able to use this additional space to help you extend your kitchen.
Reallocate valuable space by converting the garage into more living space with a bedroom suite. If your setback allows for it, consider building a new two-car garage behind your home and do away with the garage door taking up so much of the facade once and for all. You can even incorporate an additional concrete slab to create a backyard patio space.
Ask Your Local Professional Design-Build Team for More Ideas
This list of split-level home remodeling ideas is a great start, but a professional design-build firm with decades of experience is your best bet for a personalized remodeling experience that delivers an outcome that suits you and your family perfectly. Patrick A. Finn Custom Homes & Remodeling has been creating personalized and beautiful spaces for families in the Chicago area for decades. Contact us to schedule a consultation, and let's discuss your home remodels.