Ahh, the house is quiet.
But is it too quiet? Where are the kids…and what exactly are they getting up to? You are definitely not alone as a parent in this scenario–it plays out in homes throughout the northwestern Chicago suburbs.
Like many homes in the Northwestern Chicago suburbs, if your living space–kitchen, dining room, and family room–is separated by walls, narrow doorways, and crowded hallways, keeping track of the kids is just the beginning of the challenge. Trying to entertain, staying involved in a conversation, or keeping an eye on a family movie or a Bulls (or Bears or Blackhawks–owner's pick) game… it's not easy to do.
The answer is an open-concept home plan that removes the barriers between these spaces, creating zones of functional use and clear sightlines. But is it possible in your home? What are the real advantages?
Let's examine the five advantages of having an open floor plan.
What are the Advantages of an Open-Concept House?
A multi-purpose house plan is highly beneficial for homeowners. It encourages organic communication instead of yelling, "How was your day?" up the stairs before you hear your child's bedroom door close. An open-concept floor plan allows you all to do your thing–whether cooking, reading, gaming, doing homework, or watching a show–but still be in earshot and interact directly when you want to.
To expand on this idea, here are five advantages to having an open floor plan:
1. Proximity for All
An open floor plan keeps your family close and puts you in easy proximity to everything. Do you need something from the mudroom? An open house plan means no meandering around multiple hallways and doors to get there. Do you want to quickly get something from the kitchen to the buffet area adjacent to the dining area? You are literally steps away.
By utilizing an open-concept home design within the same square footage, you can achieve a floor plan that exudes a sense of spaciousness. However, the removal of walls is merely the initial step in this process. If you're looking for the space to feel grand, consider adding vaulted ceilings to create an airy look and feel.
You can create a more spacious and functional environment by remodeling for an open floor plan. For instance, with no wall between the kitchen and living room, you have space for a bigger kitchen island with seating. This area is ideal for doing homework and allows easy conversation while cooking.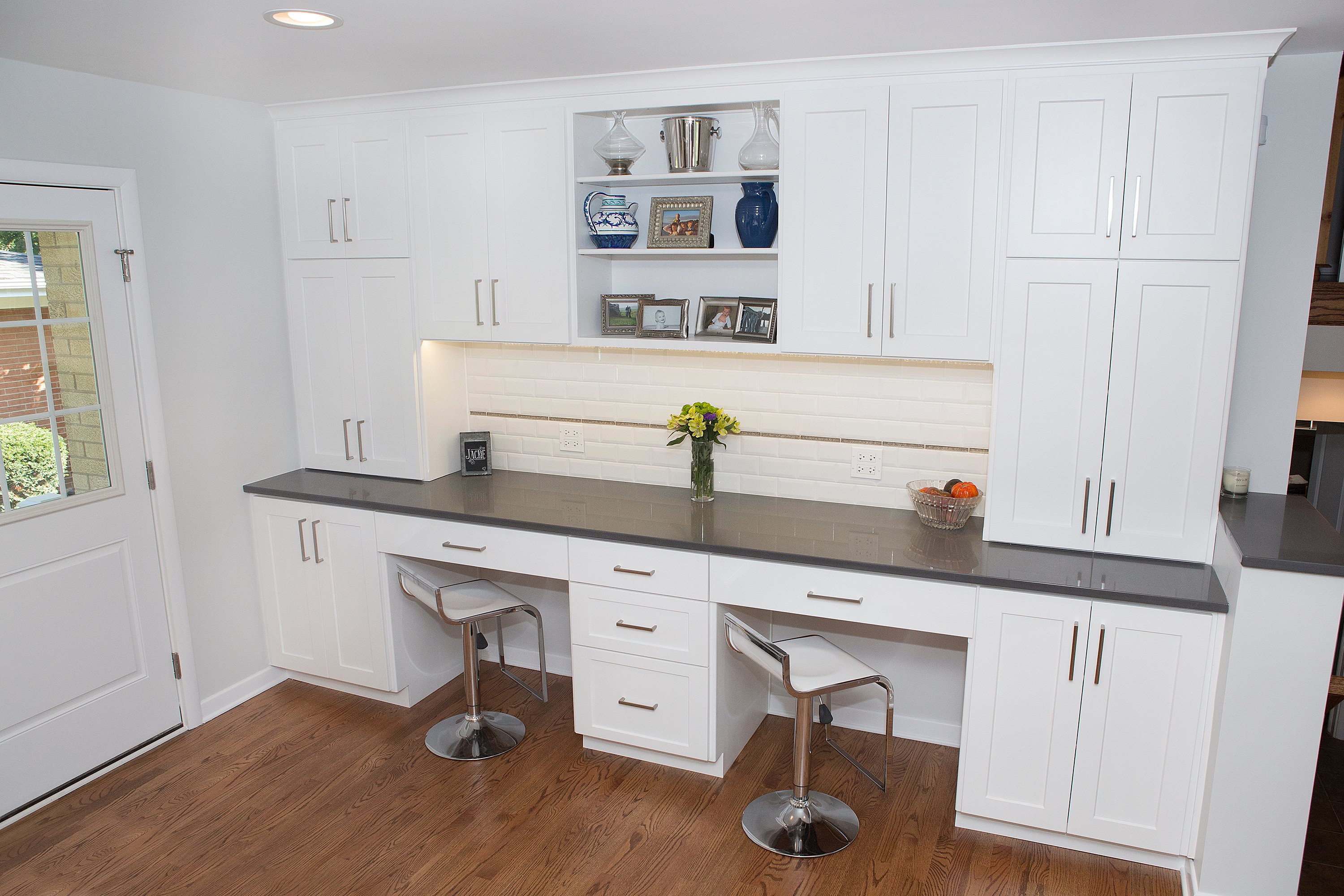 Image Above: This stunning kitchen renovation showcases an open-concept layout with two desks serving as spacious workstations for their young children, offering plenty of storage options and proximity to their parents while doing their homework.
2. The Open-Concept Design Ages with Your Kids
As your children grow older and transition into their teenage years, they often desire privacy and seclusion in their rooms. But they've got to come out sometime! In an open-concept house, they are bound to spend time on the main floor eating around the kitchen or on a screen lounging in the family room. Their faces might be brooding, and their eyes might be rolling, but they are there, and you can see them! The open-concept house design allows you to remain close to your kids while providing them with the necessary space they need.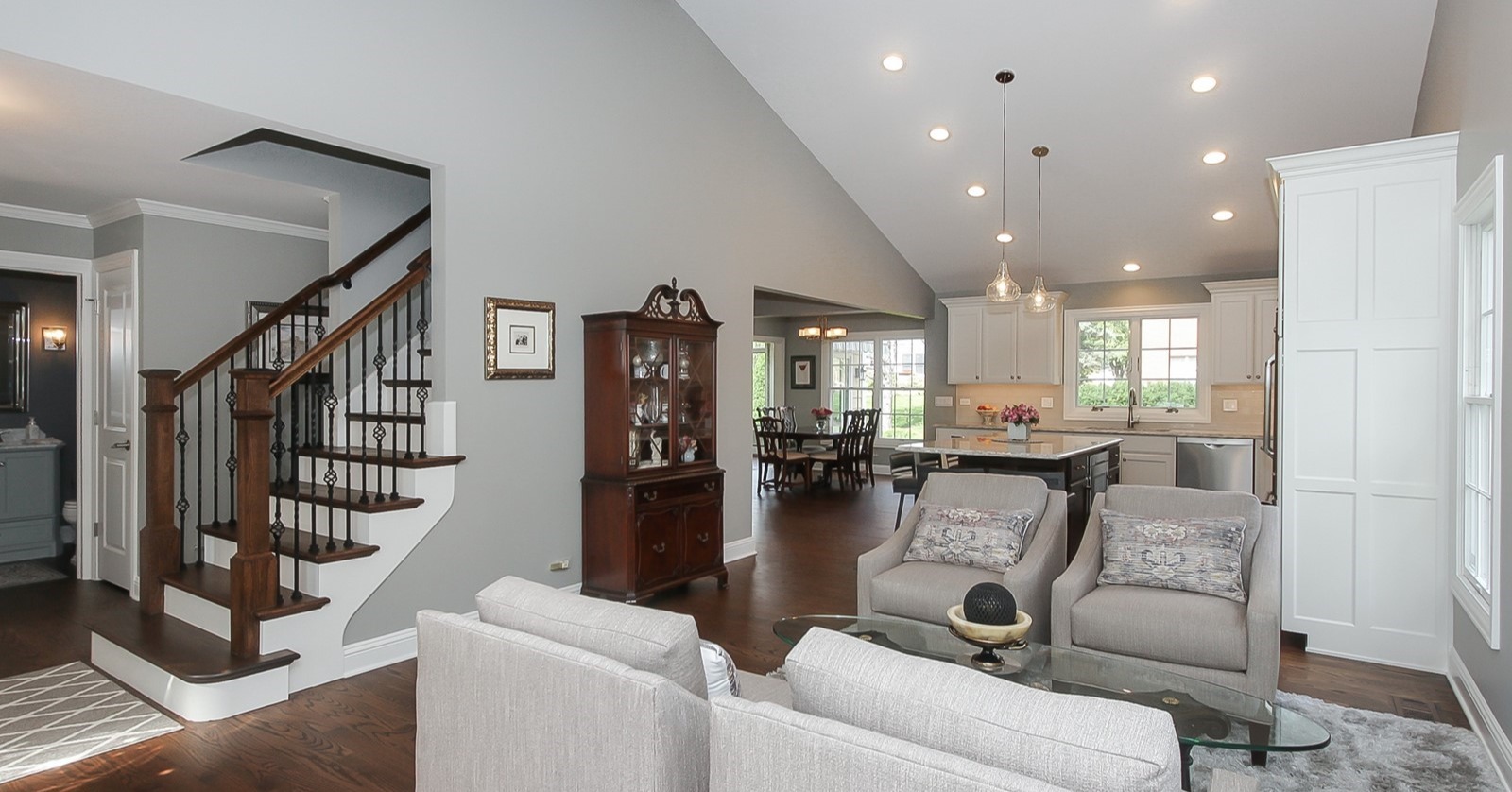 Image Above: This living room, kitchen, and dining room saw a total transformation by turning this space into an open-concept floorplan.
3. Great Room for Entertaining
An open floor plan creates a seamless connection for entertaining. Is yours the house where your children's friend group gathers? That spacious island that seamlessly connects with the adjacent living room with an oversized couch is probably a big reason.
For neighborhood or family get-togethers, open-concept offers the freedom for adults to spend time around the kitchen or sitting at the dining area table. At the same time, the kids can congregate in the living room area.
By incorporating an open-concept layout, you can seamlessly connect your main floor with the rear porch, screened porch, or sunroom, resulting in an ideal entertaining solution. This design allows for clear sightlines between the kitchen, living room, or great room, ensuring visibility of activities happening in the backyard.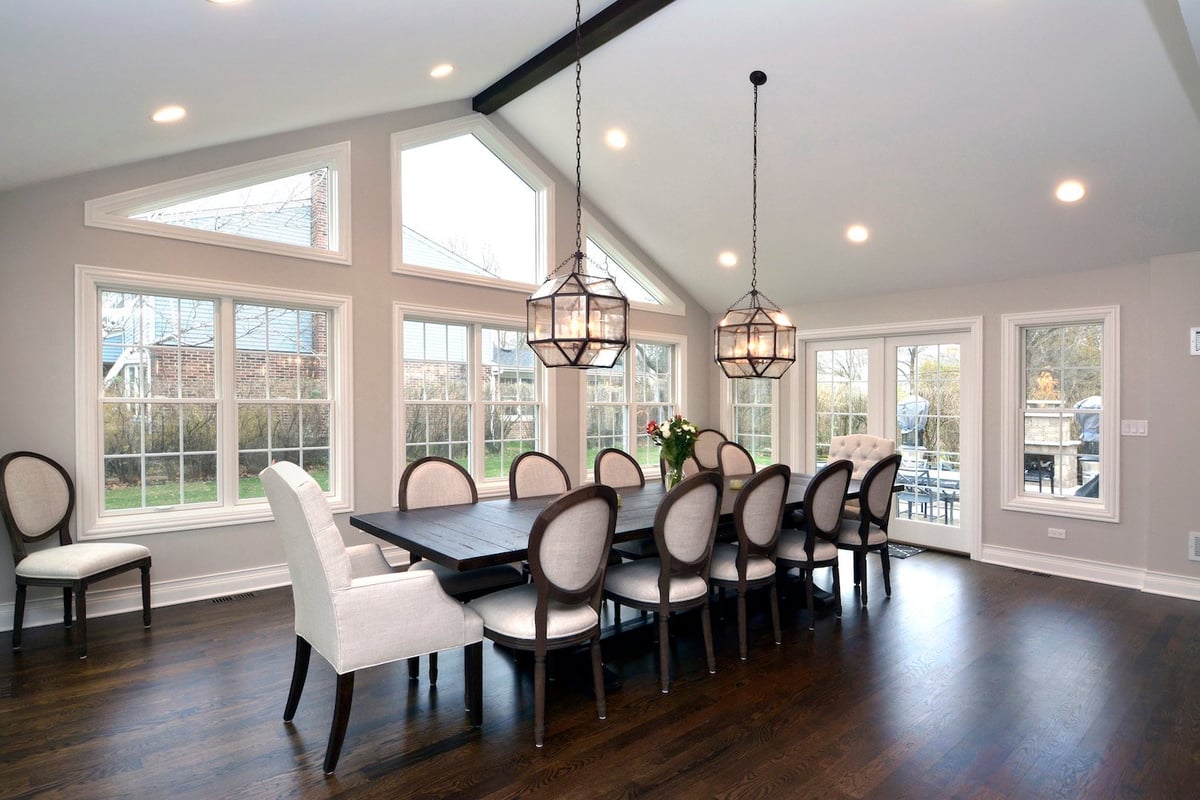 Image Above: Bright Italian-style dining room addition to a kitchen remodel project.
4. Storage Solutions Keep Open-Concept Decluttered
There are a few things to consider before you start tearing down walls. Where do you hide the clutter in a space without walls? Storage solutions in an open-concept home can provide a place to stow toys when children are younger and then adapt for other uses as your child grows older.
Built-in storage allows space for seasonal items, like decorations, accent pillows, and cozy blankets. The more built-in storage available, the easier it becomes to maintain clutter in an open and spacious ambiance. Built-in storage options can be incorporated beneath windows, serving as window seats, or on either side of a fireplace.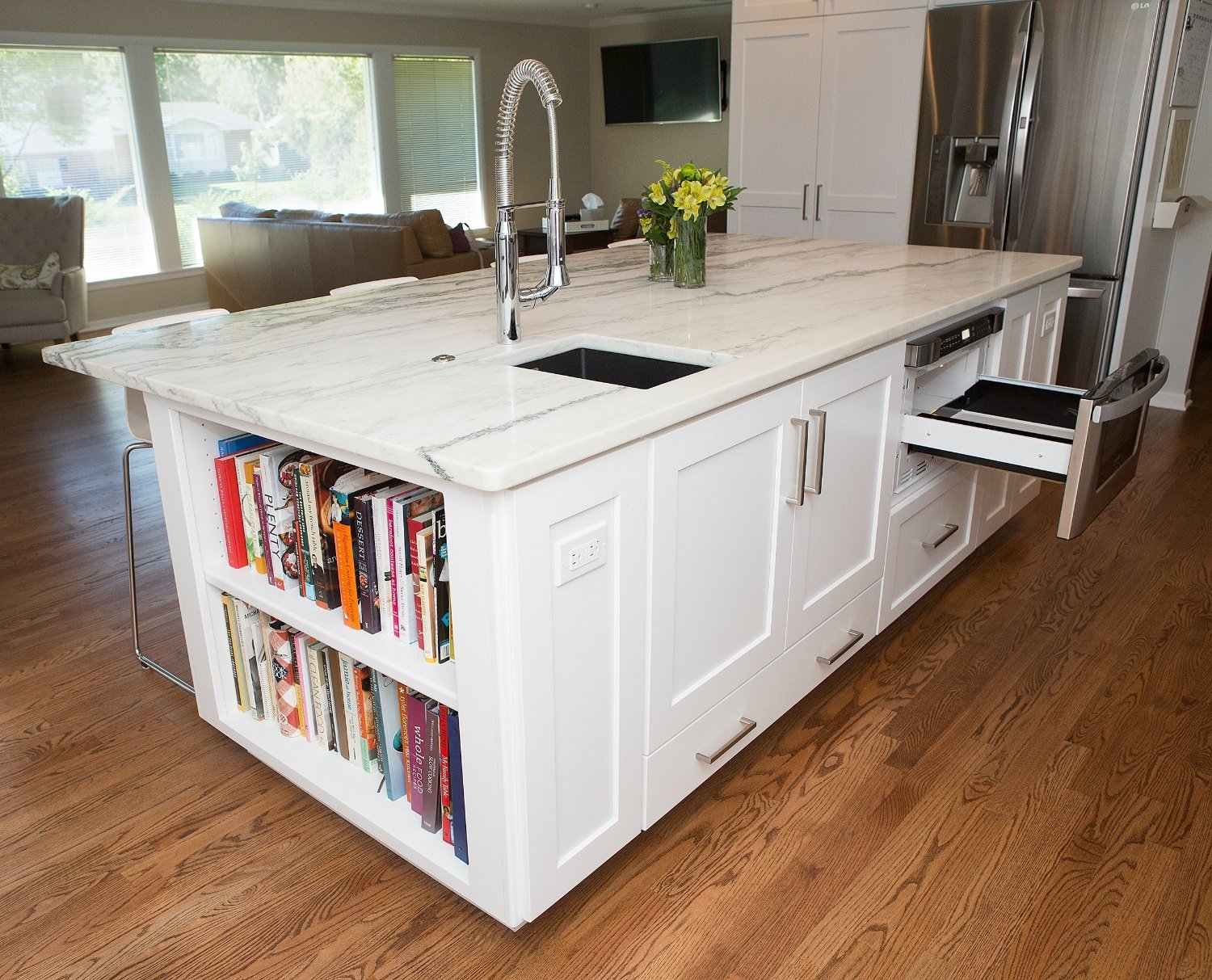 Image above: This classic white kitchen renovation showcases concealed storage within the lower section of its central island.

Image Above: Built-in bookcases have been added to this open-concept floorplan for additional storage and display space.
5. More Natural Light
An open-concept design offers the advantage of allowing natural light to permeate throughout the home. Without the hindrance of walls, the light can effortlessly flow between the kitchen, dining area, and living spaces, illuminating your home and transforming it into the dreamy space you've always envisioned.
Consider also adding skylights to your design to illuminate the space even more. The more natural light, the larger the space appears. Your home renovation plans might also include more oversized windows. For instance, floor-to-ceiling windows can bring in loads of natural light to brighten your entire first floor.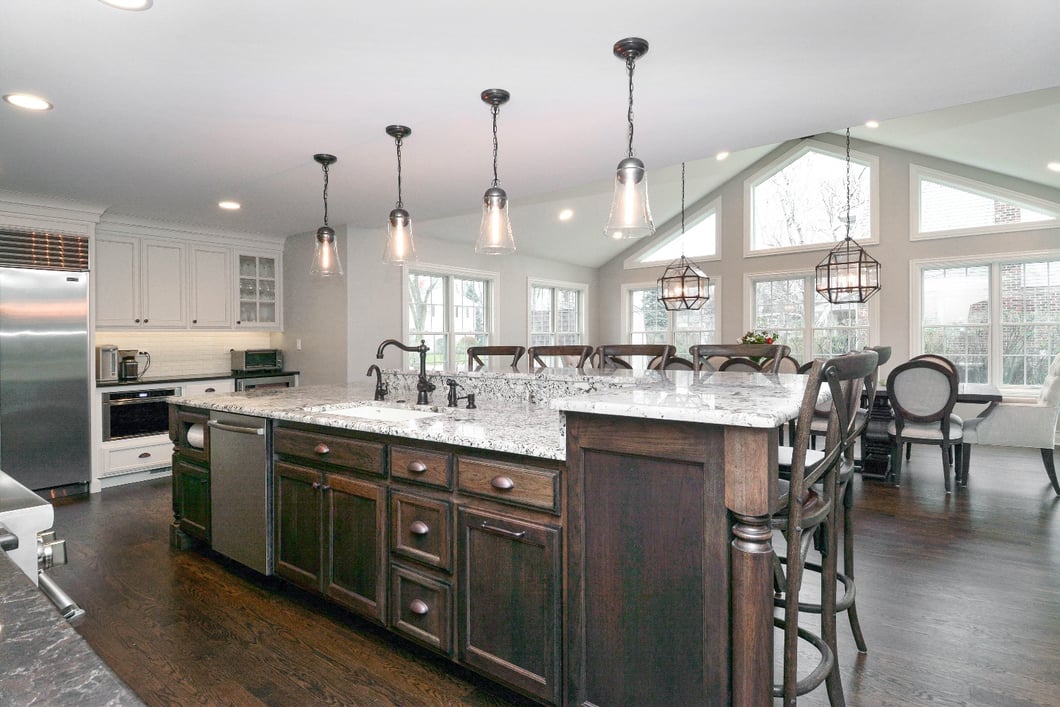 Image above: This image showcases a remodel and addition of an Italian-inspired kitchen, highlighting an open-concept floorplan with a breathtaking vaulted ceiling and large windows that fill the space with abundant natural light.
Does Open-Concept Increase Home Value?
Yes, open floor plans show well during the selling process, and they are desired, especially when the home buyer is a family with children. It is more convenient to take an open-concept house plan and establish distinct zones within it rather than attempting to make a closed-off floor plan feel more spacious.
Will Open-Concept Homes Go Out of Style?
COVID presented unique challenges to open-concept home plans and heightened concerns as families had to find room for work and schooling at home. These challenges made designers think outside of the box, look for creative solutions, and consider how to create more flexible spaces within the home. Open-floor house plans can include easy ways to divide spaces, like double pocket doors, french doors, or large sliding doors.
While the idea of living in a wall-less studio may not appeal to everyone, the allure of open-concept design lies in the importance of having spacious and communal living areas.
When deciding on a floor plan, one must consider personal preferences and future needs. Here are a few considerations:
Separate Spaces - A possible open-concept renovation idea is to include a finished basement for adults to unwind upstairs while teenagers enjoy their own separate space downstairs. Additionally, integrating a walk-out basement in the lower level can provide easy access to the backyard. Another option is to have a secluded area dedicated to a formal dining room, creating a peaceful and intimate atmosphere for hosting dinner parties.


Noise Transfer - How do you manage the noise generated across the joint space? If you have concerns about sound transmission, consider adding soft surfaces like curtains and rugs to help absorb noises and reduce the transfer from room to room.

Coming Home to Open-Concept
Open-concept home plans provide several advantages for parents who want to watch their children closely while enjoying a versatile and modern house plan. Improved visibility, enhanced family togetherness, flexibility, and a sense of spaciousness are just some of the benefits that these house designs offer.
As families prioritize safety and quality time spent together, open-concept home plans continue to be sought-after. To best use your home's square footage in an open-concept remodel, you must work alongside a skilled design-build contractor who can thoroughly understand your specific requirements and desires and then successfully design your space to address them.
Learn how you can turn your closed-off home into a stunning open-concept floorplan by reading the eBook "The Ultimate Step-by-Step Home Renovation Transformation Guide."