There are a few things you should know before starting a home remodeling project. Embarking on a home renovation project to create your dream home is both exciting and daunting. From envisioning the perfect design to selecting the right materials, countless decisions must be made. But one crucial element that often gets overlooked is the home remodel timeline.
Planning your home renovation project like a pro requires a thorough understanding of the time and energy it will take to complete. That's why we've created this insider's guide to Patrick A. Finn's home renovation timeline to help you stay on track and avoid unexpected delays.
Whether tackling a small bathroom remodel, a kitchen renovation, or a full-scale home renovation, this guide will provide expert tips and tricks to keep your project running smoothly.
So, what does it take to complete a home renovation project on schedule? We'll examine each phase of Patrick A. Finn's approach to help you gain detailed insight into the entire process.
Step 1. Exploration Consultation Call
During the home renovation exploration call, we engage in a thorough discussion with the potential client.
Our first step is to identify any areas of their home that lack functionality, paying close attention to any frustrations or safety issues they may have.
Next, we delve into their desires and goals for their dream living space, clearly understanding how they envision their ideal home. We also discuss their expectations for the project timeline and budget. In addition, we encourage the client to share any questions or concerns they may have, including any negative experiences they may have had with past remodeling projects or general contractors.
The main purpose of this meeting is to determine if we are a good fit for the client. We want to stress that remodeling is a relationship, not just a transaction, and our goal is to ensure that our values align with theirs to achieve the best possible outcome.
Step 2. Site Visit: In-Home Consultation
During the in-home site visit, we conduct a thorough tour of the client's home to assess the existing conditions. This step is crucial for our team at Patrick A. Finn to gain a deeper understanding of the homeowners and their preferred communication styles.
Additionally, it enables us to evaluate the home's existing conditions and determine how the materials would be transported to the construction site, as this can impact the project's feasibility. If the client is looking for a home addition, we use this opportunity to identify access points, lot lines, and setback lines. We also discuss any changes that may have occurred since the initial exploration call.
Step 3. Feasibility Study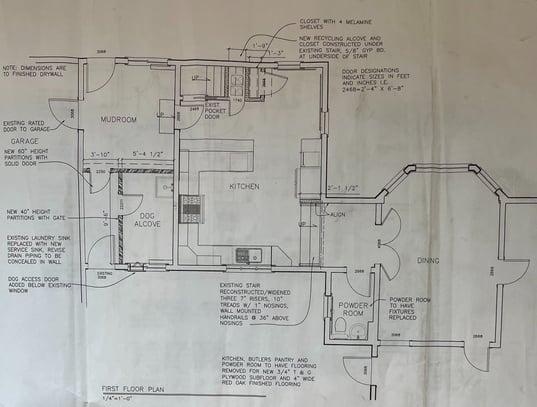 The primary objective of conducting a feasibility study is to establish a budget range for the different phases of the client's home remodeling project. Our main focus is to determine whether the client's desires, goals and financial resources align with the project's feasibility and investment.
This step allows the client to progress further in the process without incurring substantial costs on design. It serves as a crucial "homework step" that enables the client to plan and allocate funds more effectively for the project.
Examples of activities we undertake during this stage include assessing the available space on the electrical panel, inspecting accessibility in the basement (if it is finished or unfinished), evaluating the condition of the foundation, roofing, and siding, as well as considering the age and condition of the mechanical systems, such as HVAC and water heater.
Step 4. Present the Feasibility Study
In this step, the Patrick A. Finn team will share the feasibility study with the client at our office. We will assess whether the client is prepared to proceed with the project. We will go through the entire home remodeling process and discuss pricing, the scope of your project, and the timeframe, as well as showcase how we worked with past clients with similar projects to transform their space.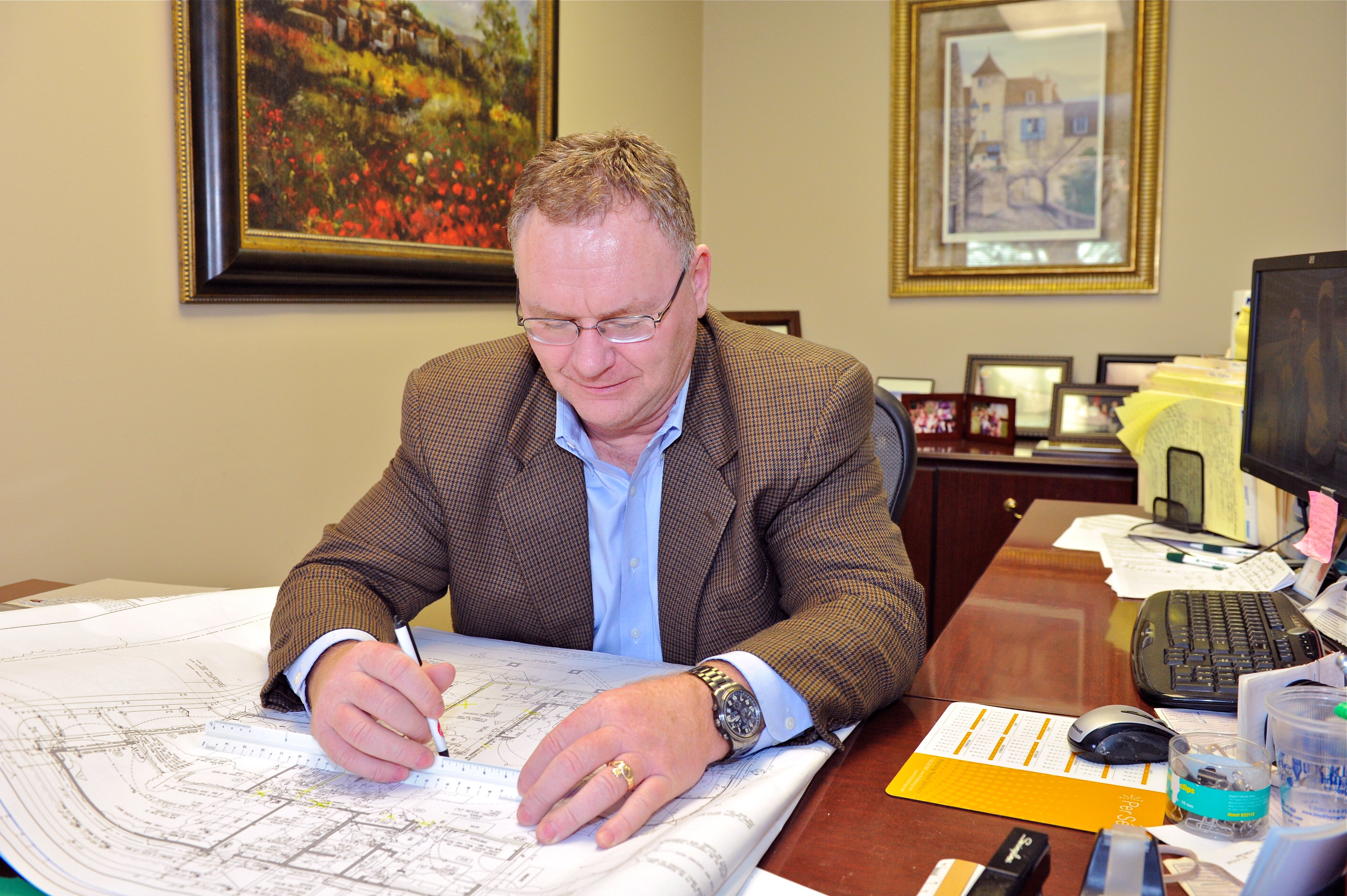 Patrick A. Finn working on drawings of a client's floorplan.
Step 5. Design
During the Design phase, the Patrick A. Finn team will revisit the client's house to gather precise measurements and take additional photos of various elements, including trim profiles, doors, hardware, siding, windows, and roofing. This ensures that everything aligns perfectly when we provide a pricing estimate.
In the Design Phase, we will generate a 3D model of the current space and the proposed design, allowing the client to visualize the transformation. This includes a floor plan with dimensions.
If the client intends to keep their existing furniture, we will go the extra mile to measure and incorporate it into the 3D model, ensuring a seamless fit and appealing look. This also applies if the client plans to purchase new furniture for the space. Overlooking a detail such as furniture layout can create hassles down the road, so having these discussions early on creates a seamless project.
To thoroughly understand the client's aesthetic and design preferences, we ask them to share their Houzz idea account with us. From there, we can incorporate their design aesthetic into the 3D model, helping them to visualize their future space.
Once the design is finalized, we will determine the pricing and develop a comprehensive job scope, encompassing all the necessary details such as demolition, framing, plumbing, electrical, drywall, trim, and more.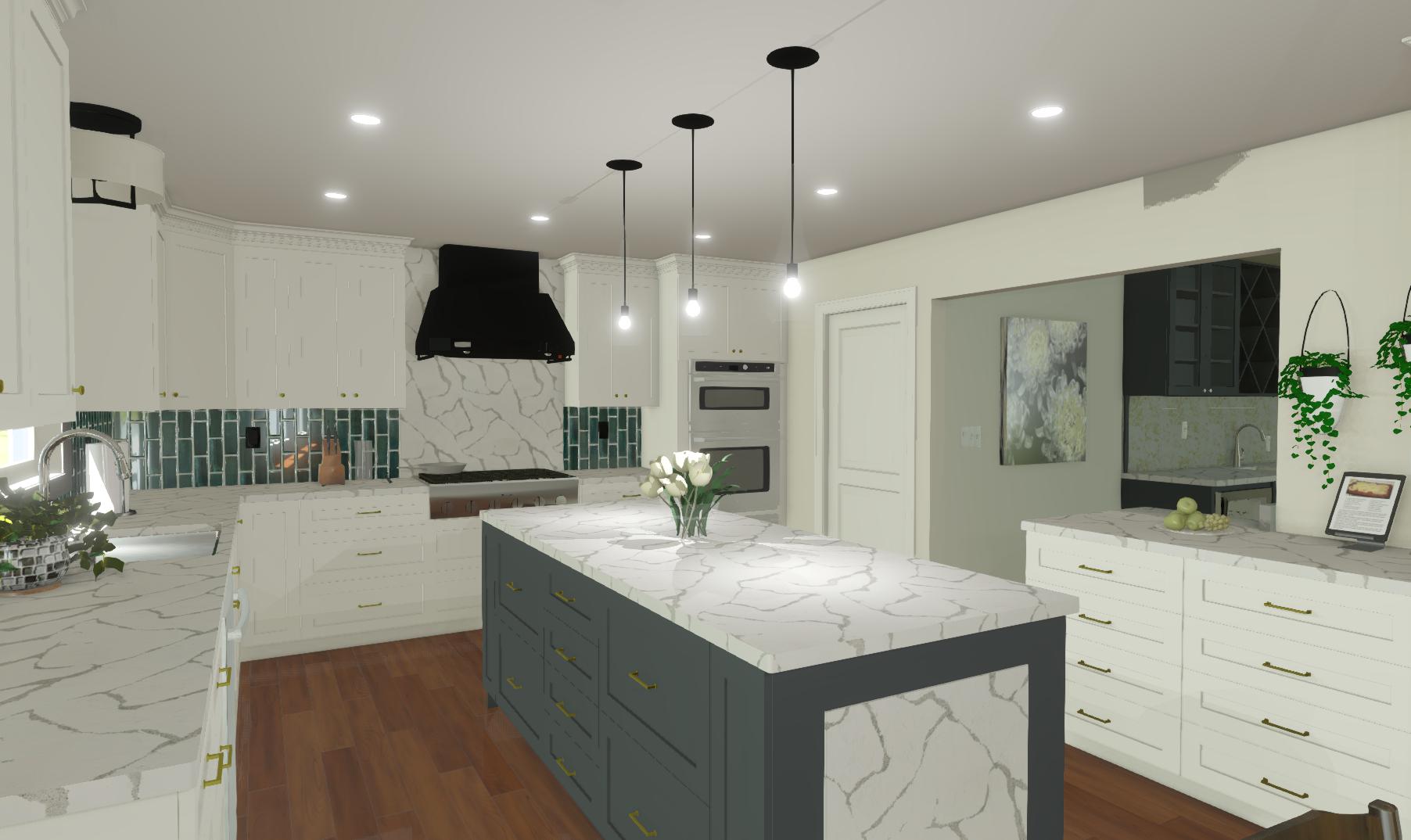 3D model of the Sheridan Transitional Kitchen Remodel.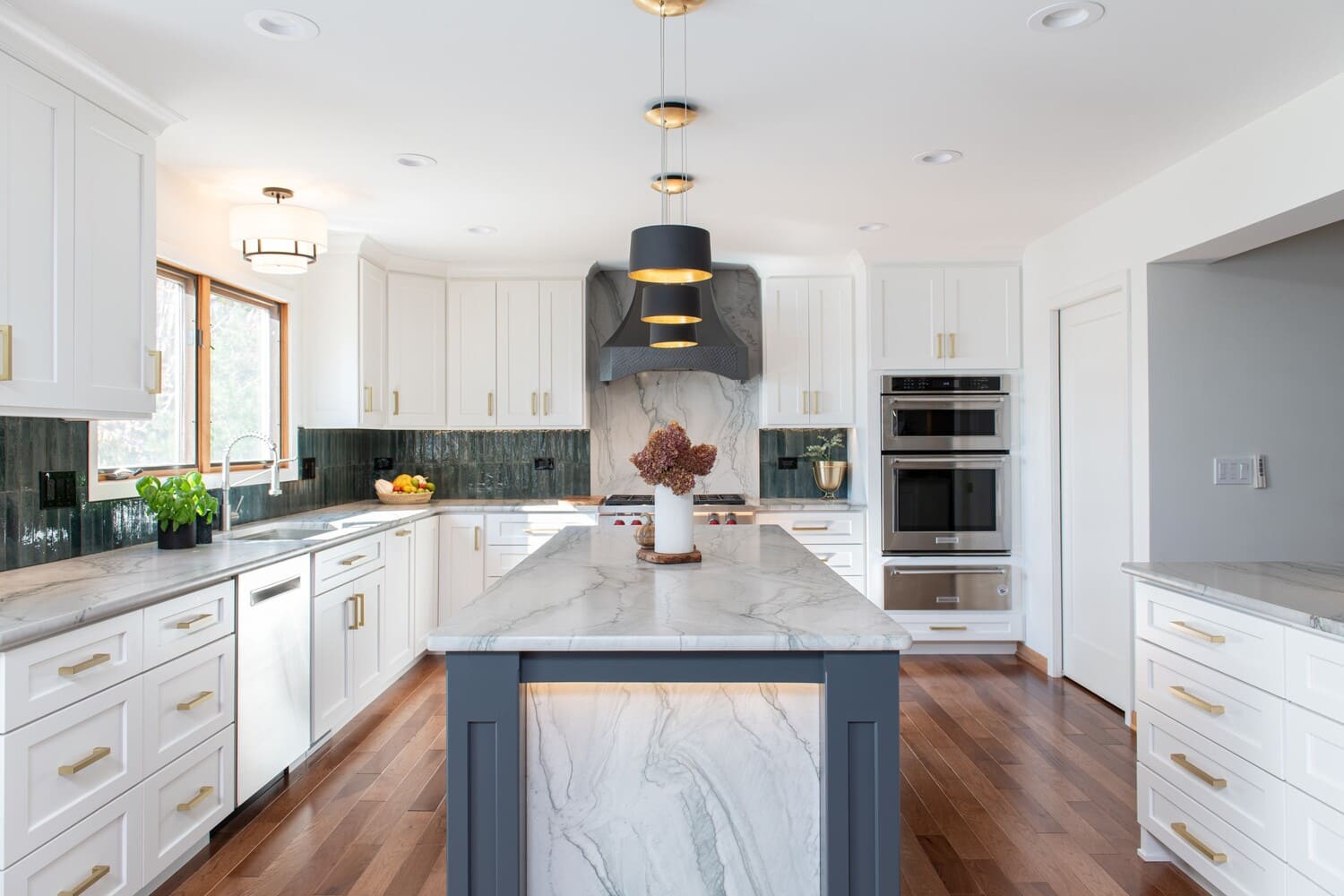 Final outcome of the Sheridan Transitional Kitchen Remodel.
Step 6. Present Design & Scope of Work
At the Patrick A. Finn office, we showcase the design and scope of work to our clients. We provide a 3D model of their proposed project on the screen and "walk them" through the space. Using the 3D model, we will show the client the layout from above and virtually explore the space. During this step, we will thoroughly discuss the detailed fixed-price proposal, which outlines the project's scope of work, timeline, and pricing.
If the client has any additional preferences on their 'nice to have list' (which we refer to as 'alternates'), we will separate the scope and pricing of these alternates so they can decide whether or not these 'nice to haves' make sense at this time. For example, skylights, radiant floor heating, and fireplaces often fall under many people's list of 'nice to have' features.
During this meeting, we are looking for feedback from the client. If any revisions are requested, we will make those changes and repeat steps 5 and 6.
Our proposals are highly detailed, and whenever the client requests any design changes, we will re-evaluate the pricing and adjust the scope of work accordingly. This ensures that there are no unexpected surprises or change orders in the future.
Often, people obtain 'firm' pricing from contractors without going through the design phase. In such cases, numerous surprises and change orders can be expected. You can not accurately price a project for large-scale renovations without a clear understanding of the design. The design impacts the amount of material you need, the requested finish materials, and the labor it will take to install that material properly. By conducting a thorough design process, these common challenges can be eliminated.
A Guide to Home Renovation Pricing: What You Need to Know
In the world of pricing options for construction projects, there are two main approaches: fixed pricing and cost-plus (time and material) pricing. Fixed pricing involves receiving a bid from a contractor that includes all subcontractor pricing based on a detailed design. On the other hand, cost-plus pricing includes the hourly labor cost and the cost of materials with the general contractor's markup.
With fixed pricing, you can view it as a guaranteed price for your project. The general contractor is responsible for conducting thorough pricing to create a detailed package with costs specifically tailored to your job. This approach ensures that the builder accurately estimates costs upfront and commits to completing the job within that budget. In our fixed pricing proposals, we include a contingency line item in the budget to cover unforeseen issues that may be discovered in the demolition phase of the project. When obtaining estimates from multiple contractors, be cautious of significantly lower quotes compared to others. Signing an agreement based solely on a bid can lead to problems. Some contractors may initially offer a lower price to secure the job but end up charging change orders to make up for the price difference after starting the work. This situation leaves you with limited options and often higher overall costs. Many times the work has to be reworked, which costs more time and money in the long run. In some cases, hiring a more expensive contractor from the beginning may actually be more cost-effective than dealing with unexpected expenses from a cheaper contractor.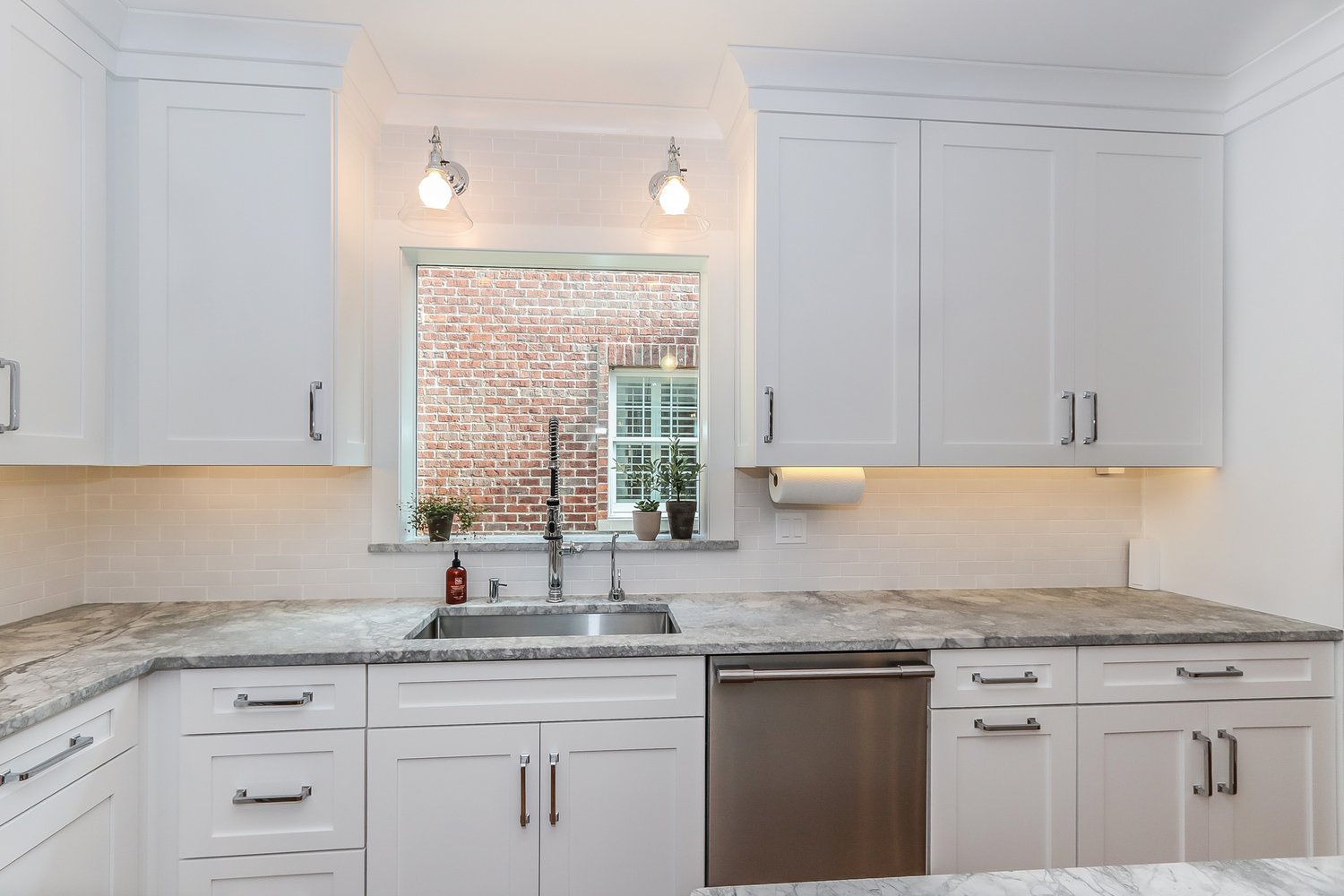 The above image is a kitchen remodel done by Patrick A. Finn, located in Arlington Heights, IL. By employing innovative design techniques, we successfully integrated a kitchen island that optimizes both entertainment and storage capabilities. Additionally, this kitchen boasts several useful features, including a multi-tiered pantry, convenient roll-out drawers for pots and pans, an integrated coffee machine, and a concealed beverage cooler. See the full project portfolio here.
Step 7. Proposal Acceptance & Contract Sign-Off
During the stage of accepting the proposal and signing the contract, the client gives their approval and agrees to the scope of work and pricing. This signals the start of the Patrick A. Finn team to obtain the necessary permits for the project.
Our contract clearly outlines the payment terms and timeline, with 15% of the payment being due at this stage. It is advisable not to hire a contractor who demands 50% payment upfront (unless it's a small job), as this could potentially lead to the client being taken advantage of.
A reliable contractor will structure their payment terms to allow the client to withhold a final payment until all work is satisfactorily completed. This empowers the client to address any concerns they may have.
Step 8. Obtaining the Proper Permits
When it comes to home remodeling, one cannot underestimate the importance of permits. These permits are not just a piece of paper but a crucial aspect of the entire process. They serve as a legal safeguard to protect you, your property, and your investment. Your project may be subject to fines and delays without the proper permits. Patrick A. Finn is well-versed in the intricacies of acquiring home remodeling permits and the nuances of the permit application process.
We handle all permit applications, communicate with the villages, and ensure that all code requirements are met for your project. Additionally, we take care of any changes, paperwork, and contractor license information. If your project needs to go through a design commission board, we will handle the paperwork, design information, and village hearing for that process. The same is true if your project needs to meet historical requirements. This step involves a significant amount of administrative work and time. However, by choosing to work with a design-build company like Patrick A. Finn, clients are relieved of the responsibility of navigating through the maze of regulations and paperwork, saving them time and stress.
Step 11. Project Completed!
The Patrick A. Finn team prepares an internal 'punch list,' which includes the finishing touches before the project's completion to ensure smooth operations and avoid delays. We then collaborate with the client to finalize the punch list. Once it is done, we conduct a final walk-through to ensure client satisfaction before receiving the final payment. If the client agrees, we arrange a professional photo session to display our work and the client's satisfaction. Thanks to our excellent relationship with clients, they frequently extend invitations to us for upcoming events they hold in their newly designed areas.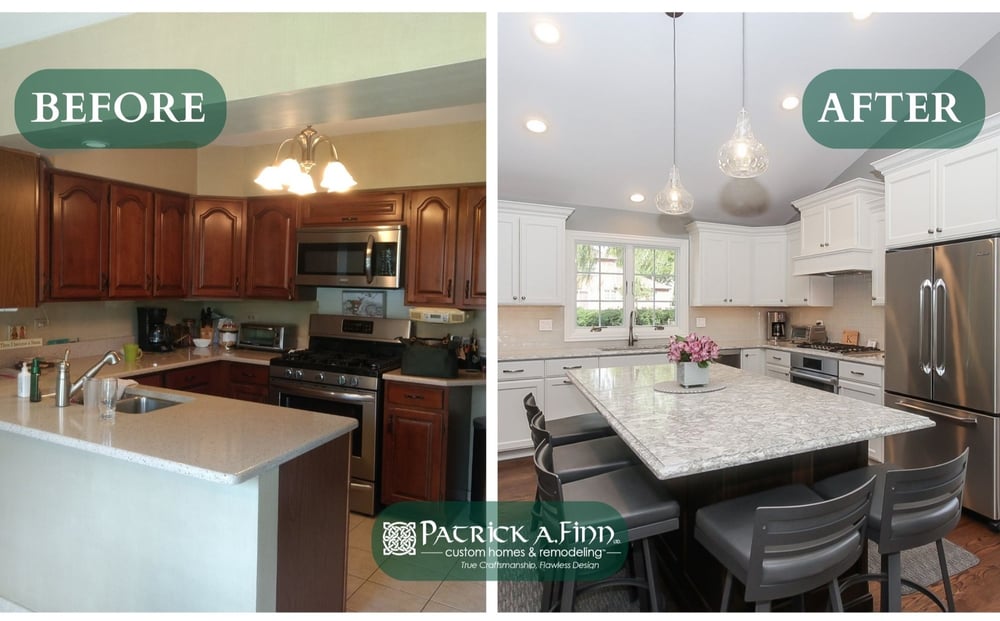 Before and after photos of a kitchen renovation in Arlington Heights, IL. See the full gallery of the project here.
Summary
A top-notch design-build firm will approach home building and house remodeling in a systematic manner using a defined home renovation process. This guarantees that all expectations are not only met but surpassed and that the project is finished within the agreed budget and timeline. A well-documented process ensures our client's satisfaction and fosters long-term relationships with them.
Discover the strategies employed by Patrick A. Finn to effectively manage home renovation timelines in the eBook "The Ultimate Step-by-Step Home Renovation Transformation Guide."