We've all done it, or at least it has crossed your mind. Just tear out that bathroom sink and tub, move a wall a few inches, maybe have a friend extend the plumbing lines, and you're done. But is that legal? Will the work be done safely and according to local ordinances? Will there be repercussions down the line?
That's precisely why building permits exist. Before you dive into a remodeling project, it's essential to understand the world of home renovation permits. The permit process isn't as easy as you might think. Permits can slow things down in your remodeling process and get downright unpleasant if ignored or not done correctly. Getting permit requirements at the proper time and in the right way can save you money and hassle in the long run by ensuring your construction project is safe, up to code, and meets all legal requirements.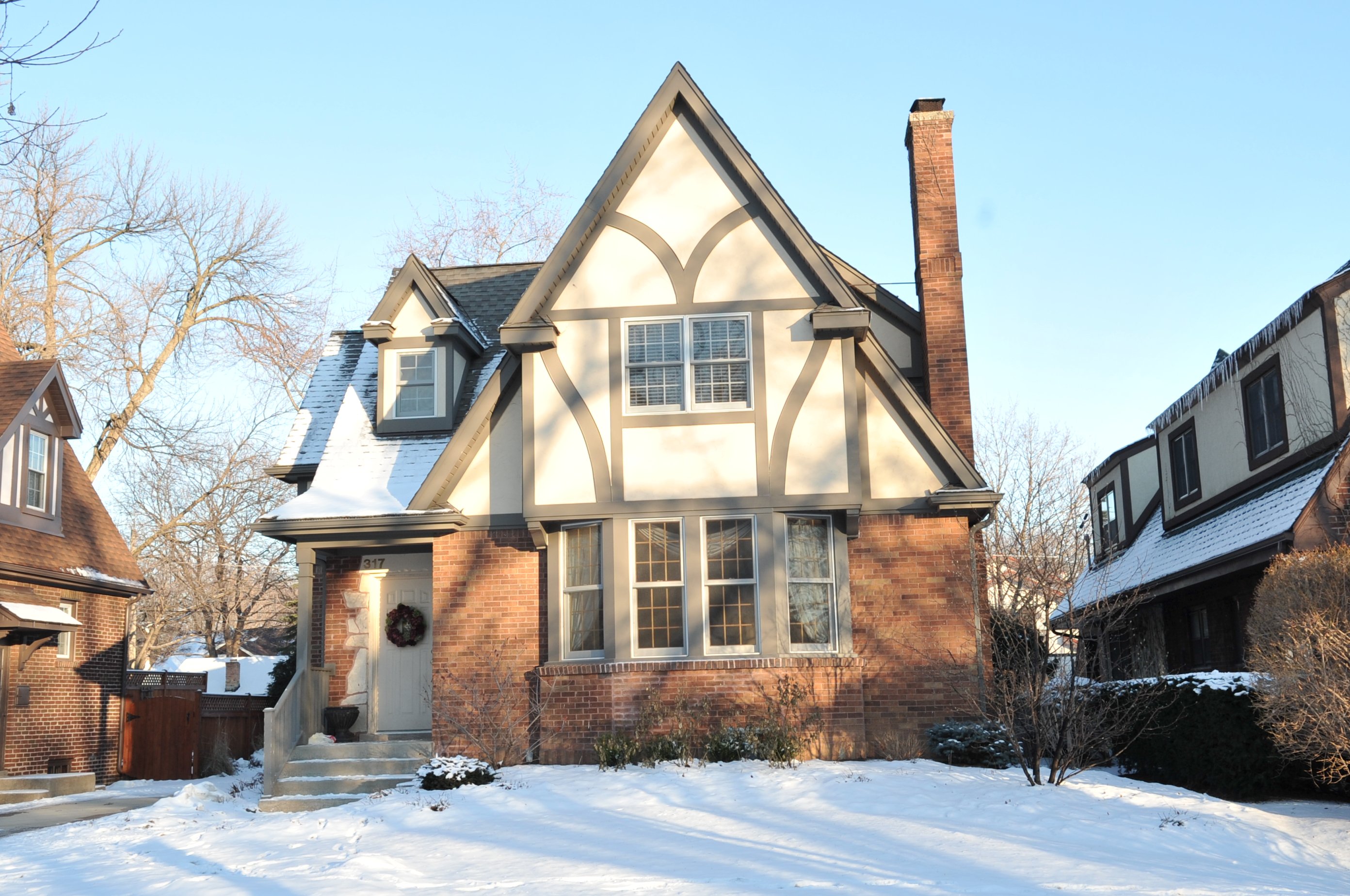 Image Above: A custom home remodel in the Northwest Suburbs of Chicago done by Patrick A. Finn.

Why Do I Need a Home Renovation Permit?
Is getting permits a tedious process? Absolutely. To get your renovation done safely and legally, permits are required wherever you live in the Northwest Chicago suburbs and across the country.
Why this level of bureaucracy? There are many reasons. For one thing, permits help you as a consumer. For a construction project to be done legally, it must be inspected at various points along the way. The inspector's job is to ensure the contractor has done their job correctly, up-to-code, and to the highest quality. If the contractor doesn't do that, the inspector will hold the contractor accountable, expect them to redo the work, and get it re-inspected.
If your municipality finds out work was performed without a permit, they will red-tag the job and stop the work until you meet all the requirements for the permit. A red tag means higher fees (often double the permit fee) and can pause the building process.
If a remodeling project is performed without a permit, some insurance companies will not cover any damage that may happen in that part of the house. Scrupulous general contractors will want permits to be a part of the process. If they are not concerned about permits, that is a red flag. These types of contractors are probably not doing the work correctly, and you will pay for the risk sooner or later.
As a design-build general contractor, we are immersed in the world of home building and home renovation, which means we are very familiar with permitting. We sometimes forget that understanding permits can seem like learning another language for potential clients. With that in mind, here are a few terms you should understand.
Common Home Renovation Legal Terms


Building Permit
What's in it? Documentation that plans for a physical structure that complies with the International Building Code (IBC) as well as state and/or local building codes and regulations.
Zoning Laws
Local ordinances that tell you how your land can be used for purposes like single-family structures, multi-family, commercial, or mixed-use.
Variance
An exception to zoning laws that allow a larger structure or addition on a property.
Easement
A legal restriction that prevents changes that would affect or prohibit the use of utility lines, sewer mains, and passages like fire roads, public alleys, and sidewalks.
Conditions, Covenants and Restrictions (CCRs)
Beyond municipal ordinances, these are often required in planned communities, subdivisions, and by certain neighborhood or homeowner's associations (HOA).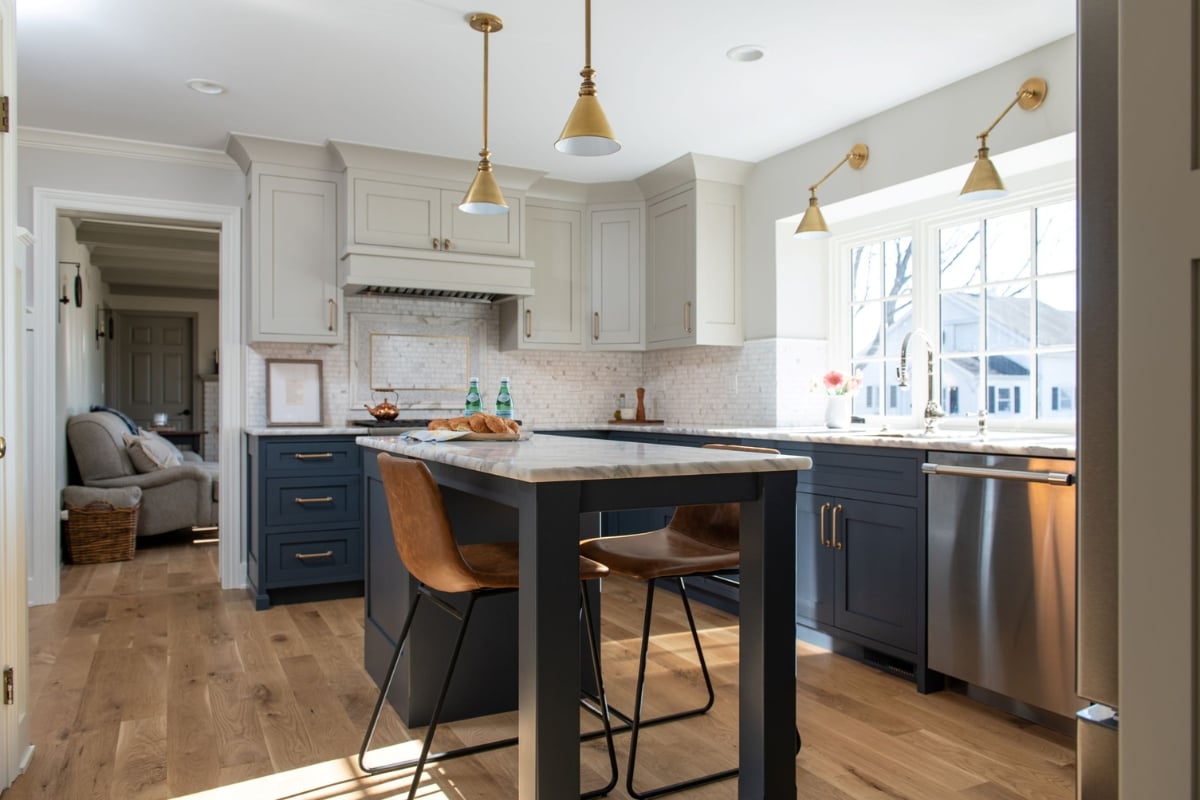 Image Above: Kitchen remodel in Barrington, IL, featuring cream and navy cabinets and marble countertops.
Home Improvements that Require Permits
It's wise to work under the assumption that your home renovation project will require a permit. For example, any project over $5,000 in value in Arlington Heights requires a permit. Depending on your specific area, the value requirement may vary.
But what if you are just removing kitchen cabinets and replacing them? There are exceptions for this kind of project in kitchens and bathrooms as long as plumbing and electrical lines stay where they are. But if you are using a general contractor to get the job done, you both will want to go through permitting to protect everyone involved.
Don't guess. It's best to check for details with your local municipality and design-build contractor.
Examples of things that you may not think need a permit but often do:
Roof replacement
Window replacement or adding new windows
Driveway replacement
Basement finishing
Electrical work
Plumbing work
Adding outdoor fences
Adding or remodeling porches, decks, portico
Adding a gazebo
Work done to retaining walls
Adding or remodeling the front stoop or steps to the house
Adding or changing the furnace or adding a new water heater
Upgrading your electrical panel
Adding a pool
Extensive landscape design
In some towns, there are requirements for tree planting, and other towns require permits to take trees down.
Assume the work done by a contractor requires a permit. But who's in charge of getting permits? Let's find out.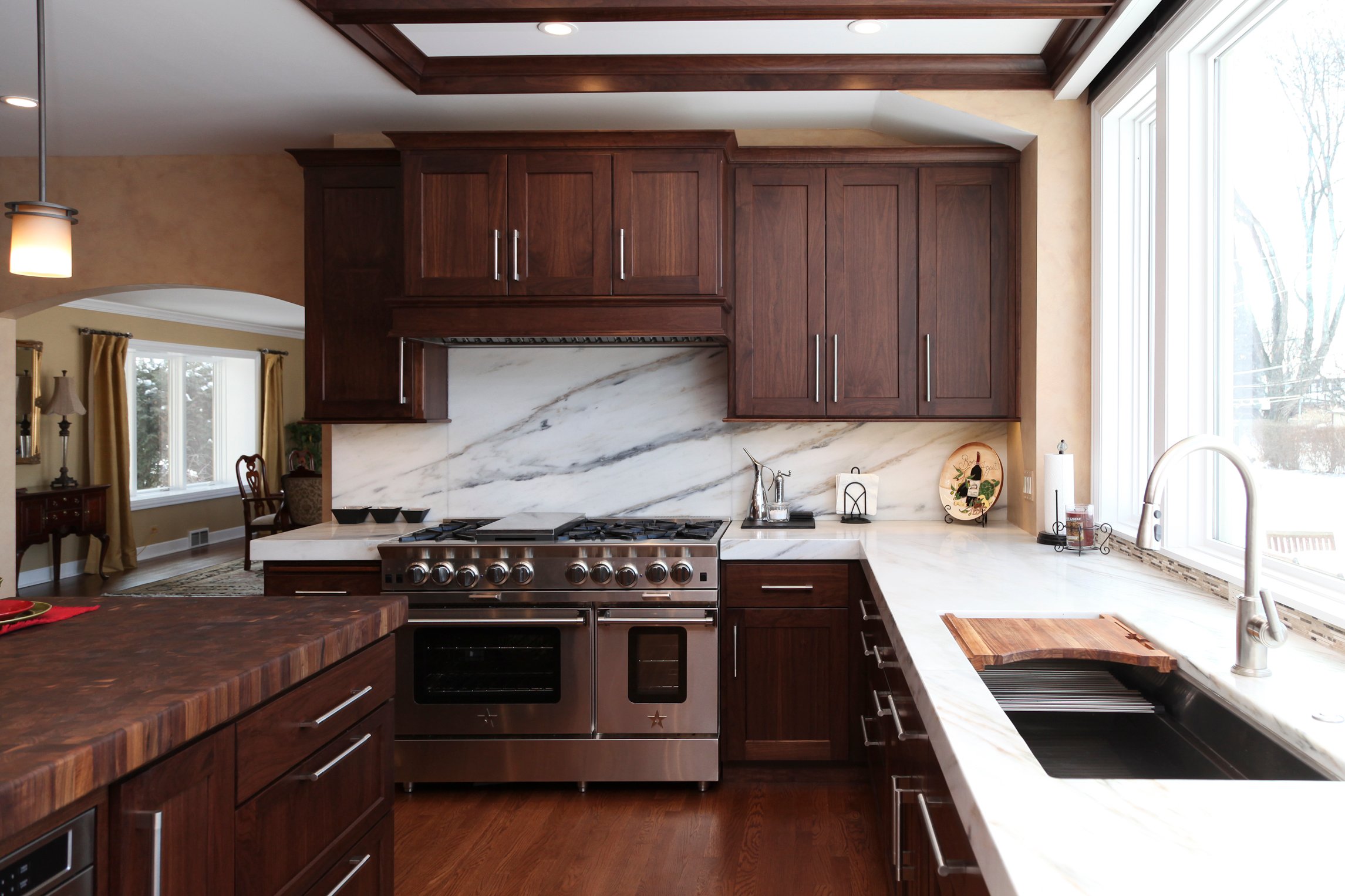 Image Above: This kitchen remodel with walnut cabinets, marble countertops, and a butcher block island was an addition to the back of our client's home.
What is the Home Renovation Permit Process?
Permit applications can be very time-consuming and intricate. Experienced general contractors will know their way around this process. Information they will need for a renovation permit can include:
Drawings
Written scope of work
Pricing
Signed contract
Signed proposal
The general contractor will work with subcontractors like electricians or plumbers, who have to carry their own licenses, to get the information needed from them for the permit.

Depending on the municipality and the number of departments needing to sign off, approvals can take days to months. For example, the average turnaround is ten days in Arlington Heights, IL, but many may take much longer. If you want remodeling projects done to your home. In that case, it's essential to connect with a general contractor as soon as possible so that delays like this won't impact your project timeline.
Permit fees are usually 2-2.5% of the project's price.
Potential Hurdles in the Permitting Process
You should be aware of some circumstances that can add extra complications to the permitting process. Here are some common ones:
1. Design Commission
In some municipalities, when the project is an addition or other extensive exterior work, you may be required to have the project approved by a design commission. This involves a public hearing to present the proposed work using drawings and renderings.
2. Variances
You may have reason to request a deviation from the letter of the law when it comes to local ordinances, like an addition larger than the percentage of land your village normally allows. A variance requires a compelling reason to be the exception to the rule.
Working with a contractor who understands these and other potential pitfalls can help you plan the timing of your home renovation so there are no surprise delays.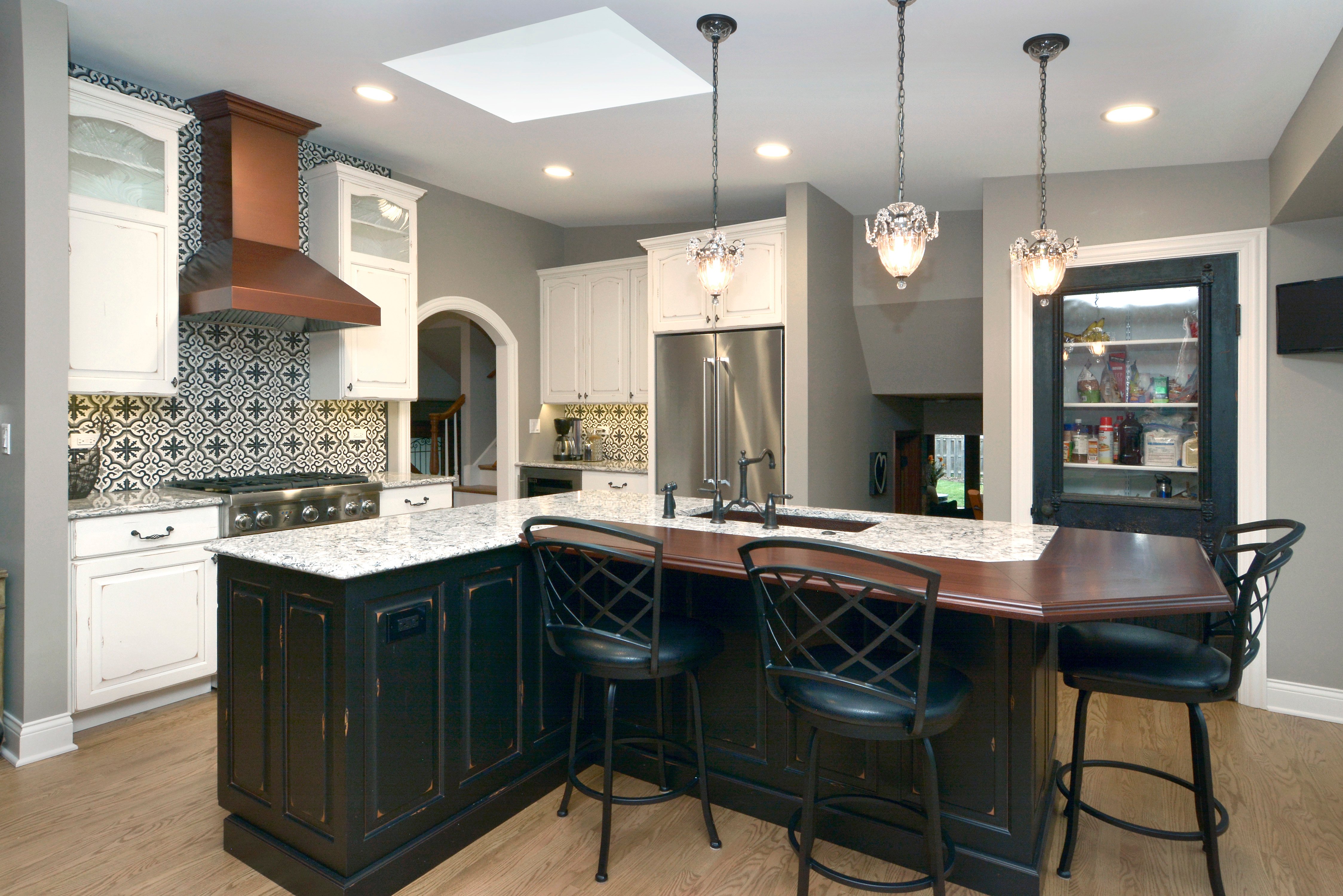 Image Above: An L-shaped Island in a full kitchen remodel.
Your General Contractor is There to Guide the Permitting Process
Understanding the permitting process is helpful, but you don't want to do this yourself. Let experienced professionals manage the permitting process so it gets done right and promptly.
The home renovation permitting process is a vital part of any renovation project. It ensures safety, compliance with regulations, and protection of property values. The permitting process gives you peace of mind, knowing your project is safe and up to code.
Learn the steps involved in home renovation and what it takes to successfully remodel your home by downloading the eBook "The Ultimate Step-by-Step Home Renovation Transformation Guide."