Tile can easily be overlooked in a remodel, but if your space is properly designed, your tile should pull your whole design together. With pressure like that, how do you choose the right tile for your space? We'll review some popular tile trends, both materials and designs, to help you find your dream tile.
Encaustic Tile
Encaustic tile has been a long-time tile trend but is regaining popularity in recent years. When it was first created, encaustic tile was a ceramic tile with glazes and clay baked into the tile, giving it an intricate pattern. Nowadays, many of these tiles are often cement tiles with glazes on the top of the surface. Encaustic tile is a popular tile trend because of the way they can instantly bring a space to life. Their detailed patterns often include two colors but may include up to five or six. With all of this character, encaustic tile is a great way to use tile as a focal point in your remodel. Because of the durability and size of this tile, it is great for backsplashes, shower wall tile, or bathroom floor tile.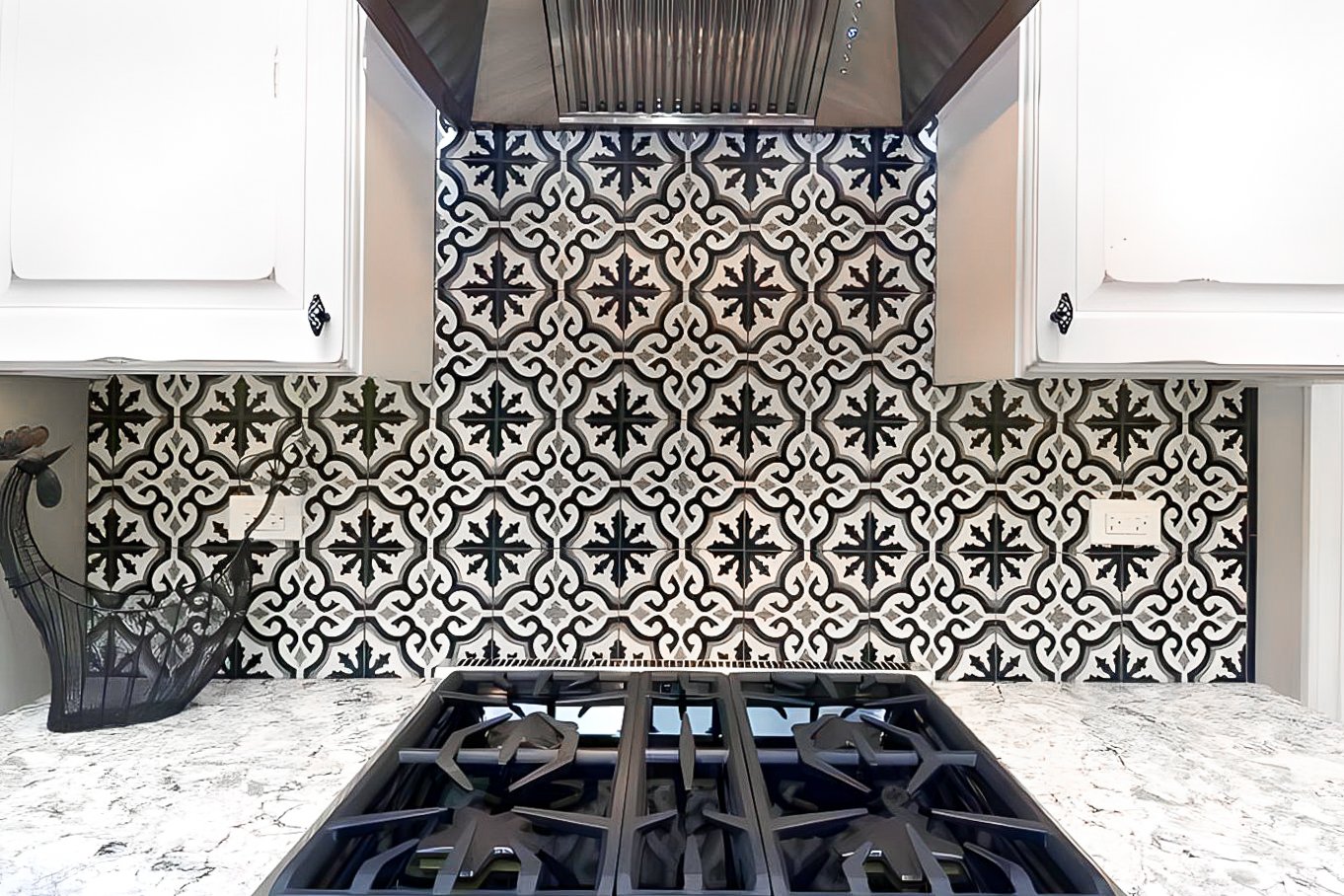 Subway Tile
Subway tile has made our list of tile trends because it is a timeless option that can be a great backdrop for other design elements in your space. This tile got its name from its origin. It was created to be a simple but durable tile to line the subway stations in New York. This was in the early 1900s, but it has been going strong ever since. A traditional subway tile is a 3x6 white ceramic glazed tile. Because of their popularity, subway tiles have evolved into a variety of sizes and colors. Other popular sizes include 2x4 and 4x8 tiles. Subway tile is a perfect option for backsplashes, shower walls, or accent walls in bathrooms.

Zellige Tile
Like the other tiles on our list, zellige tile has been around for quite some time. Traditionally a Moroccan tile, zellige tile has made its way to America, and people love it, which is why it made our list of tile trends! Zellige is a glazed terracotta tile. It is handmade, which gives it a 'perfectly imperfect' look. Zellige tile is most commonly seen in a 4x4 size. As it has risen in popularity, various sizes have become more popular, including 2x2 and 2x6 tiles. It can be made in a variety of colors, and often, one batch of tile will have varying tones of color, continuing to give the tile an artisanal look. Zellige tile is a popular choice for backsplashes, shower walls, and accent walls.

Hexagon Tile
Hexagon tiles have gained popularity in the past few years. In the past, hexagon tiles were often made of marble and used on a bathroom floor. While this is a timeless look, hexagon-shaped tiles made our tile trends list because of the variety of tiles that are now offered in this shape. There are options for people looking for something classic, bright, handmade, and just about anything else you can think of! When the hexagon tile is styled in a smaller format, it is often seen on a mosaic mesh sheet. But now, with larger hexagons gaining popularity, a 4-6'' hexagon tile is not uncommon. Some of the more popular choices include black slate and colorful porcelain tiles.
Chevron Tile
Chevron tile, often confused with herringbone tile below, is installed in a V-shaped pattern. This style of tile is pre-cut with an angle on each end to allow for a clean V pattern throughout the vertical layout of the tile. Chevron tile is often referred to as the more modern version of herringbone tile, which is why it made its way onto our tile trends list. Chevron tile is offered in a variety of materials, which can greatly impact the look of this trendy tile. Some popular materials include marble, porcelain, and ceramic. Because of the versatile shape of chevron tile, it can be used in a variety of installations. Popular installation choices include kitchen backsplashes, shower walls, accent walls, shower niches, and bathroom floors.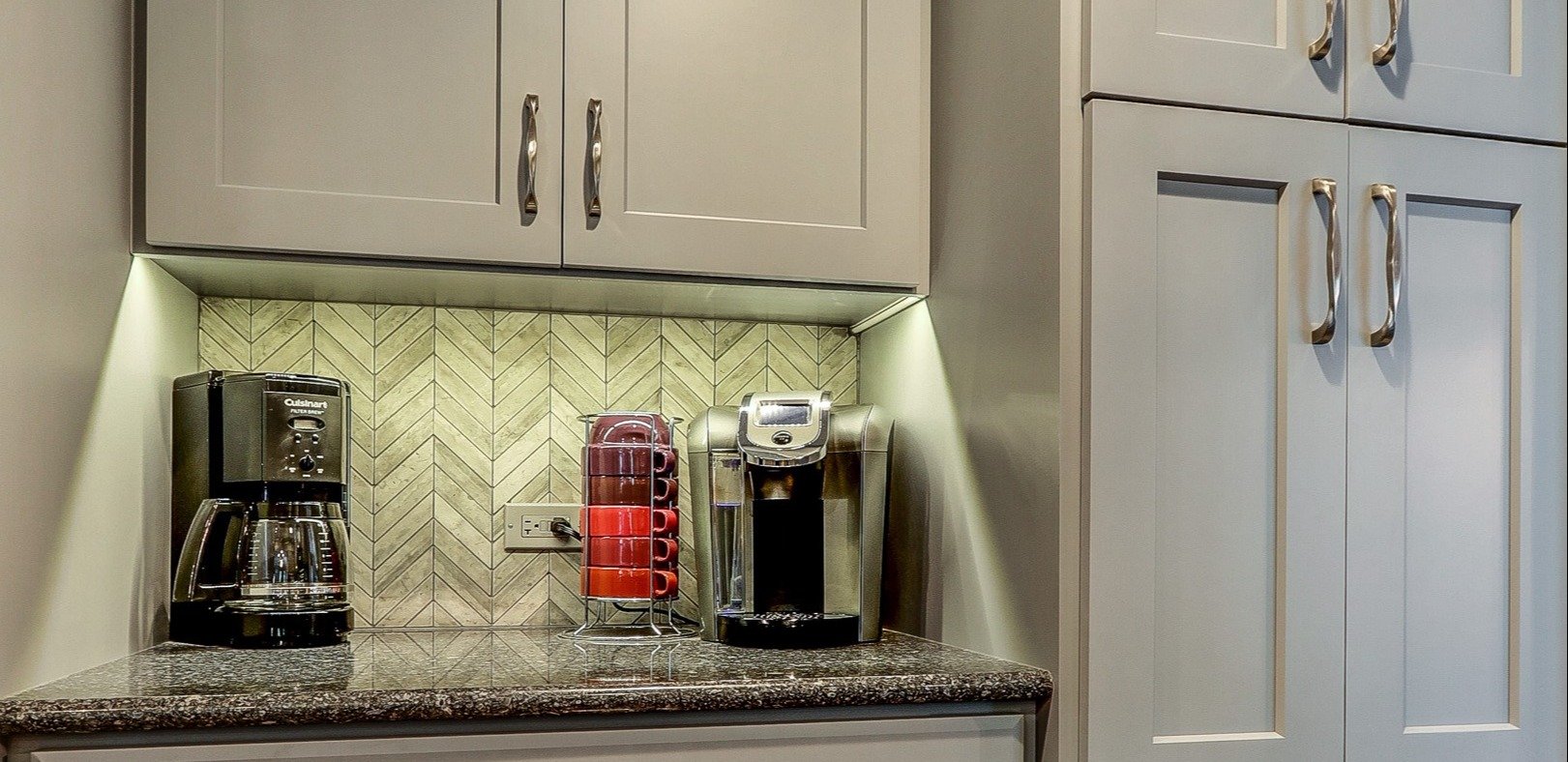 Herringbone Tile
Herringbone tile, often confused with chevron tile above, is installed in an extended zig-zag pattern. The herringbone style is a more traditional tile layout but is still a timeless option to consider for your bathroom or kitchen remodel. Unlike chevron tile, herringbone tile is simply a rectangular tile that is installed in a 45-degree angle stacked pattern. No special cuts are required to make this style work. Because of the detail in this layout, it is recommended that you consider a herringbone layout for larger spaces where the design details can be seen and appreciated. To accent the pattern, consider a contrasting grout. Herringbone tile is often seen applied to shower walls, bathroom floors, and kitchen backsplashes.
Are you ready to incorporate one of these tile trends into your remodeling plans? To begin planning your home renovation project, download the eBook "The Ultimate Step-by-Step Home Renovation Transformation Guide." This eBook will help you discover how you can update your home into a stunning sanctuary.