If you want a stunning home but don't have the time or desire to upkeep it, you can do several things to help make your home low maintenance. A low-maintenance home is built with long-lasting materials, keeping upkeep at the minimum. Here are a few things we recommend you do to keep your home low maintenance.
Select Easy-to-Maintain Materials
By selecting easy-to-maintain materials, you save time, money, and hassle in the long run. Many popular products for your home require regular care and upkeep. That being said, there are a multitude of beautiful materials available on the market to remodel your home, all while keeping it low maintenance.
1. Quartz
While natural stones, such as marble, are a classic and timeless look, they are much harder to maintain than an engineered product like quartz. When it comes down to choosing a stone material for your countertops, quartz is more manageable to upkeep than natural stone. Many natural stones, like marble and granite, require yearly resealing; quartz does not. If you spill a glass of red wine overnight on marble, it is a stain for life. Whereas quartz, you can wipe it up, and the stain vanishes. For families with young children, this is a great feature. Not only does quartz not stain, but it also has antimicrobial properties, which many people appreciate.
2. Engineered Wood Siding
Many people love the look of cedar siding but have concerns about how it is high maintenance and can attract insects. Engineered wood siding, such as LP Smartside, creates the look of natural wood without the drawbacks of maintaining natural wood. If you want the traditional look of wood without the time (and money) consuming maintenance, LP Smartside is a great consideration. Their product offering includes lap siding, shingles, trim & fascia, soffit, and panel siding.

3. Architectural Shingles
Architectural shingles are increasingly popular among homeowners because of their durability. These shingles have fiberglass and asphalt to withstand weather and storms and are also resistant to growth. Additionally, the installation progress is quick and efficient. They are an excellent choice for keeping your home low maintenance and allow homeowners to enjoy the benefits of a quality roof while saving time and money on repairs. Architectural shingles should last around 30 years before they need to be replaced.
Let Design Take Function into Account
Inevitably, owning a home means you will have some maintenance. If you're undergoing a home remodel with a design-build firm, be sure to share your maintenance concerns with your designer. A good designer will help you take the functional needs of your home into account during the remodeling process, all while making sure you end up with a beautiful home.
Keep the Design Tailored to Your Lifestyle
Opt for a simple design that makes the space easy to clean. While a unique design is what we all strive for, clutter and the need for excess cleaning are not. Keep your layouts functional for your lifestyle. For example, if you have young children who love to play outside, a mudroom is something you may want to consider in your design- maybe even one with a washer and dryer. A designated place to drop backpacks, snowy boots, and sports uniforms is going to make your daily routines much easier. Not only that, but they will help your family avoid tracking dirt through your home. If you have the space, a cubby system is a great way to keep your mudroom organized and stylish. The more tailored the design, the more you will be able to keep up with your home.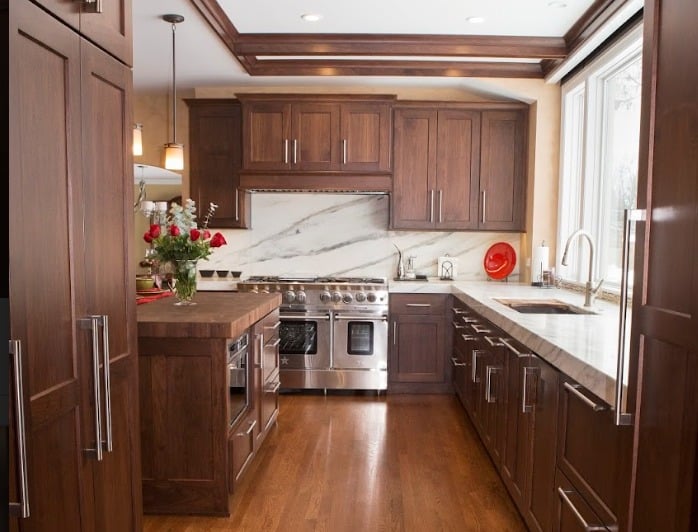 Install a Central Vacuum
Central vacuum cleaning systems are a dream for those who despise vacuuming. A central vacuum has a system of tubes behind your walls with ports in each room for you to plug the vacuum into. The tube system typically ends at the garage. Central vacuums are easier to use because you don't have to carry a whole vacuum from room to room in search of an outlet only to realize you need to empty the vacuum bag. If you're installing a central vacuum, you may also consider a toe-kick option under your cabinets. This allows you to simply brush debris into an opening in the toe-kick, which connects to the tube system. Central vacuums are easiest to install during the building phase of your home, but they can be installed during a major remodel as well.
Use High-Quality Materials


Hardwood Floors
Hardwood floors are an excellent option for homeowners who want a stunning low-maintenance home. They are durable, easy to clean, and can be refinished instead of having to be replaced entirely. Not only that, but they add an undeniable warmth to your home. Hardwood floors should last as long as you are in the home. If you have existing hardwood floors, talk to your design-build team about how to ensure they are well-stained and finished as a part of your remodel process to keep maintenance to a minimum.
Copper Gutters
Copper can add value to your home because of its unique aesthetic, but it also is the better choice for gutters when it comes to keeping a low-maintenance home. Copper is a durable material that will last for years to come. It is resistant to corrosion, rust, and weather damage. Copper gutters are less likely to be replaced as often as standard aluminum gutters, therefore saving you money in the long run.. Copper patinas nicely over time to continue giving your home character. If the patina look isn't for you, the copper can be cleaned to bring it back to its original color.
With the right planning, you can create a beautiful, low-maintenance home that meets the needs of you and your family, both aesthetically and functionally. If you have a home remodel you've been considering, contact us today! We'd love to help you create the home of your dreams, one you can enjoy with little maintenance!