Chicago's summer season is short, so making the most of it is important. A great way to do this is to connect the indoor and outdoor spaces in your home. Creating a seamless connection between the outdoors and indoors makes it convenient for you, your family and your friends to enjoy the warm weather, and it also brings much-needed natural light into your kitchen during the long and gloomy Chicago winters.
The secret lies in creating a seamless transition between your outdoor and indoor spaces. By incorporating doors or windows and having a well-thought-out plan, you can create a brighter and more spacious indoor living space. It also becomes easier to keep an eye on the kids while they play outside. Additionally, having better access from the kitchen expands your entertaining space for larger gatherings.
As a homeowner, how can you make this happen? Let's delve into some of our top design tips.
The 10 Best Ways to Connect Your Outdoor Living Space to Your Kitchen


1. Make Room for a Door
These days, you have so many options when it comes to door styles. A window in the right spot can be removed and expanded into French doors, an accordion door, a traditional sliding door, or even glass pocket doors can be installed to create an inviting path from the indoors out and allow for more fresh air into the home. Another option is to add a Dutch door where the top half can open to hear and see what's going on in the backyard but keep pets on one side or the other.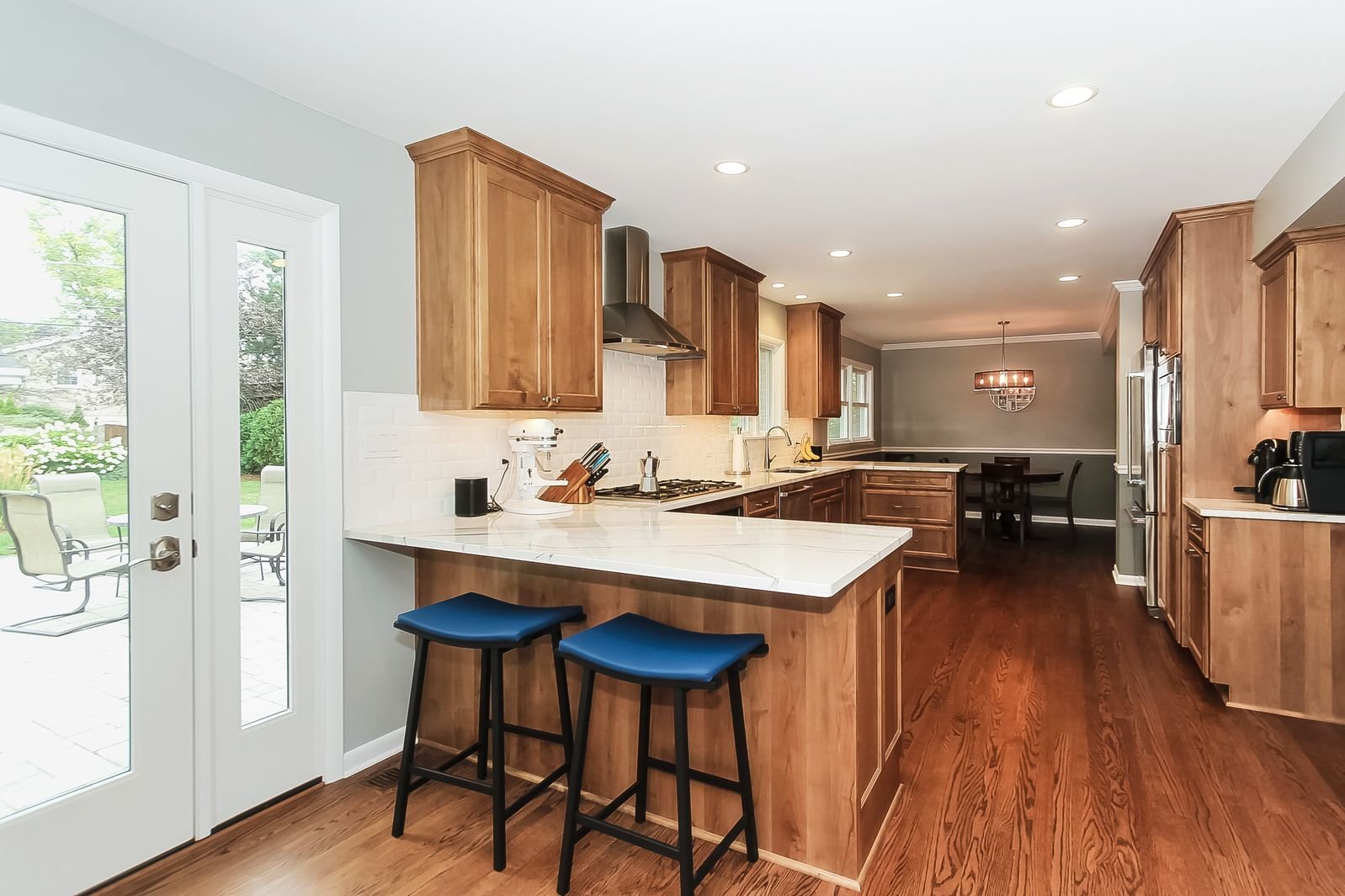 This photo features a first-floor remodel that won the Golden Key Award in Arlington, Heights, IL. See the full gallery of the project here.

2. Add Large Windows
If doors are not possible, or as an additional step, consider making your kitchen windows larger. A picture window above the sink is ideal for more natural light and views while you are hard at work in the kitchen. You could also install a large, folding window that can open easily to the outdoors. You even have the option to add a corner window, allowing you to bring even more of the beauty of the outdoors inside.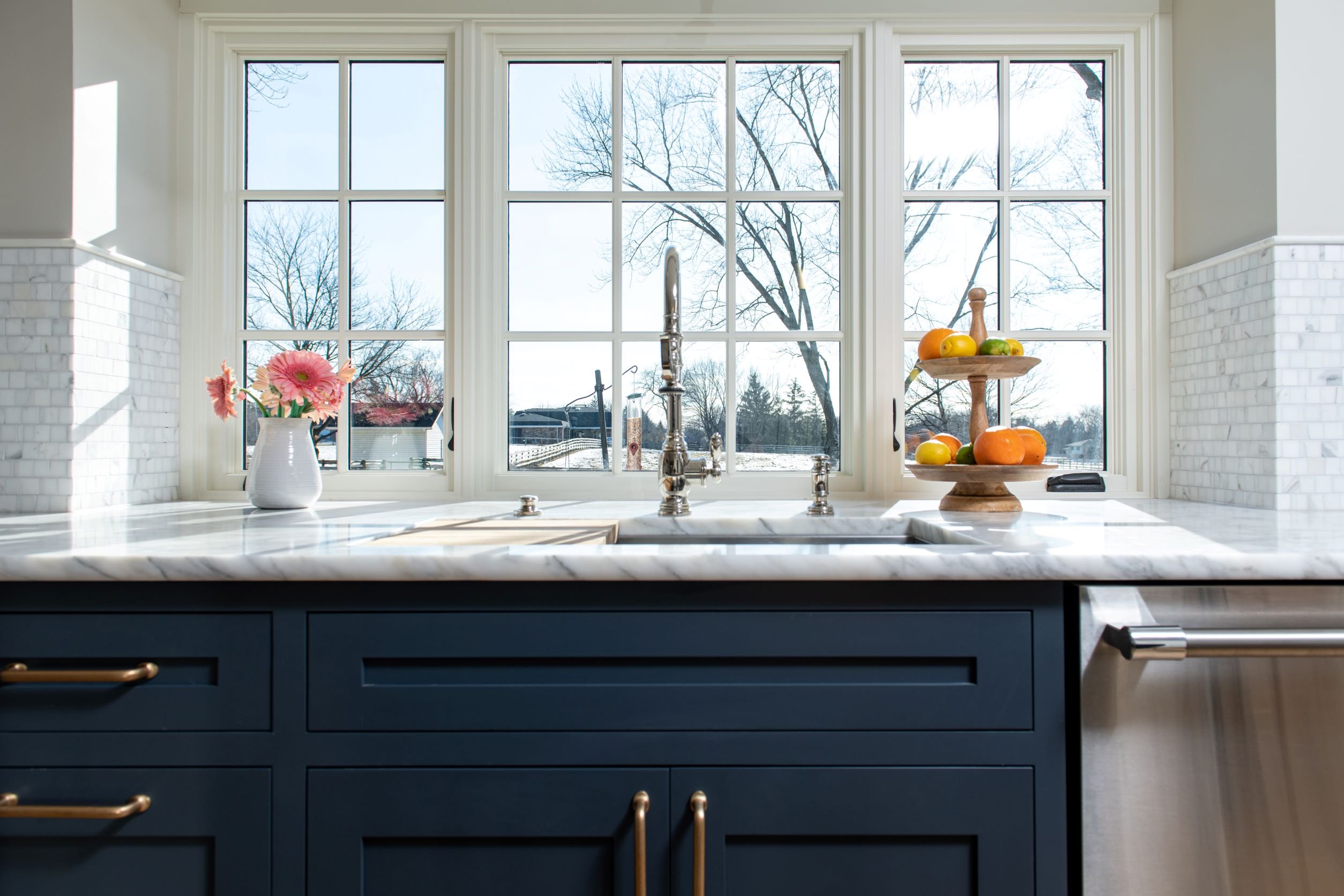 A picture showcasing the inside perspective of a kitchen renovation in Barrington, IL, with an added cantilevered window. See the full gallery of the project here.
3. Incorporate a Bay or Cantilevered Window
You can also add depth and space for plants and items you want to display with a cantilevered or bay window. This will allow for light on three sides of the window as opposed to one. It could also be the perfect spot to incorporate a built-in breakfast or reading nook below, allowing you to enjoy the natural light in your home further.

A picture showcasing the exterior perspective of a kitchen renovation in Barrington, IL, with an added cantilevered window. See the full gallery of the project here.
4. Let There Be Light
If the kitchen is in a location where direct access to outdoor space is limited, consider adding skylights or solar tubes. This doesn't give you direct access to your outdoor area, but it will open up the room, making it feel larger and more connected with the outdoors. Skylights not only let in natural light but can be installed to open up, allowing a cross breeze which could help reduce energy bills. Skylights and solar tubes can also help decrease energy bills by providing added natural light rather than using artificial light.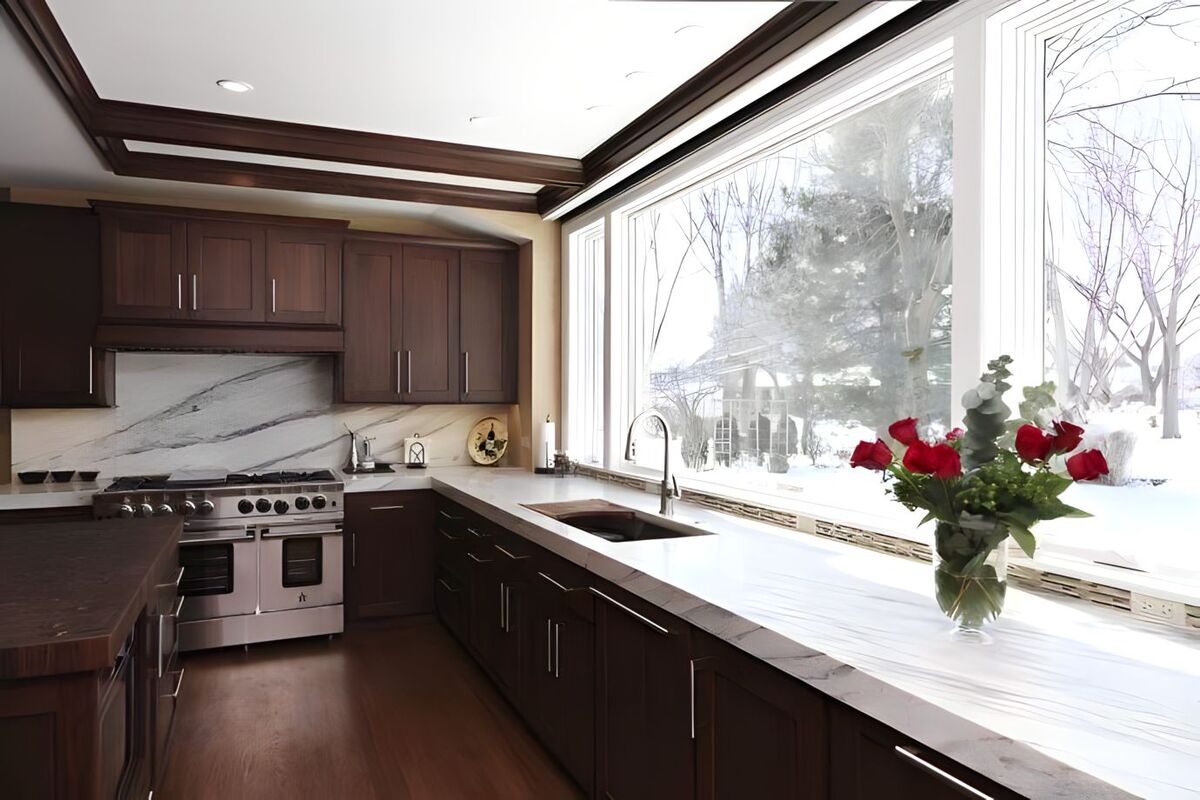 To enhance the brightness of the newly renovated kitchen in Mount Prospect, IL, a spacious picture window was installed, providing a captivating view of the adjacent golf course and allowing ample natural light to flood in. See the full gallery of the project here.
5. Build a Pass-Through
Without a clear path, getting food, dishes, and other items to and from your outdoor eating area can be challenging. When you install a pass-through window, you get better access between the kitchen, the exterior space, and the grillmaster. Instead of running around corners and through narrow hallways to get outside multiple times during meal preparation, a pass-through window gives you direct access and saves many steps.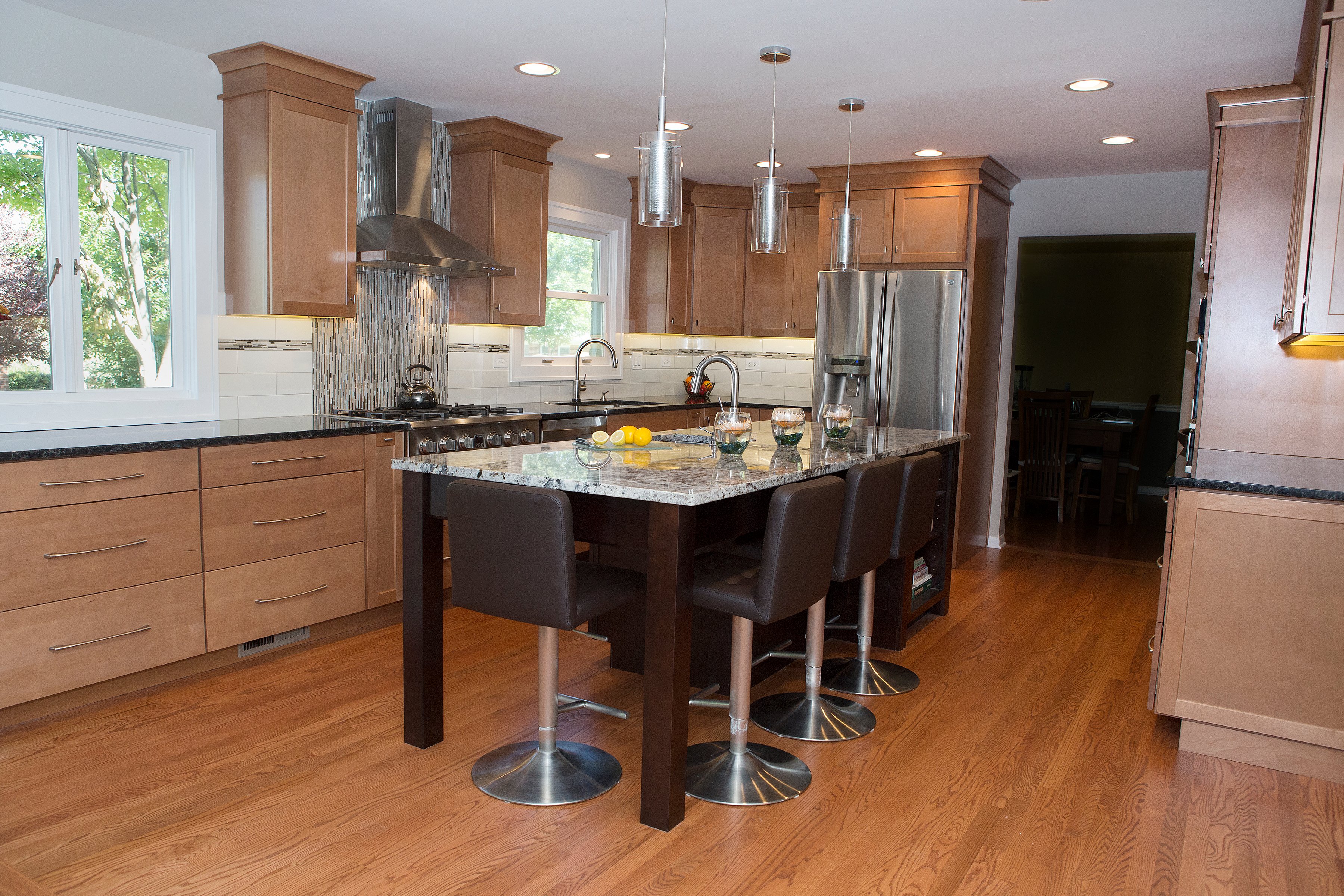 An Arlington Heights, IL kitchen renovation features a large pass-through, French-style casement window from the kitchen leading to the outdoor deck area. See the full gallery of the project here.
6. Pass-Through Plus for Indoor-Outdoor Living
Expanding upon a pass-through window is a great place to set up an additional seating area. While you are installing the window, add an outdoor bar top and seating to the exterior portion of the pass-through to expand your dining table outdoors. This means kids don't have to come all the way inside during outdoor play (and track mud through the home), and adults can enjoy relaxing and conversing between the kitchen and the patio.
7. Add a Wall of Windows for a Seamless Flow
For a big wow factor, add a focal point of windows surrounding glass doors that open out to the backyard space. By installing a wall of windows, you can maximize the amount of natural light that fills your home year-round.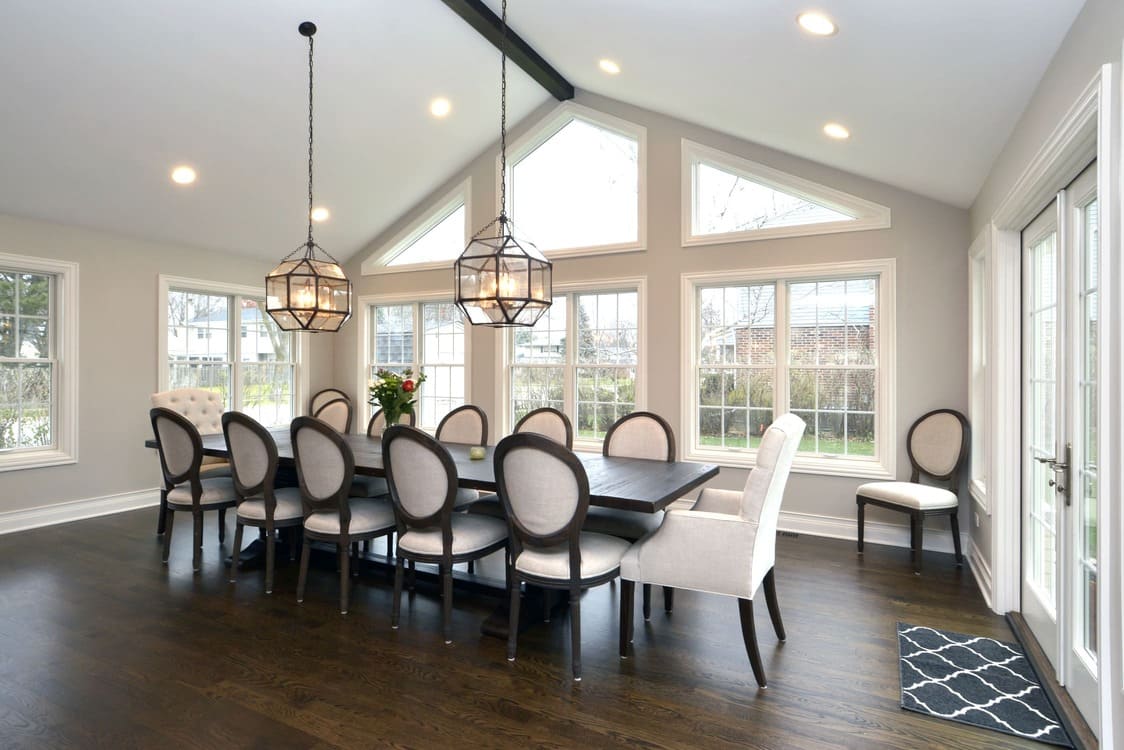 A stunning wall of windows in the Italian-inspired kitchen and dining room addition in Arlington, IL floods the space with an abundance of refreshing natural light. See the gallery of the full project here.
8. Accordion Doors for the Ultimate Indoor-Outdoor Connection
If one exterior door is nice, a wall of doors is that much nicer! Open up the entire wall using glass doors that fold away to create the ultimate seamless transition from your kitchen to the backyard.
9. Consider A Transitional Space
You can opt for an addition that creates a space between indoors and outdoors. Call it a sunroom or four seasons room. This creates a clear pathway to the outdoors and adds additional living space and entertaining space to your home. Consider incorporating a mudroom into your home design to create a convenient transition area connecting your backyard and kitchen. This practical addition offers various functionalities, such as storage solutions and a designated spot for cleaning up both pets and humans, complete with a utility sink or shower.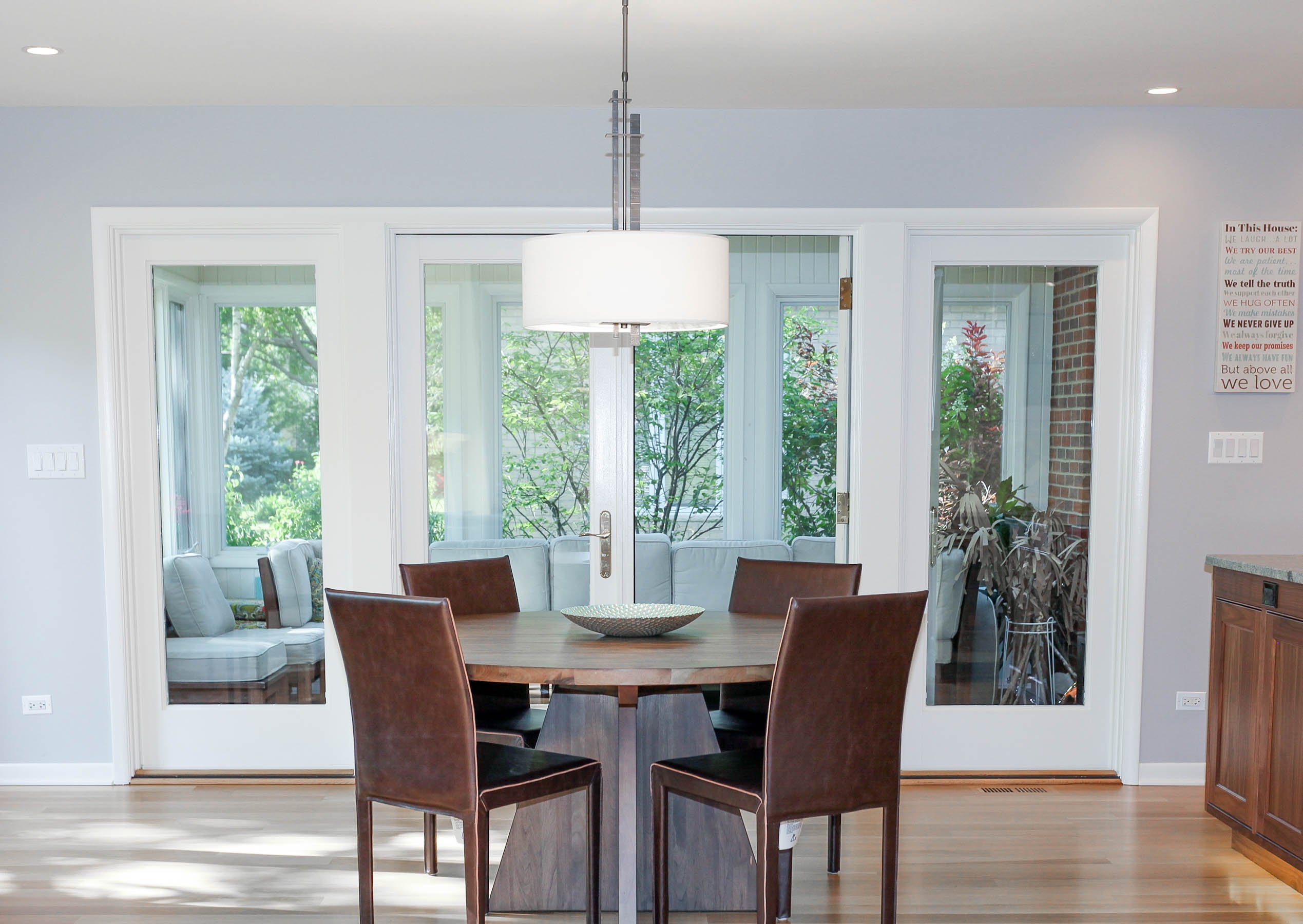 The main goal of this home renovation project in Arlington Heights, IL was to create a welcoming and spacious atmosphere. It was crucial to ensure that the newly renovated kitchen, dining, and living areas seamlessly connected with each other. Elements such as the high ceiling, skylights, and expansive windows were incorporated to enhance the open and inviting ambiance of the space. See the gallery of the full project here.
10. Full Redesign
If none of the above options are possible, or they don't give you all the outdoor access you want, it may be time to rethink the design and flow of your home. A renovation can shift the kitchen to the back of the home and create more of an open-concept living space, connecting your living room, kitchen, and outdoor space. A redesign can incorporate many of these other suggestions to make the perfect transition and create a space that is full of natural light.
Connecting to the outdoors from your kitchen is all about enjoying the weather in the summer and getting as much natural light as possible through the long Chicago winters. These changes will ultimately enhance your overall well-being and help you kick the winter blues to the curb. Redesigning your living space with natural light top-of-mind and a desire to connect to the outdoors will increase your enjoyment of the home and make the kitchen, even more the heart of your home.

Are you ready to learn how you can enhance your home's indoor-outdoor space? Download the eBook "The Ultimate Step-by-Step Home Renovation Transformation Guide" and discover how you can revamp your living space into a stunning entertainment sanctuary.