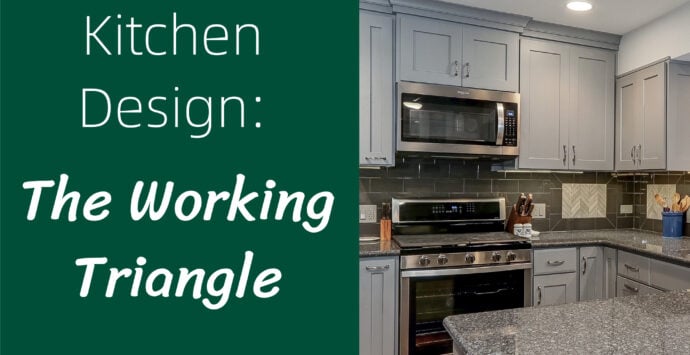 Kitchen Design: The Working Triangle
The working triangle, or golden triangle, are buzzwords in the remodeling community and for good reason. But what exactly does working triangle mean and why does it matter to you? The term working triangle refers to the ideal layout of your sink, refrigerator and cooktop in your kitchen. If the layout is done right, you'd be able to draw a triangle between each of these areas to have maximum functionality of your kitchen space. Why? How is that achieved? Let's discuss the theory and how it has proven its' superiority for decades.
The Working Triangle Design Theory
Developed in the 1940s, the working triangle was the new way to increase functionality of your kitchen. As it has stood the test of time, designers across the country use it as a base of kitchen design. The triangle consists of your sink, refrigerator and cooktop. The goal is for each leg of the triangle to have measurements between four and nine feet, according to the NKBA. That meets the whole of the triangle measurements will likely end up somewhere between 13-26'. To make those dimensions work best, you have to ensure that there are no traffic flow restrictions from any islands or peninsulas in the kitchen. That is not to say that an island or peninsula can't be a part of the working triangle, but rather that they do not completely block the flow of the triangle.
When using the working triangle theory in kitchen design, you'll want to consider how many people truly use the kitchen. In the past kitchens were designed for one primary user. Nowadays, multiple people tend to cook together. Ideally your kitchen is designed in a manner that allows two or more people to comfortably work in the space. What does that look like if you don't have a huge kitchen? It just means that there should be some zones dedicated to each stage of food preparation. For example, enough countertop space near the sink to rinse and chop veggies, as well as room by the fridge to organize all of the food that you'll be cooking.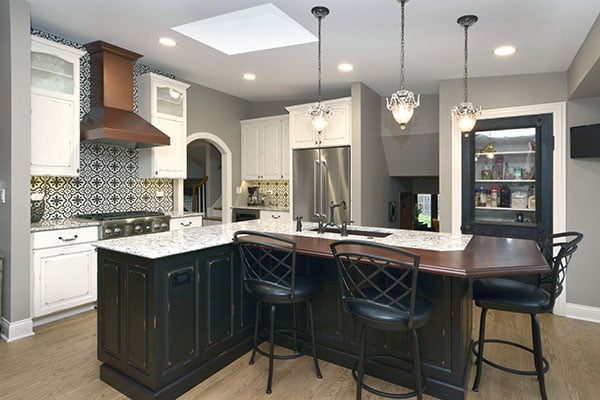 Timeless Theories Don't Equal Cookie Cutter Kitchens
Some people worry that they may end up with a 'cookie cutter' kitchen if they use a design concept that has been around for so long. However, with proper discussions with your design-build team, you can be confident that you'll have a unique space. The key here is to discuss the use of space. How do you use the space now and how you'd like to in the future? You'll also want to consider what design details you'd like to incorporate into your kitchen. For example, how many people will ideally use the space? How do you work within your kitchen? Are you more into cooking or baking? Complex dishes that need a lot of preparation space or more simple one-sheet pan meals? Where do you experience bottlenecks in your current kitchen? Questions like that will help to determine the inner workings of the spatial design.
Once the spatial design details have been ironed out, you can move on to the interior finishes. Do you prefer bright and airy or dark and moody? Would you like the durability of a quartz countertop or the warmth of a butcher block countertop? All of these will help give your kitchen personalization, despite following the working triangle theory.
Maximizing Kitchen Function & Flow
One other important thing to consider when remodeling your kitchen and using the working triangle theory is the impact on the surrounding rooms. For example, if you are opening up your first floor, you may be able to expand the footprint of your kitchen. This would allow each leg of the triangle to extend more throughout the space. Expansion is ideal if you are a family who cooks together. While determining where each prep station will be located, it is also important to acknowledge whether or not your kitchen is a multi-purpose room. If so, you may want to consider dedicating a zone of the kitchen to allow room for working from home or finishing up schoolwork. Maybe it is a small built in desk, or maybe a large island that has room for food prep and school work.
All of these details are important to discuss early on in your design so that you can ensure the space allocation works to achieve the coveted working triangle function. If you're considering remodeling your kitchen, give us a call. We'd love to help you design the perfect working triangle for your space to maximize the style and function of your remodel.
Written By Katie Finn