When it comes to design build remodels for your bathroom, there's no one-size-fits-all guide to costs. That's because the design build model is inherently focused on customization, differentiation, and, above all, an aesthetically beautiful result tailored to the homeowner's personal tastes and needs. As always, the surest way to prepare your budget for your own remodel is to discuss your project with your remodeler.
Disclaimers aside, every remodel begins with preliminary cost research, and the bathroom is no different. To help you prepare for your initial consultation, we've compiled information representing the average Chicago bathroom remodel costs. Our service area includes northwest Chicago neighborhood Mount Prospect, Barrington, Glencoe, and Arlington Heights, which is an even smaller niche with its own market specifics, so we've added the cost of bathroom renovations more specific to these areas as well.
Arlington Heights & Northwest Chicago Bathroom Remodel Costs by Scale
In general, bathroom remodels are still known for generating a relatively high ROI. Alongside kitchen remodels and minor fixes like replacing the garage door, replacing windows, updating siding, adding a deck, etc., bathroom remodels continue to rank well as a home improvement investment.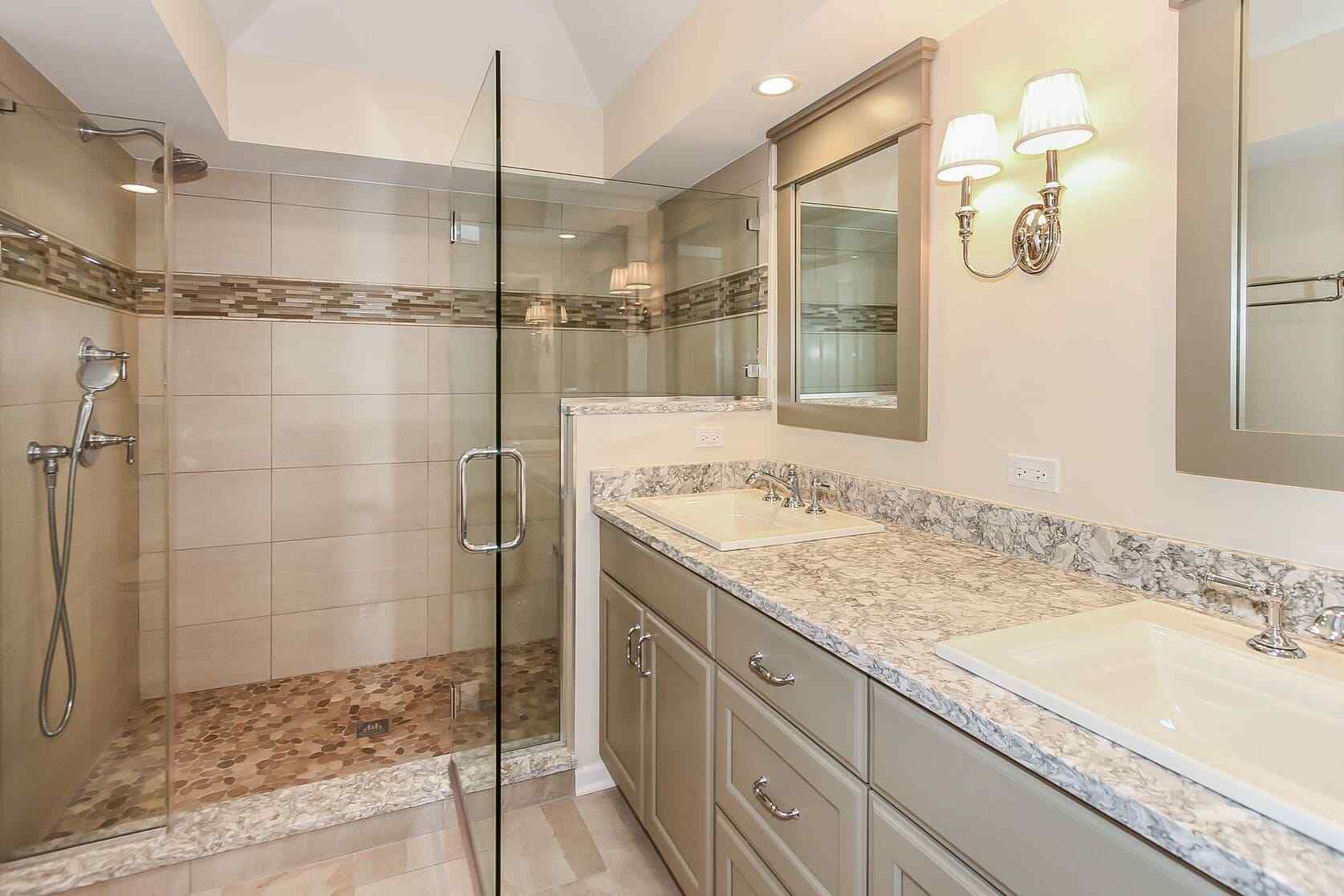 The Remodeling 2022 Cost vs. Value Report for the Chicago midrange bathroom remodels typically cost $31,521 and returns $17,946 for a cost recoup of 56.9%. Upscale bathroom remodels average $92,873 and returns $51,292 at resale for a cost recoup of 55.2%. Universal design bathroom remodels for accessibility average $48,861 and return $27,163 for a cost recoup of 55.6%. (Please see the Cost vs. Value full report for details.)
Of course, these averages are only good if you stick to middle-of-the-road materials or make common compromises. You'll notice that the prices in northwest Chicago suburbs are higher than averages for Chicago as a whole. We're fortunate to work in an area where many residents are able to invest in higher-end bathroom redesign and remodeling projects. Let's talk a little more about the kinds of bathroom remodeling projects we typically complete in our northwest Chicago service area and the associated price tags.
Hall Bathroom Remodels
Demonstrate care for your visitors with a guest bathroom makeover or hall bath design. A small bathroom remodel usually consists of a slight reconfiguration of the layout of your bathroom with brand-new custom cabinetry, fresh finishes and paint, upgraded countertops, modern toilets, and spa-like faucets and fixtures. Hall bathroom remodels generally cost between $45,000 and $65,000 in our service area.
Main Bathroom Redesign and Remodel
Upgrading the primary bathroom often calls for a full reconfiguration of your bathroom space, as well as upgrading your cabinets, bathroom tile, finishes and paint, countertops, and fixtures with new materials of the highest quality. As a design build company, our projects typically include custom cabinetry, specialty lighting, or other customization and unique features to improve your quality of life during your everyday experience. It is common to move or add plumbing elements such as a soaker tub or walk-in shower. Main bathroom designs often feature aging-in-place and universal design features such as a curbless shower and tiled shower seating to keep homes comfortable in the long term. These projects typically run between $60,000 and $90,000 in northwest Chicago, though larger spaces with spa-like features, enhanced technology, luxury materials, or specialty installation requirements will cost substantially more.
Gather Inspiration, Set a Vision
Of course, the cost of your own remodel depends on your particular vision for the project, its scope, and its size. Your design-build remodeler can better help you estimate the cost if you take a little time to gather inspiration and set an overall vision. While there are many great resources available online, one helpful way to visualize options for your end goal is to view pictures of previous remodeling projects completed by your contractor.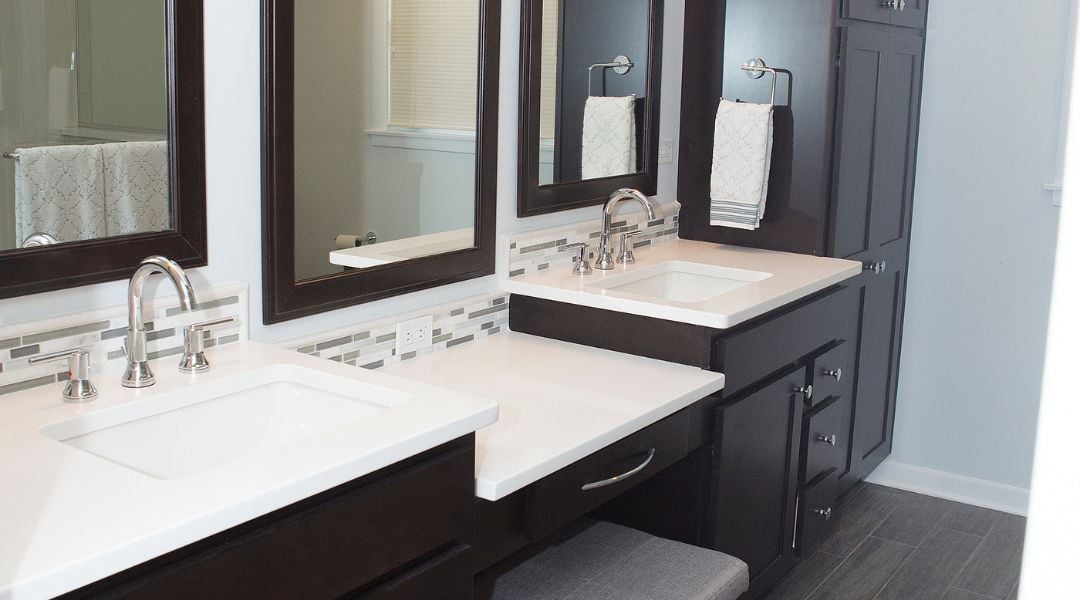 Home and Kitchen Remodeling Costs by Neighborhood [Free Guide]
For many Chicago-area residents, bathroom remodels are just one stage of other popular home renovation projects like kitchen upgrades or whole home remodels. If you would like to view average, neighborhood-specific costs for whole home remodels and kitchen remodels, you can find the information you are looking for by downloading the premium guide below.
This article uses data from the most recent Remodeling Cost vs. Value report which pulls averages from 2020. Due to unprecedented market volatility and supply chain irregularities in the recent past, residential construction prices in Chicago have increased by 25% or more for some projects. Have a discussion with an experienced builder to know the most accurate and up-to-date building cost estimates. Now it's more important than ever to hire a professional contractor with longstanding supply and labor relationships.