There comes a time when rearranging furniture is not enough to solve your space constraints. There are various situations where you might feel cramped in your house, and traditional organizational tactics won't suffice. It could be due to your family expanding, the need for extra rooms or bathrooms when parents, in-laws, or adult children move in, or the desire to set up a home office for remote work. In such cases, you may need to explore alternative solutions to create the space you need.
One option is to move into a larger home, but another possibility is that a simple modification to your existing structure could solve your problems. If you love your home and your neighborhood, and if you don't want to disrupt your work commute or jeopardize your access to local schools or community amenities, it's time to consider an addition.
Just how much does an addition cost? The answer depends on your geographical location, as well as the size, scope, and nature of your project. To help you get started, we've compiled estimates for two of the most practical and common home additions in the Northwestern Chicago suburbs - an upscale master suite addition and an upscale bathroom addition - as well as general estimates for a second-story addition and finishing a basement.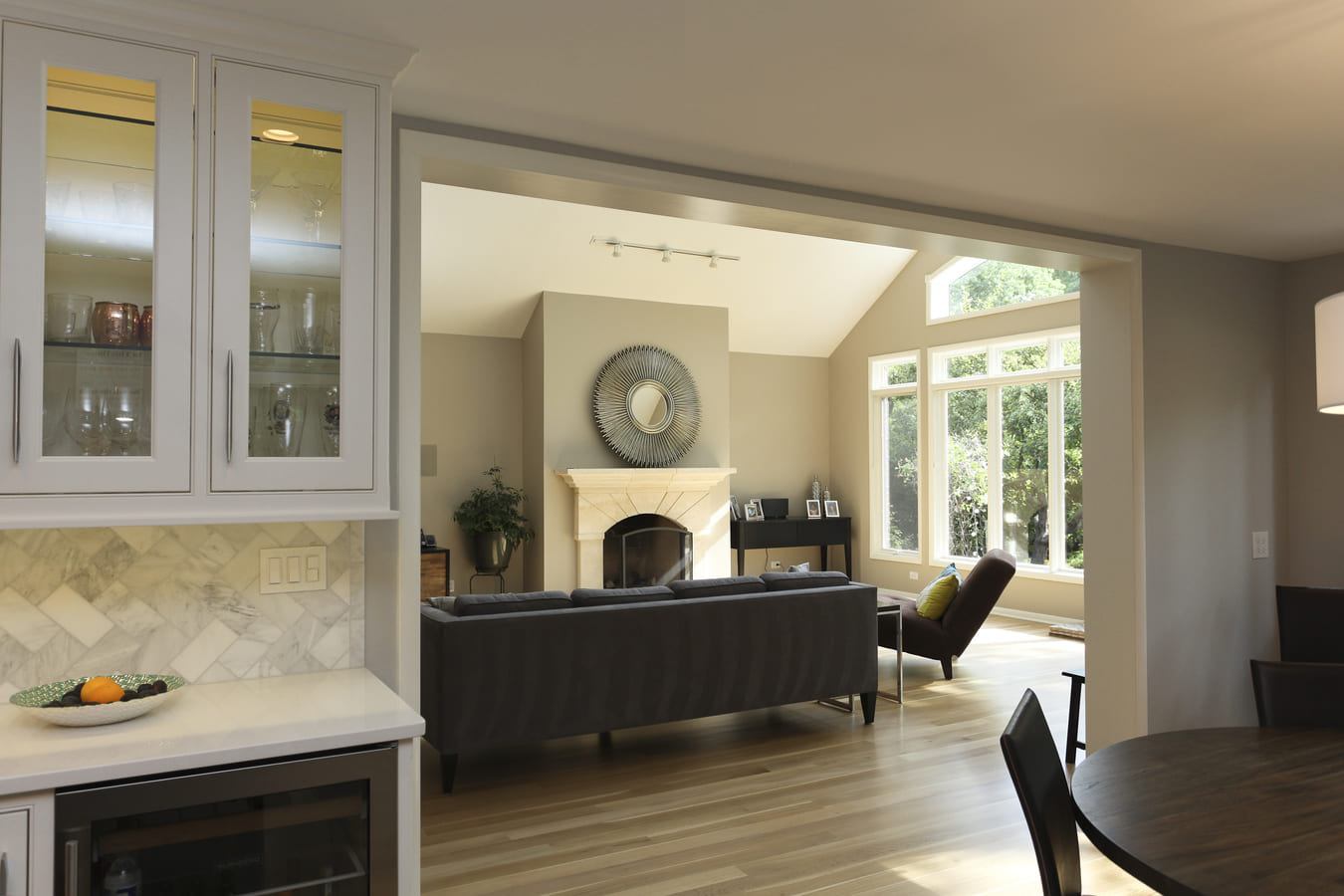 Upscale Master Suite Addition Near Chicago
According to the Remodeling 2022 Cost vs. Value Report, an upscale primary suite addition costs approximately $410,929 for a cost recoup of 46.1%. This number is based on a 32 by 20-foot addition over a crawlspace and includes a sleeping area, a sitting room, and a master bath. Custom work, like built-in storage, is included in this estimate, along with high-end features like a gas fireplace with a custom mantle. A walk-in closet is also included in this budget.
The master bathroom addition has two sinks with custom vanities and high-end countertops. A walk-in shower, freestanding soaker tub, and a partitioned area for the toilet are included. Also featured is a bar sink with custom cabinetry and small appliances like an under-counter refrigerator and microwave. In-floor heating and multiple lighting features are covered as well.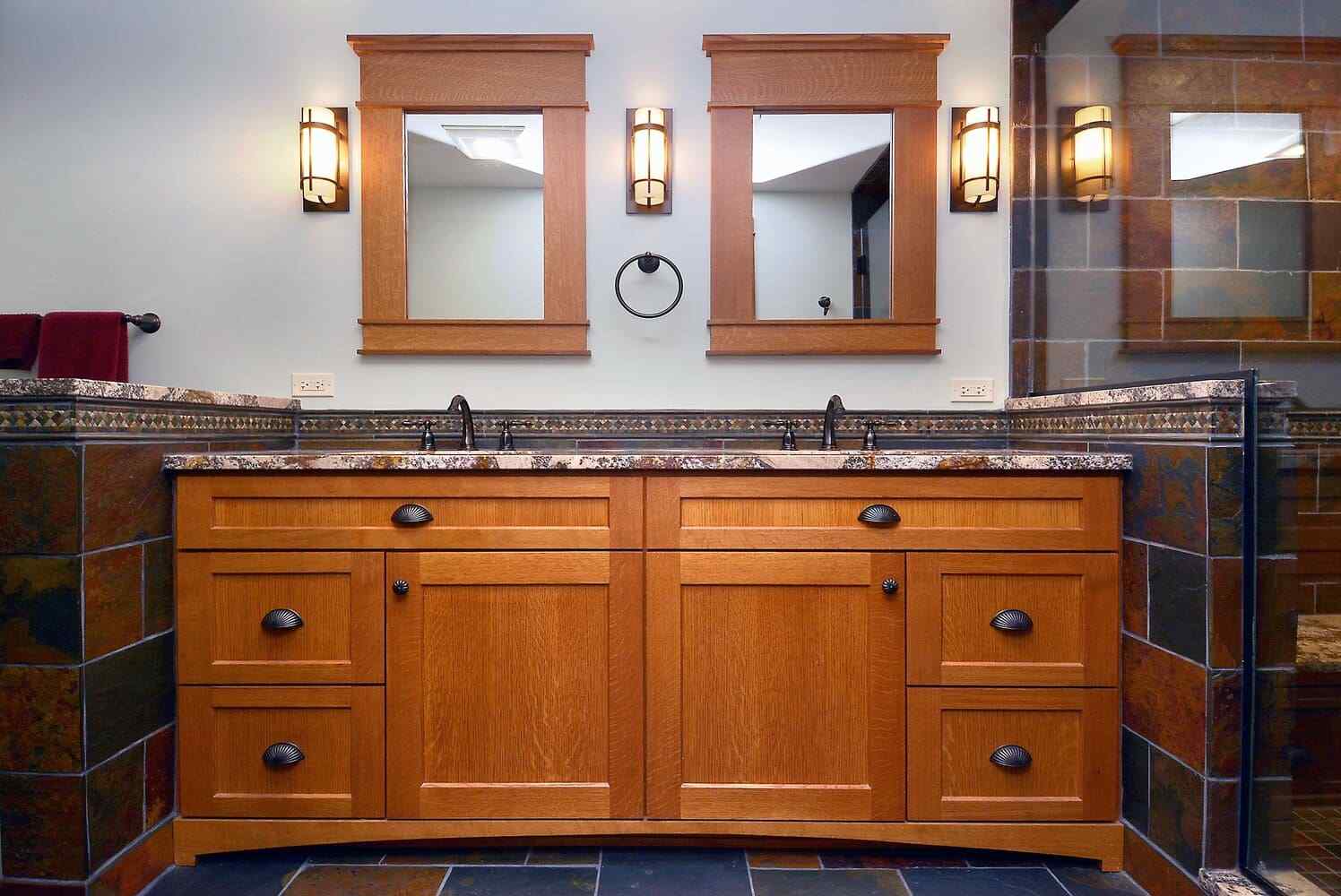 Upscale Bathroom Addition in Illinois
According to the Remodeling 2022 Cost vs. Value Report, the average cost of an upscale bathroom addition in Chicago was $131,248 and offered a cost recoup of 51.1%. This estimate is based on a new, 100-square-foot addition built over a crawlspace. It includes two sinks with stone countertops and mirrored medicine cabinets, as well as a frameless glass shower, a freestanding soaker tub, and a partitioned-off area for the toilet. In-floor heating, high-end lighting, large ceramic floor tiles, and other features like cabinetry with a custom base are included.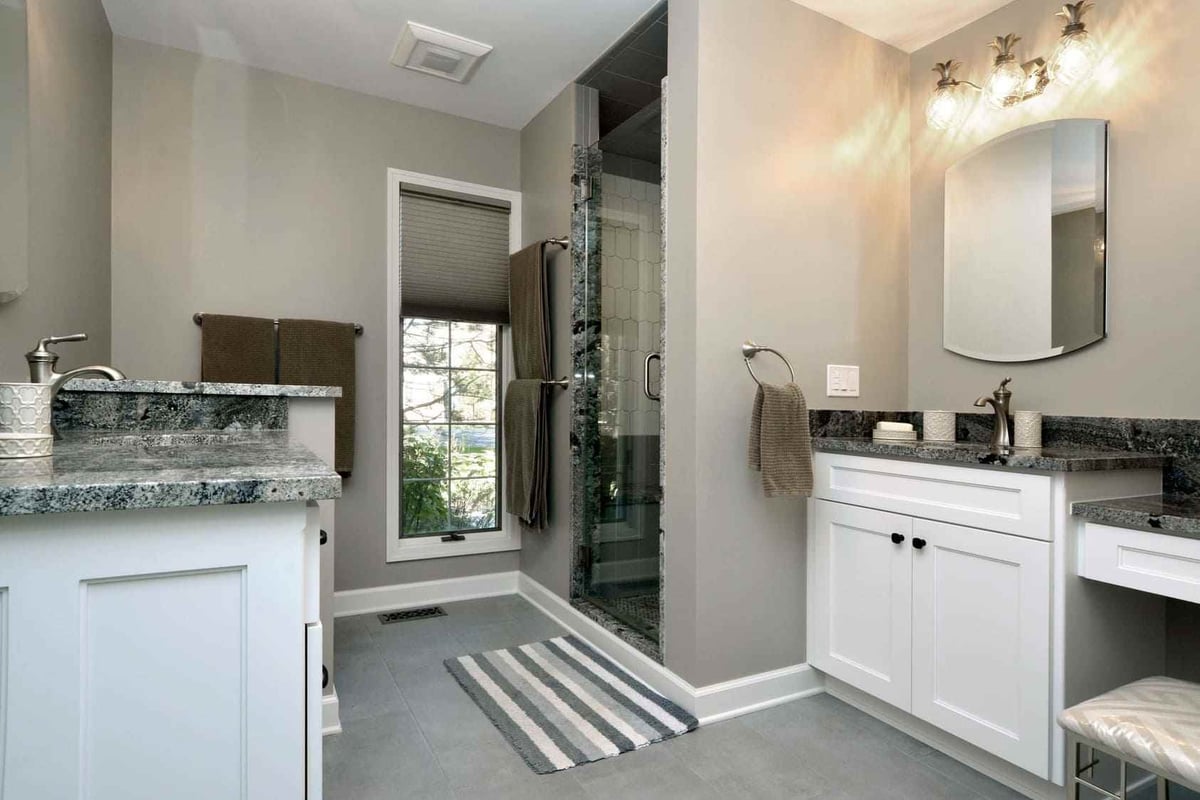 (Please note: © 2022 Hanley Wood Media Inc. Complete data from the Remodeling 2022 Cost vs. Value Report can be downloaded free at www.costvsvalue.com.)
Second Story Addition in Northwest Suburbs of Chicago
According to Home Advisor's Additions and Remodeling Cost Guides, vertical additions (adding a second story) are generally more expensive than horizontal additions (expanding your square footage out into your property). We'll talk about why when we address the factors that influence the price of your addition. Expect your addition cost to begin at $150 to $400 per square foot and extend up to $600 per square foot. The higher number reflects higher quality materials and more complex project requirements.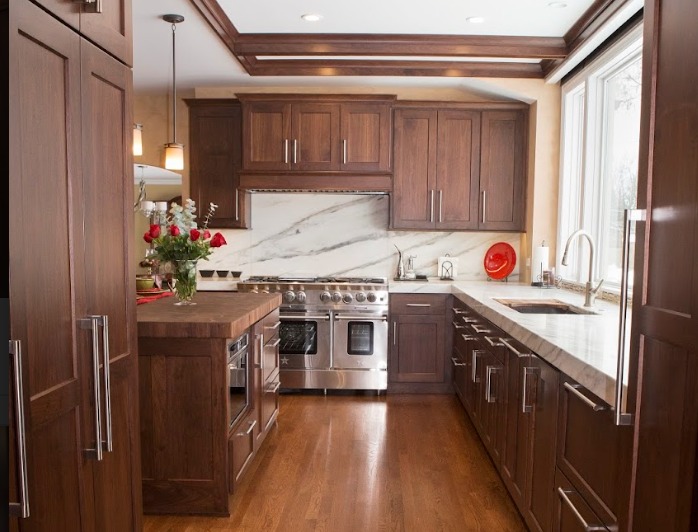 Basement Addition
If structural or local restrictions don't allow you to build up or out, you may want to consider a basement addition. Home Advisor's report quotes a basement addition that costs between $25,000 and $200,000. This range reflects several factors, like whether the basement addition will be used for storage whether the homeowner wants a fully finished basement, and which elements will be added. Adding a basement kitchenette or bathroom is more expensive than adding an extra bedroom, home office, or living room because of the plumbing, wiring, etc. Other important factors include the soil condition, the home's location, and the shape and footprint of the house.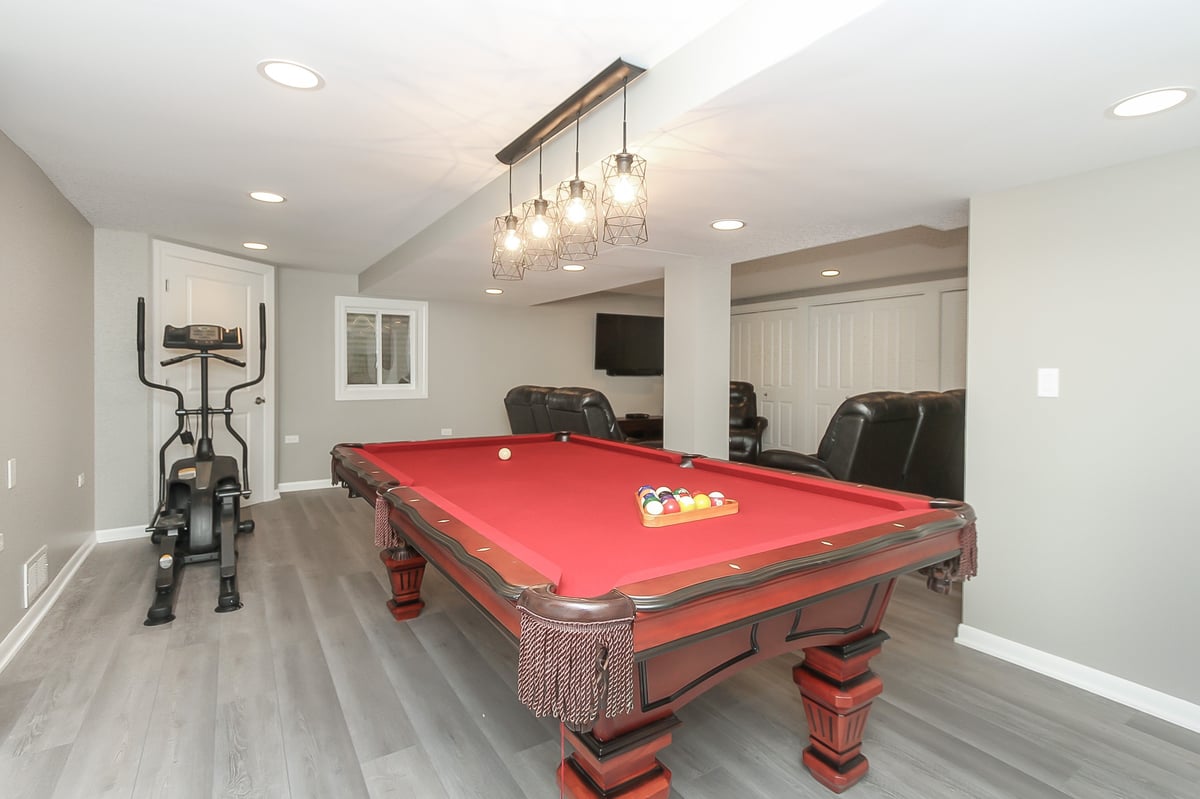 Other Remodeling Expenses

As you prepare your pocketbook for your home addition, be sure to factor in costs that aren't directly related to construction. For example, if you're planning a major addition - especially a basement addition or second-story addition - it may be more comfortable for you to move out of your house during construction. Because of this, you'll need to consider costs related to finding a temporary living arrangement while you're waiting for your home upgrades to be completed.
Factors That Influence the Cost of Your Project


1. Size
Bigger additions require more labor, time, and materials to complete. While many people anticipate a price per square foot, that is difficult to do as there are so many factors that impact this, and a square footage price ebbs and flows based on the size of the project. It is best to discuss the details with your design-build remodeler.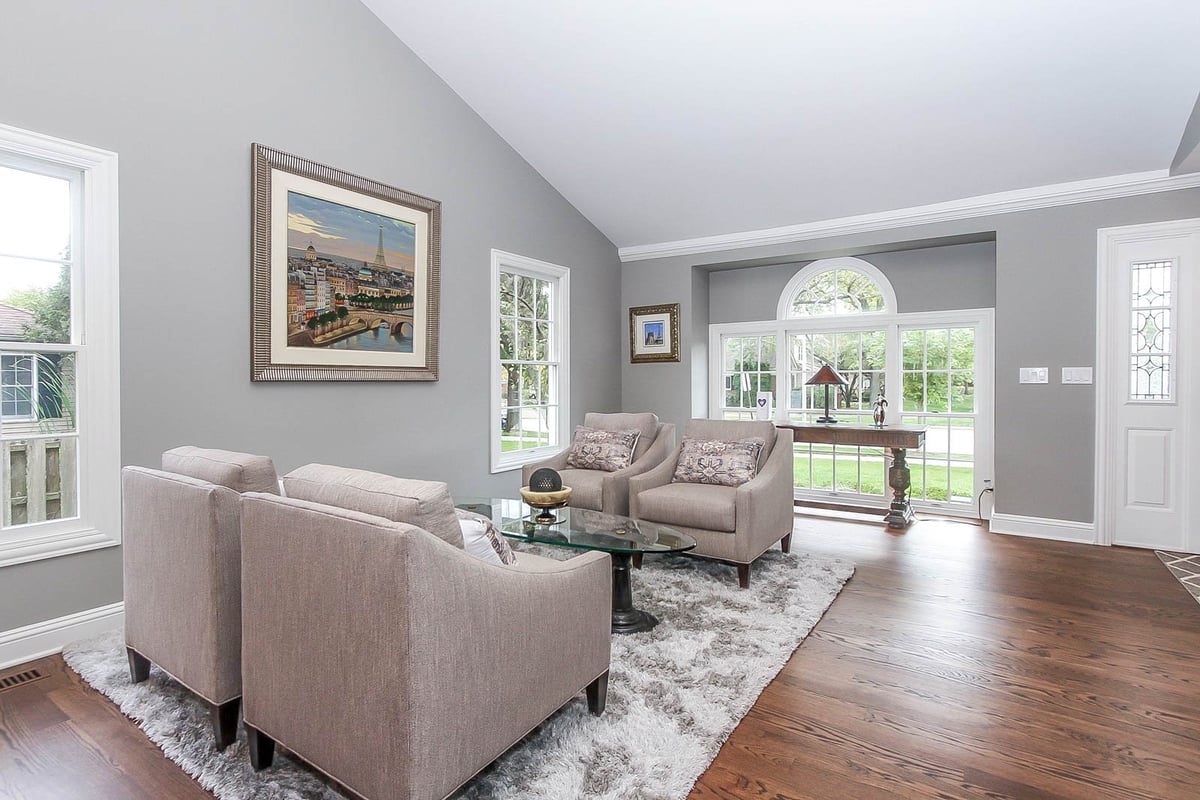 2. Plumbing, Electrical, Gas, HVAC
Moving, updating, or installing new plumbing, wiring, or HVAC takes time and involves skilled tradespeople. Additions that include significant rework or installation of these elements will be more expensive than those that do not.
3. Structural Work
If we are adding a second-story or a large first-story addition, we may need to modify your foundation to ensure your home is sound and solid. Moving or relocating walls, building a new staircase of a second-story addition, reinforcing an existing foundation, and other changes to your home's current structure will impact your bottom line.
4. Materials/Finishes
We've mentioned this, but it bears repeating. Higher quality materials cost more than budget building products but last far longer and stand up to everyday wear, which may save you money in the long run. When remodeling, remember that you are only doing this project once, so it is important to discuss with your remodeler what areas make sense to save a splurge.
Closing Considerations for Planning Your Addition

Zoning Restrictions
Whenever planning an addition, there are a few checkboxes you need to tick before you progress too far in your planning. In residential areas like Chicago and its suburbs like Arlington Heights, Barrington, and Mount Prospect, there are usually zoning restrictions that limit where you can build, how tall your new structures can be, how many square feet can be built on your lot, etc. Because of this, you should always check what you are and aren't able to do with your local building department. If you're working with a builder who has experience building additions, you can also utilize their expertise to ensure your plan aligns with local regulations.
Matching Style
You'll also want to take into account stylistic and architectural continuity between your existing structure and your new addition. It can be tempting to think of an addition as a blank slate to experiment with, but the most successful additions consider the aesthetic congruity of the spaces. For this reason, it is wise to partner with an experienced design-build remodeler who can help inform and enhance your vision, adding square footage and modern convenience while integrating your new addition seamlessly into your home's existing structure. We always tell our clients that the last thing we want is for their addition to look like an addition. Additions should flow seamlessly into your existing home and look as though they were a part of the original design.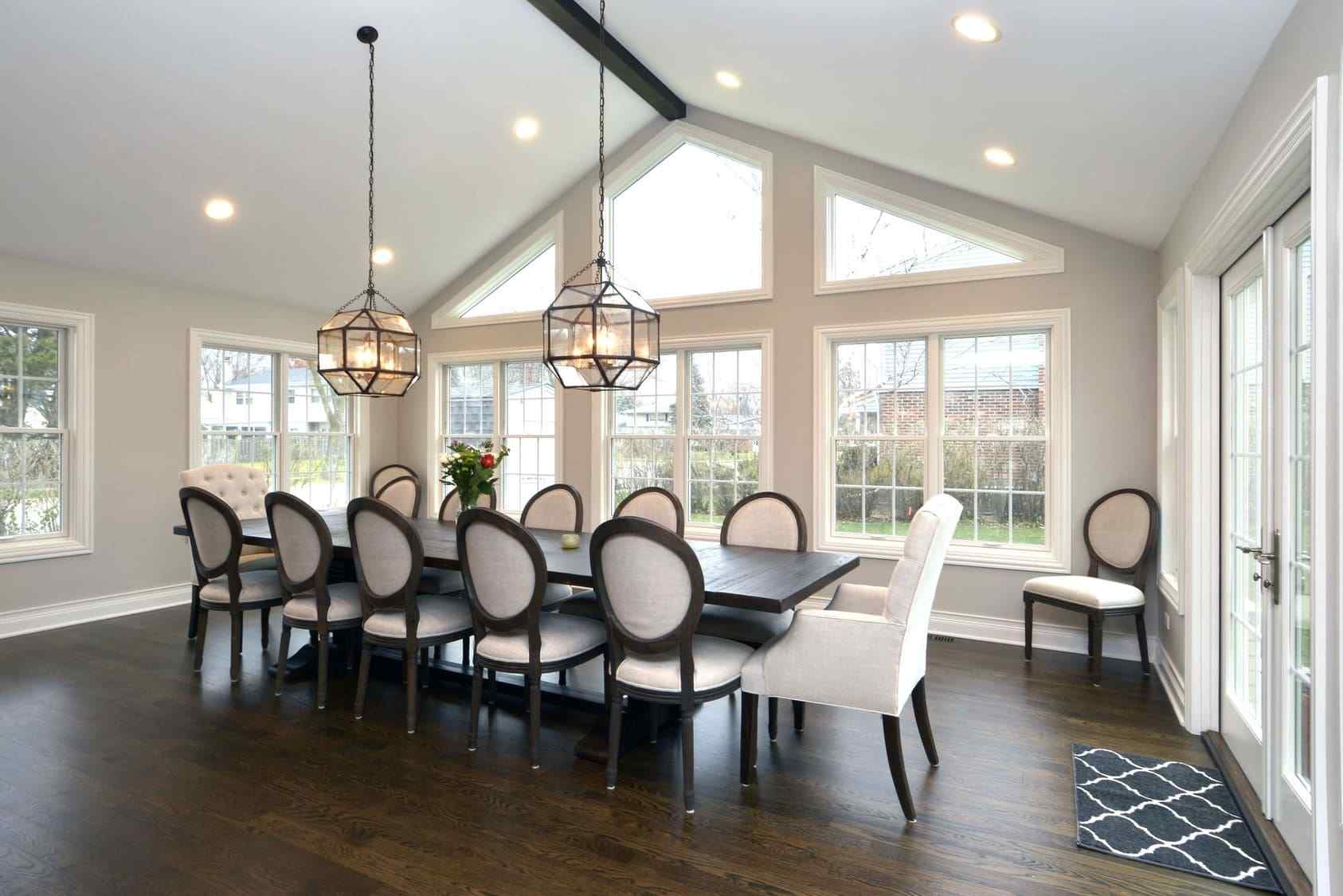 Home, Kitchen, and bathroom Remodeling Costs in Chicago Northwest Suburb Neighborhoods
You can also view some of our past addition projects to get some inspiration for your home addition! If you found this post on home additions helpful and are interested in viewing more remodeling costs for your home, bathroom, or kitchen, we invite you to download our premium guide below. You'll get access to remodeling costs in the neighborhoods of Chicago's northwest suburbs to help you plan the best renovation for your unique home!
This article uses data from the most recent Remodeling Cost vs. Value report, which pulls averages from 2022. Due to unprecedented market volatility and supply chain irregularities last year, some projects' residential construction prices in Chicago have increased up to 25%. Have a discussion with an experienced Chicago home addition contractor to know the most accurate and up-to-date building cost estimates. Now, it's more important than ever to hire a professional contractor with longstanding supply and labor relationships.
Learn how you can get started planning your home addition or home remodeling project by downloading the eBook "The Ultimate Step-by-Step Home Renovation Transformation Guide."