Our homes have been working double duty since March. While many of us were hoping things would be "back to normal" by now, the reality is many of us are still working from home. If you're in the Northwest Suburbs of Chicago, you've recently learned that your children are doing remote learning as well. It looks like our homes are going to continue being our sanctuary for a bit longer! So, let's view it in a positive light and figure out how to make our homes perfect for work and relaxation.

Spatial Planning
Successfully working from home, especially while homeschooling your children, starts with proper spatial planning. One of the concerns that many people have is where will these workstations be located? To determine that, you'll want to decide how many workstations you'll need, what each station will require and how large each will need to be. Once you have the count and size down, then you can start the spatial planning of each station.
An important step in spatial planning is determining what the space will need. For example, how much storage space is needed? What about power, outlets and lighting? How quiet does the space need to be? Do your children need home school assistance, or can you be working in separate areas of the home? All of these questions need to be answered to create or re-purpose a space that will become the ideal home office and home school environment. Once you've considered everything above, it's finally time to address where each workstation will be located.
Re-purposing An Existing Space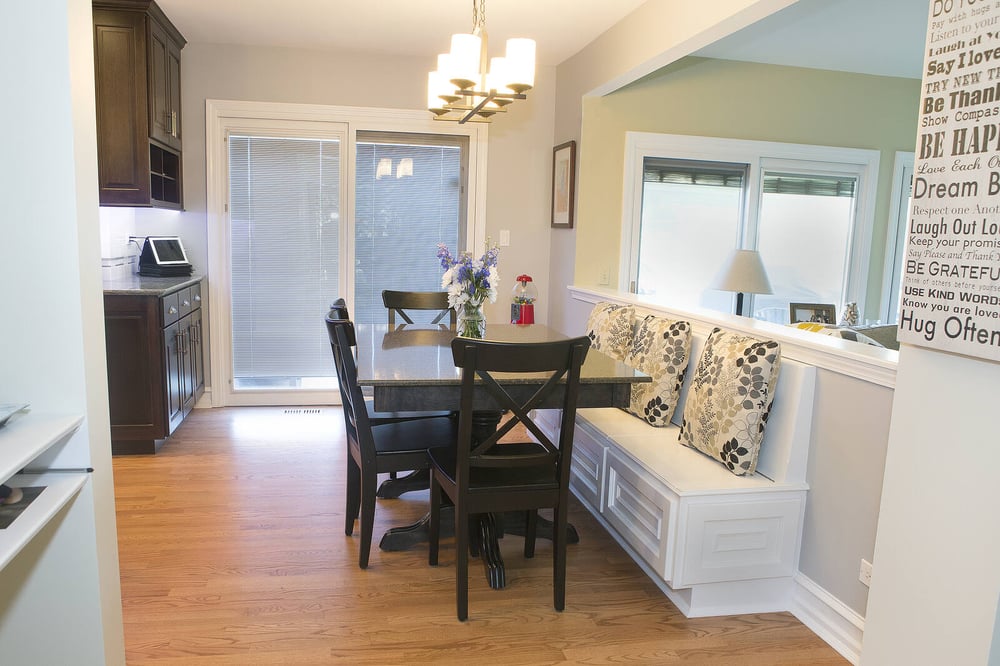 Banquet Seating in the Kitchen
If you have the space in your kitchen, you may consider banquet seating around one side of your kitchen table. This is a great way to add storage to your home and allow a space for children to do school work while still in your line of sight. The banquet can open up for them to store school supplies at the end of the day. It also can be built to include outlet ports for charging their devices overnight so they are ready for the next day. This is a simple option for families who have multiple children that will be studying together.
Spare Closets
Are there any spare closets in your home? Or if not, could you create a spare closet with some reorganization? A spare closet can be outfitted to create a mini office space. You can utilize the space to house a desk, computer, files, lighting and more. This is perfect for someone who works from home, but doesn't need too many monitors or quiet for phone calls.
Underneath the Stairs
If there is no spare closet space in your home, is there dead space beneath the stairs of your home? This space is often open to a living area and is underutilized in today's homes. It can be the perfect spot to slide in a small desk and a few shelves for storage. This is a nice option for people who plan to keep a close eye on children who are attending virtual classes. It allows you to stay in the heart of the home, while still having a dedicated work zone.
Spare Basement Space
No spare closets or space under the stairs? What about excess space in your basement? Even if you don't have a formal 'home office' in your basement, you can still use a portion of the space to create a quieter work environment. A desk, some cubbies and a lamp or two can allow you to create larger work stations than the options above. You can even use a stylish room divider to make the office space feel zoned off from the rest of the basement. This can be great for adults who are on the phone for a decent portion of their job. It can also be a fun way for children to help create their home school environment, especially if they are old enough to be independently working.
Creating New Space
If you've gone through all of the possibilities of re-purposing your existing space and it just isn't going to function properly for the long term, consider a remodel to help you create the perfect virtual office and school space. This is also a great option if your company has decided to make remote work a choice in the future. Remodeling for an office space can look as large as an addition or as simple as adding a built in desk. Take a look at the considerations below to determine what may be right for you.
Built In Desk
So you've evaluated all of your options and you just don't have existing space for the whole family to work and attend virtual classes. One of the simplest ways to create more space at home is to add a built in desk. Desks are often a popular addition to an open concept kitchen. They can be made of cabinetry to seamlessly flow into your kitchen space and allow for plenty of storage space. This means that you can 'put away your day' once the workday is complete. It's great for children as well because they can complete homework in a dedicated space of the kitchen even once school resumes.
Attic Space
If you have a lot of unused attic space above your home, that can make a great home office or school space. The framing is already in place, so you'll need to work with your design build team to determine how to maximize the existing space. While people often associated their attic as somewhere they want to avoid in their home, proper finishing can make it a great addition to your livable space. Insulation, drywall, proper electricity all will take the space a long way. Because attics tend to have lower ceilings, this is a good option for those who are ok with a seated desk, as opposed to a standing desk.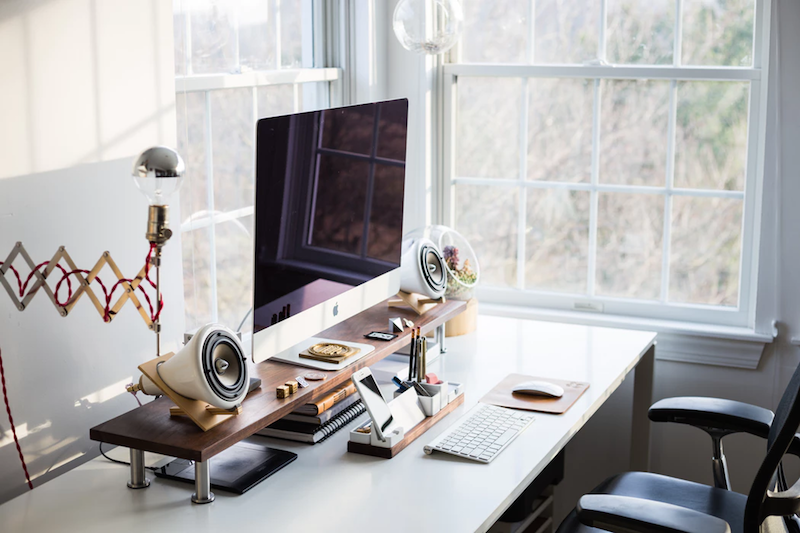 Flex Room
Creating a flex room in your home is a great way to add value to your home. Often times, a flex room is installed in a basement. This room tends to have a closet and egress window for it to meet the standards of a basement bedroom. Even if you don't need the bedroom space, a flex room is perfect for creating a home office. If this is the only portion of your basement that you are considering finishing, you'll want to ensure all of the interior walls and ceilings have sufficient insulation to help avoid noise transfer from the surrounding areas. This will help you during meetings or your children when attending virtual classes.
Dividing a Two Story Room
Many homes have a two story vaulted ceiling in the family or living room. While some people absolutely love the airiness and space this creates, others feel it is underutilized. If you're in the latter crowd, you may consider converting your two story room into two single story rooms. This would give you a standard height room on the first floor and an additional standard height room on the second floor. That second floor room can become the perfect place for homeschool and working from home. Because you are creating the room from scratch, you can design it to suit your exact needs.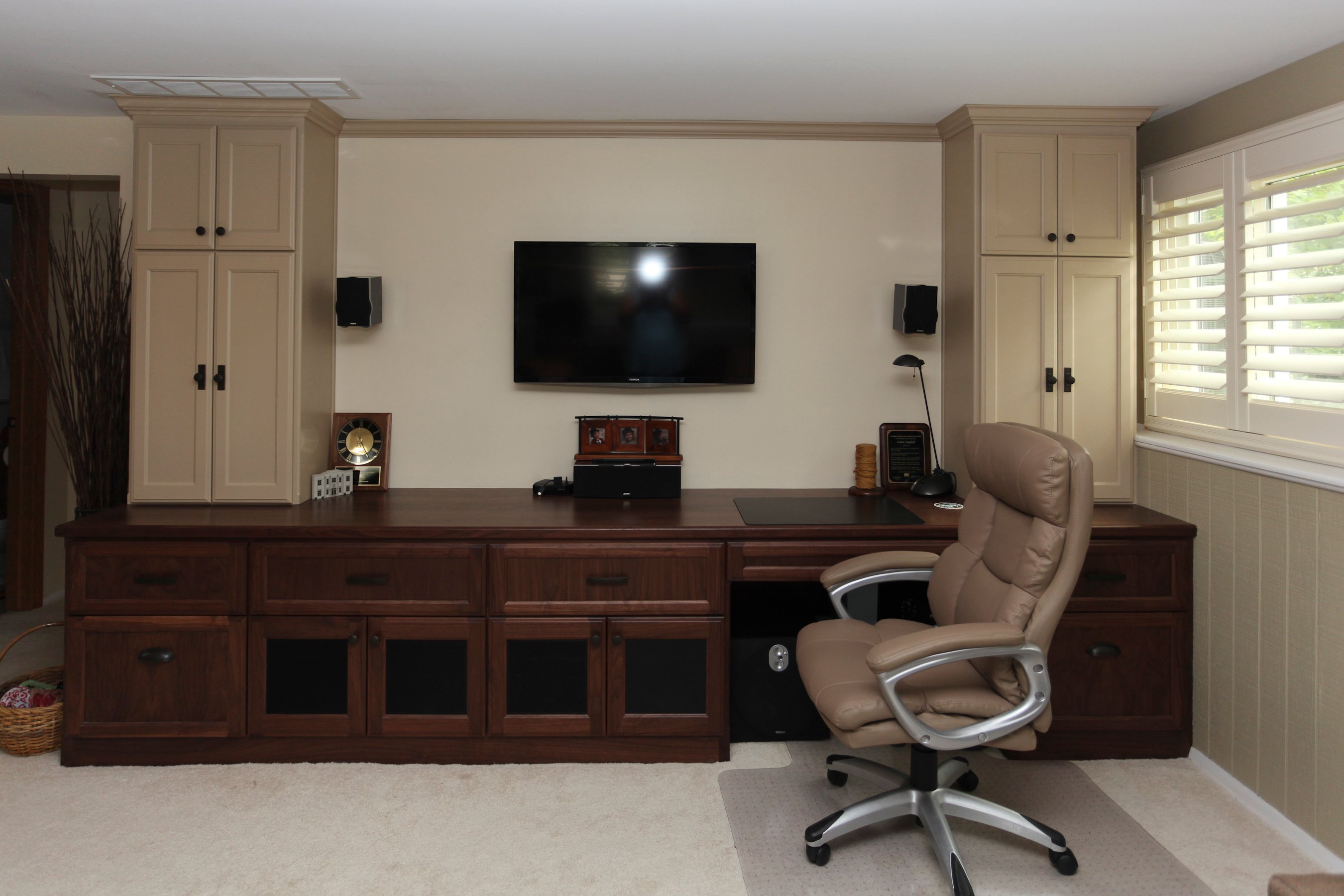 Basement Finishing
If your basement is currently unfinished, finishing your basement may be one of the best ways to create workspace in your home. Not only this, but it is a great way to increase the value of your home. When planning out the finishing of your basement be sure to think about the space in the view of your immediate needs, but also your long term needs. While it is a good idea to have a closed off office space for noise cancellation, you may also be able to get great use out of the open space for homeschooling or temporary office space. Discuss your ideas with your design build remodeler to maximize the space.
Office Addition
The most extensive option on this list is an office addition. This is a great idea for those of you who have an option to work from home indefinitely. Creating a completely new space from the ground up allows you much more control of the size, layout and design of the space. For example, if you'd like ample natural light and built in shelving, now is the time!This is also a great option for small business owners who would like some dedicated space to brainstorm at home. If you are designing this space for you and your children, be sure to allow enough storage for work related and school related items. Again, be forward thinking in how your needs may shift in the future and consider that in your design.

How to Get Started
While home offices and home schooling is top of mind because of the virus, remote work will likely continue to trend even once the virus is better controlled. Homes that have an office or workspace are more functional for today's lifestyles. Whether you are converting an existing space to an office or completely building something new, we'd love to help you design and build the home office of your dreams! Give us a call today at 847-358-4133 to start the conversation! We'll start with analyzing your needs and wants, create a design that works for you and your family and then create the space of your dreams!