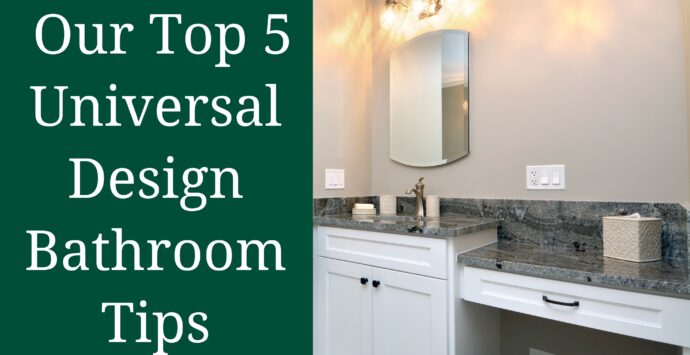 Universal Design Bathroom Tips
Universal design, also known as aging in place design, is the concept of designing a space that is safe and functional for the many years ahead of you. Often times, people are concerned about the aesthetics of universal design features making a home feel unattractive. We are here to tell you not to worry! These spaces can be functional, safe and beautiful. Below are five of our favorite features to prove just that.
Grab Bars
Grab bars have come a long way in the recent past. They are stylish and provide you with an opportunity for stability when entering and exiting a shower. You also may consider them along the back wall of the shower for stability while in the shower itself. They can be positioned horizontally or vertically, depending on their location. There are even small grab bars that can be incorporated into mounted soap dishes in your shower. If you are considering adding grab bars to your shower, be sure to talk to your contractor first. The framing of the shower will need to include blocking to secure the bars in place.
Folding Bench
Folding shower benches are often overlooked as a universal design feature, but they are a great one to consider. The bench can be left down for a shower seat when needed. As time or medical conditions change, they can be folded up to allow more room in the shower for a possible walker or wheelchair. As with the grab bars, be sure to talk with your remodeler about your bench preference early on in the design of the project. Wood blocking will need to be in place behind the tile to keep the bench secure.
Zero Threshold
Zero threshold, or curbless shower entries, mean that there is no step up and over into the shower. While this may not be something you are concerned about at the moment, this may change in the future. A full threshold makes shower entry difficult and unsafe if you use a walker or wheelchair. A zero threshold entry allows for someone to safely walk or wheel into the shower. The shower layout will need to be adjusted for a zero threshold entry. A small pitch will be put toward the center drain to prevent water from pooling and you may even consider additional draining at the entry.
Tile and Grout Considerations
Tiles that have texture help to create an anti slip surface. A tile such as a tumbled stone is great for this purpose. You will want to ensure that the tile has soft edges though to allow for easy movement for a wheelchair or walker. Another consideration is a smaller format tile that inherently will have more grout lines. The grout will help to add traction to the floor. When shopping for tile, remember that the surface will change when it is wet, so it's better to err on the side of caution when it comes to tile texture.
Open Bottom Vanity
When designing the vanity area of your bathroom, consider leaving a portion of the vanity open on the bottom. This allows you to still have storage, but also to have a space that will be wheelchair accessible. You can design the open vanity portion with a lap style drawer, similar size to a pencil drawer on a desk, to store daily essentials.
There are plenty of considerations when designing a universal bathroom, but these are a great start to discuss with your design build remodeler. Be sure to be honest with any safety concerns that you have now or may have in the future. The more information you can provide your designer, the better he or she is able to create a safe and functional space for you.
If a universal design bathroom is something that you are considering, give us a call today at 847-380-8189 or fill out our contact us form. We'd love to help you design and build a bathroom that you'll love for years to come.
Written By Katie Finn