Flooring, quite literally, grounds your space so it can be an exciting, but overwhelming decision in the remodeling process. Our clients always ask us what flooring seems current, without being too trendy. Today, we're diving into popular flooring trends for 2020 and beyond for the Northwest Suburbs of Chicago.

Hardwood
One of the first types of flooring that comes to mind when considering a remodeling project is hardwood flooring. This is often due to the fact that many homeowners have existing hardwood floors in their home, so they are familiar with it. When it comes to hardwood flooring, the question becomes do you choose a dark stain or a lighter one?
Our clients are pretty evenly split between dark and lighter stains. A darker stained floor is popular for our clients who are looking for a richer, more traditional look in their home. Typically those who opt for a darker stain, tend to have darker more elegant feeling furniture and decor throughout the home. Dark stains are often applied to red oak planks to maximize the wood tones and durability.
On the other hand, those who are looking for a more modern and breezy look tend to opt for a brighter, lighter stain. A light stained hardwood floor is perfect for someone who has a slightly more casual feel to their home. Lighter stains are often applied to white oak planks to keep the brighter undertones of the wood. Because the stain is less dramatic, a lighter color can help to hide scuffs and scratches.
Engineered Hardwood
Engineered hardwood is often confused with both regular hardwood and laminate flooring, but in reality it is a completely different product! Engineered hardwood typically has a plywood base with a hardwood veneer on the top. It can be a great option for people who want the look of hardwood, but would prefer a more budget friendly choice.
If you are considering engineered hardwood in your home, be sure to choose a high quality brand that has a thicker piece of hardwood on top. This is an important consideration because as time goes on you may want to refinish your floors. If the veneer piece is too thin, you won't be able to sand the floors without sanding down to the plywood layer. Ideally, you should be able to comfortably refinish the floors three times.

Luxury Vinyl
Luxury vinyl planks, or LVP, is something that many people have heard of, but don't quite understand. However, it is continuing to trend and for good reason! Luxury and vinyl may seem contradictory, but in the right application, luxury vinyl planks can be the perfect product. Higher end LVP is durable, waterproof and has very realistic wood tones. It is a popular choice for basements due to it's waterproof properties. LVP comes in a variety of colors, finishes and variations.
A similar product, luxury vinyl tile, or LVT, is a tile looking vinyl. Some people use the terms interchangeably, but plank is usually used to describe the wood look. LVT is a common choice for basements and mudrooms. Typically the tile styles come in cooler tones and have less variation to mimic a porcelain tile. The installation time for LVT is significantly quicker than tile installation which aids in it's popularity.
Graphic Tiles
Graphic tiles have been popular for years, but continue to be a showstopper that people want to incorporate into their homes. Graphic tiles can work in various home styles- traditional, transitional and modern. The application, grout color and tile itself all will help define the style of the space. You can choose brighter tiles for a more modern approach, or neutral tiles for something that looks a bit more traditional. A grout color similar to the base of the tile will make the pattern seamlessly flow from tile to tile.
While graphic tiles are often seen as a backsplash in kitchens, they can be a great accent to an entry or bathroom. In a bathroom, they can be a statement piece as the main floor of the bathroom. If that space seems too large for the patterned tile, you may want to consider using them on your shower floor.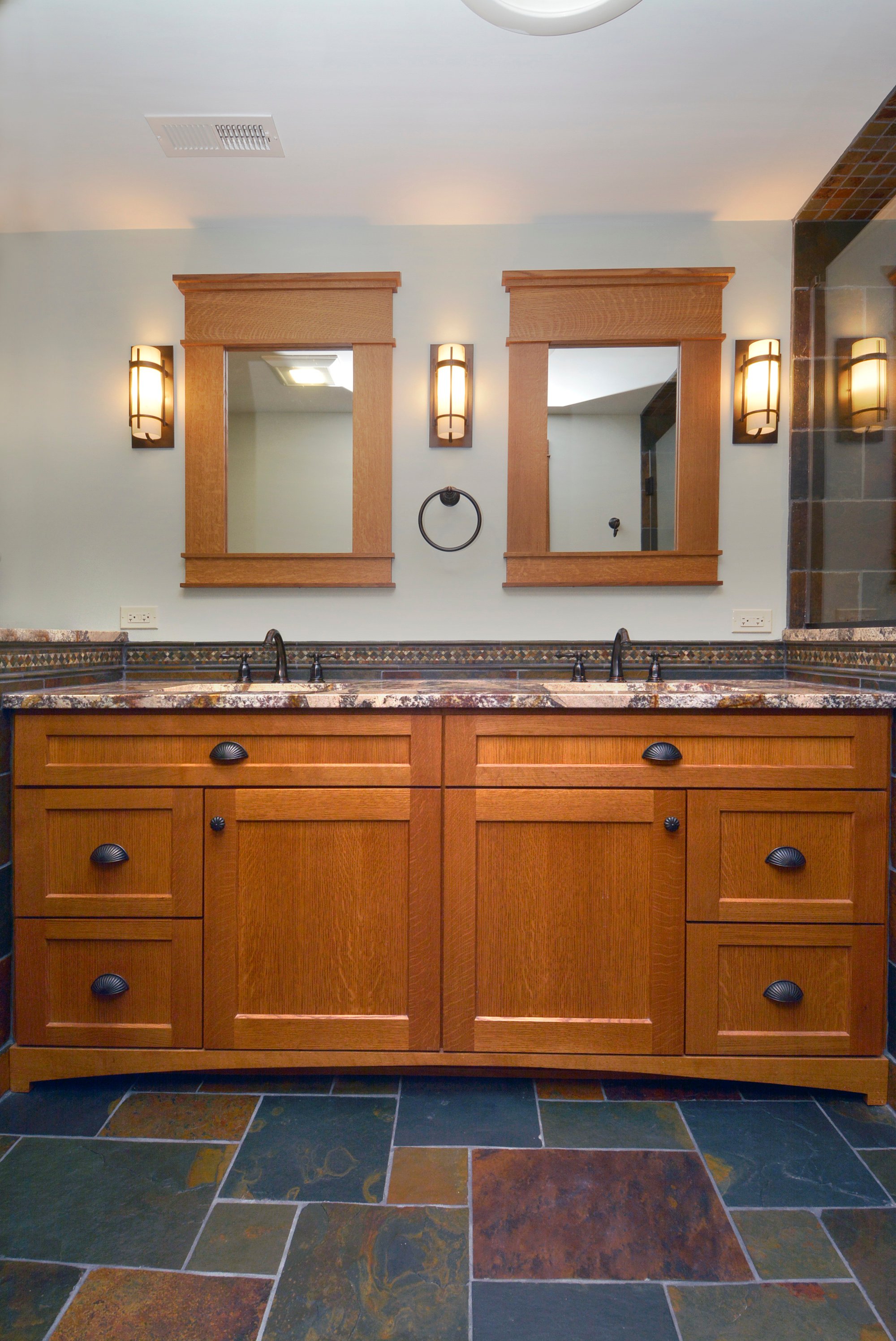 Large Format Tiles
If LVT isn't for you, large format tiles are also trending right now. Large format tiles can help a room feel expansive and spacious. Typically large format tile is considered anything that extends beyond 12''x12''. Their size makes them easier to install than smaller tile which aids in their popularity. These tiles can be laid out in a variety of patterns, but the most common are brick patterns (halves), thirds or a grid (stacked) pattern. The brick and thirds tend to lean a bit more traditional, while the grid pattern is common in more modern applications.
Large format tile is also great because of the lack of groutlines- which means it is easier to maintain overtime. If you like the look of large format tile, but still want to add a little bit more interest, you could choose a Versailles layout that combines large, medium and smaller format tiles.

While all of these choices are very popular, you have to determine what is best for you, your lifestyle, your budget and style. Each option is durable and can completely transform a space! If you are replacing flooring in your home, it is important to do your research on the products you are considering to find the right fit for you. If you're looking for help in this process, give us a call at 847-358-4133 for our design build team to help you choose and install the perfect flooring for you.