Do you wish you had a room in your home for when you need to get work done? Wish your child had a place to complete their homework in peace? A home office designed and built by Patrick A. Finn could be just what you need!
Keep reading to learn how to create the perfect home office in your Chicagoland home.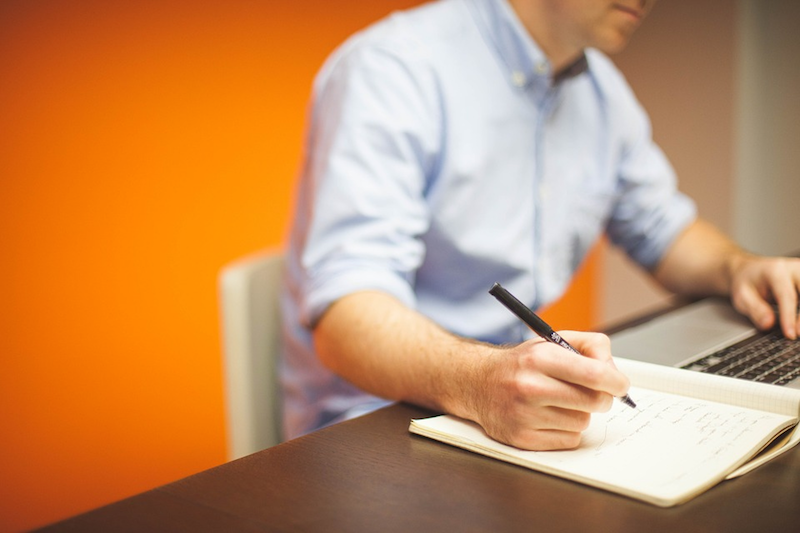 Develop an understanding of how you'll use your home office
Before deciding on a direction for your home office, make sure to fully flesh out the main purpose of your home office. Once you've developed an understanding of how you'll use the space, you can start making decisions on what the space will look like and how it will be built.
Consider:
Will this be a primary workspace?
If so, is it for a business/organization or for personal projects?
How many hours a week will you spend in the space?
When will you be working in the space (day/night and weekday/weekend)?
Will you be the only one using the space?
Find a space that works
Not all home office spaces are created equal. For most homeowners building a home office, the space will be somewhere they spend a lot of time. The space should be perfect for getting work done and feeling comfortable.
Some things to consider when choosing a space for a home office:
Size: It should be large enough for you to fit your desk, additional seating, and storage. Those who try to jam all of their home office needs into an extremely small space are usually not satisfied.
Location: Make sure it's convenient. Your home office should be far enough away from the busy area of your home so you can achieve peace and be productive, but close enough that you can start a load of laundry if you need to.
Shape: We've worked with many homeowners who've tried to fit a home office into a large closet. This doesn't always work! Make sure the space you've chosen can be configured in a way that you'll feel comfortable and productive.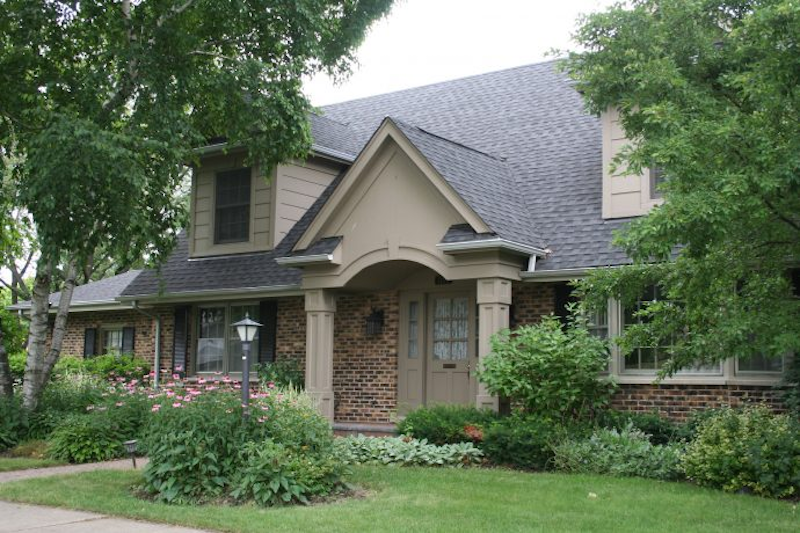 Home office addition
Consider a home office addition. Completed as either part of a larger home addition and remodeling project or as a stand alone project, a home office addition can give you the space you're looking for.
In addition to creating a space that's the right size and shape, you'll be given the opportunity to choose the materials you want and direct our team to create the home office of your dreams.
At Patrick A. Finn, our specialty is building home additions that feel like they've always been a part of your home and are seamlessly integrated to fit not only your space, but your life.
Learn more about how we can help you build the home office of your dreams.
A layout focused on focus
Chances are, you want your office to be a place where you can be productive. To do this, we recommend a layout designed around a central desk. Make sure there is enough space to allow for your desk to sit comfortably and so you don't feel cramped.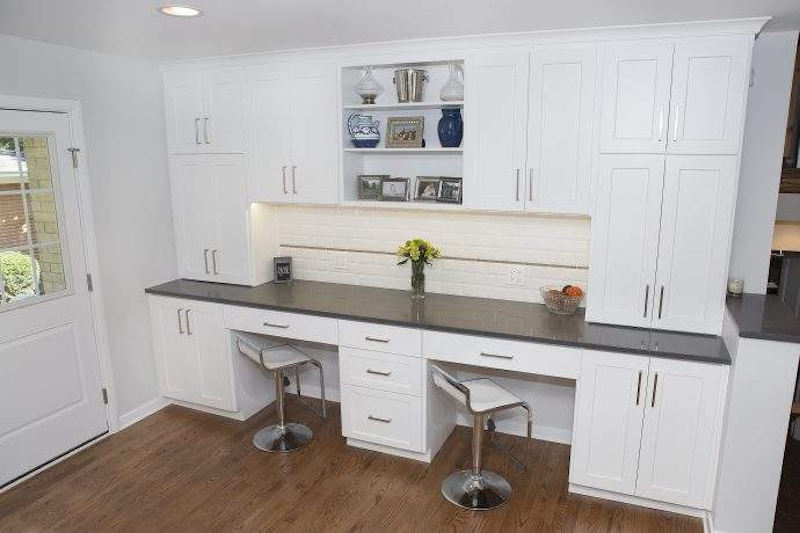 Get the storage right
Is there anything harder than trying to be productive when there's a mess in your work space? Proper storage in your home office will lead to higher productivity, a better looking space, and a clearer mind.
When you have the right amount and type of storage to suit your needs, you won't just have things lying around. This doesn't have to be large storage units, either! A simple basket to hold your mail or file holder for important documents can do wonders for your organization — and your sanity!
Built-in storage
A great option for larger storage solution for your home office are built-ins. Built-ins are built directly into your home and reflect your exact storage needs and style direction. They can also be built into spaces you normally couldn't find furniture to fit into.
Some great built-in storage options for home offices include:
Shelves
Cabinets
Cubbies
Benches with storage underneath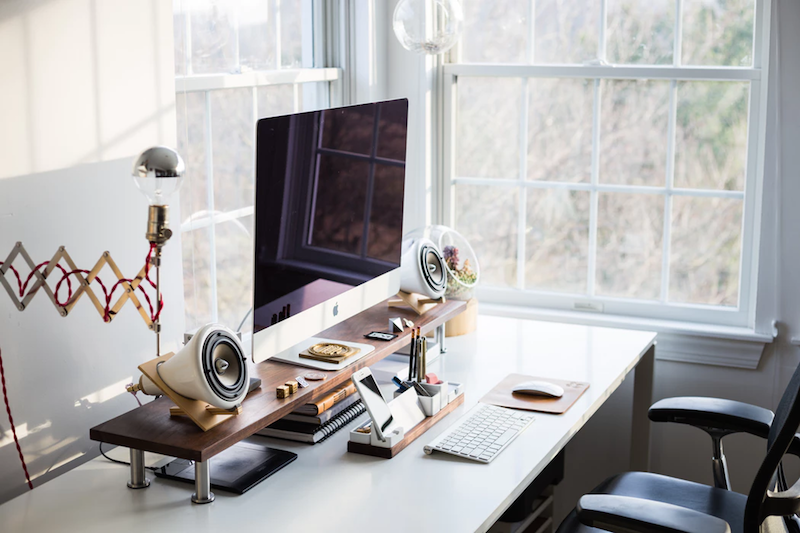 Invest in the desk!
Your desk is an item to splurge on. Not only should it functionally fit your needs, it should also fit your personal style and inspire your work.
Different options work great for different individuals and types of workers. Do you just need a place to plop your laptop and legal pad? A simple desk with no additional storage is perfect. Looking for a place for a couple monitors, multiple file cabinets, and a printer? A more elaborate desk with compartments will more likely fit your bill.
Most importantly, choose the one that you connect with and will fit your workflow.
Windows — and not just for natural light
We all know the benefits of natural light. Not only does it make you happier and make your room look more visually stunning, it can actually make you more physically healthy, too.
But another aspect of large windows and natural light is an important one when you're trying to get work done — a view! Just make sure you don't position your desk so that bright sunlight will be putting glare on your computer screen.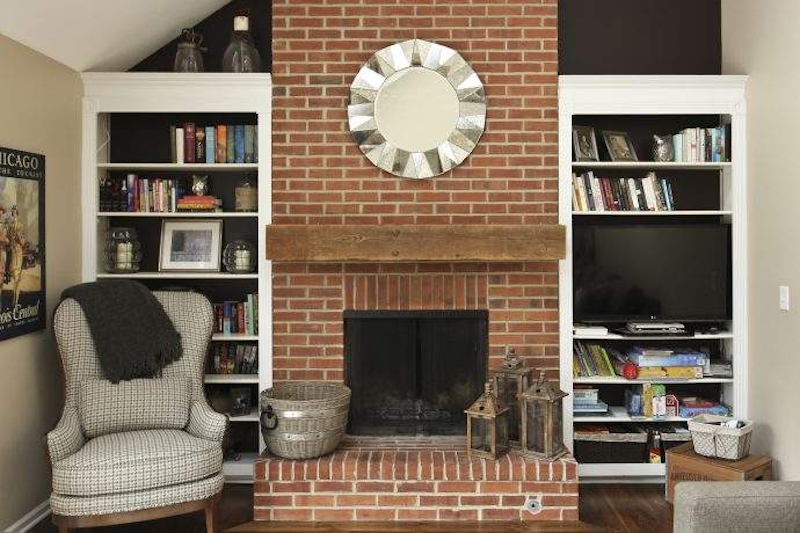 A style to inspire!
When you work in a place that reflects you, good work will follow. The style and interior design of your home office should be one that inspires great work. Some inspiring style ideas we love include:
Artwork
House plants
Collectables
Photographs of loved ones
Rugs
Funky lamps
The world is your oyster when it comes to decorating your home office. Remember, this is a place for you. Your personal style should be front and center.
Patrick A. Finn can help you design your very own dream office
At Patrick A. Finn, we know a thing or two about designing home offices. Our design-build remodelers can help you improve an existing space or complete a home addition to create the perfect home office. Contact us today to get started!