Renovating a bathroom can be as exhilarating as it is intimidating - after all, it's where we start and end our day, and a well-designed space can make all the difference. Your bathroom should be more than just a functional space-- you deserve a place where you can start and end your day feeling comfortable, refreshed, and a little bit luxurious. If this isn't the case, maybe it's time to remodel your bathroom.
Planning ahead is the key to a stress-free and successful bathroom renovation project. Take time to lay the groundwork and you'll ensure your remodeled bathroom is the beautiful space you've always wanted, and the process of remodeling it unfolds as you expect.
Take a look below at our collection of expert tips and advice for planning a successful bathroom remodel. Then give us a call to find out how we can partner together to make your bathroom remodel a reality.

Ask Yourself Why
Wondering where to start when planning a bathroom remodel? The first step in planning a bathroom remodel is to think about your goals for the project. This requires asking yourself "Why?" Why do you want to redo your bathroom? Why is this project important to you? This will guide your decisions throughout your project.
There are three primary reasons why people decide to remodel. Your reason may be one of these things or a combination of all three.

Resale Value
If you plan on selling your house in the future, the goal of your remodel will be to attract potential buyers. While you can't anticipate the exact needs of a buyer, you can research what styles and designs appeal to the majority of house hunters. If you're remodeling for resale, you'll want to steer clear of ultra-trendy or bold design choices.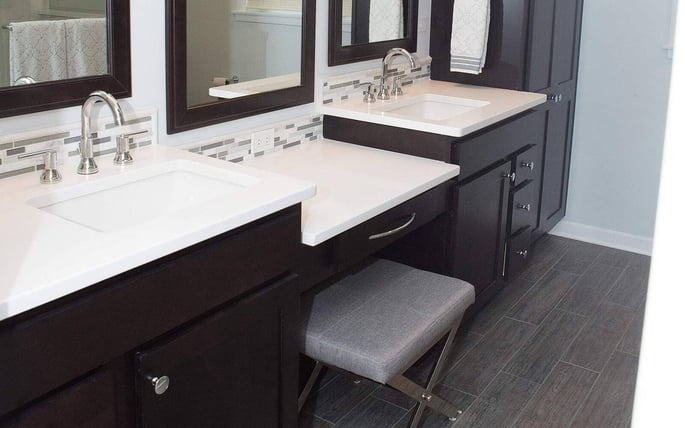 Better Functionality and Features
Maybe the space in your bathroom isn't being utilized to its full potential. Perhaps there are certain features you've always wanted that would make the space more accessible or comfortable. For instance, a walk-in shower, a soaker tub, more natural lighting, or two sinks instead of one. Remodels, where you are changing or moving features or updating the layout, are more likely to require gutting the bathroom and building something new or creating a bathroom addition.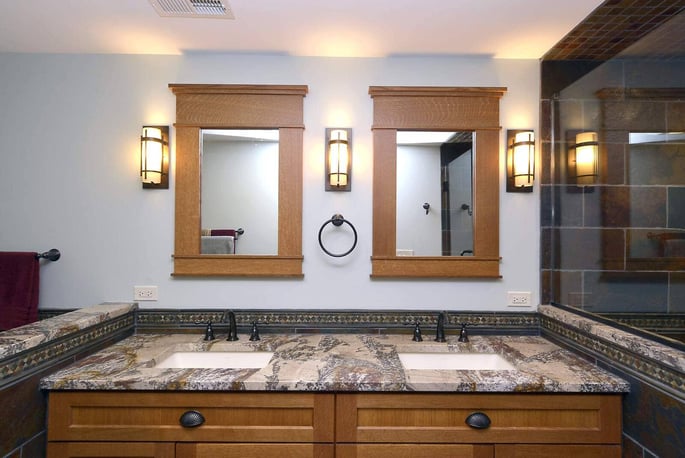 New Look
Many people simply want to refresh the look of their bathroom. This type of remodel is typically focused on replacing materials, like faucets, shower heads, or cabinets with something that delights instead of offends the senses and brings the bathroom up-to-date.
Determine Your Budget
Setting a budget will help guide you as you make decisions about what to include in your bathroom remodel. If you plan to finance your remodel with a loan, be sure to talk to your lender about your options and the amount that you qualify to borrow. Sharing your budget when you first meet with your remodeler is important to start out on the same page.
A trusted bathroom remodeler can work within your budget and help you understand how much you can expect to spend on labor and materials.
Of course, it's always a good idea to keep a little wiggle room in your budget in case something unexpected comes up. Head here for more comprehensive information and tips on budgeting for your remodel in the Northwest Suburbs of Chicago.

Think About Your Time Frame
How extensive is your bathroom remodel? When does your project need to be finished? Do you have a hard deadline?
You'll need to plan ahead and give yourself enough time to meet any specific deadlines. When determining your timeline, think beyond the actual remodel. Other intermediate steps to consider are finding a remodeling contractor, scheduling a consultation, creating a design, scheduling subcontractors, and ordering materials.
This planning step is an especially crucial step for those who only have one bathroom in the house. If so, you'll need to make arrangements for when the shower and toilet are unusable.
One last timing tip: Plan your timeline, but be flexible to make adjustments based on recommendations from your remodeler.
Look for Inspiration
It's time to think about what you envision for your remodel. Dream big and get inspired! Think about both the design and look you want for your bathroom as well as its functionality.
To help you get inspired, we recommend doing some online research and viewing pictures of your favorite designs. As you research, identify your preference in the following areas:
Paint color
Tile/flooring
Faucets and shower head finishing
Cabinets
Shower/bathtub
Light fixtures
Houzz and Pinterest are great resources for determining your style preferences. Save enough photos and you'll likely notice a trend in the type of bathroom style you prefer. We also recommend you review a few of the bathroom remodeling projects we've completed in the area.
Here are a few past bathroom remodels you may be interested in: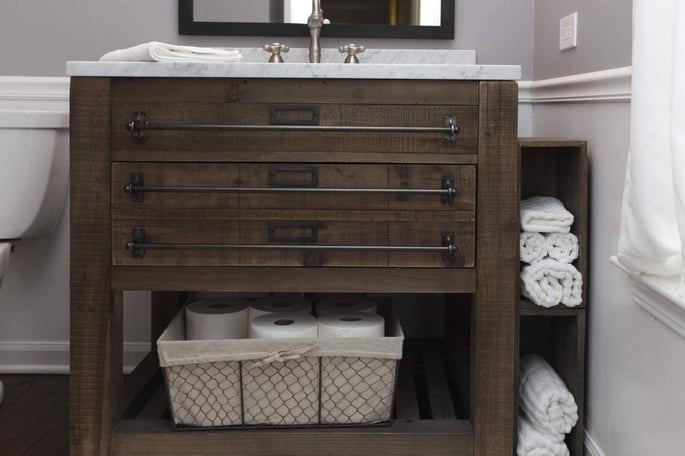 Don't Forget About Storage
Ample storage space can make a huge difference in your bathroom, but you'll need to think beyond just linen closets and medicine cabinets. If you really want to create a functional, comfortable bathroom, consider how you use the space on a daily basis.
Here are a few unique bathroom storage ideas that make all the difference:
Shower niches or corner shelves for shampoo, condition, and other products.
Charging drawers to cut electrical cord clutter.
Toilet roll and towel storage space-- whether it's custom cabinets or ladder shelving.
Custom drawer dividers to help organize items like makeup, razors, brushes, and more.
Try not to get too stuck on one specific storage or design idea. Instead, use your ideas and inspiration as a guide to help you create a plan. Depending on your budget, your home layout, or your timeline, certain aspects of your vision may not be financially or physically possible. Only an experienced remodeler can help you translate your inspiration into a realistic remodeling plan you love.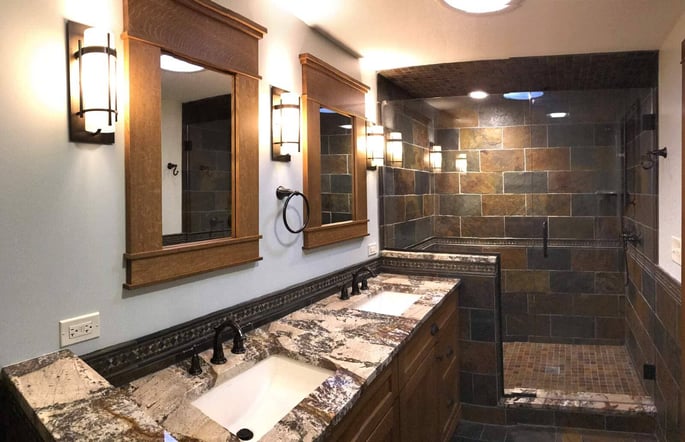 Choose A Trusted Remodeling, Design & Construction Team
The next step in planning your bathroom remodel is to choose a remodeling contractor to execute your vision with integrity. Ask friends and family for recommendations and visit websites. Narrow your selection to a few before you start getting quotes to avoid becoming overwhelmed. Home improvement expos are an excellent way to check out several professionals in a short time. Be sure to ask about references and quotes in writing.
At Patrick A. Finn, we take pride in providing functional and beautiful bathroom remodels you'll love. Our goal is to transform your bathroom into the space you've always wanted.
If you live in Arlington Heights, Barrington, Mount Prospect, Palatine, or the surrounding communities in the Northwest Suburbs of Chicago, we'd love to talk to you about your bathroom remodel. Whether you need a simple update or complete renovation, we have the experience to expertly manage your entire project from start to finish.
Learn About Your Contractor's Bathroom Remodeling Process
Homeowners throughout the greater Chicago area trust our remodeling process., but are still curious about the order of a bathroom remodel. We've summarized it for you here to give you an idea about what to expect during a bathroom remodel.
Consultation & Design Plan: During your initial consultation, our designers get to know you, your house, and your vision. We'll work with you to outline a timeline, budget, and detailed remodeling plan, so you know exactly what to expect and when.
Obtaining Materials & Building Permits: Once your plan is finalized, we'll help you source all the materials needed for your remodel. We'll also handle all necessary building permits.
High-Quality Remodel: We'll stay in communication with you throughout the entire remodel process. We'll work with you every step of the way to ensure your remodel meets your vision.
We're dedicated to making your bathroom remodeling process as efficient as possible. We want to produce results that you absolutely love!
To learn more about Patrick A Finn's fantastic bathroom remodeling services, contact us online to schedule a consultation. We look forward to hearing from you!