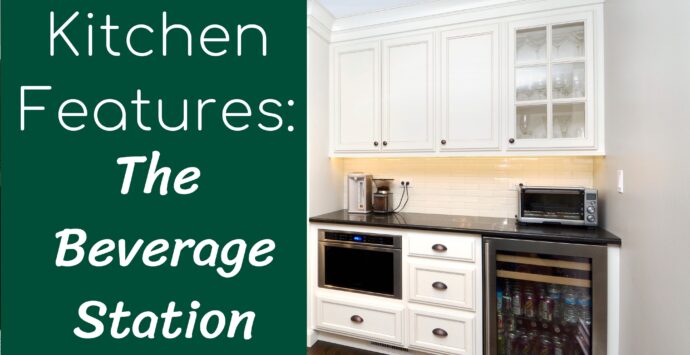 Kitchen Features: The Beverage Station
Kitchen remodels are full of essential decisions. What accessories should you include in your cabinets? How big should your island be? What kind of appliances should you choose? The list goes on and on. Today we are focusing on a kitchen feature that many people love to plan out in their kitchen- the beverage station!
What is a beverage station?
The term can apply to any area of the kitchen specifically designed for a variety of beverages that you may enjoy throughout your day. Yes, that means everything from coffee to an evening cocktail. The planning of this space is completely dependent on your needs.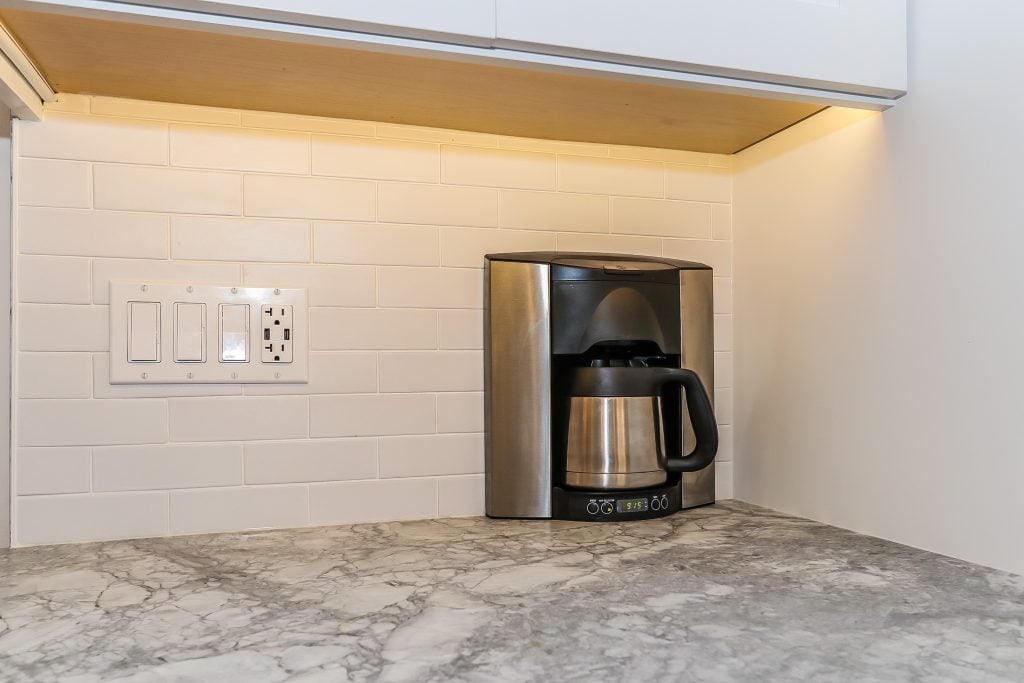 The Coffee Beverage Station
Many of us don't truly start our day until we have finished that first cup of coffee. With that in mind, our kitchen design team understands the importance of a designated coffee station in your home. There are a variety of designs you can consider when planning this portion of your kitchen remodel. If you have the space, maybe you'd like to create a coffee nook. Here you can house your coffee pot, mugs and 'fixings', like your sweeteners. If you're looking for something a little less noticeable, or if you're tight on space, consider recessing your coffee maker into the wall. This is a great choice for people who want a streamlined design. If you're considering recessing your coffee maker, you will want to let your design build team know early on during your design phase. This will impact the framing and electrical of that wall. If you're considering the nook option, you'll want to make sure there is an easily accessible electrical outlet.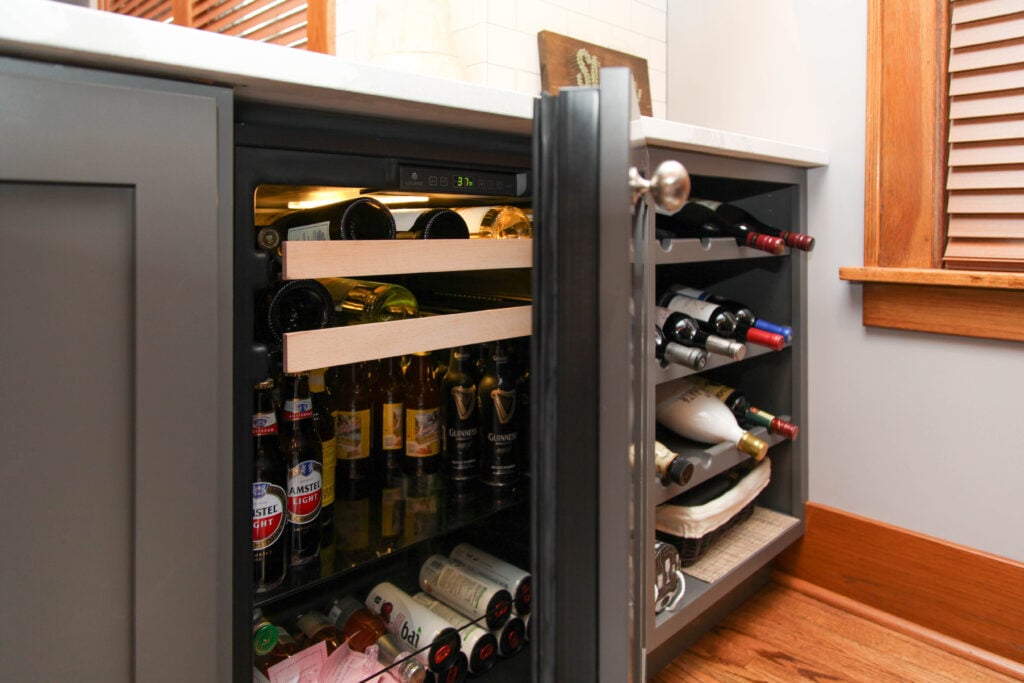 The Wine Beverage Station
Typically when people think of a beverage station, they are envisioning wine bottle storage and some additional storage for glasses. This is a common (and well used!) feature in many kitchen remodels. There are a few things to consider when planning this style of beverage station. One of the first things to decide is whether or not a small beverage fridge will be incorporated into your design. If so, then you and your designer can determine what location makes the most sense for your style of living and entertaining. Next, you need to decide whether you'll want to have a paneled beverage cooler or an exposed one. In other words, would you like a cabinetry panel applied to the front of the beverage fridge to make it look seamless and built in? Or, do you like the bit of separation and the visibility of the fridge itself? This decision will impact the type of fridge you can purchase.
Once all of that has been worked out, it's time to determine what the space above the beverage fridge will look like. Do you need storage for glasses and other accessories? If so, you'll want to consider whether you'll be storing a variety of glasses here, or primarily wine and cocktail glasses. Many people choose to mix their storage options by incorporating a small section of racks to hang your wine glasses, as well as cabinet shelving for other glasses. In addition, would you utilize an additional wine rack built into the cabinetry? Storage on the wall and base cabinets can create a fully functional beverage station that's ready for entertaining!
The Multi-Purpose Beverage Station
What if you're a coffee and wine drinker? Incorporate both into your kitchen remodel! Many people design a multi purpose beverage station in their kitchens. Typically, this space is off to the side a bit so that it doesn't interrupt the kitchen traffic flow. You'll still go through the considerations we discussed for the coffee station and the wine station to help finalize the design features. Just like the other options, the most important thing is to let your design build team know in advance that you'd like to maximize this space. Together you can create a functional and stylish beverage station.

To get started on your kitchen remodel design, contact us today! We'd love to help you design and build the space of your dreams.
Written By Katie Finn