Everyone has a dream home. It could feature a farmhouse-style kitchen with modern appliances or a lounge with the latest television and beautiful hardwood floors. While everyone may have an idea in their head of how it should look and feel, how do you make your dream a reality?
At Patrick A. Finn, we love helping our clients achieve the home they've always dreamed of. We'd like to help everyone reach this life achievement, and so for this month's blog post, we'll go over what you can do to live in the home of your dreams!
Know What You Want… And What You Don't Want
The first step in making your dream home a reality is figuring out exactly what it is that you want. To start, answer the following questions...
What do you value in a home?
What new features do you want in your home?
What do you currently dislike in your home?
What needs are not being met by your current home?
What future needs can you foresee?
What are you willing to compromise on?
What are your "must-haves"?
Remember, just because it is your dream house doesn't mean that it has to be extravagant. Everyone's dream home is going to be different, so be true to your family's needs when considering these questions.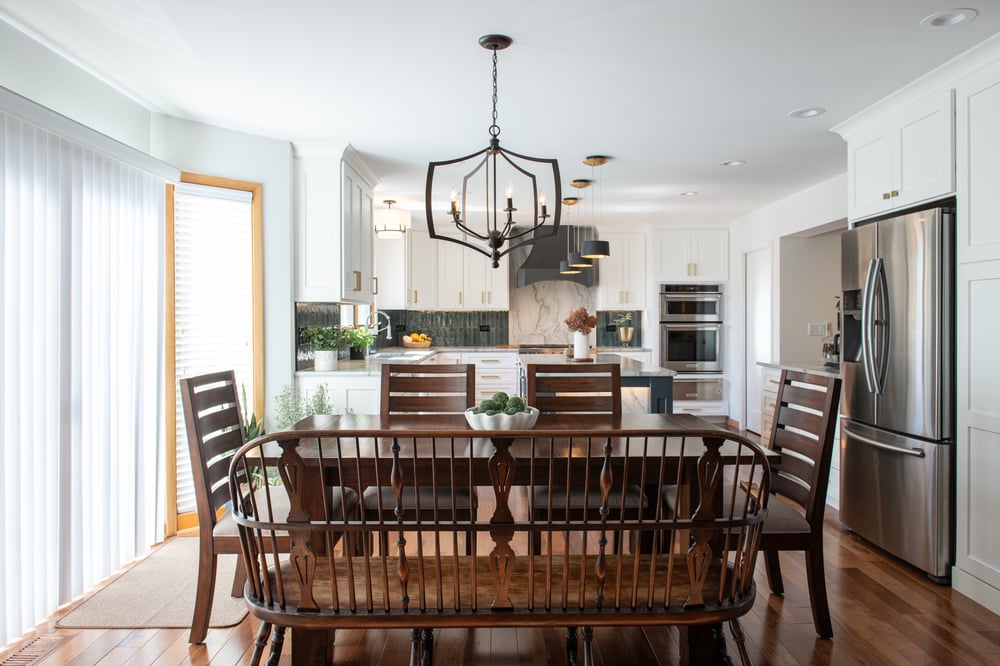 Buffalo Grove, IL Sheridan Transitional Kitchen Remodel
Decide On A Budget That Will Lead to Good Work
Nobody's dream home is one that's poorly built.
It's better to slowly remodel your home into a dream house with high-quality design and workmanship over cutting corners and compromising on a big project. Anything else will just leave you wanting more in a couple of years and unsatisfied with your home (and not feeling like you are living in your dream home!).
Consider Your Lifestyle (Now and In 10 Years)
Your perfect home is one that allows you to live your best life. Form follows function, and good design should reflect the realities of your life.
In addition to designing your home with your current lifestyle in mind, make sure it will work with your future lifestyle as well. For those with the intention of growing old in their dream homes, aging-in-place remodeling may make sense.
Aging in place design and remodeling refers to designing your home with an eye towards living in your home as you age. Designing your home in this way will allow you to remain in your home longer (and stay safe while doing it).
---
Want to Learn More About Aging in Place?
Read our guide to Aging in Place
---

Evaluate Your Current Home
The next piece of the puzzle is figuring out if you can achieve your dream home with a home remodel or whether you will need to custom-build a home. You will want to consider your financial picture before doing this, as understanding what you can and cannot afford is integral to these decisions. Some options: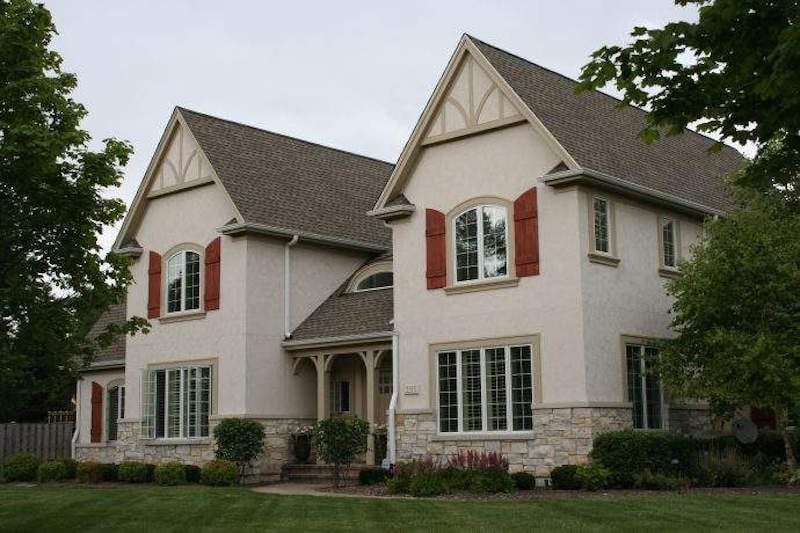 Arlington Heights, IL Stucco Tudor Custom Home
A Custom-Built Home
If you decide that your current home will not cut it, a custom home build is the best way to make your dream home a reality. A custom-built home is a house designed from the ground up and will allow you to:
Select the piece of land you want to build on.
Work with a custom home builder to design your home to your exact specifications.
Choose all of your home's features so they are the exact ones that you want. Nothing else.
Design your home with your lifestyle in mind.
Of course, custom homes will cost more than other options. But if you can afford it and are looking for a home that will serve you and your family for generations, it's a great option.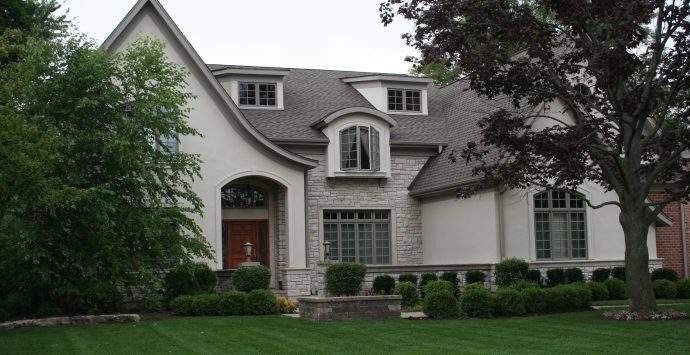 Arlington Heights, IL Custom Stucco & Brick Home
A Home Addition
Are you mostly happy with your home but feel that the addition of one or more rooms will bring the whole house together? A home addition may be just what you need.
Common home additions we see are:
Kitchens
Bedrooms
Home offices
Bathrooms
Family rooms
Much more
Home additions must merge seamlessly with the rest of your existing home (even if you will be remodeling and adding onto your home). An experienced Chicago area home addition contractor will ensure your home stays aesthetically and functionally cohesive.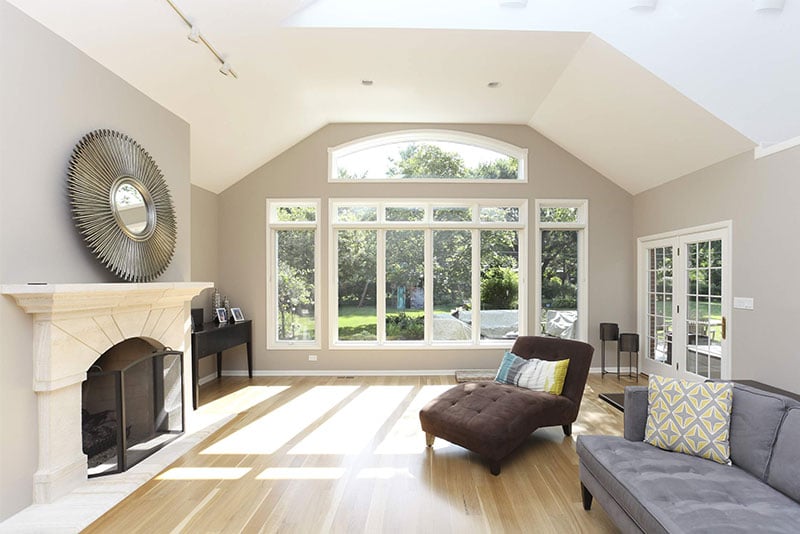 Arlington Heights, IL Airy Living Room Addition
Remodeling Existing Rooms
Remodeling is a great way to refresh an existing space. Remodeling can be as simple as updating flooring, appliances, and some new fixtures, to as complex as knocking out walls and putting in new ones to fundamentally change the layout of your home.
While many think you can only gain additional space by adding square feet to your home, a design-build remodeling contractor can help you create more usable space by re-working the layout of your home. Adding modern features to your kitchen, bathroom, or living room for some people can make all the difference as well.
Research Different Concepts
Once you have an idea of the scope and type of remodel or custom build you want, now you can get started on the fun part: research! Look around and see if you can zero in even further on a concept of what you want.
For instance, while you may know you want an oversized tub in your master bath, do you know the exact type? You may know you want hardwood floors in your living room, but do you know what type of wood?
Some common places to look for inspiration include:
Design and architecture magazines
Friends and families
Home improvement TV shows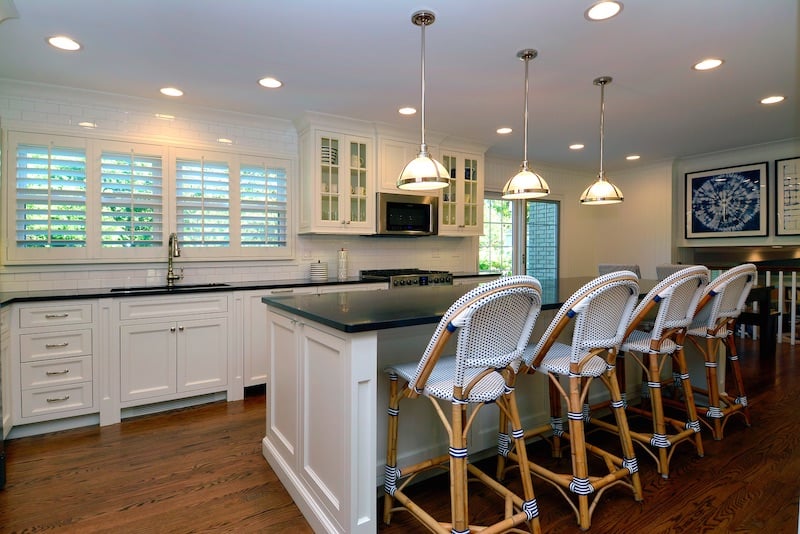 Arlington Heights, IL White Transitional Kitchen
Hire a Trusted Design-Build Contractor
The final step in making your dream home a reality is partnering with an experienced design-build contractor who can crystalize your dreams and turn them into reality.
The first thing you will want to do with any design-build contractor is talk about your goals and ambitions for your home. During this meeting, you and your remodeling contractor will...
Work together on a detailed design so you can visualize the finished space
Offer recommendations and advice on layout and home features
Give advice and thoughts on your project
Develop a plan, budget, and timeline that makes sense
Once you've decided on a plan, your remodeling contractor will work with you throughout the project to complete your project and fulfill your dreams.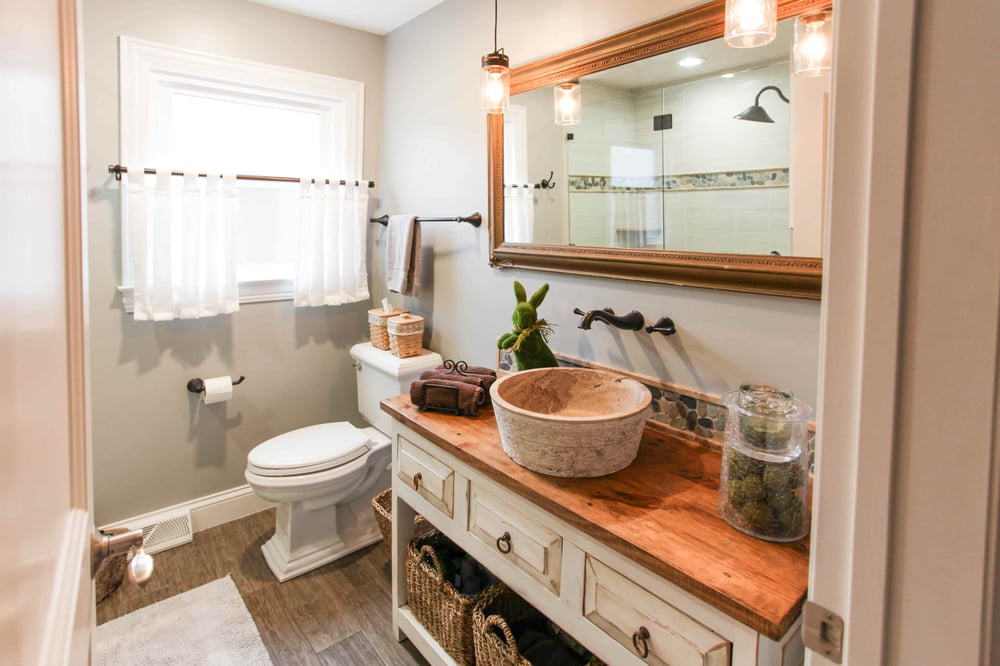 Arlington Heights, IL Country Chic Bathroom
Work With a Design-Build Contractor Who Can Turn Your Dreams Into Reality
At Patrick A. Finn, we love helping clients achieve their dream homes. Whether it's a custom home, home addition, or remodeling project, our goal is a finished project that is the perfect space for you and your family.
We'll work with you through the entire process of your Chicago area home remodel, from the design and management of the construction process to the selection of materials and obtaining of permits.
Give us a call at (847) 358-4133 or contact us online to learn more about how we can help you build the home of your dreams.
Ready to Get Started on Your Home Remodel?


Read and download our guides for homeowners, including:
Understanding the Design Build Process: A Step-by-Step Guide
Hiring a Design Build Contractor: A Checklist for Homeowners
These guides will give you a sense of our design-build process and help you narrow down what you are looking for in your home remodeling contractor.