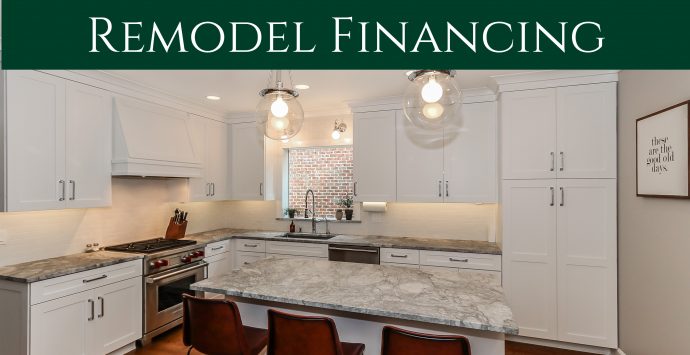 Guest Post- Kitchen Remodeling Financing: Compare Loan Options & Financing Strategies
Kitchen remodeling is a common home renovation undertaking among homeowners. Aside from the perk of having a new kitchen, it can also lead to an increased property value and an easier time selling the house.
Potential buyers want to see updated fixtures and finishes, new kitchen appliances, fresh countertops, and unique touches throughout. However, tackling this kind of home improvement project is expensive.
Fortunately, home improvement loans are available to help you pay for the project without depleting your savings. This guide covers the best kitchen remodel financing options, so you can make your HGTV dream a reality.
How to Finance A Kitchen Remodel
It isn't uncommon for homeowners to seek out kitchen renovation loan options because of the high cost and potential return of such a project.
As long as you can keep up with monthly payments on a kitchen loan, financing isn't a bad idea, because kitchen renovations can boost the value of your home. Consider it a return on your initial home investment—and the cost of financing is part of your contribution to that return.
Using personal loans to finance a kitchen remodel
Most homeowners tilt toward personal loans to pay for renovations. Personal loans are a reliable solution for kitchen financing because there is a loan option out there for nearly all types of borrowers.
Though some loans are marketed as something like "home improvement loans" or "kitchen loans" personal loan lenders do not typically restrict how borrowers can use the funds, and loan amounts can be high enough to cover basically any renovation budget.
Using home equity loans as kitchen loans
Another option for kitchen renovation financing is a home equity loan. For homeowners who have available home equity, a home equity loan can be a cost-effective solution.
Home equity loans are secured using the home as collateral, so interest rates are often lower than for personal loans. However, you'll wait longer to receive funding from home equity loans, and the application process may require extra steps.
Using a HELOC as a kitchen loan
Similar to a home equity loan, a home equity line of credit (HELOC) may be a viable option for financing a kitchen remodel or renovation.
A HELOC operates like a credit card for homeowners. You establish a flexible line of credit you can draw from multiple times over the life of the account, and you can borrow as much or as little as you need each time. You only pay for want you draw, plus interest.
A HELOC is most beneficial for homeowners who plan to complete a kitchen remodel over several months. However, like a home equity loan, your home equity is collateral. This makes it crucial to understand how much you can afford to repay.
See the full article here: Kitchen Remodel Financing
Author: Melissa Horton of LendEdu
Written By Katie Finn