Your kids have grown up in your house, and you have an emotional attachment. Your parents may live just a few exits north of the 90. Your sister lives just a few blocks away. The house definitely needs some work if you are going to live here longer term, but you have strong ties to this community. On the other hand, it could be a good time to make a more considerable change and move to a different home in this zip code or one nearby. And that's the question: should you renovate or move?
There are many pros and cons to think about when your options are between renovation and moving to another home. Clients have been coming to us with this dilemma for over 30 years. Here is how we help them think it through and make the right decision for their situation.
Location
The location of your home might have been ideal when you moved there and likely still is. Schools are a big priority for many of us, so if you are in a good school district for your kids, that is a plus. This was true when the kids were little, but especially as they enter high school, you want to ensure they are being set up for success. Do the schools have a good track record for helping students get into your kids' preferred colleges? Do they have access to the extracurriculars that inspire them, whether it's hockey, theater, or robotics club?
If you have roots in this neighborhood or the region, that may be a significant determining factor in whether to move or renovate. If staying near parents and/or siblings is important, renovation is the thing. If your job requires you to be on-site, and your current commute is short and sweet, stay put. Are you involved with any organizations? Do you love the restaurants and shops nearby? Do you look forward to spending time with your neighborhood wine-tasting/book club?
If you have strong neighborhood ties, staying nearby is important — but the question of moving or renovating still isn't answered. Let's keep asking questions.
Determine Your Needs
Next, explore the local real estate market. Can you find what you want in your price range and within your ideal location? If you move, do you still have renovating to do on the new home? What will that look like?
Questions to ask yourself:
What is causing you to consider a move?
Do you have a growing family, and you need more space in your existing home?
Do you feel like your home doesn't fit your style? If so, can you define your style?
This is an excellent time to seek out expert advice from a design-build firm to see if your current home can support the needs and goals you have listed. If it can, then renovating is still on the table. If not, it might be time for a move. Here again, renovation might still be in the cards. Sometimes, it's best to find "the worst house" in the best neighborhood and then renovate it to meet your needs, wants, and goals.
Financial Implications of Renovation or Moving
Home remodeling is an investment–in your quality of life and happiness. That said, we recommend not embarking on a major whole-house renovation to a home if you plan on moving in less than five years. There is a big difference between changes that get a home ready for resale and changes that meet your needs and wishes in the foreseeable future.
Budget and Financing for a Home Renovation
Can we afford the renovation we want? That is a top question I get asked by clients when they start exploring the process with us. You'll want to get several quotes, but it is important to work with a professional design-build general contractor who will look at your wants and needs holistically. You can make changes all at once or create a phased approach that meets your budget and timetable.
When you work with a design-build firm, you'll get a firmer grasp on the real overall cost of the project, as opposed to working with an architect, then finding a builder to put those plans into reality, and designers who will guide you through the process of finding the right fixtures and finish materials.
There is significant value in the integrated processes and communication you will find working with a design-build contractor.
Where will you get funding for your renovation costs? If it is more than you would like to spend in cash, a home equity loan or home equity line of credit (HELOCs) are excellent options. We have financing partners who can help you determine which option is best for you and your family.
The Cost of Moving to Another Home
What are some of the financial implications of home buying? The new neighborhood and especially the home need to make sense. Let's say you buy a move-in ready house that's already been renovated; you're paying more for upgrades that aren't specific to you and your family and may not be upgrades compared with the home you just left and what you really want from a new home.
The other question is: were those upgrades done well? Do you know who the contractor is so you can call on them once the deed is in your name? Fixing problems and finding matching materials can be an expensive experience if you don't have this information upfront.
Of course, purchasing a new house means moving costs and closing costs. You'll want to consider the difference between existing vs. future mortgage rates and the amount of taxes on your existing home vs. a new home.
A recent survey done by Discover Home Loans states that "79% of homeowners surveyed still prefer to renovate their current house rather than move to a new home."
Timing
The next question is timing: is now the right time to renovate or move? This isn't a decision to make lightly. It requires thought and intentionality.
If you decide to sell your house, what is the value of your home, and what are the current housing market conditions? What are the average days on the market before an offer is accepted? Timing can be tricky when selling one home and looking to purchase another.
Consider how your needs will change as your family grows or, conversely, as children grow up and make their way in the world. Both your immediate and long-term plans will impact what decision is right for you.
While all of these considerations will play a role in your decision, one of the ultimate things to consider is the level of personality and customization you are looking for in your home. Even if you move, you may still need to make home repairs or remodel spaces in that home to suit the needs of your family better.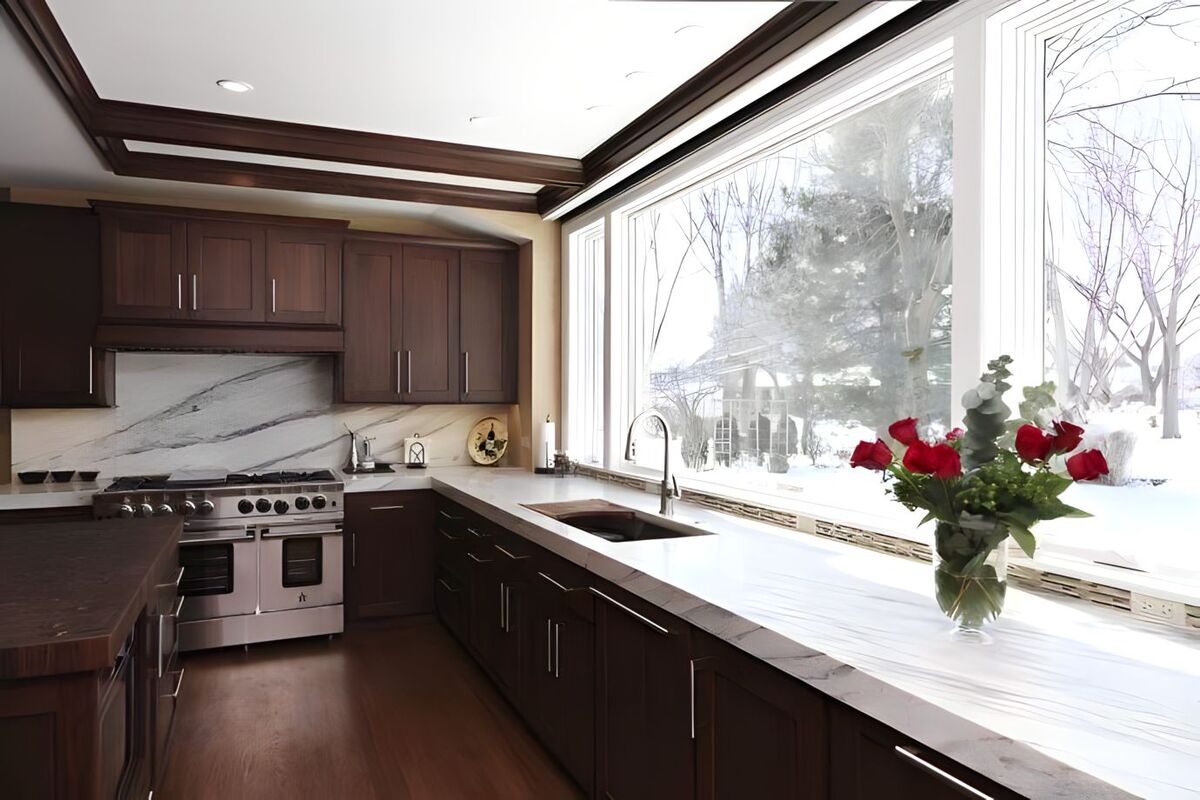 Making the Right Decision for You
There are many things to consider—how will you make a decision? Something that might not be top of mind but should be is to give yourself deadlines. That way, you are working toward a decision rather than extending the time that you and your family are in "limbo" without progressing toward renovation or moving. Weigh your options, give yourself a timeline, and you can be confident in your decision.
The right design-build partner can make all the difference. There are likely cost and space-saving solutions you have yet to think of. A professional design-builder will help you see your home in a new light. That might mean suggesting to swap the location of two different rooms (kitchen/dining room) or seeing underutilized space that can be converted to meet your needs.
When deciding between moving and renovating, location, needs, finances, and timing are the key factors. Collaborating with a reputable design-build firm can provide valuable guidance on whether a home renovation is a right choice for your unique requirements. Clients often mention the memories they have in their homes and how they want to build even more there. That's what we are here to help you do- create your dream space for years (and memories!) to come.
If you decide that moving is the right option for you, consider talking to your design-build contractor regarding what to look for in your new home- especially if you plan on remodeling it; good bones are the key to a successful remodel- whether that is in your existing home or a new home.

Download a copy of the eBook titled "The Ultimate Step-by-Step Home Renovation Transformation Guide" and discover the best practices for renovating your house. This comprehensive guide will show you how to effectively and efficiently bring your vision to life by partnering with a design-build company specializing in cost-effective home transformations.