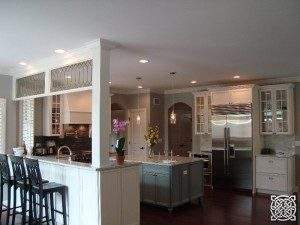 Don't Forget the Details!
We spend so much time in our kitchens: cooking, eating, entertaining, why not make them extra special by adding little details that make a big difference. Here are just a few ideas that can update an old kitchen or help transform a new one.
Make the most of your hardware. Pick out handles, pulls, and hinges that create interest as well as provide function. This is a small way to add color, metallic, or innovation to the kitchen. Plus they are interchangeable if you want a new look down the road.
Lighting always enhances a space. For a kitchen you can get some nice effects without having to do much construction work. Under-cabinet and soffit lighting can add additional light and drama to a space with little hassle. You can brighten up your workspace with under-cabinet lighting and brighten the overall room with lighting above the cabinets.
Glass front cabinets offer a decorative cabinetry element as well as a display space. You can easily add color to a neutral design by placing colorful accessories behind the glass, such as decorative glasses, dishes, vases, etc. This also allows you to change your displays as often as you like.
Add variety to your cabinetry. Try changing the finish or color of the island or a standalone bar to accent the rest of the kitchen cabinetry and counter top. Also think of a different counter top material as well. Keeping the same door style and cabinetry design makes a cohesive design but the color change adds just enough variety.
Explore new products such as cork or bamboo flooring, wood or bamboo for an island or bar counter or recycled glass counter tops for a contemporary look that is current with the design market trends.
So the next time you think about a quick kitchen face-lift or a total overhaul, keep these little details in mind because they can really bring your design to life.
Written By Patrick Finn