Universal design, also known as aging-in-place design, is the concept of designing a space that is safe and functional for the many years ahead of you. Oftentimes, people are concerned about the aesthetics of universal design features making a home feel unattractive. We are here to tell you not to worry! These spaces can be functional, safe, and beautiful. We've already written about our favorite universal design bathroom tips, so here are our favorite universal design kitchen tips.
It is important to note that universal design is different than ADA design. While some of the concepts are similar, ADA design has specified standards. Universal design, or aging in place, is more about planning your design for potential future needs. Keep an eye out for a future post about ADA design. Now that we've briefly covered the differences between ADA and universal design take a look at some of our favorite universal kitchen design features!
Space Planning
Proper spatial planning is one of the most important aspects of kitchen design, especially in a universal or aging-in-place design. Not only do you want to ensure the space looks well designed, but the right planning can ensure the space works well now and for potential changes in the future. For example, leaving enough room, a minimum of 36" between walkways and doorways, allows for comfort. It also allows for enough room for wheelchairs or walkers that may be needed in the future. ADA design recommends between 40"- 60" of passing space, depending on the layout of the kitchen. You may also want to consider adding room in the main preparation areas of the kitchen so that someone with a wheelchair can comfortably turn in different directions.
With a possibility of a walker or wheelchair in the future, you will also want to consider how to adjust countertop heights and cabinet design. Consider knee space for work areas so that someone with a wheelchair can still safely use the kitchen for food preparation. Knee space can be planned in general prep areas of the counter as well as the sink space. If you are planning for this kitchen to age with you, consider multi-level countertops. For example, a breakfast bar in the kitchen can have a lower section that will be accessible by wheelchair. Keeping these considerations in mind allows you to use the space in a variety of ways for as long as you own the home.
'Hands-Free' Faucet
As we get older, the strength and grip of our hands may decline. To help combat this, you may want to consider a hands-free faucet. These faucets allow you to turn them on and off simply by swiping your hand over them. The automated feature is also great when baking or cooking. You don't have to worry about getting something like flour or oil on your faucet handle when your hands are dirty; you can just swipe your hand over the faucet.
To maintain both traditional and transitional design aesthetics, most hands-free faucets are still designed with a standard handle. That design allows you to have the choice of using the hands-free feature or the handle. Because of their versatility, hands-free faucets are a great choice for universal design kitchens. They have provided function and style for years.


Proper Lighting
Proper lighting is essential in all kitchens, but especially in a home where you plan to live for years to come. As the years go by, the strength of our eyesight declines. Because of this, it is important to ensure your kitchen has both ambient and task lighting. We recommend recessed lighting in the ceiling for the general ambient lighting. This will light the whole space well.
For task lighting, under cabinet lighting is a great solution. Just like any other light, you can have under cabinet lighting on a switch to turn on and off as needed. For example, when cutting fruits and vegetables you may want to have your under cabinet lighting on to add to improve visibility. To add a bit of personality to your universal design kitchen, you may want to consider pendant lights over an island or peninsula.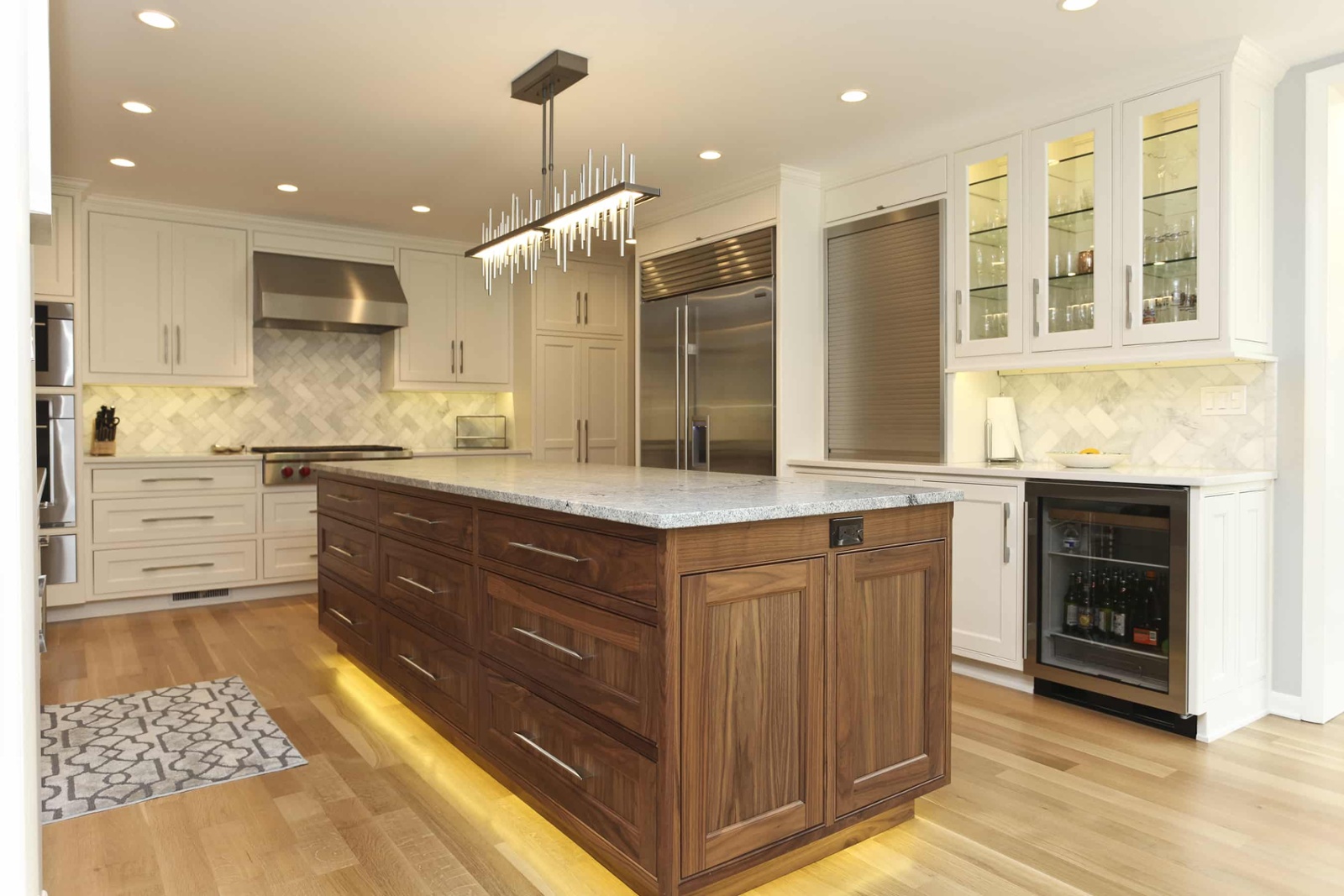 Universal design is becoming more popular as we chose to live in our homes for as long as possible. If this is something you are considering, we would love to help you plan the kitchen of your dreams in your forever home. You can call us at 847-380-8189 or use our contact form for us to call you!