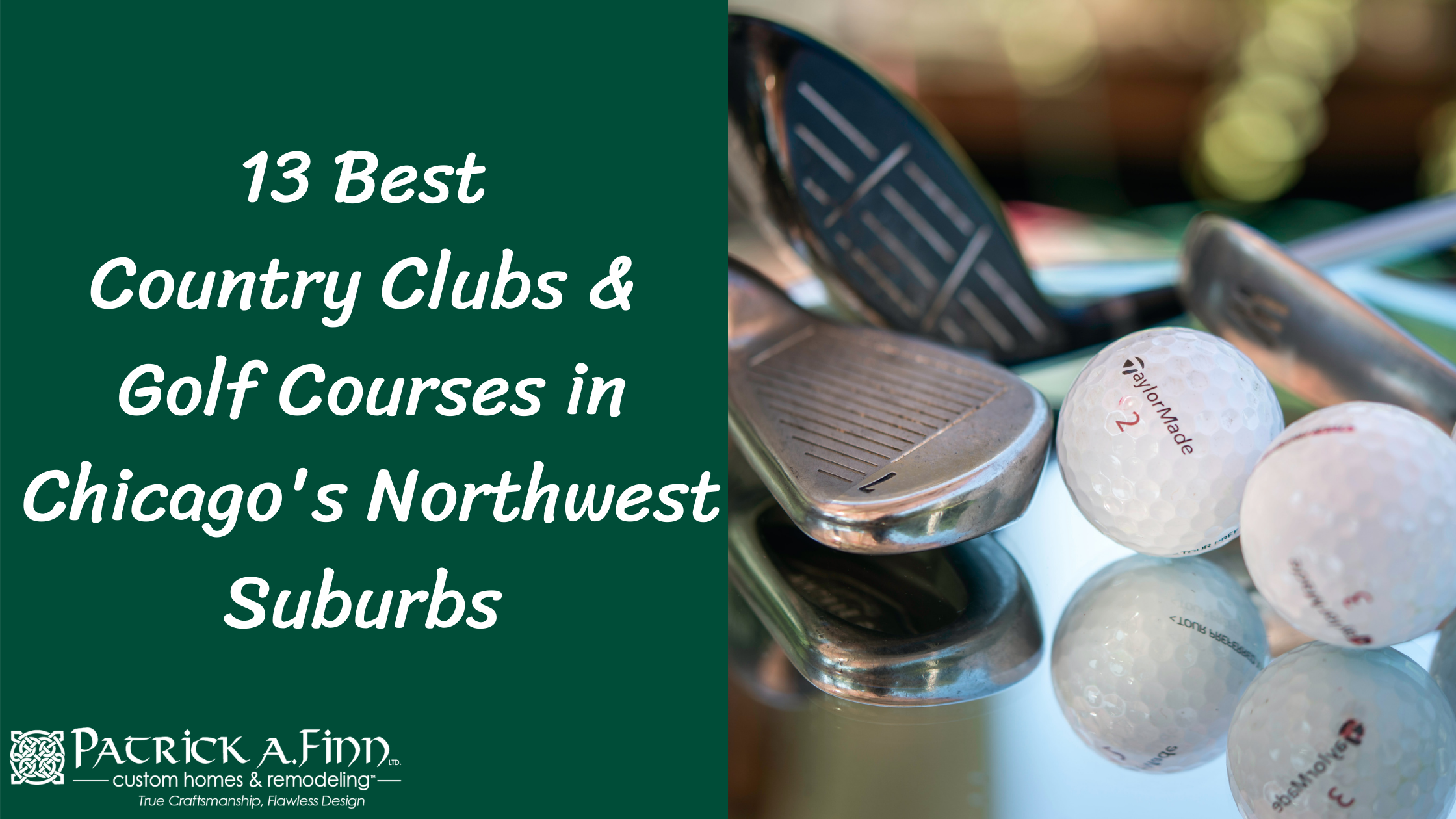 13 Best Country Clubs & Golf Courses in Chicago's Northwest Suburbs
You may not be lucky enough to own a home on the golf course, but you're just as lucky if you're a golfer in Chicago. Among its many other attractions, the Chicago area is home to over 200 golf courses. Naturally, it was hard to pair down the list to our top thirteen, but these are a few of our favorite courses and clubs in Chicago's Northwest suburbs!
Mt. Prospect Golf Club
This year, the Mt. Prospect Golf Club opens its greens on May 29th. The course has won a number of awards, including the Daily Herald's Readers' Choice in 2018, Golf Digest's 25 Courses that Offer the Most Bang for Your Buck, and Golfweek's Best Courses You Can Play in 2017, 2018, and 2019. The club is home to a stunningly curated 18-hole course.
The Glen Club
Situated on the site of the former Glenview Naval Air Station, The Glen Club is one of the North Shore's most exclusive clubs. This Top 100 Golf Course is at the center of a 195-acre refuge that encompasses rolling hills, serene lakes, open views, and charming streams. It has become one of the Chicago area's top destinations for corporate events, and its 48,000-square-foot clubhouse features a variety of high-end amenities.
Sunset Ridge Country Club
Sunset Ridge Country Club is more than a golf course. It's a community. This family-friendly gathering place offers not only a beautiful 18-hole golf course, but also a short game practice area, a practice range, an indoor golf learning center, eight clay tennis courts, a skeet and trap range, six platform tennis courts, and a swimming pool. The club has invested over $20 million in improvements over the last fifteen years, and in 2006 it was awarded Private Club Golf Course Renovation of the Year by Golf., Inc. magazine. Another bonus is that the club is open from February through December.
Rolling Green Country Club
Founded in 1924, Rolling Green Country Club is one of the oldest private golf clubs in the Chicago area's Arlington Heights. The course features 18 championship holes surrounded by tranquil ponds, and club amenities include a state-of-the-art fitness center, a pool, children's programs, and fine dining.
Palatine Hills Golf Course
The Palatine Hills Golf Course is an 18-hole par 72 course with a challenging and varied range that requires the use of all clubs in the bag. The area itself is incredibly scenic, and parts of it are open to hikers as well as on-leash dogs. Palatine Hills is known for hosting the annual Illinois Junior Golf Association regional tournament, as well as other conferences and tournaments.
Indian Hill Club
Established in 1914, the Indian Hill Club includes a clubhouse, a golf course, tennis courts, and a swimming pool. The club is designed for members; guests must be accompanied by members. The Indian Hill Club preserves a traditional feel by requesting more formal standards for attire and conduct.
Royal Melbourne Country Club
A top-rated country club in Lake County, Royal Melbourne Country Club offers not only a gorgeous 18-hole championship golf course but also fun recreational activities, delicious dining, a private pool, and year-round social events. The club has a diverse membership and is known both for its contemporary attitude and its understated elegance. Royal Melbourne Country Club is a top wedding destination. It's gorgeous landscape is home to swans, deer, hawks, and other majestic wildlife.
Twin Orchard Country Club
18 holes just isn't cutting it? Welcome to Twin Orchard Country Club, where you can enjoy two 18-hole championship courses that each present unique challenges. Members also enjoy access to four championship clay tennis courts, an Olympic-size swimming pool (and a separate baby pool), paths to walk around the course, stocked fishing ponds, and much more.
Heritage Oaks Golf Club
Formerly known as Sportsman's Country Club, Heritage Oaks Golf Club is scheduled to open in late summer 2021, but the wait comes with new golf course renovations and a newly constructed clubhouse. Learn more about the new and improved club here.
Sunset Valley Golf Course
Established in 1920, the Sunset Valley Golf Course has undergone a $7 million renovation that encompasses both the golf course and the clubhouse. Improvements to the course include a unique British Heathland design that reflects the golf course architecture common in the 1920's. Golfers are also invited to enjoy the club's golf shop, restaurant and bar, and comfortable lounge.
Old Orchard Country Club
Old Orchard Country Club is a Prospect Heights park district property opened in 1928. It's one of the Northwest suburb's best public clubs. Conveniently situated by the Chicago O'Hare Airport, this challenging and well-conditioned course is a popular destination for locals and visitors alike.
Makray Memorial Golf Club
Located in Barrington, Makray Memorial Golf Club is home to a premier, 18-hole championship-caliber golf course with a variety of challenges designed to make each hole a unique experience. The club also provides a bent grass teeing ground, a short game area, and two practice putting greens. The clubhouse includes a golf shop and a grille.
Lake Shore Country Club
One of the oldest Chicago-area private golf clubs, Lake Shore Country Club was established in 1908 and is still loved by its members. Situated on the shore of Lake Michigan, members enjoy gorgeous vistas in addition to the 18-hole championship golf course, a waterfront swimming complex, fine dining, a racquets program, and a full social calendar.
While there are many wonderful golf courses and clubs in the Chicago area, these 13 distinguish themselves as well-loved, highly-rated destinations enjoyed by members for years.
Written By Katie Finn