The summer months have come to a close, and for many of us, 2020 was a year without too much travel. Combine that with the winter weather, and you may find that you are eager for a change of scenery and a little adventure! The good news is that Illinois offers plenty of opportunities for safe, local getaways to satisfy your travel bug. From wineries and spas to ice climbing and remote cabins, here are six unique places for you to explore this winter. Please be sure to check all websites for the latest updates on COVID-19 restrictions and safety practices.
1. Starved Rock Lodge
Nestled deep within Starved Rock State Park, this winter getaway offers a variety of accommodations and activities so that you can tailor your trip to your preferences. If you stay in the main lodge, you can choose to vacation either in a historic room built by the Civilian Conservation Corps in the 1930s or in a newer and more spacious hotel room. If you prefer a more rustic and remote experience, cozy and historic cabin accommodations are also available.
Voted the number one attraction in the state of Illinois, the Starved Rock State Park also offers a multitude of activities, including scenic hikes, ice fishing, and even ice climbing (when conditions permit). If you'd rather explore the area on wheels, you can reserve a spot on the resort's trolley tour.
The lodge is also situated near many area attractions like August Hill Winery in Utica, Tangled Roots Brewery in Ottawa, Hegeler Carus Mansion in LaSalle, Reddick Mansion in Ottawa, LaSalle County Historical Museum in Utica, Weber House and Garden in Streator, and more. Don't forget that Starved Rock Lodge is also your one-stop shop for holiday gift shopping.
2. Galena Cellars Vineyard and Winery in Galena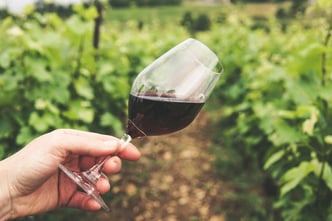 What do you do when you want to sample an array of incredible wines but don't have a designated driver? You could get an Uber, or you could just stay at the winery itself. Fortunately, Galena Cellars has you covered.
If you're planning a romantic getaway, check out their one-bedroom suite located above the tasting room with a view of the vineyard. You'll also have access to an array of amenities like a fully equipped kitchen, a fireplace, a whirlpool tub, and much more.
If you're looking for a little more room, you can reserve the vineyard's two-bedroom vineyard farmhouse located within walking distance of the vineyard and tasting room. Amenities include a large outside yard and deck, a fully-equipped kitchen, a flat-screen TV and Dish network, and much more. Please note that a two-night minimum stay is required. Get ready to relax in style because all lodging reservations come with a complimentary glass of wine or wine flight per guest!
3. Blue Sky Vineyards in Makanda
Missing international travel? Blue Sky Vineyards offers a taste of Italy in Southern Illinois. The Blue Sky Vineyard tasting room and accommodations are designed to emulate the classical Tuscan style, with stucco walls, carved doors, hand-hewn beams, and 200-year-old Portuguese tiles. Choose between the elegant and cozy Blue Sky Suite and the opulent Tuscany Romance Suite with a living room, dining room, and balcony. During your stay, you're also welcome to explore the breathtaking views of the Shawnee National Forest in which the vineyard is located.
4. The Stablehouse in Alto Pass
If you're in need of a break from the big city, look no further than the stable house, a charmingly rustic, 75-acre farm with a comfortable guest house and plenty of room for all of your four-legged friends - that's right, this is a vacation for the whole family, pets included! The guest house includes a full kitchen and sleeps up to six people. It's perfect for hunters, hikers, horse owners, and anyone wanting to experience the simple and rejuvenating joy of country living.
Located along the Shawnee Hills Wine Trail, this vacation home also offers plenty to do nearby. Enjoy easy access to local wineries as well as beautiful natural areas like the Shawnee National Forest, Giant City State Park, Cypress Creek National Wildlife Refuge, Cache River Wetland Center, Fort Massac State Park, and much more.
5. Kohler Waters Spa - Burr Ridge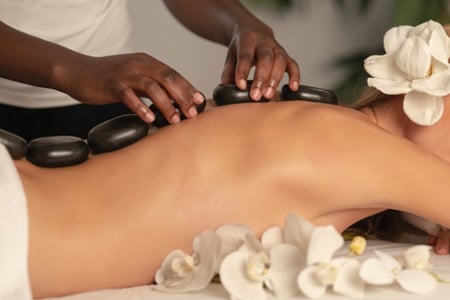 Since the advent of COVID-19, it's challenging to find a spa that's still open for services, yet the very word "spa" seems to usher in the sensation of relaxation and serenity we so badly need. Fortunately, Kohler Water Spa at Burr Ridge has found a way to continue operating with high-caliber safety guidelines in place for its employees and guests.
The Kohler Waters Spa in Burr Ridge offers a range of amenities and services, including massage therapy, hydrotherapy treatments, facials, bathing, body treatments, nail treatments, make-up and waxing, a steam room, a sauna, and other signature treatments similar to those offered at the spa's Forbes five-star flagship in Wisconsin. While there isn't an option for an overnight stay, you'll leave the spa feeling refreshed.
6. Big Sky Cabins in Alto Pass
Do you miss seeing the stars in a clear night sky? Rated number 1 on the Southern Illinois Wine Trail, Big Sky Cabins offers a remote and private getaway for anyone wanting to experience the splendor of the Shawnee National Forest and the tastes of the Shawnee Hills Wine Trail. Lodging options include the Alto Wine Trail Loft, the Cabin on the Creek, and the Wine Country Farmhouse. Accommodations are just 12 minutes away from the vineyards.
7. Your Home in Chicago's Northwest Suburbs
Getting away from home can put into contrast just how different Airbnb's, hotels, cabins, and other destinations can be from your home. But it doesn't have to be that way! Renovating your home in Chicago's northwest suburbs could be the perfect thing to do to create a luxurious oasis this winter.
Discover what's involved in planning a home renovation project to see if a home remodel could be right for you, and next time, your home could be even better than a winter getaway! Download the eBook "The Ultimate Step-by-Step Home Renovation Transformation Guide."