Today's luxury kitchen features combine function and beauty to create breathtaking results. Not only do they look great, but they'll give you the resources you need to be a home chef, entertain with ease, feed the whole family, and much more.
Luxury Kitchen Features to Consider
Ready to review the latest offerings that made our list of favorite features? There's always something new and now when it comes to luxury kitchen ideas. We've seen exciting new design ideas for appliances, materials, and layout designs for a beautiful luxury kitchen remodel.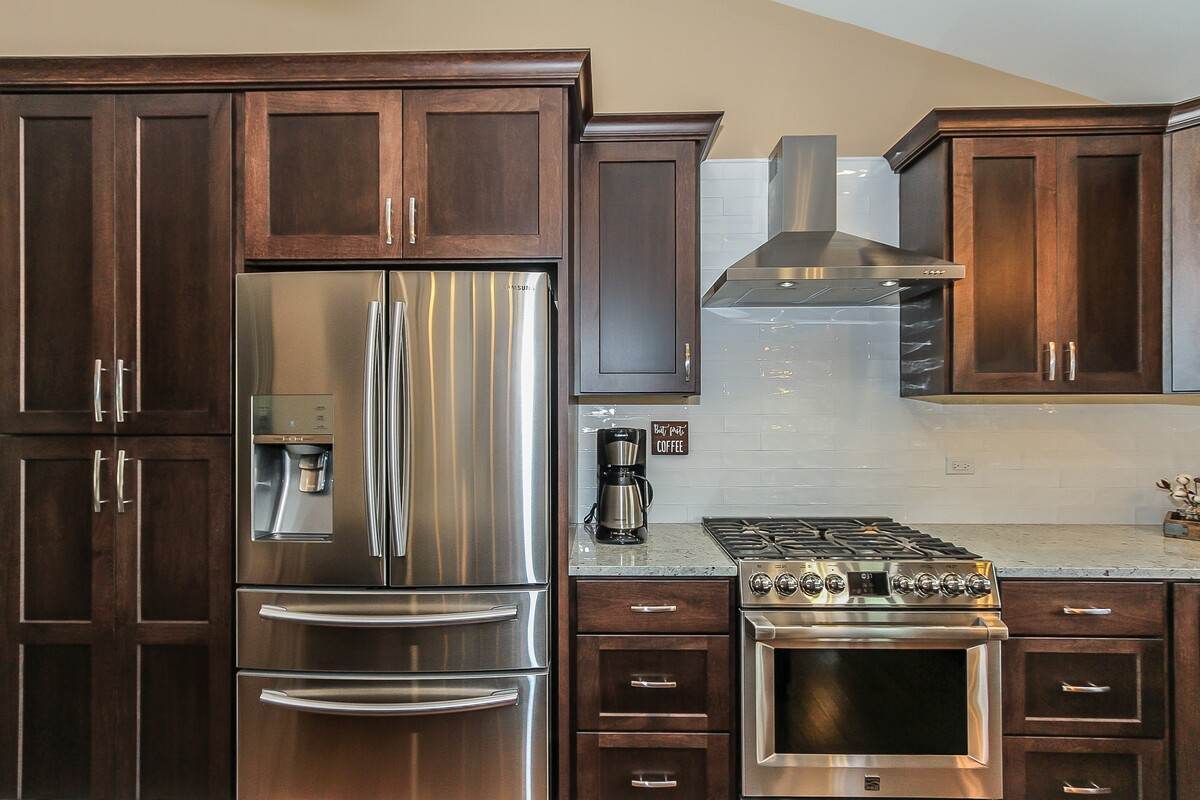 Double Ovens
Anyone who's ever hosted a holiday meal will tell you how hard it is to cook multiple dishes at once. Not only is there the matter of space – which is hard enough – but temperature and timing. Since different dishes have different preparation times and temperature requirements, you can spend hours waiting for the oven to heat up and cool down for each dish or compromise optimal baking conditions in the interest of expedience.
With a double oven, you'll never need to cram your pie next to your casserole again. Each oven can be set to a unique temperature, allowing you to cook multiple dishes at once. Depending on the model you choose, double ovens can also add space so you can cook even more. You may opt for a double-range oven that takes up a similar amount of space as a traditional oven (these are made up of two smaller ovens).
Modern double-range ovens feature:
Prices to fit most budgets
Variable sizes
A new cooking experience for you and your family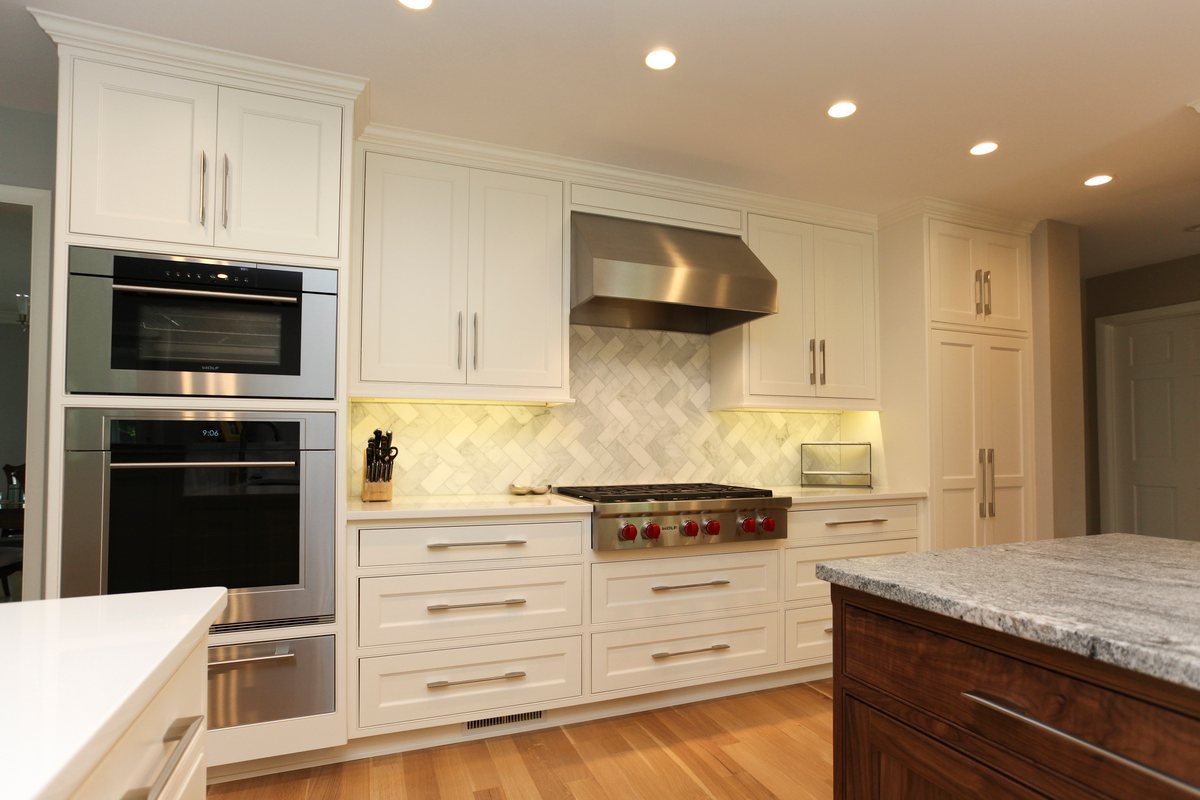 Built-in Refrigerator
One of our favorite luxury kitchen remodel features are built-in refrigerators.
Unlike freestanding refrigerators, which don't need installation and will stick out from cabinets, built-in refrigerators sit flush with your cabinets. They're much more customizable, with options like wine cabinets available.
Homeowners looking for a long-lasting, seamlessly designed option for their kitchen will love built-in refrigerators. Take the ultra-sleek look one step further and create custom cabinet doors for your refrigerator. Where's the fridge? It's a secret.
Double Dishwasher
Two dishwashers are trending for kitchen remodels, and we wish they'd been popular sooner. If one of your main complaints is the pile of dishes your family creates while the dishwasher runs, consider adding a second dishwasher to ensure there's always a place to tuck dirty dishes, and frequently used pieces can quickly get clean.
Pot-Filler Faucet
A favorite of serious home chefs, pot-filler faucets provide functionality and aesthetic brilliance to any kitchen. Commonly found in high-end kitchens, pot fillers are a swinging cold-water faucet mounted above your stovetop. A pot-filler faucet will allow you to fill your pots right where you're planning to heat them and avoid carrying a large pot of water across the kitchen.
Not only do they look great, but they also can help you avoid a big mess! Trust us, once you've lived with a pot-filler faucet, you'll never go back.
A Prep Sink
A kitchen island prep sink is a life-changing appliance option that will earn its place on your must-have list. This second sink will allow two people in your kitchen to prep food at once, and create a versatile workspace for multiple projects at once. For larger families, this also allows an easy way to get a drink of water or wash hands while the other is occupied cleaning dishes or preparing food.
We recommend adding a garbage disposal to both sinks, particularly if it will be used to prep food. This will save time, prevent clogs, and keep your new prep sink clean!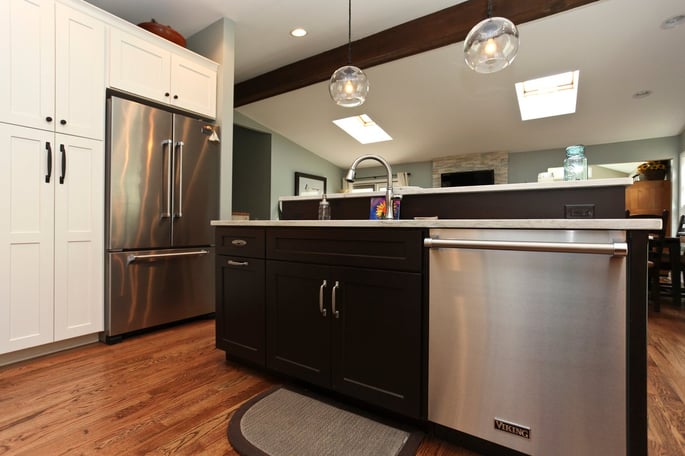 Instant Hot Water
This feature is great for tea lovers! Instant hot water is an appealing convenience for tea, coffee, hot cereal, or anything else requiring hot water.
How does instant hot water work? A small insulated tank holds hot water ready for you to use and replaces it as it's dispensed. It runs right off of your normal sink pipes, so any sink (even your new prep sink) can add this feature. You can even adjust the temperature of your instant hot water for precise and predictable results every time!
Luxury Kitchen Flooring, Tile, and Lighting
Bamboo Heated Floors
During the cold winter here in Chicago's Northwest suburbs, there is nothing quite like walking on a heated floor.
While radiant floor heating systems can dry out some hardwoods, bamboo floors are impervious to them, making them the perfect flooring option for your remodeled kitchen.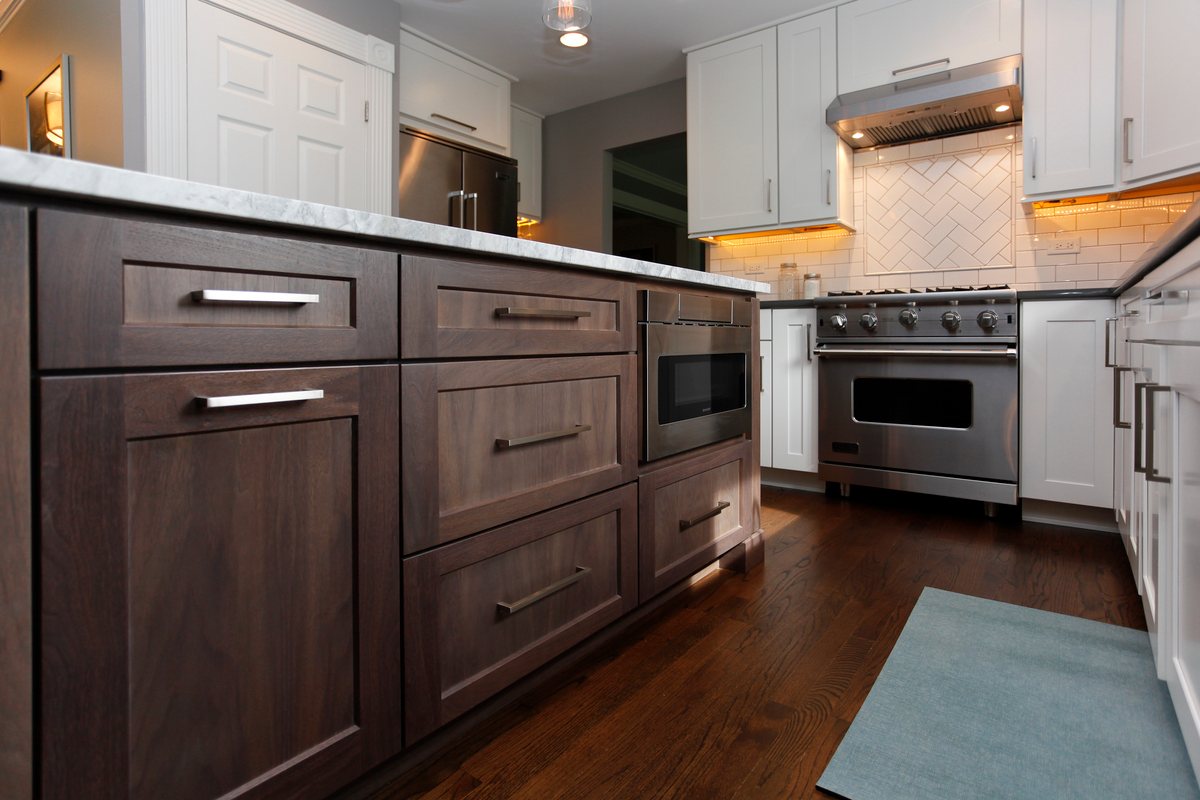 Bamboo flooring is...
Able to withstand great changes in humidity
Aesthetically pleasing, offering a unique and beautiful look
Ecologically friendly, as it's a highly renewable resource
More water-resistant, making it perfect for kitchen floors
In-floor radiant heat is also a safer option for heating your house, as it creates heat from the ground up and doesn't push around dust, dirt, and pollen to distribute it. Improved air quality is especially appealing for anyone who suffers from allergies 0r asthma.
Tile Backsplash
We love beautiful tile backsplashes, expanded to protect every workspace. Your backsplash performs a vital function and presents a unique design opportunity in your new kitchen.
Benefits of modern tile backsplash in your luxury kitchen remodel include
Extremely easy to clean and maintain relative to other kitchen materials
Durable tiles will not be destroyed by oil and water splashes from cooking
Colorful tiles and patterns can add personality to an otherwise simple kitchen design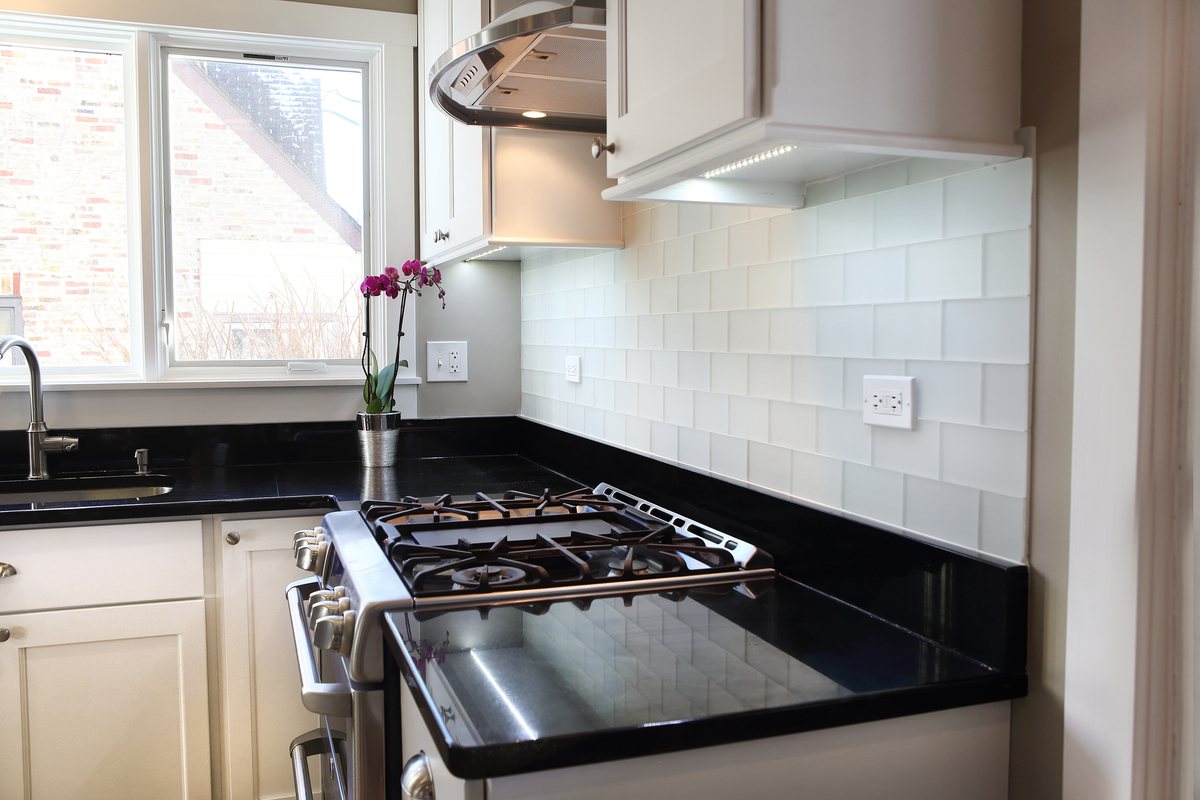 Under-Cabinet Lighting
There is nothing we love more than subtle lighting in just the right spot. Adding LED fixtures under your cabinets adds soft lighting to your kitchen, while also providing needed light when you are preparing food. The best under-cabinet light provides non-direct, ambient warmth and utility in your kitchen. Custom task lighting is a must to illuminate every workspace in your new kitchen design.
Since you don't need to have a larger bulb lighting the entire room with under-cabinet lighting, you will also likely save money on your energy bill. You'll also replace LED light bulbs much more infrequently, if ever.
Wondering what you'll pay for your Chicagoland luxury remodel? We talk about the local averages and the factors that influence how much a premium kitchen remodel costs.
Luxury Kitchen Layout Designs
Walk-in Pantries
Walk-in pantries provide much-needed organization and storage for the stuff of daily life. Much like a walk-in closet, remodeling to create a walk-in pantry will allow you to stay organized and find the things you need when you need them, even if they're seasonal guest stars like holiday tins or sometimes treats like popcorn machines. You can even add a fun twist like a second microwave, beverage station, or wine refrigerator. The possibilities for your new custom walk-in pantry are endless!
Why not double down on your pantry game? Add a butler's pantry and a walk-in pantry to provide even more storage and privacy for prep. A butler's pantry can function like a mini-kitchen and hide any mess you make while preparing for a party and make restocking handy without creating any clutter in the kitchen.
Open Floor Plan
An open floor plan for your kitchen can be a big overhaul and commitment– but the payoff can be huge.
Open floor plans are designed to utilize your kitchen as a social space where your family can congregate. Generally, when homeowners desire an open kitchen remodel, it's because they want a hub for their home and a place for the family to spend time. Open kitchens also keep your kids in your eye line while you work, allowing you to cook while your children do homework on the kitchen table or hang in the living room.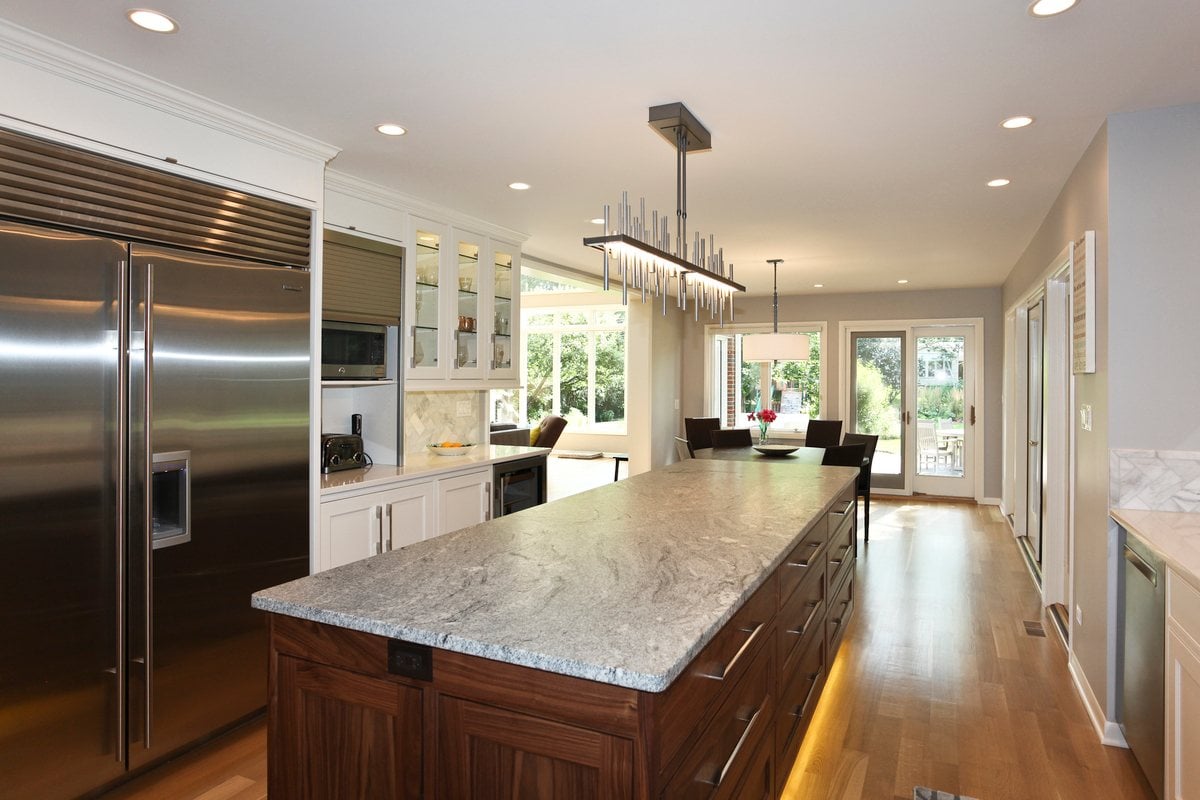 Double Kitchen Island
Don't cram everything you need out of a kitchen island into one space if you don't have to. If you're building in a kitchen island prep space with a sink and range, it may not make sense to also build in extensive seating or storage. Constructing two kitchen islands to perform unique functions such as workspace, storage, seating, homework, and crafting allows you to mix and match, adding specialty upgrades to elevate each experience. A luxury double kitchen island means custom built-ins and solutions for your habits and comfort.
Are You Ready to Remodel Your Kitchen in Arlington Heights, Mount Prospect, or Barrington, Illinois?
Are you ready to remodel your kitchen the right way? Patrick A Finn has been helping our neighbors in the suburbs of Northwest Chicago build the kitchen of their dreams for years. We know we can create the look you're imagining, and we can't wait to hear more about your dream remodeling projects.
When we connect, we'll...
Learn about your goals, vision, and budget during your free in-home consultation. We'll then work with you to determine your final design and detailed work plan.
Procure all needed materials for your home remodeling project.
Obtain all necessary permits, completing the project on time and on budget.
To learn more about our home remodels and to schedule your free consultation contact us online.