Highland Park, IL - Home Remodeling Contractors & Custom Home Builders in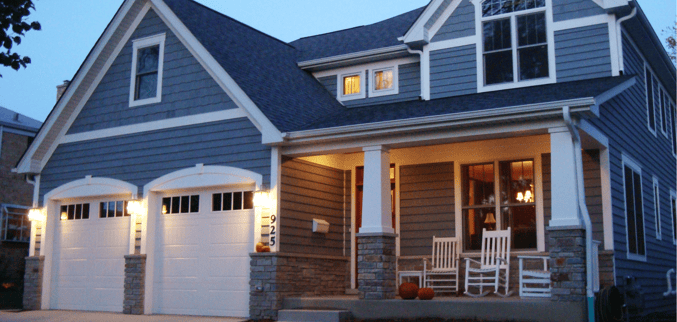 About Highland Park, IL
.Living in Highland Park, Illinois is a truly remarkable experience. This vibrant suburb, located just 25 miles north of downtown Chicago, offers residents a perfect blend of urban amenities and suburban charm. Highland Park is renowned for its beautiful neighborhoods, excellent schools, and a thriving arts community. With its tree-lined streets, well-maintained parks, and access to Lake Michigan, the village provides a picturesque backdrop for an active and fulfilling lifestyle. Residents can enjoy a wide range of recreational activities, including boating, fishing, hiking, and golfing. The bustling downtown area is filled with trendy boutiques, gourmet restaurants, and cultural attractions, making it a hub of activity and entertainment. Moreover, Highland Park's strong sense of community and low crime rate create a safe and welcoming environment for families and individuals alike.
One of the most appealing aspects of living in Highland Park is its commitment to the arts. The village is home to the renowned Ravinia Festival, an outdoor music venue that hosts world-class concerts and performances throughout the summer. Additionally, the community boasts several art galleries, theaters, and a vibrant local arts council that promotes creativity and cultural engagement. Highland Park also offers a wide range of educational opportunities, with top-rated public and private schools that consistently rank among the best in the state. The village's commitment to education is further exemplified by the Highland Park Public Library, which offers an extensive collection of books, resources, and educational programs for residents of all ages. With its blend of cultural vibrancy, strong sense of community, and access to nature, Highland Park truly offers a high-quality and fulfilling lifestyle for its residents.
Why Remodel In Highland Park, IL?
With winding roads, trees, and rolling hills, Highland Park gives the best of country and suburban living, not to mention the fact that it is within an hour of Chicago. This is a popular location with large beautiful homes, ensuring the exterior and interior of your home reflect your gorgeous property.
With such nice scenery in the surrounding areas of Highland Park, you also deserve to be living in a newly remodeled home to match the surroundings. With historic buildings in the area and wanting to preserve their history, that does not mean you need to sacrifice your dream house look, and Patrick A. Finn will help you achieve the look you are seeking!
Why Choose Patrick A. Finn To Remodel In Highland Park, IL?
The satisfaction of seeing the final product and our client's reactions when we are able to bring their vision to life - this is why we do what we do. When you choose Patrick A. Finn, we put you first. We listen to you and what you want.
Having accumulated significant project experience in Barrington Hills, IL, and its surrounding areas over the years, we have successfully established trust and awareness within the community. What sets us apart from others is our extensive knowledge of the specific homes and architecture in your neighborhoods. Let us make your dreams a reality!
Let us make your dreams a reality! Schedule your home renovation discovery session today!
Highland Park Area Gathering Kitchen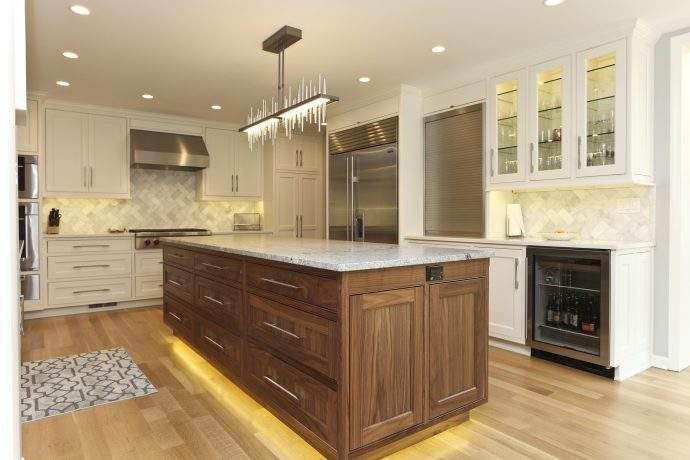 This kitchen was remodeled for a family who LOVES to entertain. Their formerly cramped kitchen now opens up into the living room, creating a natural gathering place for the entire family and their guests.
Our favorite features from this remodel include:
Stunning custom walnut island with seating for 3, toe kick lighting, and marble countertops
Icicle-like pendant lighting
Marble subway tiles laid in a herringbone pattern
A beverage refrigerator and glass upper cabinets
Highland Park Area Transitional Kitchen & First Floor Transformation
This Highland Park area home was updated to suit these homeowner's lifestyles.
To achieve this, we opened up the space and added vaulted ceilings, updating the entire first floor so each room flowed from one to the next. For the kitchen, we designed a large island and customized storage drawers to make this space one of a kind.