No one wants a 'cookie cutter' or 'builder grade' home. Our homes are something we work hard for and we want them to be a reflection of ourselves. However, this reflection doesn't happen overnight. It takes time to make your house feel like home. Some of us are lucky to have homes with existing architectural interest. Others of us have to plan to add architectural details into our remodels. We're here to help you navigate the best options for your home's interior. Here are some of our clients favorites.
Transom Windows
Transom windows are a popular choice for people looking to add architectural interest to their home. Not only are they nice to look at, but transom windows are a great way to let more light into a space. They are often installed over doors, both interior and exterior. When used over an exterior door, such as a front door, they let in light without sacrificing privacy. When used over an interior door, they can make the entrance to the room feel more spacious. Transom windows can also make your ceilings appear higher than they are. If you're looking to add even more interest to them, consider using decorative glass to help draw the eye upwards.
Tray Ceilings
Tray ceilings are a great way to accent a room and make it feel more grand. A tray ceiling is a recessed portion of a ceiling. They are a versatile choice and can often be found in bedrooms, kitchens and living rooms. Some people choose to leave them as a simple by just recessing the ceiling and painting it as you would a normal ceiling. Others choose to make it more of a focal point by installing trim around it, or painting it an accent color.
Board and Batten
Board and batten is often used as a way to accent a feature wall in a home, although some people choose to use it in the whole home. While the term board and batten is generally used to describe boards attached to your wall, there are a variety of specific styles that people install in their homes. Some of our clients' favorites include grid walls and wainscoting. The grid style is perfect for an accent wall, while wainscoting is a great way to break up a color on a wall.
Built Ins
Built ins are the perfect way to add architectural interest and function to your home. Popular built ins include bookshelves, desks, banquette seating, cubbies and recessed wall niches. Once you have a plan for your built in, there are plenty of ways to customize it to suit your needs. For example, our clients often include charging stations for their electronics in cubbies. Other options, like bookshelves, can be customized to what you are looking to store in them. Will they be for displaying knick-knacks, books, seasonal decor or maybe a little bit of everything. People often choose to have a portion of built in bookshelves built with cabinet doors for storage.
Arched Doorways
Arched doorways are a great way to bring old world charm to your home. Often used as an accented entry into a kitchen or dining room, they can easily transform the feeling of a room. Arched doorways are typically seen for standard sized door openings. However, you may want to consider using them as a double sized door opening to accent a living or family room entryway. Trim and doors for the doorway are a personal choice. If you are looking for something more ornate, consider adding trim casing around the arch and doorway. If you consider yourself more of a minimalist, consider skipping the trim. When it comes to doors, privacy is usually the deciding factor. If your arched doorway leads to a bedroom or bathroom, you'll want to include doors. If your arched doorway leads to a family room, consider keeping it door free.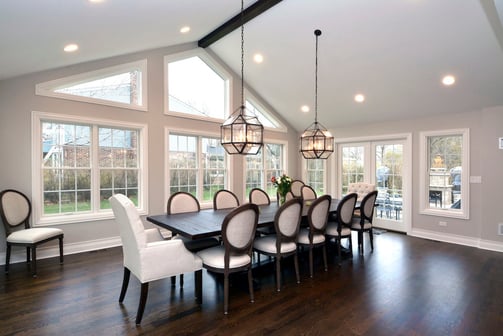 Vaulted Ceilings
Vaulted ceilings are a great way to make a room feel significantly larger than it is. By raising the ceiling to align with your roof line, you create an open and airy space. The structure of your home greatly impacts your ability to vault your ceilings, but most homes have at least a portion of a ceiling that can be vaulted. If you are looking for a more open and brighter space, consider adding skylights to the vaulted area. This will bring in lots of natural light throughout the day.
Barn Doors
While barn doors aren't always considered in ways to add architectural interest to your home, we thought they were great to include for those of you looking to spruce up some doorways. Barn doors are often used as a way to separate a master bedroom and bathroom, to close off a laundry room, or even as bi-passing closet doors. Not only are barn doors stylish, they can be very functional for tight spaces. They are perfect for narrow hallways because the door opens by sliding it along the track, rather than swinging out into the walking space. When adding barn doors to your home, you'll want to consider if you want a new or reclaimed door. Once your door has been selected, you'll need to find hardware suitable for the door size and style.
A great time to add architectural interest to your home is as a part of a remodel. A remodel allows you to work with a professional to plan out the full style of your home. An architectural designer can help you determine the best ways to incorporate these ideas into your home in a way that makes them look as though they were a part of the original design. If you're ready to remodel and update your home from 'builder grade' to one of a kind, contact us today!